LIST: Must-visit Christmas 2022 destinations
December 2, 2022 | 9:52am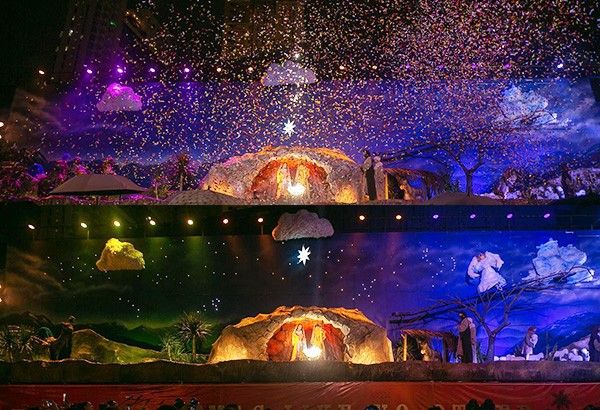 MANILA, Philippines — If the Christmas season in the Philippines began in September, it is definitely in full swing now that December has come around, and the holiday spirit is spreading further.
From malls blasting classics like "All I Want For Christmas Is You" by Mariah Carey and "Christmas in our Hearts" by Jose Mari Chan, to parols and Christmas lights being strung up, it does feel like it is Christmas wherever one goes.
Some places around the country have gone the extra step to share the Christmas joy, each of them bringing the cheers in their own unique ways.
Here's a list of Christmas destinations to visit this 2022:
Ayala Festival of Lights
A contemporary Christmas tradition in Metro Manila, the Festival of Lights in Makati City's Ayala Triangle Gardens is back in-person for the first time in two years.
Related: WATCH: Festival of Lights returns to Ayala Triangle Gardens
The 2022 edition is composed of three different medleys, ranging from five to seven minutes long, that will light up the Christmas lights within and the canopy facing the Gardens until January 8, 2023.
In celebration of the 75th Anniversary of the Establishment of the French-Philippine Diplomatic Relations, the Embassy of France to the Philippines, in partnership with Ayala Land, Inc., and Taste of France, will open "Marché de Nöel Christmas Market & Festival Lights" on December 3, 3:30 p.m. in Ayala Triangle Gardens. With the concept of "Eat, Drink, and Shop," the first-ever French-Philippine Christmas market in Ayala Triangle will feature various gourmet food, wine, and artisanal gifts. It will showcase French and Filipino food and drinks with handmade or original crafted products.
The event will feature performers of award-winning Les petits chanteurs à la croix de bois (The Little Singers of Paris, Les Grande Personnes - French giants akin to Philippine's very own Rizal Higantes) and many more.
Parklinks Bridge of Lights
The same group that worked to illuminate the Gardens have done their magic on the brand new Parklinks Bridge that connects Quezon City and Pasig City over the Marikina River.
Christmas at the CCP
The Cultural Center of the Philippines (CCP) will be staging a series of holiday performances at its main theater and around the complex, all before it closes from January 2023 to December 2024 for a long-overdue renovation.
These include an all-Filipino Christmas ballet "Puso ng Pasko;" the first live opera in over two years in Giacomo Puccini's "Turandot;" select outdoor film screenings for Cinema Under the Stars; and Handel's "Messiah" performed by the Philippine Philharmonic Orchestra and a 200-member grand chorus.
Related: Margie Moran announces CCP's closure for renovation
Traditional shows will make an appearance as in the annual Light and Sound show, Ballet Philippines' Christmas offering through "The Nutcracker," and the ever-present Simbang Gabi (both on-site and virtually).
'The Nutcracker'
Speaking of "The Nutcracker," STEPS Dance Studio will be bringing the beloved ballet on tour to several Ayala Malls around the country, with accompaniment by the Mandaluyong Children's Choir in Manila and Loboc Children's Choir in Cebu.
As the show makes it tour, each participating mall will have festivals and fairs inspired by the classic ballet that will catch the attention of everyone with a sweet tooth.
Fireworks, Santa, and music
Ortigas Malls are also in on the Christmas celebration as highlighted by performers under the Philippine Madrigal Singers' Company of Artists.
Since November 20, and for all Sundays that follow, Santa Claus will be waiting to meet kids at Greenhills' VMall, Tiendesitas' Building B, and Estancia's East Wing; the same malls will also have fireworks displays every Saturday beginning December 3 (the 10th for Tiendesitas).
Greenhills Night Market
Ortigas Malls is also behind the Greenhills Night Market which began last November 4 and will continue until January 8 early next year.
Related: Ortigas Malls brings holiday cheer with opening of Greenhills Night Market
Visitors will be welcome exploring the many food and tiangge stalls selling their wares at the Night Market; even kids came for a trip to enjoy carnival rides, plus a ffireworks display every Saturday night of December.
Araneta Mini Fiesta Carnival
Araneta City will be transforming into a Christmas town of sorts this December as it puts on the daily Mini Fiesta Carnival, complete with fun attractions and a grand Christmas On Display.
The Carnival will be at Araneta City's Times Square Park, which also hosts a food park, a giant Chrstmas tree, and its own fireworks display.
Elswhere in Araneta City are holidays decorations for sale at Farmers Garden, a meet and greet with Santa Claus, a mascot parade and carnival show, and chorale performances at Ali Mall, Farmers Plaza, and Gateway Mall.
Flea market and movies
Down at the country's celebrated vacation island, the Mövenpick Resort & Spa Boracay will stage its own Christmas Flea Market where goodies, snacks, drinks, and souvenirs will be on display.
The resort will also host a movie marathon with Christmas-themed films in outdoor screenings; both the Flea Market and Movie Marathon will begin on December 18, though the screenings will finsh a day earlier on December 30.
For those who would like to have a feel of Bollywood in Boracay, Little Taj Indian Street Kitchen in D'Mall in Station2, Boracay (in the alleyway between Aria and Epic) is open daily from 10 a.m. to midnight. This modern India-inspired hotspot started off sharing space with its sister resto Nonie's at Station X, but with a constant clamor for its flavorful fare, it was quickly launched as the standalone Little Taj Indian Street Kitchen in May 2022. Little Taj is the latest baby of island resto duo Patrick and Shria Florencio of the Nonie's Group. Shria wanted to pay homage to her Indian roots and share the flavors she always grew up loving. So, the pair decided to bring the cultural feast to the island paradise. Little Taj was a pandemic dream
that saw light in time for Boracay's post-pandemic reopening. It's geared to take on the throne as one of Boracay's cool hip spots, and for good measure. The street eats and overall vibe cannot be beat!
Far from the typical Indian resto that may feel outdated or almost antiquated, Little Taj shows you what modern India is like today—vibrant and trendy, hip and cool. Their showcase of Indian eats makes you feel like you're actually walking the trendy streets of Mumbai or indulging at the Dilli Haat of Delhi. It's India at its raw best, with dishes that showcase various regions' specialties. Indulge in the famous Dosas of Southern India, the Papdi Chaat made in the Northern India style, various curry versions from across the regions, Chaats from North to South, and, of course, mouthwatering Biryanis. Some faves that already have their throng of fans: Butter Chicken, Masala Dosa, Hyderabadi Biryani, Palak Paneer, and their range of homemade Lassis. Then, make sure to try their specially curated cocktails that add that Indian flair to Boracay's happy hour by the restaurant's award-winning bartenders.
Hong Kong's must-visit festive attraction
The Christmas decorations and activities of Harbour City this year resumes to the scale as large as before. Under the theme of "UniChristmas," Harbour City's Ocean Terminal Forecourt has transformed into a "Unicorn Merry-Go-Round Paradise."
Last November 16, Harbour City hosted a large-scale Christmas lighting ceremony, also live-streamed on social media, allowing friends from Hong Kong and abroad to enjoy the festive
atmosphere of Christmas!
The lighting ceremony is kicked off by performance of a marching band and dancers, Harbour City's "Sing Along Kids" choir also sing Christmas carols to all guests.
For the most magical Christmas "snow" experience, expect special pyrotechnic effects and a sky full of confetti at the moment the decorations are lit up.
Yen Leng, Executive Director of Wharf Estates Limited said, "Christmas is one of the most celebrated holidays and peak periods for consumption in Hong Kong. The relaxation of a number of social-distancing rules, including extending dine-in hours for restaurants and the per-table capacity limit, will encourage more people to celebrate Christmas outside and shop for gifts. This Christmas, Harbour City has resumed the scale of our promotional celebrations to pre-pandemic levels, we expect the foot traffic at Harbour City this Christmas will have a five to 10% year-on-year growth.
"In addition to our signature outdoor decorations, unicorn-themed food will also be served at designated food and beverage outlets in Harbour City. Moreover, we will bring the classic American children's show 'Sesame Street' to life throughout the mall to join in the festive mood."
Installations at Ocean Terminal Deck will be opened to the public soon.
RELATED: Boracay listed among World's Greatest Places of 2022 by TIME