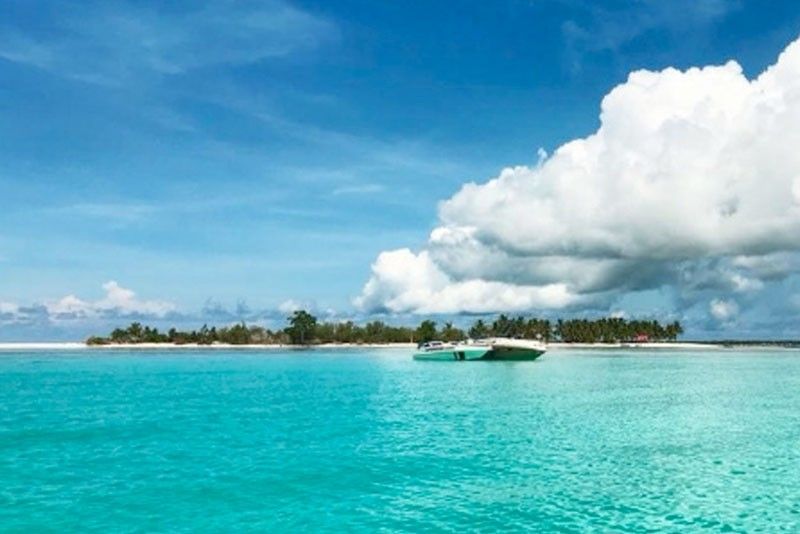 Pristine beaches and sea life like no other at Sangay Siapo Island
Why Tawi-tawi is to dive for
I love Tawi-Tawi — like, deeply! I love the people, the place. Putting it mildly, it's magical! I haven't even covered the length and breadth of the place and already, I am in awe. It has so much potential. I have never seen or felt water that's so pristine. The place we initially wanted to help was Simunol. It's crime-free, like 100-percent peace and order. It is definitely safer than Manila. The people are oh-so-nice! They have a childlike quality about them.
When I met the governor, he told me Tawi-Tawi has the longest sandbar in the country. It is actually nearer Malaysia than Manila.
In our advocacy Quest for Love, when the top eight were chosen by the board of judges, Tawi-Tawi actually made it to the top position. The "Loving Organization" is MSU-Mindanao State University. The chancellor, Joyce Guinto-Sali, attended the boot camp when we flew in the top 16. During her youth, she was one of the 10 outstanding young students of the Philippines. Richard Muallil heads the group. He was one of the 10 outstanding young scientists of the Philippines. He heads their marine science department. He is a dive instructor and the sea is his passion. He rightly feels that the strength of Tawi-Tawi is its clear, clean waters. So, he is actively pushing for diving and island hopping. (View the link https://youtu.be/tfnZmWZv9oM to see through Richard's underwater camera. If you dive and are interested in dive tours, email hellogina@gworld.ph. We will contact you when the dive tours start.)
Simunol is a lovely island with a great mayor and vice mayor. It is interesting to note that the marketing slant of Simunol focuses on the beauty of its women. They are really quite good-looking. To begin with, three barangays were targeted. The goal is to get all of Simunol out of poverty just to show what it can be. In a few weeks, one of the suppliers of G Stuff, my store in Rockwell, will be going to Simunol to train the people there on how to make their own shampoo, conditioner, soap and other products based on the resources of the island. It's exciting. We also want to stimulate the economy of Bongao, which has a magical mountain, Bongao Peak. Even my security told me that when he was assigned in Mindanao, it was mandatory that they climb Bongao. I climbed it, but my mistake was I went too fast and didn't stretch enough so I had muscle pain for three days after! The lesson here is to stretch before and during the climb and when at the top, and don't go too fast! I blew all those rules, but I learned my lesson, which I am now passing on to those who want to climb Mt. Bongao.
What about food? Tawi-Tawi has by far the best seafood anywhere. Big fish and many different varieties that you can't find anywhere but there. I was told that everywhere in the country, the sea catch is going down and the fishermen are suffering — but not in Tawi-Tawi, where there's still a lot of fish. But we need to help the fishermen by providing them with gear, cold storage and marketing. At one lunch, I was surprised to see several big fish on the table. I was told that the big fish cost only P140 while in Manila, it sells for P1,800 a kilo! My goodness! That's why the fishermen are poor.
After the Earth Warrior training and the River of Life session, where they talked about their lives and what they wanted to do, it was clear that diving alone wouldn't solve the problem. So, we have now come up with a menu of activities: diving, island hopping, bicycling. We want to fix two fishing villages and set up a Badjao restaurant. The plans are exciting, but I need your help! If you can help in any way, it would be greatly appreciated.
First off, we need a boat. The governor already agreed to put in half a million for this boat. With the engine, it will cost P1 million.
Even their cultural program was jaw-dropping. My goodness, they can dance! And not only the women, even the men can dance. But it's the intense level of heartiness that they put in the dance that I found so moving. Very, very touching! They have so much going for them.
In Simunol, they have all these mansions built with OFW money and there are many empty rooms. So, it's almost ready to go. The homestay people just need to be trained in tourism. We need to get the boat ready. It's exciting to note that there are no typhoons here so it will actually be ready the whole year.
We will soon be starting tours there.
* * *
If you are interested, email hellogina@gworld.ph.
To donate, deposit to BDO Account Name ALKFI-Green Initiative at account number 0039301-60115. Kindly send Celina (CCRotea@abs-cbnfoundation.com) a copy of your deposit slip so we can track your donations and provide updates on the Tawi-Tawi project.
Also, here's a link to give you an idea of what I have experienced so far in Tawi-Tawi: https://www.youtube.com/watch?v=EWI2Fnnm_qM&feature=youtube.