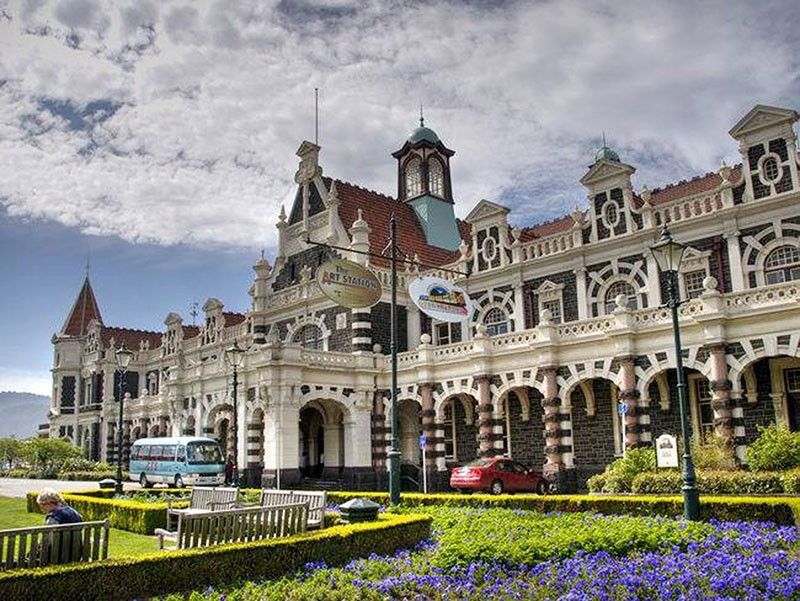 Dunedin Railway Station is the most photographed spot in all of New Zealand.
New Zealand's South Island beckons
Called 'Edinburgh of the South,' here is where travelers can see blue-eyed penguins and Jurassic trees, savor a unique beer culture and enjoy cool glacial valleys.
If you're the kind of wanderer who desperately craves new destinations/ experiences that are off the beaten track, then New Zealand's South Island is worth the trip.
The South Island, the larger of the two major islands of New Zealand, is home to the purest natural landscapes you'll ever experience. From wildlife to wineries, from glacial valleys to star-filled skies, nature's best flourishes against a palette of breathtaking scenes.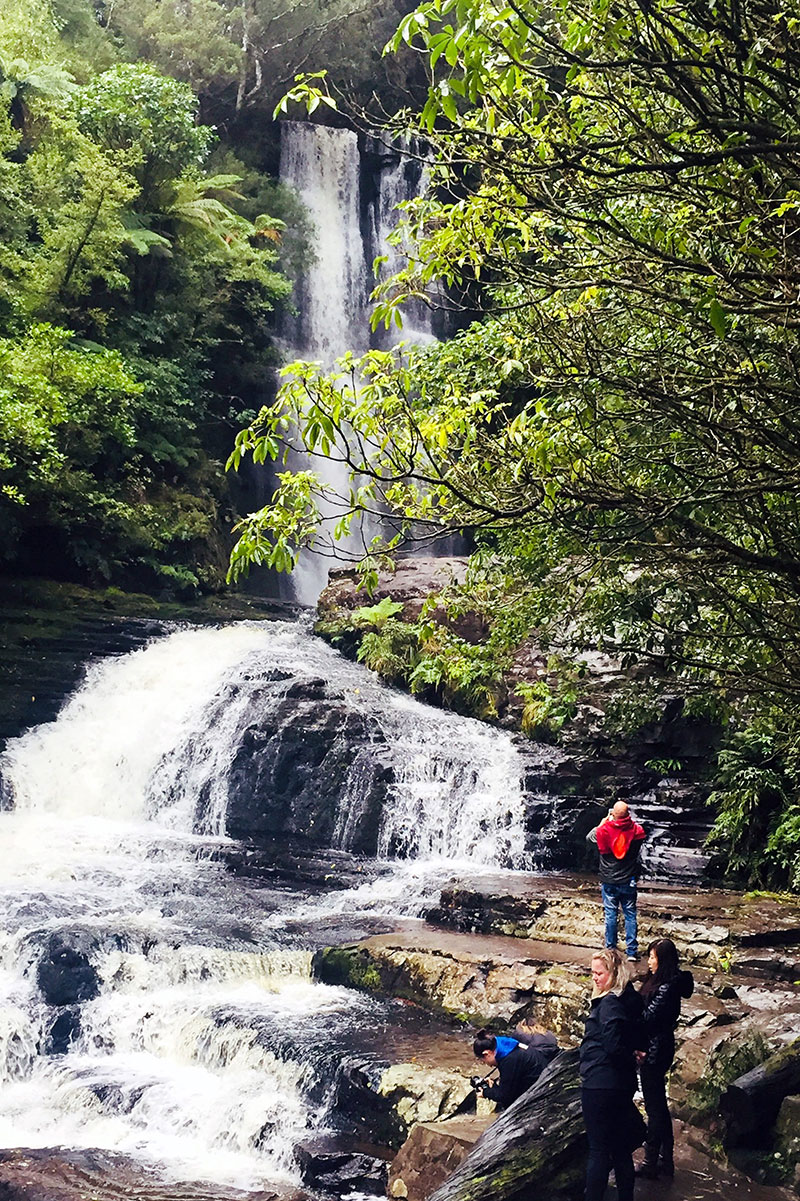 At 22 meters high, McClean Falls is the tallest in the Catlins.
I guess this explains why New Zealand's biggest annual international tourism showcase — Trenz 2018 — was held in Dunedin, the first time Trenz has returned to the South Island since 2012.
Trenz is Tourism New Zealand's version of the US Travel Association's International PowWow (IPW), the industry's premier international marketplace and the largest generator of travel to the US.
At the opening ceremony held at Forsyth Barr Stadium, Mayor Dave Cull welcomed delegates to the "Edinburgh of the South."
"For those of you visiting for the first time, our city is culturally diverse. Maori first settled here some 800 years ago. European sailors and whalers started arriving in the first decade of the 19th century," Dunedin Mayor Dave Cull said.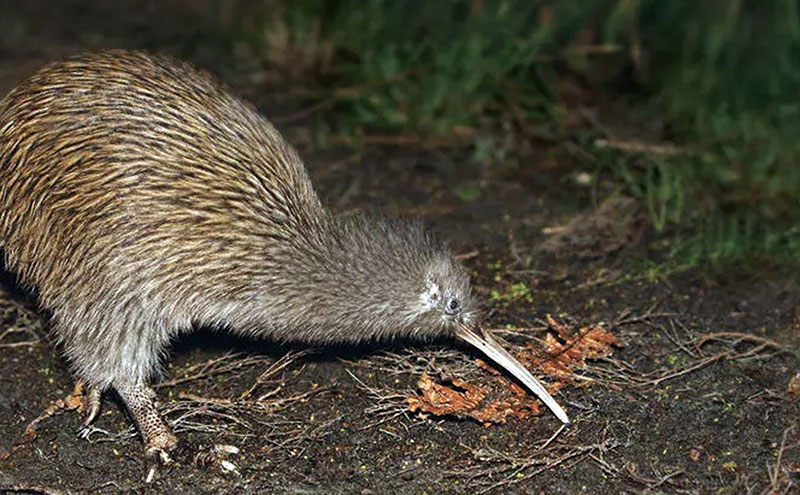 Get up close with the kiwi in its natural habitat.
And diversity is not only confined to humans. The peninsula is home to an amazing wildlife, including the white-capped albatross, yellow-eyed penguins, blue penguins, sea lions and seals. The influence of mid-century Europeans can still be seen in the city of Dunedin today — in its Victorian and Edwardian architecture.
"Trenz 2018 is a fantastic opportunity to showcase our world-class tourism offerings to key global travel, trade and media influencers, and allow them to experience all of it first-hand," said Dunedin Mayor Dave Cull as he raised a bottle of Dunedin Beer, a limited-edition Dunedin Golden Ale created by Emersons just for Trenz, for a celebratory toast.
Well, experience Dunedin we did.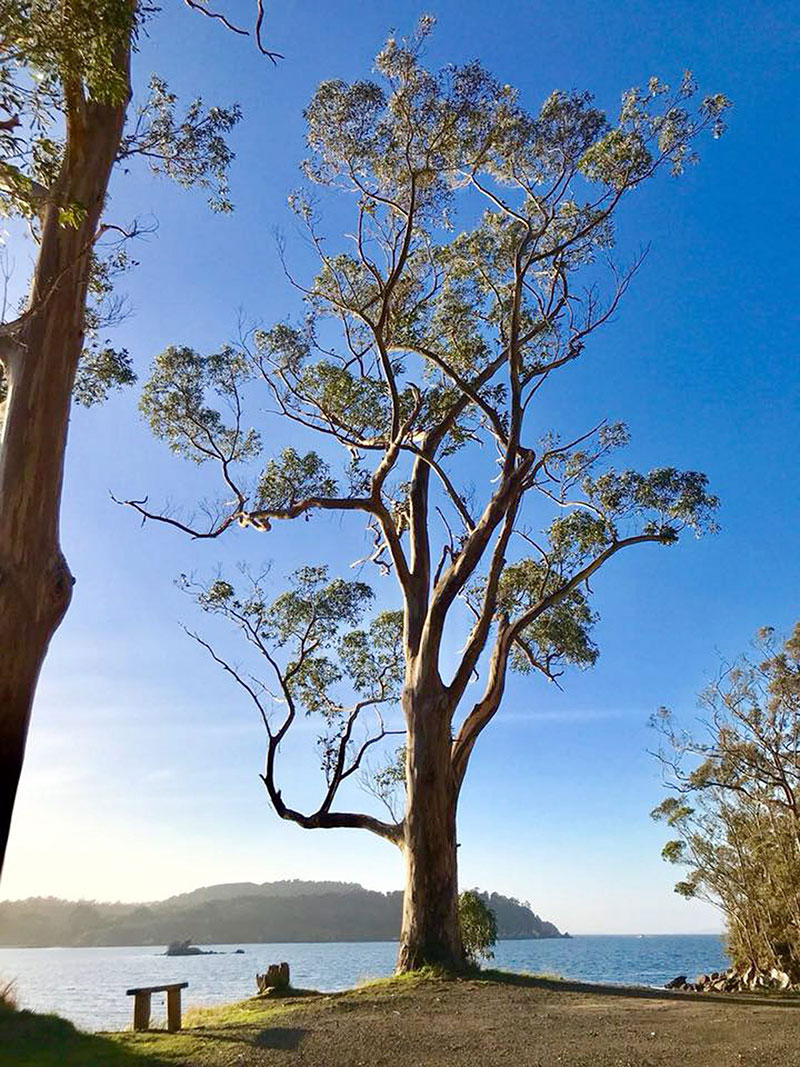 Once on Stewart Island: Savor nature at its finest at Stewart Island.
Spotlight on Dunedin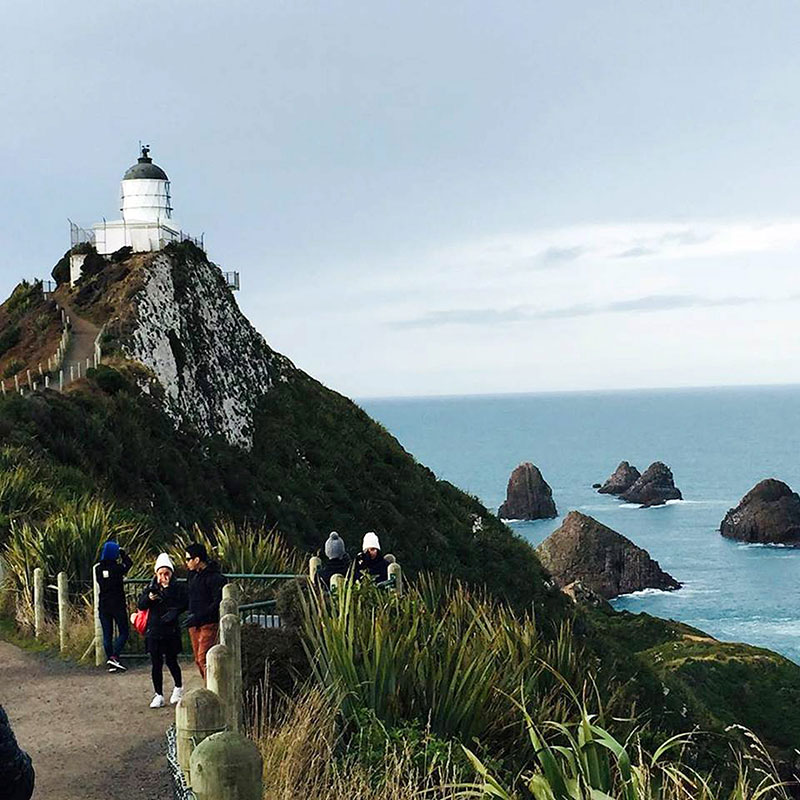 Nugget Point is home to New Zealand's oldest lighthouses. From the view deck, you can see the famous "nuggets," wave-eroded rocks, which were likened to gold nuggets.
I was part of the media delegation invited by Tourism New Zealand to witness Trenz 2018, explore Dunedin, and embark on a Southland discovery.
Tucked into a long sheltered harbor on the east coast of New Zealand's stunning South Island, Dunedin is a fascinating city. Here, you can immerse yourself in heritage architecture with its wealth of fine Edwardian and Victorian heritage buildings, which were built from the riches of the gold rush fever.
As a university town, Dunedin is full of inexpensive eats, street art, craft beer, and friendly locals eager to stop and give you directions. And oh, don't forget to check out the interesting local shops, cafes and pubs at The Octagon.
Here's a list of the best things to do in the town locals refer to as "Dunners."
• Explore the Dunedin Street Art Trail. Grab a map from the hotel's concierge and explore Dunedin's outstanding Street Art Trail, which is brilliantly woven through the central city and Warehouse Precinct, making for surprising discoveries on every corner. The art trail features works from local and internationally acclaimed street artists such as the UK's Phlegm and Belgium's ROA, the artworks providing a colorful and quirky vibe to this heritage city.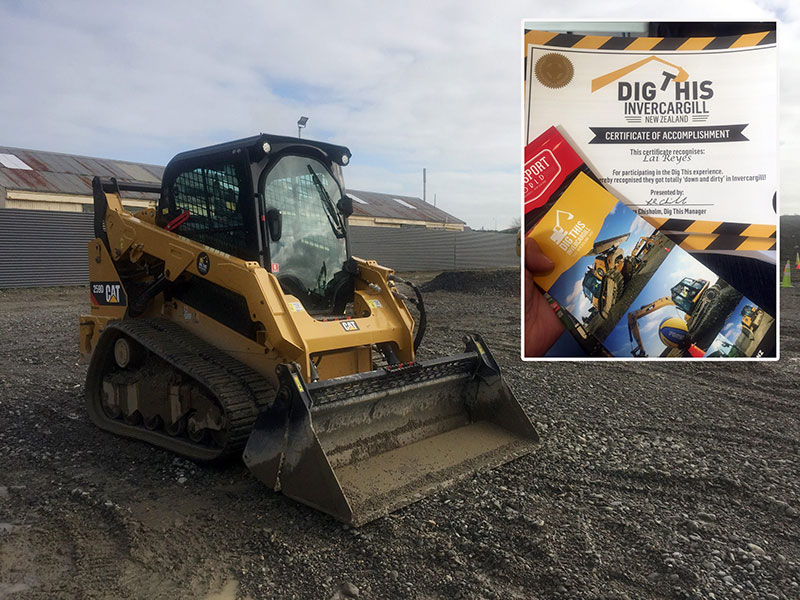 Dig this: The author got to operate a mini excavator at Dig This Invercargill, New Zealand's first heavy equipment playground.
• Take a selfie at the Dunedin Railway Station. Touted as the most photographed spot in all of New Zealand, Dunedin Railway Station draws in the crowd because of its gingerbread house-like facade done in Edwardian Baroque-style. Though it's not in use anymore, the train station was the country's busiest, handling up to 100 trains each day.
• Have a romantic dinner at Larnach Castle. As the "Edinburgh of the South," it makes sense that Dunedin has a (mock)-castle. Situated on the ridge of the Otago Peninsula, it is one of few houses in this scale in New Zealand. The house was built by entrepreneurial and political William Larnach. Today, the castle is now privately owned by the Baker family and operated as a tourism destination. We went there just for dinner — and witnessed the proper Scottish-style blessing of the haggis — so we didn't get to appreciate the lush garden, which has been given the rating of "Garden of International Significance" by the New Zealand Gardens Trust. (Larnach Castle is at 145 Camp Rd., Dunedin)
• Visit the Olveston House. Designed by English architect Sir Ernest George, Olveston was built in 1906 as a family home for Dunedin businessman and philanthropist David Theomin, his wife Marie, and their two children Edward and Dorothy. Intended for future generations of Theomins to enjoy, this was not the case as both the Theomin children died without heirs. Surviving the death of her father, mother and brother, Dorothy Theomin lived at Olveston until her death in 1966, when it was discovered that the house and its original contents were gifted to the City of Dunedin.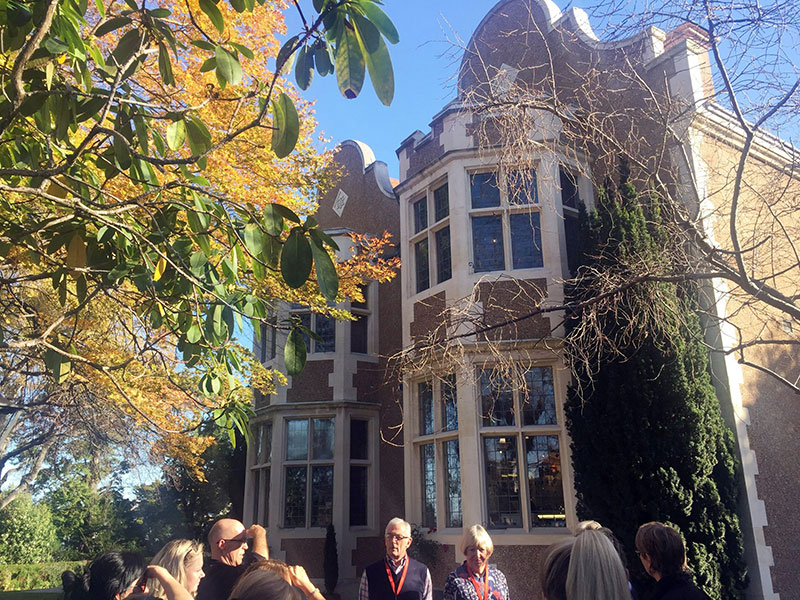 Designed by English architect Sir Ernest George, Olveston House depicts the life of a wealthy merchant family in the early part of the 20th century.
Olveston House depicts the life of a wealthy merchant family in the early part of the 20th century.
Olveston is open 364 days of the year, offering six one-hour public tours daily.
(Olveston House is at 42 Royal Terrace, North Dunedin.)
• Drink Speight's beer and be merry. Speight's, a now ubiquitous national beer that traces its roots in Dunedin, offers a tour of the Dunedin brewery year-round. Your admission ticket includes beer samples. (Speight's is at 200 Rattray St. Dunedin.)
Southland discovery
From Dunedin, we drove to The Catlins, a vast and remote area of rugged, natural beauty often overlooked by travelers.
There we saw these breathtaking sights, which are reasons enough to venture to this rather remote area of the country.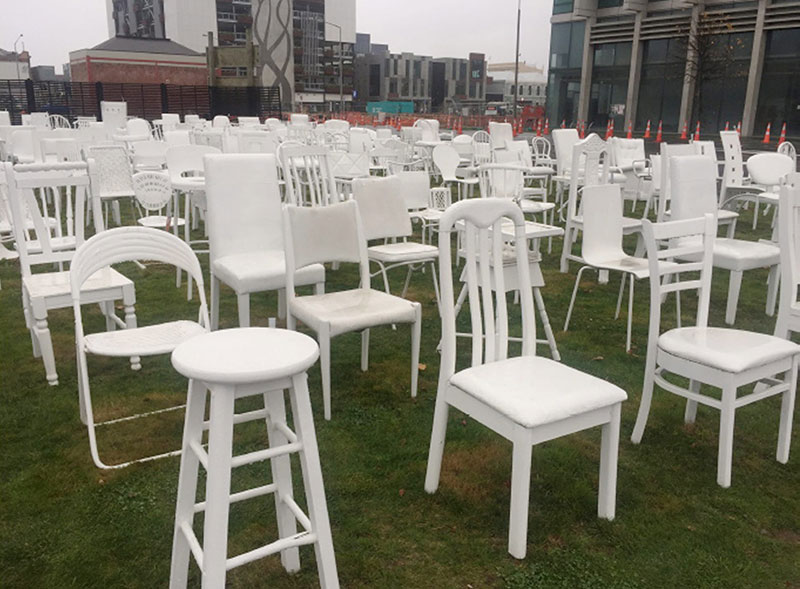 "185 Empty Chairs" is a temporary art installation reflecting on the loss of lives, livelihood and living in the city following the killer earthquake that devastated Christchurch in 2011. Each chair pays tribute to the uniqueness of each person represented.
• Nugget Point. Nugget Point is home to New Zealand's oldest lighthouses. From the parking lot, it's a breezy 20-minute walk on a path to the lighthouse and the viewing platform. Looking down, we saw the famous golden "nuggets," wave-eroded rocks, which were likened to gold nuggets.
The point is home to many seabirds, including penguins, gannets and royal spoonbills, and a large breeding colony of fur seals.
• McClean Falls. At 22 meters high, McClean Falls is the tallest in the Catlins. To get there, you need to take the 30-minute loop track to the Tautuku River. The falls is a favorite among photographers because it features a huge drop and multiple terraces that offer great (photo) angles.
•Curio Bay. Curio Bay is famous for its fossilized forest dating back to the Jurassic period and wildlife attractions. The tree fossils can be seen at low tide and are over 160 million years old. If you're lucky, you might get to see yellow-eyed penguins in the bay.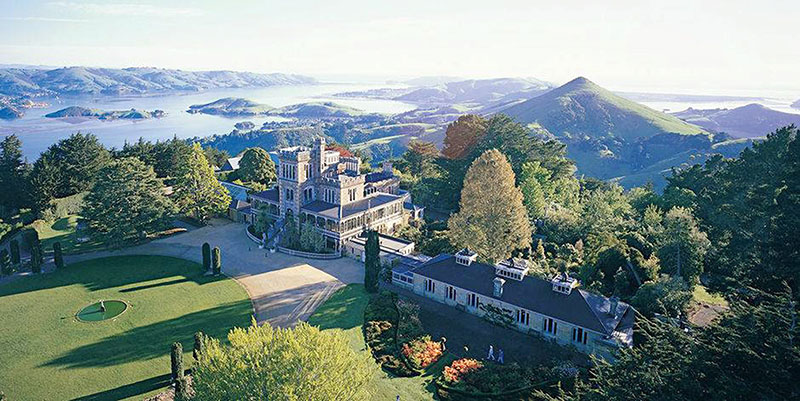 Situated on the ridge of Otago Peninsula, Larnach Castle is one of Dunedin's must-see destinations.
Invercargill, New Zealand's southernmost city, is just a short drive from The Catlins.
And based on what we saw and experienced, it seems that the capital of Southland is obsessed with anything that has wheels.
There's the Bill Richardson Transport World, which houses world-class vintage trucks, motorcycles, cars, even vintage petrol pumps. The scale of the collection is sure to impress even those who aren't into wheels.
For someone who doesn't know how to drive, being able to operate a mini excavator is a big feat! At Dig This Invercargill, New Zealand's first heavy equipment playground, the experienced team has taught me how to operate the machine in a giant gravel pit.
But the highlight of our Southland discovery was a trip to Stewart Island where we savored nature at its finest.
Over 85 percent of the island is National Park and most people come here for the hiking and bird watching.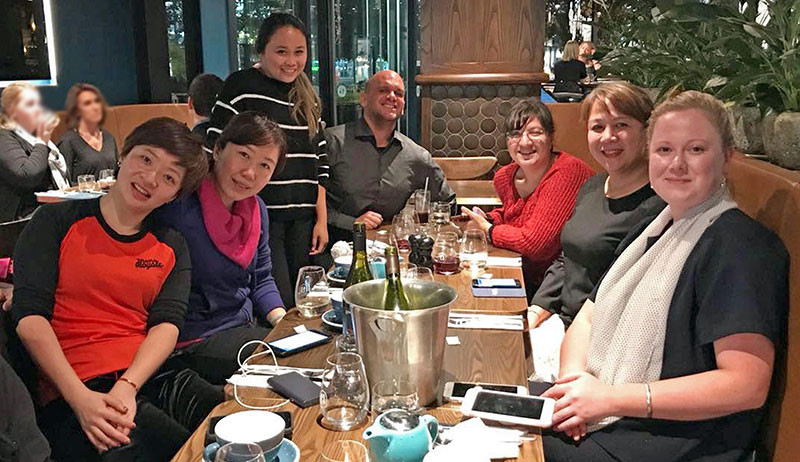 Team New Zealand: Tourism New Zealand Carolle PR manager-Greater China Echo Zhu (left) and PR advisor Carole Tredrea (right) with Mafengwo China's Ran Zhao, Tourism Media China's Jing Li, Travel Age West's Michelle Uy, GoWhere Brazil's Luciano Garcia, Report Argentina's Graciela Cutuli and author Lai Reyes
As they say, when in New Zealand do what the Kiwis do. So we set sail in our catamaran for a cruise across Paterson inlet to Little Glory Cove for the Wild Kiwi Encounter.
During the cruise, we passed by Ulva Island, a predator-free sanctuary, and learned about Stewart Island's rich history from our guide. Once at Little Glory Cove, we disembarked onto a wharf at the southern part of the peninsula known as The Neck.
The walk, led by our nature guide, is on a well-formed track across the peninsula, through a spectacular coastal forest to a secluded sandy beach, which offers the best stargazing opportunity. In the darkness, we spotted the Southern brown kiwi searching for food. No flash photography was allowed so I just admired the kiwi from afar and the Southern Cross above me.
If a trip to New Zealand has always been on your bucket list, now's the best time to do it. Get off-the-beaten track and explore the South Island while it's still under the radar.