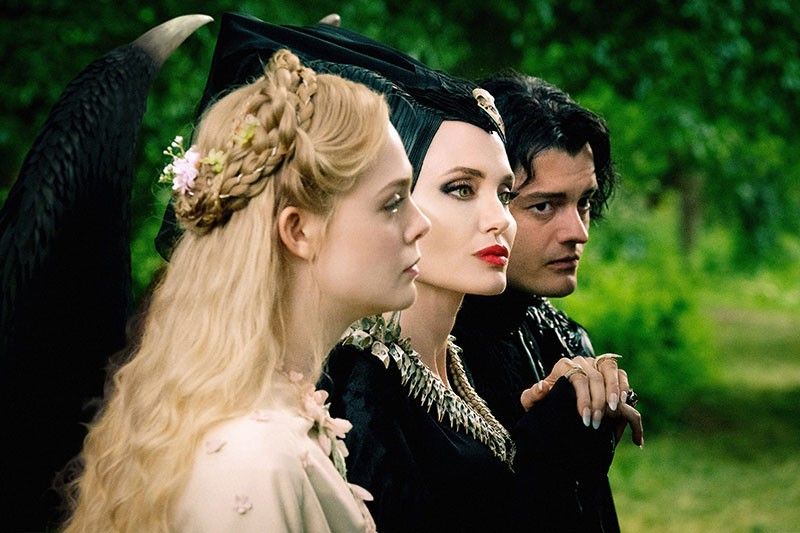 Five years have passed since the events in Maleficent, and in its sequel Mistress of Evil, Aurora (Elle Fanning), Maleficent (Angelina Jolie) and Diaval (Sam Riley) must do whatever it takes to bring humans and fairies together once and for all.
'Maleficent' tries to explore beyond happily ever after
MANILA, Philippines — Five years ago, Maleficent turned heads and won viewers over with a twist on a fairy tale we all grew up with. Told from the point of view of the titular Sleeping Beauty villain, it was predictably dark, but defied expectations by casting Maleficent as an antihero with the emphasis on "hero." She was flawed, hardly nice, with a vengeful temper, but she also nursed her own pain and showed that she was capable of love and companionship. In other words, she was more real than ever. The strong and enjoyable performance from Angelina Jolie — whose presence on the big screen has been quite sparse this decade — made it worth seeing, at the very least.
The same is perhaps not as true for its sequel, Maleficent: Mistress of Evil, which came out this month.
In this fictional kingdom, five years have also passed since the events of the first movie. Aurora rules over the Moors with grace and kindness, and Maleficent attends to her duties of protecting it. The peaceful semblance of normal takes a turn when Prince Phillip proposes to Aurora and she says yes; Maleficent not only has trouble letting go of her daughter figure, she also has to grapple with having to literally bridge the gap between humans, who still fear her, and fairy folk.
The first act plays out a bit like a "meet-the-parents" family comedy, with Aurora, Maleficent, and her right-hand man Diaval attending a dinner at Phillip's castle to celebrate the coming union, but it only serves to cause a rift between Aurora and Maleficent, who is presumed dead but wakes up in a strange place where there are creatures who are exactly like her. In her absence, Phillip's mother Ingrith is only too happy to declare war against fairies.
Upon first glance, the movie's effects aren't too pleasant, either coming off as painfully hyper-realistic or artificial-looking. These days, releases billed as "3D movies" are all but obsolete, so when you see an opening credits sequence that looks pretty obviously Made For IMAX, the results can be pretty jarring — and dizzying. It also tries for a tongue-in-cheek, affectionate-parody approach to princess stories like Enchanted and the original Maleficent did, but messes up the execution by being too wink-wink, nudge-nudge about it. (At one point, a character literally says, "I see what you did there.")
Jolie is springy and ethereal as ever as Maleficent, and Elle Fanning gives Aurora a quiet strength that makes her easy to root for. Michelle Pfeiffer, as the domineering Queen Ingrith, and Chiwetel Ejiofor, as the good-natured and earnest Conall, are welcome additions, and Sam Riley's comforting comic relief Diaval remains a fan-favorite. But even good acting can only do so much for a story that doesn't really know what it wants to say.
Clocking in at just under two hours, the movie's pacing takes a little too much time to get the story going and doesn't really pick up from there. Through exposition after exposition, the audience might find lessons about the true meaning of family, love, and identity, and how oppression and discrimination aren't good, but each plot thread and idea could be explored further.
For a sequel supposedly meant to flesh out back stories and expand a universe, Maleficent: Mistress of Evil might be having an identity crisis. As such, you can't help but think that it doesn't quite know which audience it aims to appeal to: too convoluted for children to follow and a bit uninspired for anyone else. It has built its concept around shattering the mystique behind its title character, which has always been what made her a great one. This might have worked for the first movie, because she got to keep some of her ambiguity and gray areas. But here, somehow it just makes her fall flat.
When you're told that there's always more to the story, sometimes you have to ask: Well, should there be?