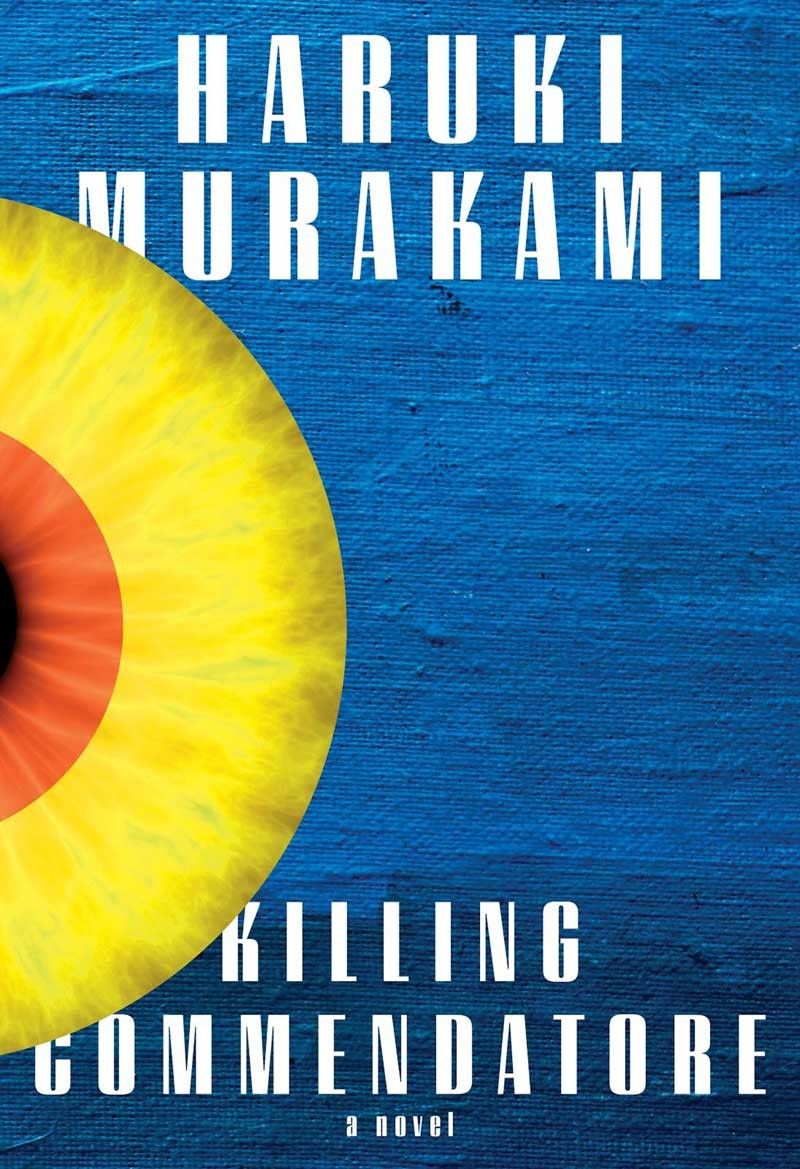 Killing Commandatore By Haruki Murakami 681 pages Available at Powerbooks, National Book Store
There's a hypnotic pace to Murakami's novels — you're lulled by the narrator's voice, then you're suddenly zapped, as though you find yourself slipping into a dream, or out of one.
At this point, Japanese novelist Haruki Murakami could write a six-part novel about his cat's dietary restrictions, and not only would people gobble it up, he'd make it interesting. And yet his latest doorstop-size tome, Killing Commendatore, is a slow burner. For me, it never really catches fire. He may be starting to exhaust my patience as a reader.
Following a semi-successful portrait painter who retires, only to be drawn back in by a lucrative request from a portrait subject, it picks up on some of Murakami's recent interests. His previous book, Absolutely on Music, collected a series of conversations with conductor Seiji Ozawa about various classical recordings. Yeah: just 300 pages of a novelist and a conductor sitting around, listening to classical records and rapping.
Absolutely on Music is an interesting read if you happen to have a Spotify playlist of all the recordings being discussed in the background (and there is such a thing). In Killing Commendatore, there's all this classical music playing in the background, like it's left over from the previous book — and Murakami's narrator talking about the technical aspects of painting as though he recently took an online crash course in the subject.
Our unnamed narrator has an okay career as a portraitist, until his marriage falls apart at age 30 and he's left seeking solace in a mountain cabin once owned by famous painter Tomohiko Amada. There, the narrator tries to settle in and relearn how to paint.
In a cabin barren of artworks and distractions, he discovers just one canvas, wrapped up and seemingly hidden in a dusty attic. The painting, set in feudal Japan, depicts a scene from Mozart's Don Giovanni, in which the young Don Juan violently murders a night commander. (You can pretty much imagine Murakami listening to the Mozart piece and conjuring up a whole story based on this moment.)
Of course, this discovery is a setup for a novel that — as the prelude hints — will involve more supernatural and surreal elements. There is a hidden pit in Amada's backyard, and a bell ringing deep down inside of it. There is the unexplainable appearance of a character, a two-foot muse who seems to spring fully formed from the Amada painting. In other words, the usual Murakami Lynchian weirdness. And yet, why does it all fail to dig its hooks into this reader?
We can first ask ourselves, why do people read Murakami? At an Ateneo symposium I attended organized by the Japan Foundation, this very question was explored. As a post-war, post-millennial, post-9/11 novelist in his 60s, it's hard to pinpoint his universal appeal. It was suggested that Murakami writes in a way that touches on universal angst, while his narratives are sprinkled with enough topical details to root them in our modern existence. But he's also just a very skilled, natural writer who can tell stories we get wrapped up inside. There's a hypnotic pace to his novels — you're lulled by the narrator's voice, then you're suddenly zapped, as though you find yourself slipping into a dream, or out of one: all seems normal, or explainable, until it suddenly isn't. Something weird is going to happen in a Murakami novel. You can always bet on it.
In Killing Commendatore, it takes forever to establish this mood, and even longer to maintain it. His last big-size novel, 1Q84, didn't take long to bring us there. This one, despite its promising premise, really drags on a bit. But maybe Murakami, now close to the age of the inscrutable art patron Wataru Menshiki who pulls our narrator into the mystery, deserves the right to set his own pace.
Against all this narrative, Murakami draws parallels with The Great Gatsby. There is a house across the lake, lit up like Gatsby's mansion. The owner, Menshiki, is interested in a young girl who may or may not be his daughter, and his trepidation around her matches Jay Gatsby's awkwardness when a meeting with Daisy Buchanan is arranged; our hapless narrator is the Nick Carraway in this situation. Why Murakami draws parallels to Fitzgerald's slim masterpiece might have something to do with the underworld of Double Metaphors that emerges late in the novel.
As with much of Murakami, there are occasional episodes of graphic sex, bursts of jazz, a focus on whiskey (Jura gets a special shout-out here), and even a browsing trip through a local used vinyl store that reads like a blog entry ("in the end, I ended up buying Bruce Springsteen's The River and an album of duets by Roberta Flack and Donny Hathaway"). Yet somehow, Killing Commendatore ends up feeling curiously flat. While nothing has outwardly changed about the novelist's style or approach to storytelling, I did have some trouble latching onto this tale. A shame, because the opening prelude chapter tantalizes. Continuing this same mood throughout nearly 700 pages might be as difficult as painting a masterpiece. Killing Commendatore falls short.