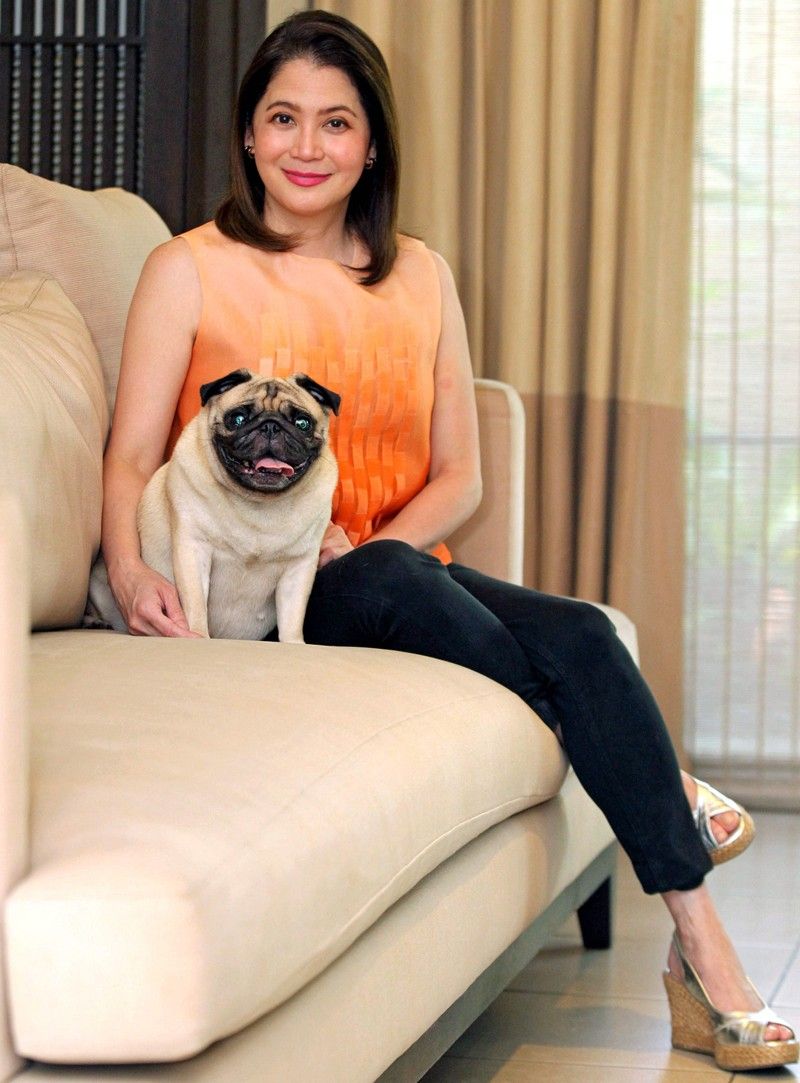 Tourism Secretary Berna Romulo-Puyat wears a Sari Lazaro top as Biggie poses with her. "No, Biggie doesn't like dressing up."
Photos by Jun Mendoza
Berna Romulo-Puyat: It's more fun in the Philippines with Biggie
'Biggie is pang-alis stress talaga,' Sec. Berna said. 'When I see her, lahat ng problema ko sa mundo nawawala.'
I arrived at the home of Tourism Secretary Berna Romulo-Puyat 10 minutes early.
I was welcomed into her home, which has two salas that I imagine are used for gatherings of family and friends, and a large dining room.
A Pug met me, giving me a once-over with its nose stuck to my pants and seemed to conclude that I was okay, as it lay beside me.
When Sec. Berna saw me with the Pug lying comfortably at my feet, she immediately started to talk about her dogs.
"I have three dogs," she said. "The eldest is Miyuki. She is a Labrador who has been with us since 2008. She likes staying outside — chill lang siya.I have a Beagle, Kahlua — ayaw niya sa loob. She was a gift to me. When she is inside she eats the furniture. When she sees strangers, wala, patay ka na. I think Beagles are like that — guard dogs."
She then introduced me to the Pug.
"This one is Biggie. She loves to lie down and listen to people as they talk," she continued. "She likes staying inside and she sleeps with my daughter at night."
Biggie was a gift to her son by his batch mates when his best friend passed away. He is the one who gave her the name — after the rapper Biggie Smalls.
"When my daughter Maia has a sleepover, Biggie still sleeps upstairs," she added. "I read that Pugs are highly sensitive to heat due to their short noses. The heat and exhaustion from exposure to hot weather can cause heat stroke. So, I allow her to sleep in an air-conditioned room."
Biggie began to doze off and snored a little.
"She has a terrible snore. It is louder than that of a person," Berna laughed. "One time I entered my daughter's room and I thought Maia was snoring. But when I looked closer it was Biggie pala."
When Berna's son Vito is home, Biggie likes to stay with him. Vito was away for college in the UK but now works in the province.
"When he left for the UK to study, Biggie became our dog," Berna said. "We like to spoil her. She is sooo cute kasi."
Yes, the Secretary has five kids: Maia, 23; Vito, 22; Miyuki the Labrador, 11; Kahlua the Beagle, 5; and Biggie Smalls the Pug, 4 — four girls and a boy.
"We named our Labrador Miyuki because it means beautiful happiness," she began. "My late husband passed away in 2010. I remember that when Dave would cook, Miyuki would be beside him. She was his favorite. But she sheds a lot — hindi pwede masyado sa loob because both my kids are asthmatic."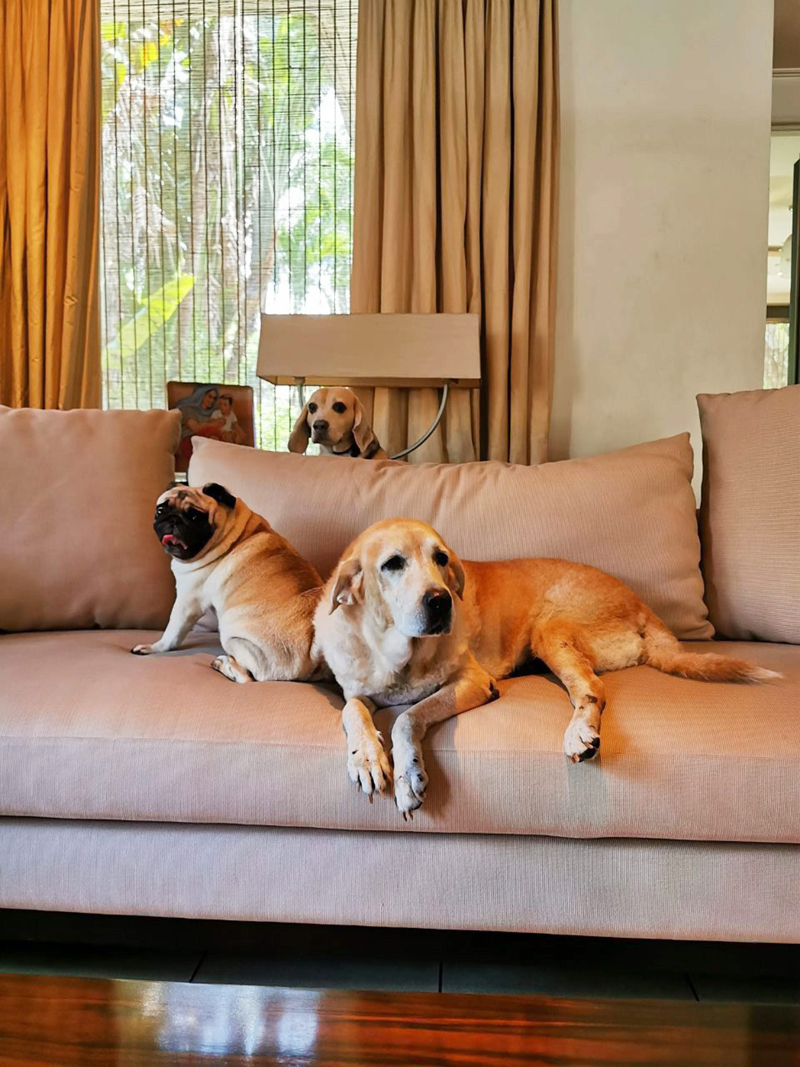 Three is company: Biggie the Pug, Miyuki the Labrador and Kahlua the Beagle
Being a Labrador, Miyuki really likes staying outside, where she has space to roam. Two years ago, Miyuki had a cyst. Berna recalled that well-meaning friends had said that it might be time to put her down. "But she is part of our family, so we did what we had to do to keep her alive," she added. "Miyuki still prefers the outdoors even after the operattion where she can chill and not be bothered."
We saw Kahlua peep into the house from the garden.
"Kahlua hates staying inside the house," Berna said. "She loves running around the garden. When you call her inside, ayaw sumama. May kanya-kanyang ugali talaga sila."
Have you ever told President Duterte about your dogs? I asked.
"Si Mayor kasi, when he calls, it's about work. So I don't get to talk to him about my personal life," she said. "I know he owns dogs in Davao but I'm not sure what breed."
Making the Philippines more fun
I took the opportunity to ask Berna about what she feels is her biggest accomplishment after a year at the Department of Tourism.
"The biggest achievement of the DOT under my administration is starting a movement on sustainable tourism," she began. "We have imbued this advocacy not only in rehabilitating our beautiful destinations, but also in inspiring our tourists, stakeholders and citizens to act more responsibly when travelling in order to preserve our natural wonders for the next generation. We have applied the concept of sustainable tourism in the way we promote our country."
I listened attentively trying to take it all in.
"To reduce the carbon footprint, we've adopted a crowd-sourcing approach in producing advertising content by inviting tourists to share their most fun experiences in the Philippines," she added. "But crowd-sourcing doesn't stop there. In the spirit of bayanihan, we have inspired private companies to work together and help promote the Philippines worldwide through their respective industries such as food, telecommunications, leisure and entertainment, and, of course, travel. This entire campaign, anchored on the foundations of sustainability, is inviting everyone to be part of the fun."
As I digested what she had just said, I noticed she was dressed in a modern, Filipiniana-inspired outfit, which has become her regular attire since I she became undersecretary at the Department of Agriculture.
"It started with Amarie (a clothing line by Anne Marie Saguil) when I was in the DA," she smiled. "I would have barong tops and barong dresses. It was something that I could wear — not too dressy but it was good for events. Amarie was the first to have these dresses. Then Berna met Len Cabili of Filip + Inna. Now she also likes wearing Marga Nograles' designs from Kaayo.
"I find it very fascinating to wear modern Filipiniana," she said. "You wear our culture and you help the weavers at the same time, and it does not look like I dress in costume for Linggo ng Wika," she laughed.
Last year, because of the Ternocon of Ben Chan, she saw how beautiful the terno could be. Now she says she has added the terno to her Filipiniana wardrobe and wears them to work and formal events as Secretary of Tourism.
"Now when there are functions I make it a point to wear a terno," she said. "I notice when I go abroad I am asked by a lot of people what I am wearing. It makes me feel proud to wear a terno because they do not know what out national costume is."
She recalled a conversation during her recent trip to Bhutan, a country that has never been colonized.
She was there to attend the UN World Tourism Organization (UNWTO) because the Philippines is bidding for the ASEAN vote for the 2021 General Assembly of the UNWTO. If it happens, it will be the first time that our country will host all the tourism ministers.
"In Bhutan, people always wear their national costume," she said. "The foreign minister said they wear their national costume because if they stop, they will lose their heritage."
When she started wearing modern Filipiniana in 2014 it was because she found it "maganda." Today she wears it out of a sense of pride for our culture and heritage.
Berna has been serving our country for a long time. She taught at the UP School of Economics for 14 years, worked in NEDA and then the DA for 12 years, and now, the DOT. She continues to live for our country — not only in dress but she on a mission to make the Philippines truly more fun.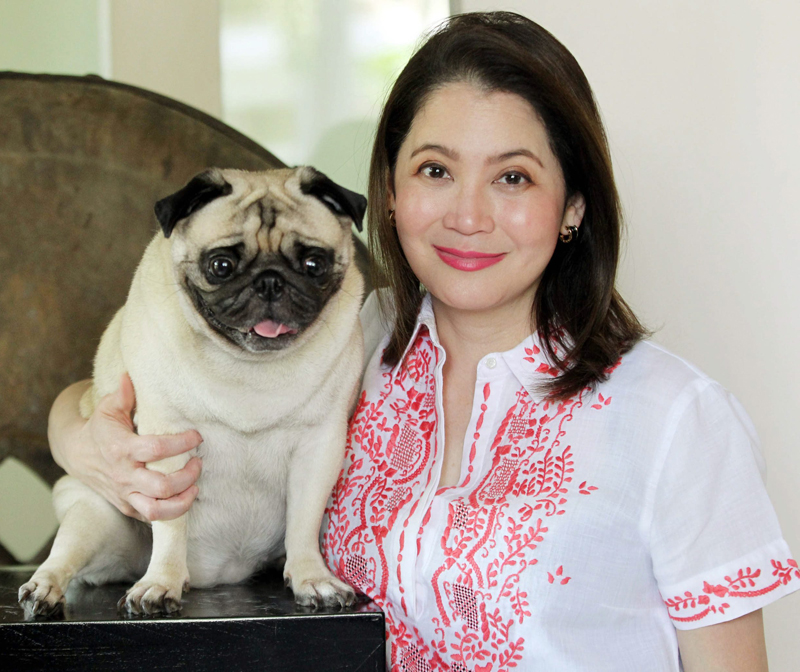 Berna proudly wears Filipiniana, such as this embroidered Amarie blouse.
Dogs rule
Biggie, who had been lying on the cool floor, began to stir, a sign, perhaps, that it was time to start our pictorial, which she had been bathed for.
"Biggie is pang-alis stress talaga," Berna said. "When I see her, lahat ng problema ko sa mundo nawawala."
Did you ever try to dress Biggie, I ask?
"She doesn't like it," came the quick reply. "Two seconds lang tapos ayaw niya."
Does she do tricks?
"She can go up the stairs and look at us to follow her. She goes to her bed and points for it to be brought to her ate's room," she laughed. "Biggie looks at the aircon as if telling us to turn it on. And then she lays on the bed and all is okay."
One more question, I said.
Can Biggie help you with your sustainable tourism program?
"Biggie should be the mascot," smiled Berna. "She knows how to follow rules."
And there is nothing more fun for Berna than coming home at the end of a tiring day and seeing Biggie so happy to see her.
"When I come home I go to Biggie and tell her that I missed her during the day," she said. "'You know, you're prettier than your ate.' And Maia will be there, looking on and smiling."