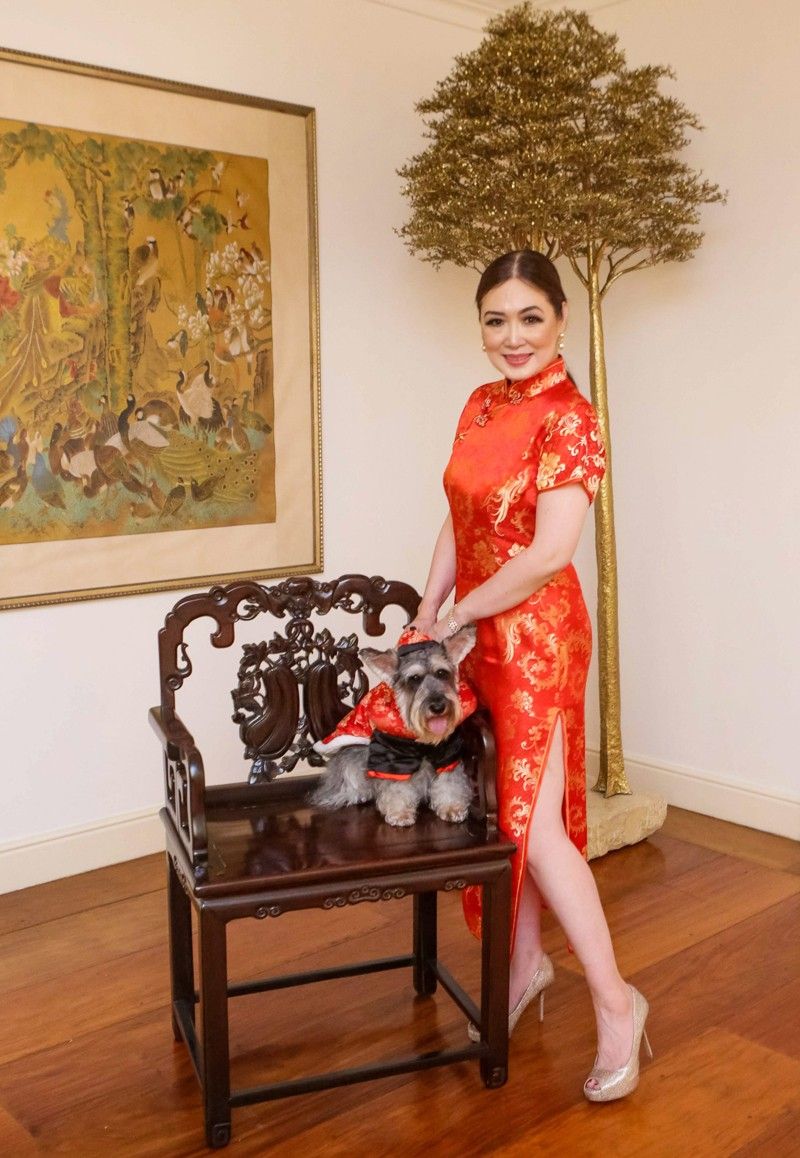 Proud of her heritage: Linda Ley in a classic Hong Kong cheongsam; Dagz in a Chinese jacket
Photos by Geremy Pintolo
The pawshionistas: Linda Ley and Dagz
My nerves got the better of me when I met Linda Ley, known to be one of Manila's best-dressed women, chosen by Criselda Lontok to be her muse for her fashion line at Rustan's. She is also a well-liked society beauty.
What did I know about fashion? Close to nothing.
My fears were unfounded as I was greeted at the front door by Linda, attired in a simple housedress, which she made so fashionable. She exudes an air of contentment and tranquility. And is so easy to like because there is a lightness and bubbliness about her.
Her spic-and-span living room is adorned with a table set for a feast in bright colors. She is devoid of any airs and carries with her an infectious, "life is happy" manner that easily rubbed off on me.
"I used to have all silver," Linda laughed, as she told me about her table setting. "But now I am into bright colors and many little things that I gather from my travels."
Before she was married, Linda says she was in business. However, being a wife and a mother to three kids easily became her top priority.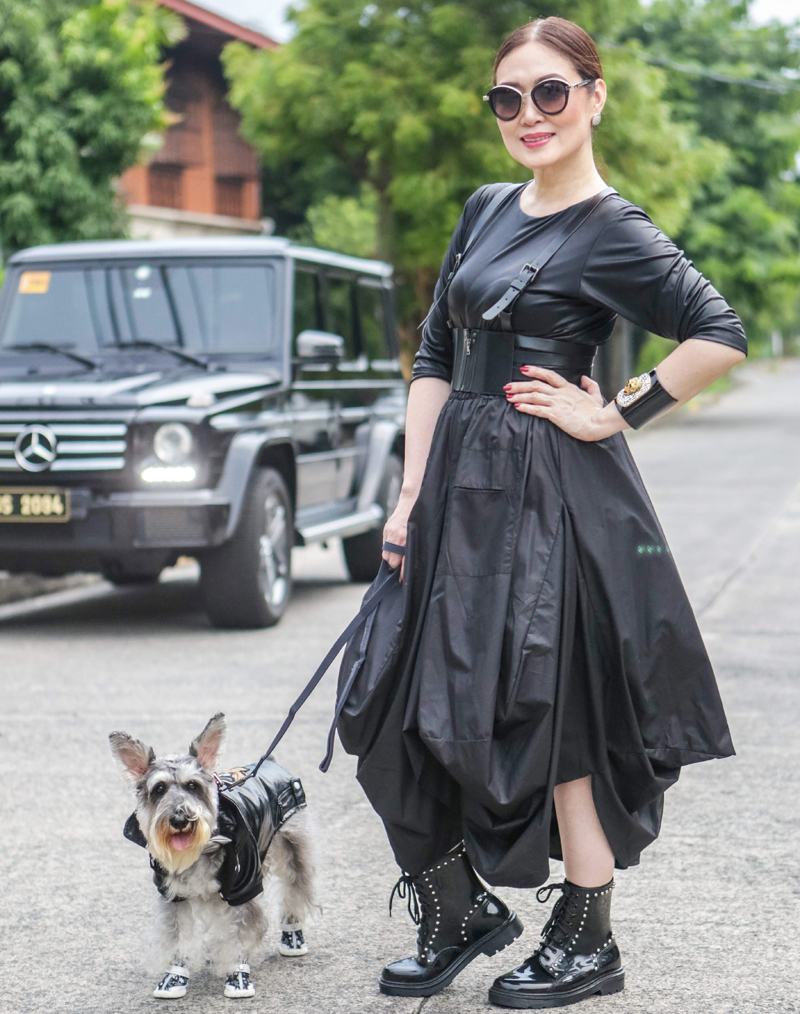 Ready to rock: Linda in Yohji Yamamoto; Dagz in Harley Davidson
"I love to cook and prepare special meals for my family," Linda said. "I prepare everything before I leave the house." The children are all grown up now. I have 29-, 27- and 26-year-old kids."
These days Linda is often seen at charities, events and society affairs. She takes pride in her involvement in Angels to Street Kids, a non-profit organization founded some five years ago.
"Through Angels to Street Kids, we are able to organize feeding programs for underprivileged kids in Taguig, Tondo and other depressed areas," Linda shared. "We also visit various homes for the aged and cancer-stricken kids."
She is also part of the Epcalm Adult Leukemia Foundation of the Philippines. Recently, she helped Epcalm publish a coffee-table book.
Linda makes it a point to spend some "me time" to recharge. "Personally, I want to age gracefully," she said. "It's about being comfortable with yourself and having that inner glow."
Just then, Dagz, her three-year-old Miniature Schnauzer, entered the room and started to bark as a greeting.
Scared of dogs
"I am ashamed to say that I was not a dog-hater, but I was not previously a dog-lover, either," began Linda, as she introduced me to Dagz (he was given the name Doglas Schnauzenegger by her family, but Linda wanted to add a little élan to the name so she named him Dagz). "I was not fond of dogs. Kapag natutuwa ang tao sa aso, dati hindi ko naiinintidihan."
Her fear started as a child when her mother was bitten by one of their housedogs. From then on she was warned to stay away from dogs because they bite.
Linda is also very particular about the cleanliness of her home.
"I could not imagine that there would be a dog inside my house," she shared. "If they run in the house then they would destroy everything."
But she recalled an incident that changed her love for Dagz and her life forever.
"My husband Victor and I were invited to dinner by Jojo Zabarte. She is a dog-lover," Linda said. "I did not like dogs at the time, but as a gracious guest I said her dog, Boris, was 'cute' but dyan lang siya; I did not touch the dog."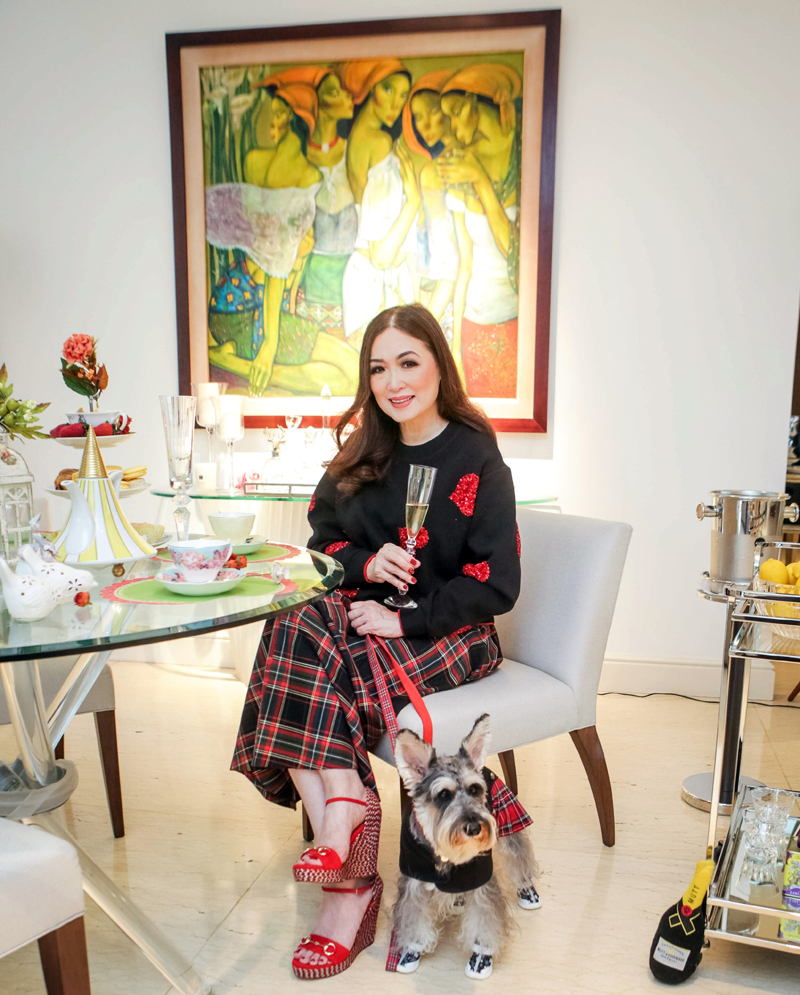 Checking it out: Linda in & Other Stories; Dagz in a kilt from Harrods
Victor fell in love with the dog. The next day, he asked his brother to get him one.
"Naku, huwag. Bawal kay Linda 'yan, hindi ka papayagan," his brother replied, but got him one anyway.
When Linda came home and saw the dog, she asked, "Sino ba bisita na may dalang aso dito?"
I told my husband that he and the kids are always out and I am the one at home. I really could not accept this. I called my brother-in-law and asked him to take it back. Victor asked me to think about it and to give Dagz a try. I did, hesitantly."
She bought barriers for babies and let the dog stay in the kitchen. But every day, Dagz would sit behind the barrier and look at her as she ate her breakfast. She would take pity on him. "I would look at his puppy eyes. But that was not enough for me to want the dog."
The helpers would lock up Dagz in their room whenever Linda was home. "I didn't realize I was being cruel to Dagz."
It did not help that the house would smell like dog.
"But as time passed, he became my friend," Linda recalled. "I already told my kids, 'No way was it going to stay.' Yet I felt a change beginning to take over me. Naawa ako when I would look at his eyes. Parang he wanted to stay. Maybe my kids prayed he would. I don't know why but change was happening."
Dagz stays
"Dagz' presence started to become welcome for me because he was always there. I had become happy with him na," Linda said. "I also liked that he wnks to the training of Jojo Isorenaas wonderful to have around. Since I liked to dress up, I would dress him up, too."
This was Linda's way of showing love for Dagz and the start of their mother-son bond, which has become extremely strong today.
"I would take him to the mall and our bond began to grow. It was on one trip to Capitol Commons that he sat on a white rig to pee and to my shock, there was blood," she said. "I brought him to Vets in Practice. He needed surgery. I prayed to all the gods I knew that he would live. I felt guilty that because of my neglect, he got sick. I already considered him to be my baby son — I could not imagine life without him."
Linda called up her husband to keep him abreast of the developments. He was at a meeting. She told him to stop the meeting because Dagz had died.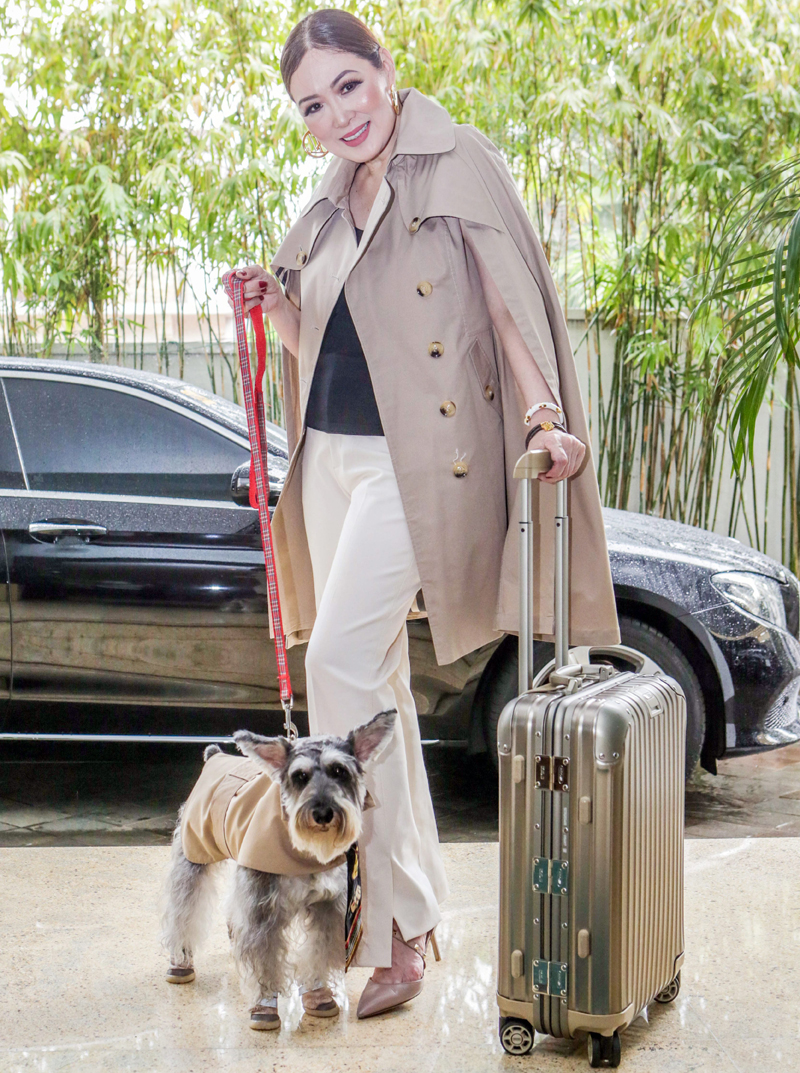 It's travel time: Linda in Ted Baker; Dagz in a trench coat from Pet's Paradise Harajuku
"He cried in front of all his staff," she recalls. "Then Dr. Donato told me that Dagz was still alive."
Dagz was brought to the recovery room where there was a cage waiting for him.
"Naku, 'yung aso ko, hindi sanay sa cage si Dagz," Linda said. "I told my helpers to bring the bed of Dagz. And to stay with him in two shifts."
After his surgery, Linda changed. She became hands-on in Dagz's care, taking charge of his food, medicine and health.
Today, he can stay anywhere in the house, thanks to the training of Jojo Isorena. If he pees it's okay because his Mommy loves him.
Another scare
But Linda still loved a clean house and the helpers would use Clorox to clean the floors.
Dagz would lick the floors — and got poisoned. He started to throw up and poop blood. Linda again prayed to make him live. He made it through. By this time she could not imagine life without Dagz.
"He is three years old now," shared Linda.
"Is there anything Dagz has taught you?" I ask.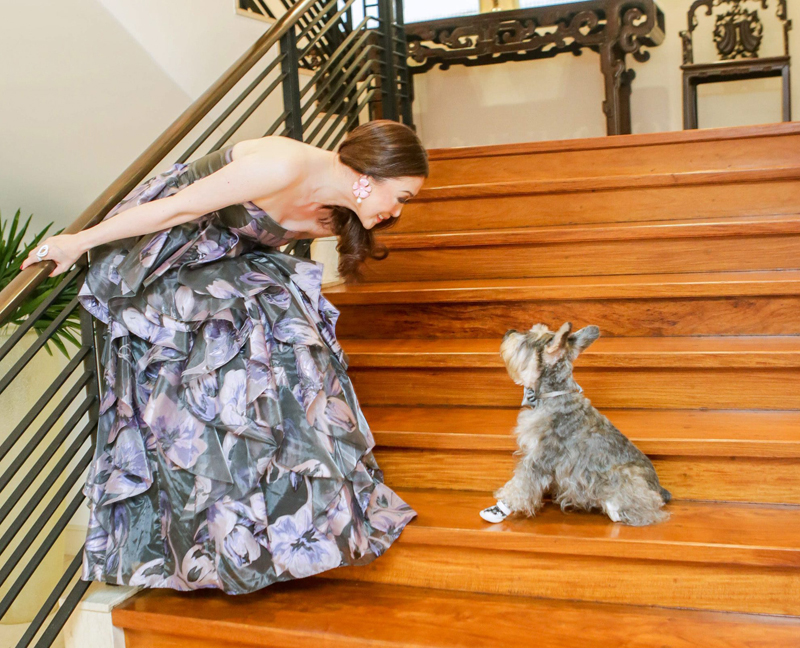 Ready to party: Linda in Aidan Mattox at Rustan's; Dagz in a bowtie by Randy Ortiz
"I had an accident last year. I was in Lake Como and I tripped and fell. I came home in a wheelchair," Linda began. "It was Dagz who kept me company; he was my best friend. Every day he would come to me and lick my leg."
Dagz never left her during that time. His love was unconditional. He was selfless and wanted to protect her.
"I knew Dagz had forgiven me for my neglect in the past. I promised Dagz that Mommy would be there for him and Mommy loves him sobra," she said, as she gave him a loving glance. "Dagz is like son to me. Victor and my children have to compete for my attention and love, as Dagz is my baby now, and the truth is, I would not have it any other way. Dagz is family."