ScratchIt launches exciting online game show, rewards Facebook page followers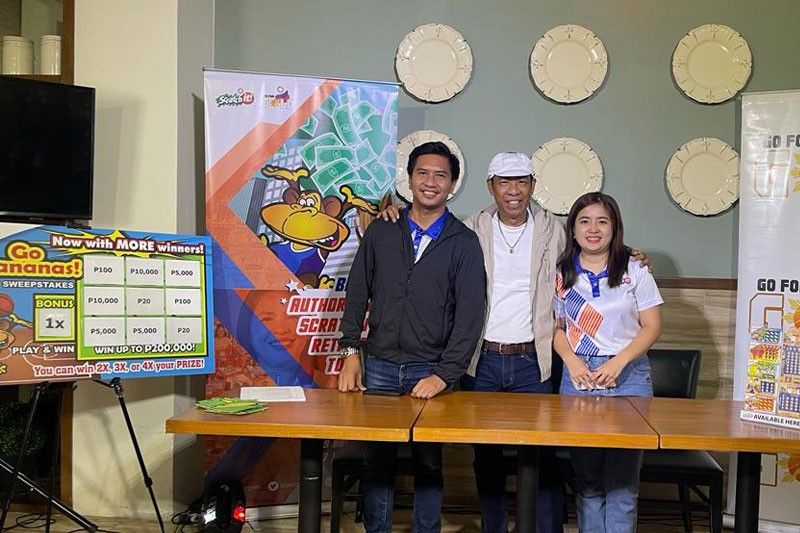 MANILA, Philippines — Instant ticket lottery game and scratch cards ScratchIt recently launched its online game show and other weekly shows hosted by comedian Long Mejia.
The online game show, PERA O SCRATCHIT, is envisioned to provide entertainment and an opportunity for followers of ScratchIt Facebook page to win prizes of up to P200,000 weekly.
Patterned after the actual act of "scratching cards" in PCSO's lotto outlets, the game show allows contestants to choose among various life-sized scratch cards available: Go Bananas, Go for Gold, Money Tree and Red Hot 7's.
Guided by Long Mejia as the game master, the contestants will choose between money or the expected prize hidden within the cards.
"We have always shared the purpose of the Philippine Charity Sweepstakes Office in providing help and assistance to our countrymen. Through these engaging and exciting infotainment programs like PERA o SCRATCHIT, we are able to provide much-needed assistance to lucky followers who of course comes from all walks of life," Powerball Marketing and Logistics Corp. General Manager Jeremy Go said.
Go added that one of the most recent winners of PERA O SCRATCHIT was a single mom of five children, one of whom passed away recently. She works as an online seller and can now use the P200,000 to bury her child properly and use the remaining for the education and welfare of her remaining children, and in her small business.
Jenica Lim-Tan, brand manager of ScratchIt, explained further that very much like PCSO lottery games, a percentage of proceeds, whenever anyone uses or plays with their scratch cards, goes to a charitable cause supported by the PCSO.
In fact, Go for Gold supports Filipino athletes who represent the country in international and local athletic events, like the most recent Asian Games held in Cambodia.
"We are able to help people collectively with the help of the PCSO through ScratchIt's Go for Gold, Go Bananas, Money Tree and Red Hot 7's. Our online shows allow us to help Filipinos, most especially our followers directly," Tan said.
The other online shows presented were Putahe ni Master, where the winning recipe from a lucky follower worth less than P200 can win P1,000 if used in the program; Joke Time with Master, where featured jokes can win P1,000; and Masuwerte Ka Ba? Mas Swerte with Master, where tips on how to be "lucky" are entertainingly disclosed to viewers.
ScratchIt invites individuals from all walks of life to participate in PERA O SCRATCHIT. Whether you are a stay-at-home mom, employee or simply someone looking for an exciting way to have fun and potentially win money, this online game show has something for you.