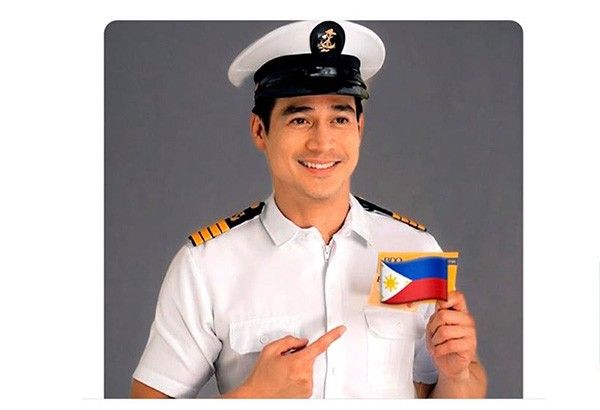 Piolo Pascual's BDO ad edited as a meme for Paliparang Pandaigdig ng Pilipinas (PAPAPI)
FTTM via Facebook, screenshot
Bill seeking to rename 'NAIA' to 'PAPAPI' draws mixed reactions
MANILA, Philippines — A proposal by presidential son Paolo Duterte, among others, has been the subject of much discussion and laugh trip on social media.
The younger Duterte and fellow lawmakers Lord Allan Velasco (Marinduque) and Eric Yap (ACT-CIS Party-list) filed House Bill No. 7031 on Thursday, aiming to rename Ninoy Aquino International Airport (NAIA) to Paliparang Pandaigdig ng Pilipinas (PAPAPI, according to Internet users).
A few hours after the bill was filed, "NAIA" and "Paolo Duterte" became top trending Twitter topics and a meme with actor Piolo Pascual's edited photo went viral with over 13,000 shares as of writing.
Piolo has been fondly called by fans as "Papa P."
In a 2014 interview with this writer for his E! News Asia special, Piolo shared what he felt for being called "Papa P."
"At first, honestly, it was irritating because even men would call me 'Papa P' on the set," the actor confessed.
"Of course, I have a son who calls me 'papa,' so that gives everyone less originality, I guess. But I'm used to it. I guess, it has become a term of endearment to some. And, what can I do?"
On Thursday, when Duterte, Velasco and Yap filed the bill, in a joint statement, they explained why they proposed the renaming: "We need a more representative branding for the international gateway of our country, thus our proposal renaming NAIA to the Paliparang Pandaigdig ng Pilipinas."
"Aside from it bearing our country's name, it is in our national language. We want it to reflect the legacy of the Filipino people, our everyday heroes. The name bears no color, no political agenda. It only signifies our warmth as Filipinos in welcoming our own kababayans and foreign visitors," Duterte, who represents Davao 1st District, added.
For his part, Yap said: "We want for the name of our country to be the first thing welcoming the return to our countrymen as well as tourists from abroad when their planes land. We want to make them feel like they are home. There are many personalities who also deserve their name, institution, and so on. But when it comes to our airport, it should reflect the country and the Filipino people."
The airport, then called the Manila International Airport, was renamed to Ninoy Aquino International Airport in 1987 by virtue of Republic Act No. 6639.
Related: Lawmakers want to rename NAIA to Paliparang Pandaigdig ng Pilipinas
Internet users shared mixed reactions over the proposal.
"Changing the airport's name to Paliparang Pandaigdig ng Pilipinas is a more representative branding for the international gateway of our country," said a Twitter user.
"Maiibsan ba ang gutom ng taongbayan kapag pinalitan ang pangalan ng #Naia, t****** nyo parang walang pandemya," said another user.
"Mind you, mas importante ang Anti-Terror bill at ang pag papapalit ng pangalan ng airport ha," sarcastically said another user.
"Yes please... only in the philippines: when a person who committed treason- declared as heroes," said another.
"Actually, I was happy hearing this earlier. But still people will make issues about this," a Facebook user wrote.
"Pinangalan ang Naia kay Ninoy after nyang mapatay. Bakit gusto nyo ipangalan kay Papa P?" cried another.
Another user joked to rename it instead to "Province of CHina Airport (POCHA)," but another user seriously suggested "MANILA INTERNATIONAL AIRPORT."
"Kapag naman 'Philippine International Airport' baka mukha ni Pia Cayetano ang ilagay," another user claimed.