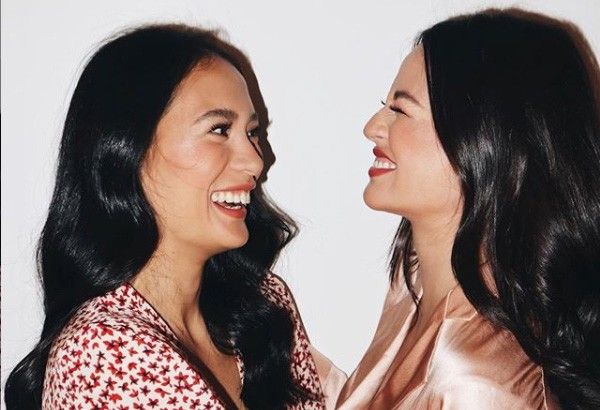 "It" moms and cousins Isabelle Daza and Georgina Wilson design new Mother's Day packets for Toblerone.
Instagram/Georgina Wilson
LIST: Mother's Day treats for 'it' moms
MANILA, Philippines — There is a day in a year wherein children get to show their appreciation for their selfless and untiring love that only a mother can provide.
There is really no way to match the amount of love that flows from the heart of a mother, but it is always a good idea to reciprocate by treating mom to the gifts that match her heart's desires.
For the pretty in pink mom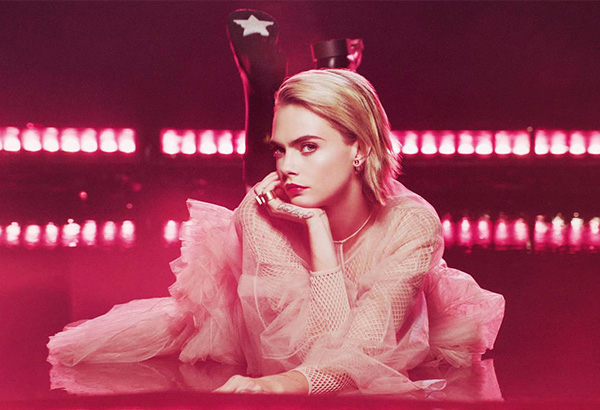 Cara Delevingne for Dior Addict Stellar Shine
Pink, according to Peter Philips, Creative and Image Director of Dior Makeup, is the color of happiness, freedom and femininity, which is why it was among the most favorite colors and the "lucky color" of legendary designer Christian Dior.
As such, the brand recently launched Dior Addict Stellar Shine, a new collection of 24 luminous pink hues, ranging from subtle nudes, to fiery corals, seductive reds and bold plums. The range also boasts of a new formula with micro-pearls for shine; natural beeswax for a lightweight wear; and aloe vera with oils and waxes for a fresh sensation and 24-hour hydration. A soft scent of vanilla reveals an elegant sensorial signature.
Among the 24 shades, the "it" ones, according to the brand, are the universal and timeless fuchsia 976 Be Dior; the bold pink 536 Lucky; the coral pink 673 Diorcharm; and the mystic 891 Diorcelestial, which is deep purple strewn with glitter.
The collection is embodied by Cara Delevingne, who reveals her sincerity and spontaneity in a new rock-n-roll fashion film with Aerosmith's "Pink" as soundtrack.
Icons for an icon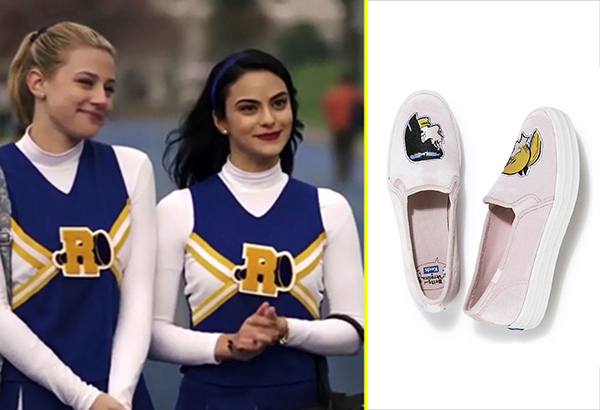 Betty and Veronica of "Riverdale" (left) and sneakers inspired by the comicbook characters. Photo release
In the spirit of fashion and female camaraderie, world-renowned sneaker brand Keds has created a collection featuring the iconic imagery of one of the most celebrated best friend duos of all time: Betty Cooper and Veronica Lodge.
Be it their famed retro personas from the '50s Archie comic books or their modern fashionista versions in the hit TV series "Riverdale," there is no denying that Betty and Veronica's beauty, style and wit have inspired millions of women around the globe for decades.
As such, the shoe brand recently teamed up with the women behind the Betty and Veronica lifestyle brand to give you the duo's first ever shoe collection. Poised to be "a celebration of the famed characters' retro Americana style, confident attitude, and female camaraderie," the collection showcases six pairs of sneakers that exude girl power, meant to make women feel and look empowered and stylish.
For stylish homemaker moms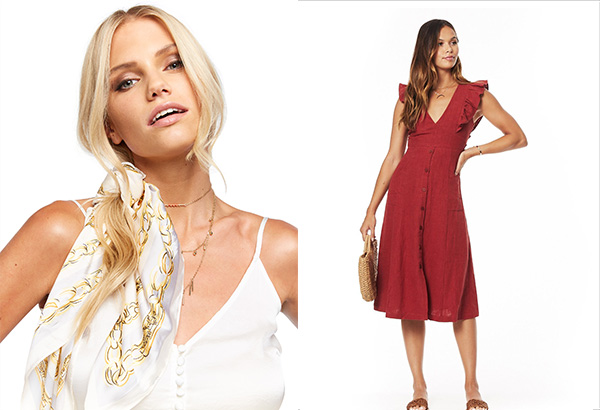 A wide array of gifts from luxury brands. Photo release
At Rustan's, there is a wide array of Mother's Day gift ideas to suit mom's personal preferences, with luxe items that show how much you value all the love and care.
The retail specialist has mom's special day in mind, from designer fashion brands that reflect her timeless taste and graceful style, to jewelry and home accents.
The department store also celebrates Mother's Day with discounts, promos and activities for moms from glamour brands such as Natori, Josie Natori, Natori Undergarments, Tadashi, Halston, Vivienne Tam, Nicole Miller, Kate Spade Home and Oleg Cassini.
Keep mom radiant
For moms looking for 100 percent natural night moisturizers, Human Nature offers its new Radiant Grace Night Cream, infused with what are touted as some of nature's most potent ingredients: olive leaf extract for anti-aging properties; vitamin C that minimizes appearance of sun spots; Jojoba oil that provides hydration; and vitamin E that gives photo-aging protection.
Naturally defined beauty for moms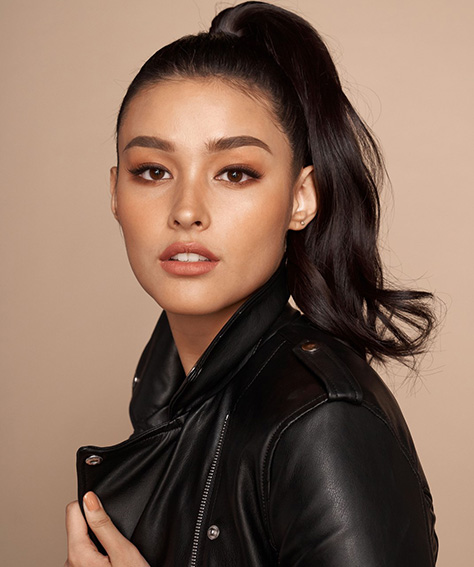 Soberano
Level up your mom's basic brows by switching from a traditional brow pencil that fails to promise natural looking hair lines, to a retractable one that can define and groom your brows just the way you like it.
Maybelline's Define and Blend Brow Pen is the only brow product "It" girl Liza Soberano uses to achieve her naturally defined brows that frame her face and complement her facial features.
"Reason why I love it so much is because it is easy to use, and it keeps my brows looking natural all day!"said Liza. "Even if I have natural looking brows, I feel like my brow game is stronger than ever!"
The user-friendly liner helps mom draw on her brows with the product's thin angled tip and smooth gliding, long-lasting formula. Turn the pen around to reveal the brush or spoolie, which is created with precise bristles to help smudge out any harsh lines and keep the hairs tamed.
The liner complement various hair colors in shades such as grey brown, red brown, light brown and natural brown.
Give mom a taste of joie de vivre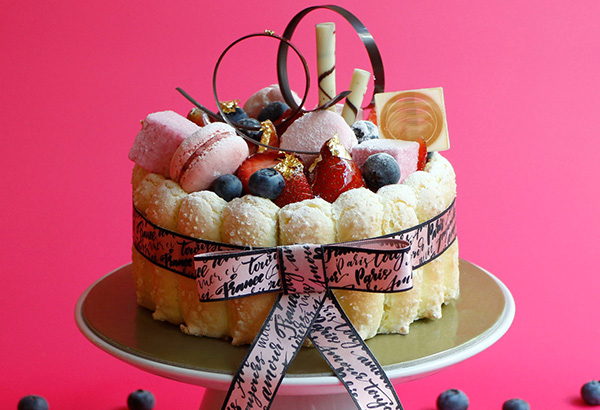 The Mother's Day Charlotte cake
A kiss, a warm hug, and a slice of sweet devotion – there's no better recipe for Mother's Day.
Following its philosophy of joie de vivre – or the "joy of being alive" – Bizu Patisserie believes that everyone should enjoy life's simple pleasures and share the best moments with loved ones. Every carefully crafted pastry is an opportunity to bond and express what we feel for someone. When it comes to milestones such as a birthday, graduation, anniversary, or a special day for Mom, the celebration will not be complete without a cake.
On May 12, we celebrate the woman who has been the one constant in our lives, for her lifetime achievement as a teacher, mentor, protector, queen, heroine, life inspiration, best friend, and cake buddy. We would not be who we are today without the most important person in our life – mom.
To mark the occasion of Mother's Day, Bizu is bringing back its signature Mother's Day cake, Charlotte, made of alternating layers of Biscuit Cuillère, blackberry mousse and raspberry gelée, topped with assorted fresh berries, marshmallows and Macaron de Paris.
On her special day, mom can have her cake—wrapped up in a pretty pink ribbon—and eat it, too. For an extra touch of joy, guests who avail of the Charlotte cake, dine-in or takeout, on May 11 and May 12 will receive a Mother's Day gift package. Included in the package are curated items from Aveeno, Aveda, Belo Beauty Essentials, Benefit Cosmetics and L'Occitane en Provence.
To make ordering easier, the cake can be ordered via Shop.bizupatisserie.com and get a free voucher from Designer Blooms. The restaurant's branches are at Greenbelt 2 Parkside, Greenhills Promenade, Alabang Town Center, St. Luke's BGC, Eastwood Mall and Robinsons Magnolia.
Have coffee with mom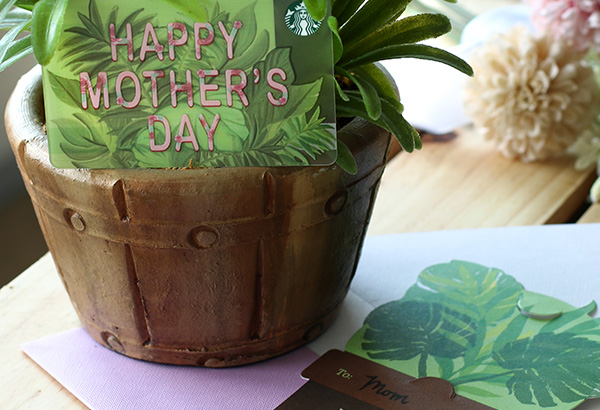 Mother's Day card
Everyone celebrates Mother's Day in their own ways but one of the most meaningful approach to spend the day is simply by sitting down and sharing stories and laughter over a warm cup with mom.
This Mother's Day, spend her special day in your favorite coffee shop. With plenty of pastries and desserts and handcrafted beverages, moms can feel extra special with their own feast.
Treat your Mom to a coffee date with the new Mother's Day Starbucks Card that comes with its own greeting card for personalized messages. The Mother's Day Card depicts flowers and foliage for all blooming moms.
Starbucks will also be honoring moms everywhere by giving out complimentary cookies for every purchase in its stores on Mother's Day (until supplies last).The specially-baked cookies are heart-shaped – a sweet and simple way of saying "I love you" to all moms.
Send food for mom
Food delivery service Foodpanda celebrates five years of operations in the country this May. Currently operating in key cities Manila, Cebu, Davao and recently operated in Pampanga, Cavite and Laguna, the company aims to deliver good food at the comfort of one's homes from over 5,000 restaurants offering good deals for food lovers.
"We are a food-loving nation and to us, food is a form of celebration. Hence, we thought of merging our birthday celebration with food and to give back to those who have been with us during our journey - we'll be offering five great surprises. Customers should stay tuned to see exactly how we will celebrate our fifth birthday, on the fifth month, with special surprises starting on the fifth day. We believe these amazing deals will give our food-loving customers a reason to celebrate with us for the whole month of May," shares Iacopo Rovere, Managing Director.
As part of its fifth anniversary, the food delivery service is holding a month-long celebration surprising customers week after week.
Have a great day with Australian grapes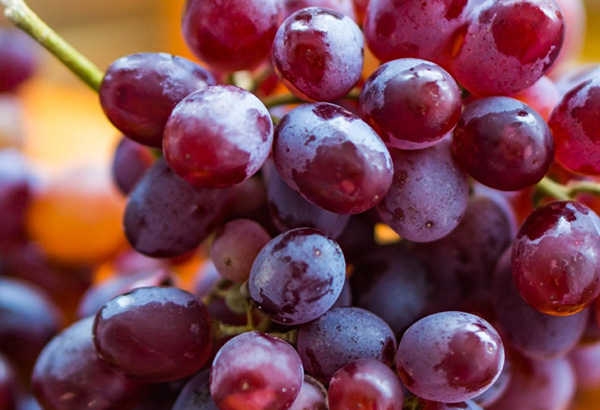 Australian grapes
Thanks to the diverse geology and unique micro-climates across Australia, grapes are able to enjoy a long production window from November to May. Rich soils, warm summer days, cool nights, and long daylight hours create grapes with intensified sweetness and an eye-catching red, black or green color. A top tip when selecting green grapes is to choose a bunch with a golden tint as this means they are sweeter in flavor.
It is harvest season for grapes from the Southern Hemisphere, which means the Taste Australia campaign is back to entice customers to try its seasonal red, black or green Aussie grapes available in the Philippines through supermarkets such as Rustan's, Shopwise, Wellcome, S&R and Robinson's.
Did you know Australian table grapes can be eaten straight from the bunch? There is no need to peel or de-seed, just simply rinse before eating and enjoy the taste of an Australian summer. This means grapes are a good addition to kids' lunchboxes or a go-to snack at work to re-energize and hydrate active bodies, which is especially helpful when you live a busy lifestyle.
Grapes are a natural superfood and adding a serving to your daily diet will give you a much needed antioxidant boost. Grapes are packed full of phytonutrients including polyphenols, anthocyanin, and resveratrol, which contribute to the protection to eye health and heart disease.
Aussie grapes are particularly good for parents and grandparents as they are low GI food which helps stabilize blood glucose levels after a meal. As grapes contain 80 percent water and plenty of fibre they also contribute to body hydration and help keep your gut healthy.
Bringing joy to moms' lives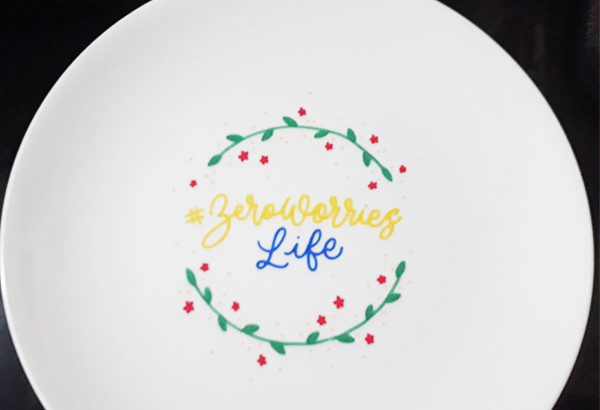 The new campaign aims to ease moms' everyday chores.
Life as a parent is always full of worries: "Is the food I serve my family safe? If my child's lunch box free of grease and germs? Am I spending enough time with my kids?"
Such are why Joy Dishwashing Liquid aims to ease moms' worries with its new "best ever" formula that aims to provide homemakers a fast and easy clean for pots, pans, dishes and drinking glasses, so moms can have zero worries with their kids.
Be a prime mom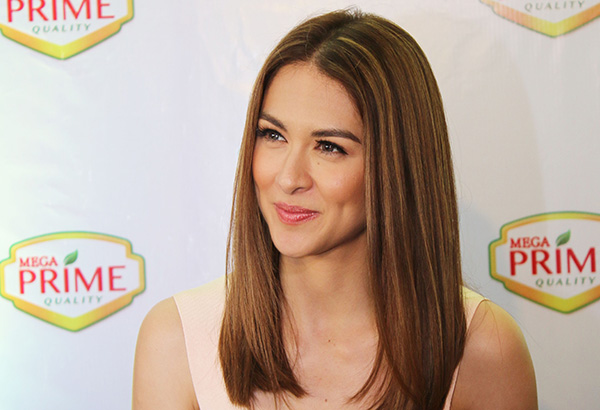 Marian Rivera
One of the biggest joys of being a mom is being able to whip up delicious, nutritious meals that delight every member of the family. As the world celebrates Mother's Day, Mega Prime Quality canned vegetable line is bringing a wider array of products to help turn moms into savvy chefs and homemakers.
Among these is an initial line of easy-open canned vegetables including whole mushrooms, pieces and stems mushrooms, whole kernel corn, cream style corn and green peas in 2016. Since then, it has expanded its products to Garbanzos, and canned fruits and canned sweet preserves: fruit cocktail, peach halves and nata de coco. Each can contains ingredients that are reportedly meticulously harvested and processed to preserve the authenticity of their taste and flavor.
As the brand ambassador, Marian Rivera is the first-ever member of the Prime Mom Club, an exclusive social community of moms who understand the needs of start-up moms and help them become successful homemakers through relevant and meaningful activities and knowledge-sharing. The club is open to all moms aged 25 to 35 years old who want to learn recipes, tips, and the like, while being able to connect with like-minded moms. Sign-ups may be done online or on-ground during its various activities and events.
"Marian is the perfect example of a prime mom – she is family-oriented, inherently smart, always resourceful and above all, endowed with a beautiful soul. She knows how to juggle the demands of her chosen career and raising a loving family," said Marvin Tiu Lim, VP for Sales and Marketing of Mega Global Corporation.
"It's important for us first time moms to connect, share our experiences and learn from each other. Gusto kong i-share yung mga alam ko lalo na sa kusina at masaya kasing mag-try ng recipes na nagwork for other mommies," said Marian.
Look forward to better and healthier days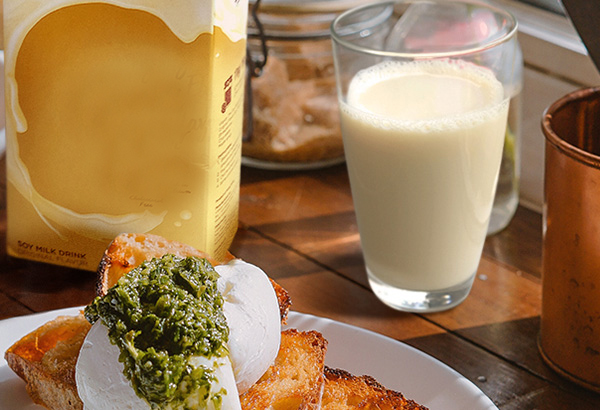 Soy milk is lactose-free
A nutrient-rich breakfast can help power you up, keep you energized and focused throughout a busy day. Make sure to start your day on the right track with a healthy meal partnered with soy milk like Vitasoy Plus, which offers the calcium benefits of regular milk with additional nutrients like vitamin D, which is important in building and maintaining stronger bones.
Each serving provides 50 percent of daily calcium and vitamin D requirements. It is also an ideal companion of fitness and wellness enthusiasts as it has zero cholesterol, low in fat, lactose-free, made from quality non-GMO soybeans and has no added preservatives.
Produced by Universal Robina Corporation in partnership with Hong Kong-based Vitasoy International Holdings Ltd., the brand has been producing plant-based products for consumers worldwide.
Take mom to a sweet adventure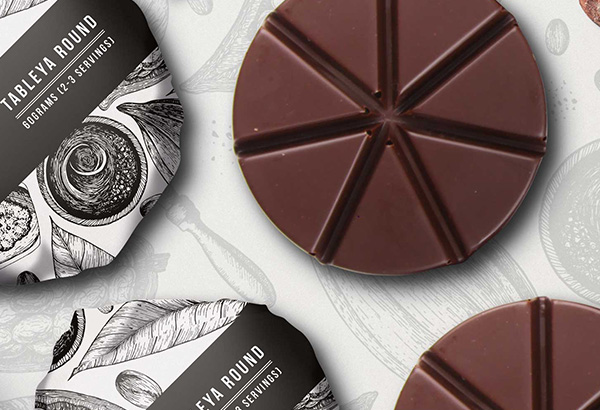 Belgian tableya
A brand Filipinos can be proud of, Theo and Brom is an artisanal chocolate e-brand introducing the world's first Belgian Tableya, started as an idea when Filipina immigrant and entrepreneur Marielle Flores permanently moved to Belgium in 2018 to marry and settle with her husband Matthias Moens.
Derived from cacao's scientific name Theobroma Cacao, the brand is a by-product of what Flores believes her home country and her new home offer best: Philippine cacao beans and Belgian chocolate expertise.
Within four months since its launch, the brand went on from producing 10 kilos of BelgiaTableya per week to 300 kilos per month, attracting hundreds of customers today across the Americas, Europe, and now the Philippines.
With the guidance and approval of globally renowned Greek scientist and fine cacao industry expert, Dr. ZoiPapalexandratou of ZOTO Cacao, the brand chose Single-Estate De La Serna Beans sourced from a cacao estate in Davao, Philippines to perfect the tasting notes and flavor profile that will be a good blend for the Belgian Tableya whether it is consumed as a snack or as a beverage.
The Moens then brought in and worked closely with multi-awarded chocolate maker Mario Vandeneede to concoct the final recipe for the Belgian Tableyas, which are available at the brand's website.
New chicken flavors to try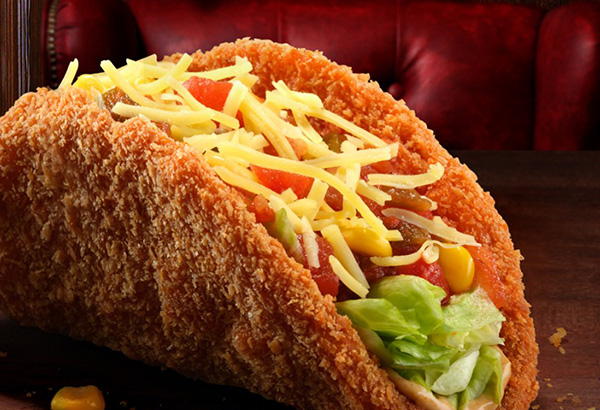 The new Chaco
Due to insistent public demand, KFC is bringing back the Famous Bowl. It is all five famous sides in one bowl – mashed potato mixed with Fun Shots, sweet corn, slathered with signature gravy, and topped with grated cheese.
After its short debut in 2008, the Famous Bowl returned as a regular menu item from 2015 until 2017. Clamor for the product from customers made the brand heed to the requests.
Likewise, the brand introduces Chaco: no shell, all chicken. This heavy snack gives an all-chicken twist to the classic taco.
Kentucky Fried Chicken owes its history to Harland David Sanders, its founder who is fondly referred to as "The Colonel." Upon perfection of the Original Recipe that makes use of 11 secret herbs and spices, Colonel Sanders has brought the delight of chicken lovers to the world.
Mother's love in inspiring video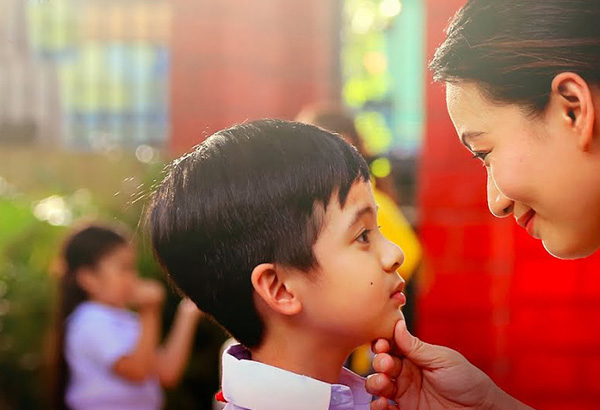 Scene from the new Mother's Day video
From the moment mothers feel a heartbeat inside their womb, to the first time they see and hold their newborn, they have made a promise to remain strong and shower their children with eternal love and support throughout their life.
This May, Jollibee and creative agency McCann World Group Philippines honor all loving moms as they release a special Kwentong Jollibee Mother's Day special that will remind everyone of the power of a mother's unwavering affection and nurturing love.
Directed by Sheron Dayoc, "Schoolboy" follows the story of a young boy as he overcomes his insecurities in his new school and achieves his dream with the help of his mother's care and encouraging words that gave him the confidence he needed.
Last year, the fast food chain launched the trilogy "Amor," "Tess," and "Helen," which reached over 27 million views in Facebook and YouTube and touched hearts of over 65.8 million netizens.
Until May 12, every six-piece Chickenjoy Bucket will get a free spaghetti as a treat for the special day.
Guiltless summer options for mom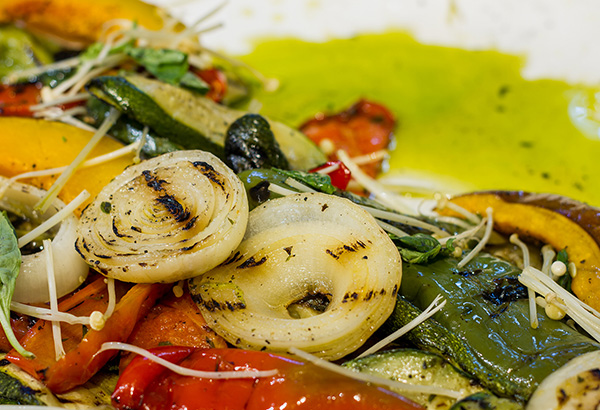 Grilled Vegetable Salad
Looking for light yet flavorful meals for the summer? Cravings, located at 287 Katipunan Avenue, Loyola Heights, Quezon City, offers healthy options for the season with its Soup and Salad bar featuring the diner's signature home-style cooking.
Start with the simple Grilled Vegetable Salad with sweet grilled vegetables tossed in a light dressing topped with micro herbs. For something more filling, try the German Potato Salad, a Southern style dish served either hot or cold that's dressed with a dijon vinegar dressing, or the festive-looking Rice Salad made with crisp vegetables and soft rice lightly tossed in lemon and olive oil.
For a dose of freshness, there is the Chicken Waldorf Salad with crunchy green apples, grapes and celery complemented with cashew then dressed in yogurt and mayonnaise and served on a bed of lettuce.
A taste of the Tuscan Panzanella Salad will briefly transport one to the Italian west coast with its medley of soaked stale bread, tomatoes, onions and basil dressed with olive oil and vinegar. Meanwhile, the Pasta Salad is made of chilled pasta, olives, and different vegetables tossed in a vinegar and oil-based dressing.
Those who want a seafood dish might enjoy the Tuna Nicoise Salad with its layer of textures that excite the palate: seared sashimi-grade tuna, boiled potatoes, haricot vert, olives, hard-boiled eggs, and tomatoes on a bed of fresh greens and fresh herb vinaigrette.
Thirty years of 'Pabaong Pagmamahal'
Every recipe has a story to tell. For Nina Vergelde Dios or "Mommy Nina," the woman behind the snack Lemon Square Cheese Cake, the tale of her signature product was inspired by a mom's love.
Mommy Nina's love for baking was sparked by the bond she and her mother had when she was young. She recalls helping out her mother in the kitchen to bake at the age of nine. It was since then she got fond of baking and continued to hone her skills by attending culinary and baking classes as she grew up. She also sold some of her baked goods to family and friends for extra allowance when she was in high school.
For quite some time, Mommy Nina distanced herself from baking to take a different career path. But with the encouragement and support of her husband Errol, she left her corporate job to pursue her first love, baking.
In 1985, Mommy Nina returned to her small home kitchen in Valenzuela and began selling her cheesecakes in the wet markets of Malabon and Navotas. Through the positive comments of resellers, word spread about her cheesecake until it reached other markets.
Three decades later, the cheese cake became a household name. "We've always been inspired by moms and their desire to give the best for their children. That's why we ensure that all our products are made with fresh ingredients," shared EJ Vergel de Dios, son of Mommy Nina and Assistant General Manager and Chief Innovations Officer of Lemon Square.
Addressing kids' malnutrition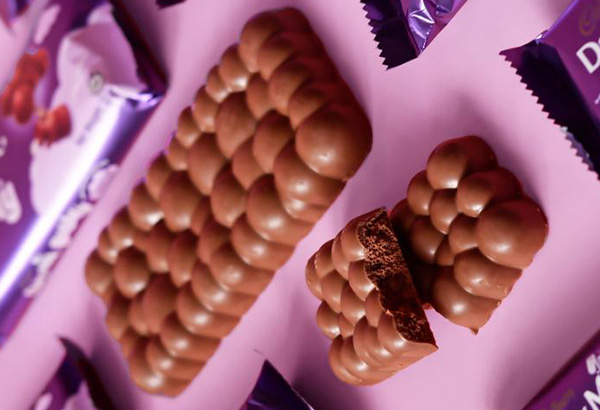 New Bubbly chocolate bars
Did you know that more than four million children in the Philippines suffer from malnutrition? In an effort to help alleviate this pressing situation, snacks company Mondelez Philippines launched the Cadbury Dairy Milk Generosity Bar, which donates the milk content from its bar to help nourish kids in need.
Essentially, with every purchase of the bar, a glass of milk will be donated to a child in need for nutrition with the help of the organization Feed Philippines. Celebrities that participated during the launch included Ylona Garcia, Kyle Echarri, Marlo Mortel, Tommy Esguerra, Kaila Estrada, Leila Alcasid, and Inah de Belen, to name a few.
Cheers to mom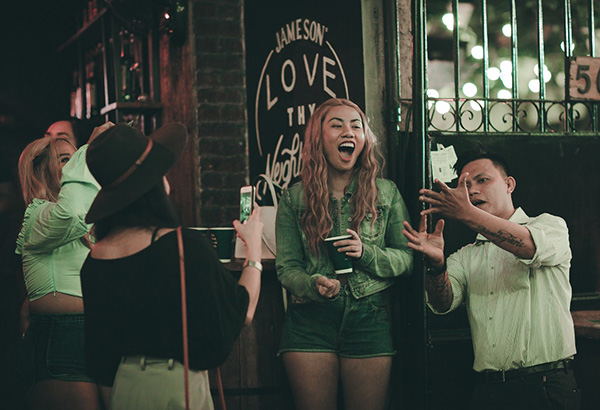 Party in Poblacion - Photo release
Established in Bow Street Dublin in 1780 by John Jameson, Jameson has grown to be a top selling Irish whiskey now available in the Philippines.
As the sun set last March 16, bright green string lights started to glow along Z Street in Poblacion, signaling to passersby that the fun was just about to begin. The Jameson Bar or The Meeting Point was at the front and center of the celebration. Together with partner bars - Z Hostel, The Apartment, The Ruins and Nokal - Poblacion was the perfect place to gather for a glass of whiskey before a night of pub crawl.
International DJs and the very best local live acts came together for a night of celebration. The whiskey offers a balance of flavors from a blend of rich pot still whiskey and fine grain whiskey triple distilled for smoothness. The Ginger and Lime variant has a bit of ginger ale and freshly squeezed lime for a bubbly drink.
Burst of flavors for mom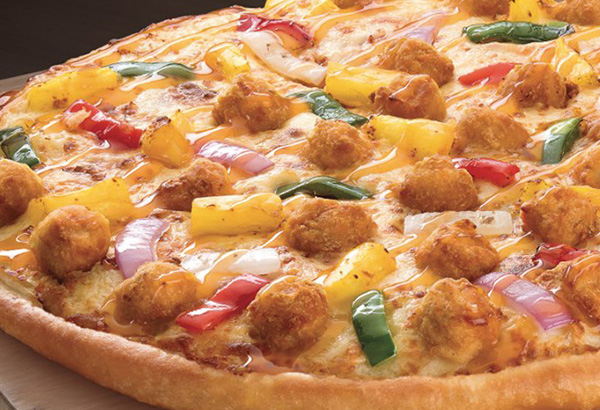 Orange Chicken Pops Pan Pizza
This Mother's Day, Pizza Hut offers a P999 meal deal that includes two large Pan Pizzas, a family spaghetti Bolognese, Cheesy Pesto Pretzel and 1.5 L Pepsi, and free eight pieces of KitKat Pops.
The brand recently introduced its new Orange Chicken Pops Pan Pizza in an orange-themed pool party in Novotel Cubao. The new pizza flavor boasts of tropical ingredients like savory chicken balls toppings glazed with orange sauce for a zesty zing.
"This has been an exciting year for us as we continue to offer bolder and more innovative flavors," said Lorent Adrias, Chief Marketing Officer, Pizza Hut Philippines.
Take mom to a date with Ryan Reynolds and Pikachu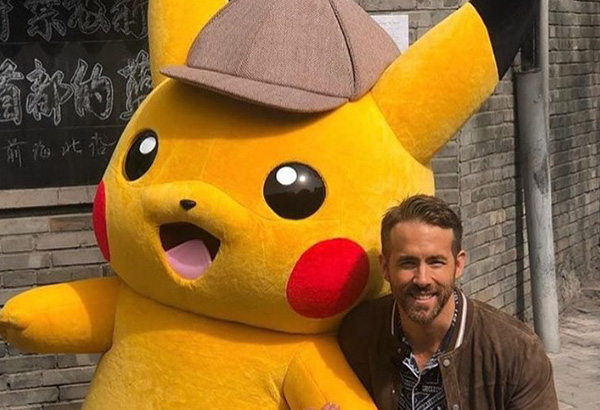 Ryan Reynolds - Photo release
The first-ever live-action Pokémon adventure, "Pokémon Detective Pikachu" stars Ryan Reynolds as Detective Pikachu and is based on the beloved Pokémon brand—one of the world's most popular, multi-generation entertainment properties and one of the most successful media franchises of all time.
Fans everywhere can now experience the iconic Pokémon Pikachu on the big screen as never before, as Detective Pikachu, a Pokémon like no other. The film also showcases a wide array of beloved Pokémon, each with its own unique powers and personality.
"Pokémon Detective Pikachu" also stars Justice Smith as Tim, and Kathryn Newton as Lucy, a junior reporter following her first big story; as well as Suki Waterhouse, Omar Chaparro, Chris Geere, and Rita Ora, with Oscar nominee Ken Watanabe, and Bill Nighy.
The story begins when ace detective Harry Goodman goes mysteriously missing, prompting his 21-year-old son Tim to find out what happened. Aiding in the investigation is Harry's former Pokémon partner, Detective Pikachu: a hilariously wise-cracking, adorable super-sleuth who is a puzzlement even to himself.
Finding that they are uniquely equipped to work together, as Tim is the only human who can talk with Pikachu, they join forces on a thrilling adventure to unravel the tangled mystery. Chasing clues together through the neon-lit streets of Ryme City—a sprawling, modern metropolis where humans and Pokémon live side by side in a hyper-realistic live-action world—they encounter a diverse cast of Pokémon and uncover a shocking plot that could destroy this peaceful co-existence and threaten the whole Pokémon universe.
The movie was directed by Rob Letterman, from a story by Dan Hernandez & Benji Samit and Nicole Perlman, screenplay by Dan Hernandez & Benji Samit and Rob Letterman and Derek Connolly, based on the "Detective Pikachu" video game developed by Creatures Inc. It was produced by Mary Parent and Cale Boyter for Legendary Pictures, and Hidenaga Katakami and Don McGowan for The Pokémon Company. Executive producers were Joe Caracciolo, Jr., Ali Mendes, Tsunekazu Ishihara, Kenji Okubo, Toshio Miyahara, Hiro Matsuoka, and Koji Ueda.
Letterman's creative filmmaking team includes two-time Oscar-nominated director of photography John Mathieson, production designer Nigel Phelps, editors Mark Sanger and James Thomas, and costume designer Suzie Harman. The music is composed by Henry Jackman. Visual effects are by Moving Picture Company and Framestore.
Launched in 1996 to overwhelming response, the Pokémon brand is a global sensation that now encompasses a robust video gaming franchise with over 324 million units sold worldwide; the Pokémon Trading Card games, available in 11 languages with more than 25.7 billion cards shipped; an anime television series in its 22nd season that is available in more than 160 countries; and over 20 animated films; as well as books, manga comics, music, toys, merchandise, and apps, including the wildly popular Pokémon GO, that has been downloaded over 850 million times and is enjoyed across the globe by fans of all ages.
Warner Bros. Pictures and Legendary Pictures present a Legendary Pictures Production, in association with Toho Co., Ltd., a Rob Letterman Film, "POKÉMON Detective Pikachu." It will be distributed outside of Japan and China by Warner Bros. Pictures, in Japan by Toho Company, Ltd. and by Legendary East in China.
Turn your 'mompreneur' dreams into reality
Being a mother or an entrepreneur are two of the hardest jobs in the world, but many people are managing to do both at the same time, thus the rise of the word "mompreneur."
The rise of eCommerce platforms such as Lazada allows entrepreneurs to sell products and services anytime and anywhere, empowering more and more women to fulfill their dreams while playing the role of a full-time parent as well.
Deciding to make the jump in juggling multiple roles is not an easy feat. But just like many "mompreneurs" have proven, it can be done with amazing devotion, passion and pure determination.
Balancing motherhood and entrepreneurship is difficult, but you need not put your dreams on hold or wait for the "right" time to launch a business. Do not be afraid to take the first step; learn from mistakes and missteps, grow, expand and develop as a "mompreneur."
From May 17 to 19, Lazada will hold the Women's Festival sale that offers up to 90 percent off on fashion, health and beauty finds.
Celebrate a new dawn with mom
The historic Ali Mall is looking at the past to usher in a new dawn. The country's first fully-enclosed and air-conditioned mall on March 22, Friday, officially launched ALI X, a newly transformed wing that is poised to be a shopping haven for collectors, hobbyists and artists.
ALI X, which stands for Arts, Lifestyle, and Interests, is a wing on the mall's upper ground floor composed of stores that offer antiques, memorabilia, and novelty items. It also houses a gaming-themed store, an art-themed café, a ukulele shop and a karate dojo. Since it opened in September last year, it has been a favorite destination of those in the lookout for vintage and rare items and special hobbies.
It offers a literal trip down memory lane, which has attracted not just the mature crowds, but also the Instagram generation, thanks to its rustic and Mediterranean market-inspired aesthetics.
The shops that can be found there are the following: GNB Collectibles Hangout, which specializes in novelty items; Guiller's Antiques and Collectibles, which has a huge collection of collector items; Jem's Antiques, which offers unique coins and paintings among others; Remnants Thrift Shop, which sells antiques and other rare finds; MSS Thriftshop, which specializes in chandelier restoration and other items; Treskul Records & Café, which is one of the primary movers of the renewed interest in vinyls; the Oil Paint Store, which sells arts and crafts supplies; Erin's Artists Lounge & Café, a perfect hangout place for art aficionados who also love good food; Happy Music, which sells ukuleles and other musical instruments; KDA: Karate Development Arts, which offers karate lessons; and Neutral Grounds, takes pride in its wide array of games and gaming accessories.
The launch was attended by Araneta Center officials and the Binibining Pilipinas 2019 candidates. The launch also coincided with the first-ever RetroCon (Retro Convention) in Araneta Center. Organized by the same team behind the highly-anticipated History Con, RetroCon at Ali Mall's ground floor saw a gathering of many valuable rare finds including vintage Anime toy figures, Filipino toys of yesteryears like "teks," vintage gadgets and gaming consoles, rare hits back records, and collector items comic books, coins and so much more. -- Video by Kat Leandicho
Mother's Day 'staycations'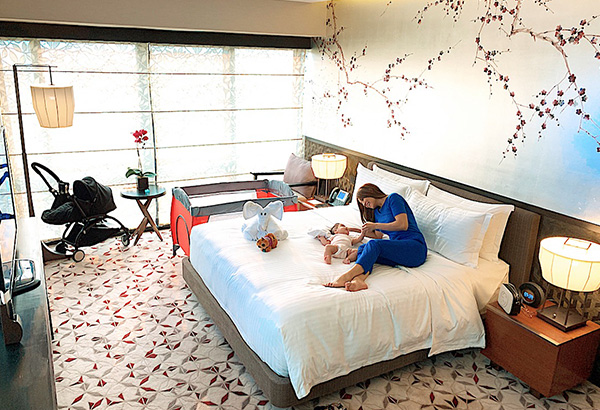 Aubrey Miles and son
City of Dreams Manila pays tribute to moms with curated offerings such as a bespoke menu at award-winning restaurants, Crystal Dragon, Nobu Manila, Red Ginger; a hearty buffet brunch at Hyatt Regency's The Café; finely crafted chocolates at Chocol8 and confectioneries at Café Society; special treats at DreamPlay; and a Nobu staycation and Nobu Spa treatments.
At Midori Clark Hotel and Casino, the "Celebrate MOMent" is a Mother's Day buffet happening at the main dining outlet, Toscana Dining, from 6 to 10 p.m., offering an international spread highlighting the month's theme, Fiesta Mexicana. Apart from live entertainment and tokens, moms eat for free.
At Resorts World Manila, take the lady of the house on a shopping spree at the Newport Mall and get a chance to win a special Mom's Day package via the Diamonds for Mom raffle. Hotels in Newport City come up with good rates this May with Belmont Hotel Manila offering an overnight stay at a Superior or Deluxe Room, with breakfast for two and a Bailey Bear souvenir.
More dramas for mom
For moms who love watching soap operas, Coocaa aims to make Artificial Intelligence available to Filipino households at an affordable price. Since its official store launch on Lazada Philippines, the TV brand has been aiming to bring smart and Android features into TV as the center of family entertainment and communication at home.