How Lancaster New City has put the Filipino family at the center of community
CAVITE, Philippines — Filipinos are known to put their families at the heart of Christmas celebrations—the very reason why balikbayans and OFWS prioritize going home during this time of the year. Lancaster New City Cavite, the iconic and expansive property south of Manila, embodies this truly Filipino value.
For this season, Lancaster New City is celebrating Christmas happenings with its community—composed of over 12,000 families—right at the center. Dubbed "Christmas Happynings," signature holiday events return to beckon residents and visitors alike. These are Christmas light and music shows, concerts and open-air screenings, which everyone looks forward to every year.
True to its vision, Lancaster New City has involved its community in spreading Christmas cheer. Homeowners, phase representatives and community leaders, all have something special to offer from handcrafted dioramas to showcases of talents.
'Bayanihan': A show of hands
Right off the bat, the Diorama Exhibition on December 1 gave everyone a solid sense of community Lancaster New City has always been.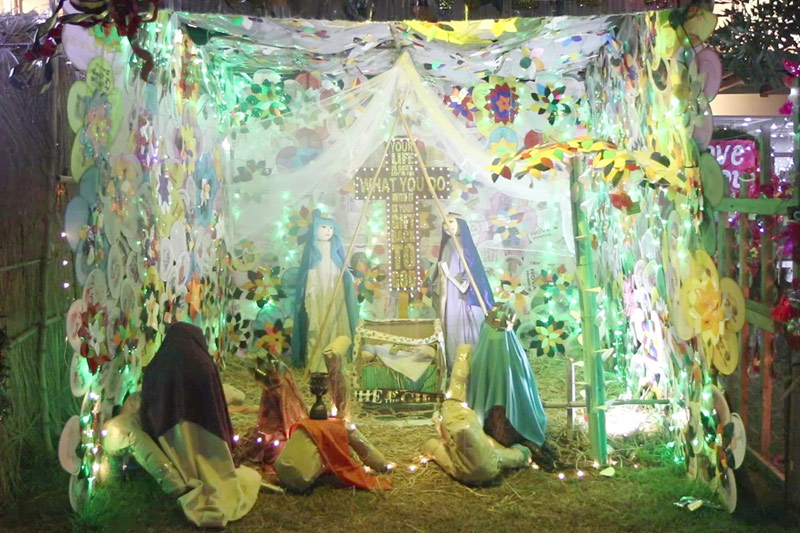 Diorama Exhibition on December 1 gave everyone a solid sense of community Lancaster New City. Pictured is one of the dioramas, entitled "Bethlehem Nativity" from Phase LV2 West. Lancaster New City/Released
Themed "Diwa ng Pasko: LNC, Isang Pamilya Tayo," the exhibition gathered Lancaster New City's phases, clubs and even the Lancaster Homeowners Riders Club.
Representatives and members crafted unique installations—all well-adorned and assembled piece by piece by hand using ordinary and recycled materials. Each creation represented the holiday interpretation of all the groups.
"What we hope to do is really encourage the residents to come together in the spirit of Christmas, and what this is like at Lancaster New City. Every single night for a whole month, as people were building and collecting recyclable materials, they brought their families with them, even young children. They decided on the concept and they all built it together," Issa Santos, head of Culture Development Group, told Philstar.com in an exclusive interview.
"It was never a competition. It's really a Christmas community initiative… It's very heartwarming," she said.
For his part, Jasper Rocha, representative of the Lancaster Homeowners Riders Club, said "As homeowners of Lancaster New City, we ride as one, we love as one, and (we) give back to our community."
"Sa amin sa Phase KS21, we consider ourselves as a family living in one community. Hindi kami pare-parehas ng religion, basta ang importante nakikita naming sa sarili naming ang tuwa na makagawa ng masterpiece," says homeowner Apolinar Datu.
Displayed for the whole month of December, the dioramas serve as pillars that epitomize the township's ingenuity, creativity, dedication and cooperation. Beyond fostering deeper relationships among neighbors, the event captures the #GalingLNC.
Light the sky, fire the hearts
Alongside the Diorama Exhibit, LNC's giant Christmas tree was also lighted on December 1. Bright and dazzling with colors, it stands next to the township's very own Christmas tunnel, also a new attraction for this year.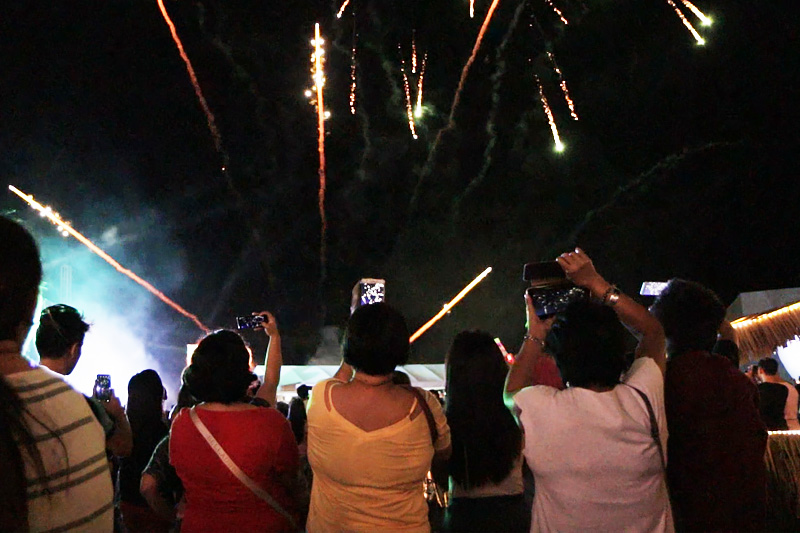 Audiences were dazzled by a pyromusical display that punctuated the Lancaster New City Homeowners' Night. Released
The night was punctuated with a pyrotechnic display–sending the spectators in the Central Greens roaring with glee.
A movie night to remember
With its own silver screen propped in the Yuletide chill, Lancaster New City commenced its Sine Saya on December 8. It featured back-to-back Pinoy, family-themed blockbusters, "I Love You Hater" and "Seven Sunday," straight from the festival circuits of early this year.
"For us Lancaster New City is a sanctuary for families. May mga pamilya sa amin galing ng Luzon, Visayas, Mindanao. As one community, one Lancaster New City, importante na magsama-sama ngayong Pasko," commented homeowner Ruben Senerillos.
Truly a unique bonding, the night saw families setting up their own nooks under the sky, made warm with cuddles. Of course, there were popcorn and drinks for snacking.
Sweet jams, sweeter stories
On the eve of December 15, homeowners impressed audiences at the first-ever Homeowners' Night. From household to stage, participants from the community worked together to bring their A-game.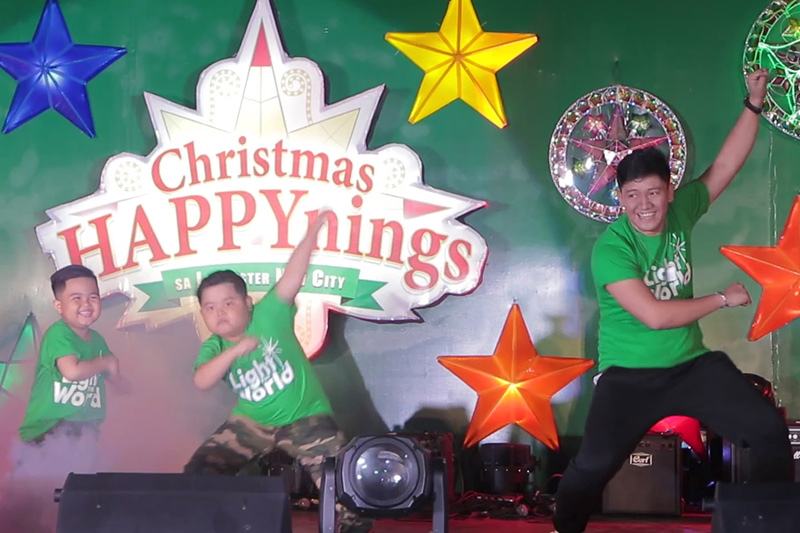 Homeowners brought their A-game and impressed everyone with a show of talents. Released
Aspiring dancers and singers shared their talents and their stories, not as competitors but as passionate entertainers. With community members of this caliber, onlookers expected no less.
"Our call was a grand night picnic, and they brought their mats, their families, and their pets, too. This is exactly what we wanted the homeowners to feel in an event like this," said Erika Clavido of the Culture Development Group.
"It's a platform of sharing good values the Lancaster New City way, that's the bulk and core of the Homeowners' Night—generosity, service, living our faith in our everyday lives," said Clavido.
At the end of the night, all performers and volunteers were recognized for their collective efforts. And what better way to commemorate this than with a grand pyromusical display.
Giving back by giving joy
Since November, the community has also done charity and brought cheer with the Kids-Hand-in-Hand Donation Drive.
With the help of #GalingLNC volunteers, partner LNC clubs and the Cultural Development Group, families were mobilized to engage in an activity of sharing, deepening the value and power of the Christmas spirit even more.
All proceeds of the wonderful initiative were granted to the kids from the partner communities in Alapan 2A, Alapan 2B, GK Community, and Pulvorista.
'Bahagi at makibahagi'
With its Christmas Happynings, Lancaster New City made a mark in the hearts of members of its community.
"Every single year, we have all these activities that really reinforce the fact that our community isn't just the beautiful houses. Christmas is love, Christmas is family, and our community is about the spirit that's inspired by Lancaster New City," said Santos.
"It's very important to celebrate the holiday season. We are very thankful that Lancaster New City, PRO-FRIENDS, initiated this. It brings everyone out of their shell—meeting new people, meeting new friends," added Rocha.
Lancaster New City is the flagship project of PRO-FRIENDS that spans to more than 1,600 hectares in Imus, Kawit, and Gen. Trias, Cavite. It is Your Family Friendly City where more than 50,000 of its current residents Live, Learn,Work, Play and Pray and attain their #FamilyGoals. — Video by Erwin Cagadas