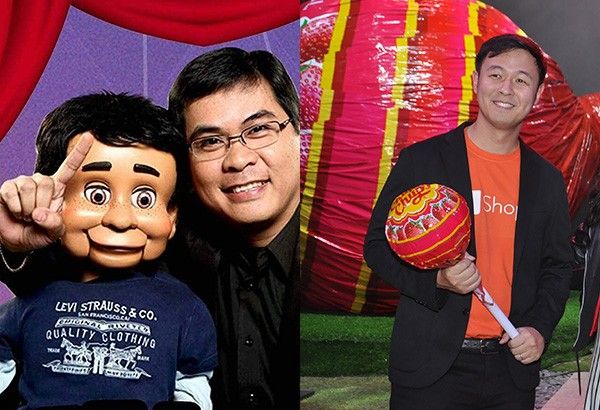 "Wanlu and His Puppets" show (left); giant lollipop unveiled in BGC (right)
Photo release
LIST: More Christmas treats for kids and kids at heart
MANILA, Philippines — Time passes so quickly and before you know it, your beloved baby is fast becoming a teen.
Because of this, it is important for parents to give time to their children, may it be through quality bonding or giving a gift.
Here are some options parents can try to make their kids' Christmas extra special.
Check out the country's biggest lollipop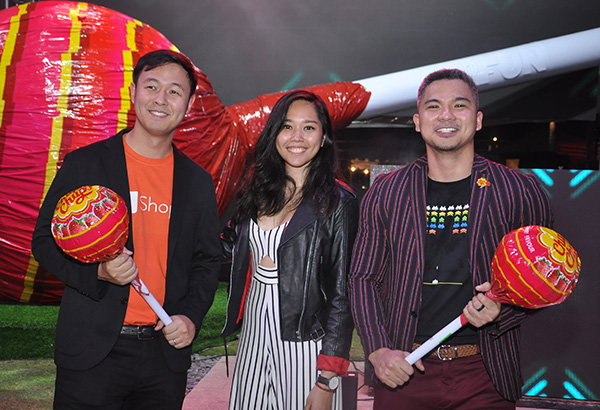 Shopee Philippines Head of Business Intelligence Martin Yu, Chupa Chups Brand Manager Denise Opulencia, and PVM Marketing Manager and Digital Lead Eugen Soriano
Iconic confectionery brand ChupaChups recently marked its 60th anniversary by unveiling a giant replica, the country's biggest lollipop, in Bonifacio High Street.
Denise Opulencia, ChupaChups Philippines Brand Manager, told Philstar.com in an interview that since this year, the brand focuses on e-commerce, the brand has launched its new Super Mega Lolly exclusively available in online shopping site Shopee.
The Super Mega Lolly, the brand's biggest, contains 40 differently flavored lollipops that weigh 12 grams each, encased in a giant lollipop-like ball that is approximately the size of a human head.
The brand is by Perfetti Van Melle, one of the world's largest manufacturers and distributors of confectionery. Other PVM brands include Mentos, Fruittella, Smint, Look-O-Look, and AirHeads. The brand's logo was designed by world-renowned Spanish painter Salvador Dali, is reportedly enjoyed in over 150 countries.
As a homage to the roots of the brand, a 1950s themed party was organized in Bonifacio High Street last November 9.
For the brand, fun is for life, not just for kids. While adults may feel the pressure to grow up, the brand encourages everyone to hold on to all the good stuff and keep the inner kid alive. The entire party exuded fun, from its neon decorations to entertaining games to good food.
Further excitement was made when a big surprise was announced during the event. To add even more fun to the brand's classic lollipops, unique gums, and colorful jellies, the newest lollipop was made available for the first time in Southeast Asia.
"In line with the brand's 60th birthday, we wanted to do something really big. So, to kick off the new global positioning of Forever Fun in the Philippines," said Denise Opulencia, ChupaChups Brand Manager.
Eugen Soriano, PVM Trade Marketing Manager and Digital Lead, added: "For the launch of Super Mega Lolly, we decided to partner with Shopee because we share the same vision of constantly innovating and being where our consumers are. In today's modern world, there's no other way but to go digital."
Recreate fun childhood Christmas memories with hotcake art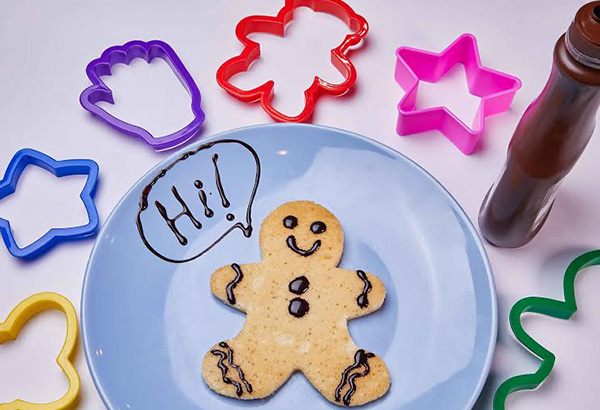 Hotcake art
Christmastime often comes with nostalgic memories of childhood—lovingly putting finishing touches to the tree, tearing into colorful presents, and enjoying delectable Noche Buena feasts with friends and family.
Beloved Filipino brand Maya makes celebrating your favorite holiday traditions more special with their easy-to-use products. From their hotcake, brownie, and cake mixes to their All-Purpose Flour, the brand aims to make it easy to craft the perfect Christmas meals and snacks for reliving the warm, happy memories of the season.
To celebrate Christmas past and present, The Maya Kitchen transforms into a cozy holiday home, complete with special themed Christmas corners that evoke cherished memories—from recreating holiday photos at the Holiday Photo Corner to reminiscing about family Christmas dinners in the Dining Hall.
Related video: How to make hotcake art
The brand's new product, Happy Mugs, aims to bring back memories of making Santa a treat before going to bed. These special, versatile mixes come in single servings that are ready to mix: just microwave for two minutes and a warm, tasty cake will be in one's hands. Available in chocolate and caramel, these little mug cakes also come with their own sauces. But everyone is free to add even more toppings—from fruit slices to chopped nuts—to enjoy it their own way.
For Christmas breakfasts, hotcake art is something both parents and kids can enjoy. They can get creative with different cartoonish designs or simply cut their hotcakes into fun shapes and decorate with toppings. — Videos by Kat Leandicho
Related video: How to make mugcake
Bond over spaghetti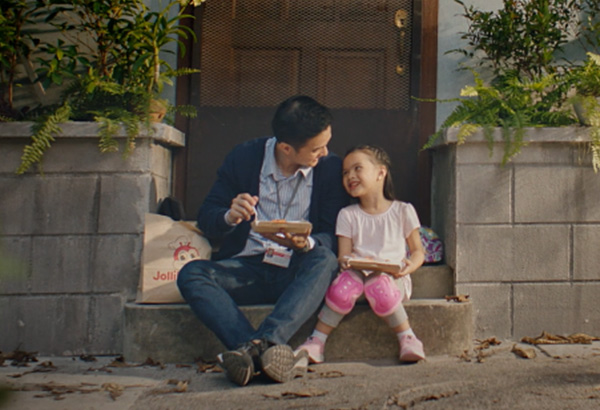 Scene from the latest Jolly Spaghetti video
Filipino fast food chain Jollibee recently launched heart-warming videos about love and affection by the parents to their children.
In a new video, the company presents the small, tender moments shared by parents and their children every day. Filled with slices of daily life that many modern Filipino parents can relate to, this new video's moments are complemented by a classic favorite spaghetti.
The video shows parents making the most of the time they spend with their children by making everyday activities such as playtime, snack time, bath time, and bedtime more fun and memorable.
"The latest Jolly Spaghetti video is our tribute to Filipino parents who tirelessly find ways to connect and bond with their children, even in the smallest ways like sharing their favorite sweet-sarap treat," said Cathleen Capati, Jollibee assistant vice president for Marketing – Flagship Category.
"Childhood always goes by so fast and for parents, it's important to enjoy and cherish every moment with our children," she added.
Christmas is for children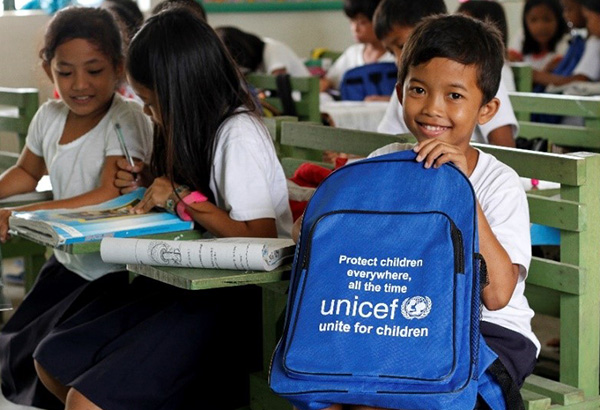 The online store has partnered with UNICEF to give more smiles for kids this Christmas.
Christmas is in the air as Lazada partnered with UNICEF, allowing online shoppers to support the welfare of Filipino children.
Until December 31, UNICEF will have an online shop that includes inspired gifts such as backpacks, hygiene kits, and emergency supplies can be donated to children all over the country.
"We are honored to work with UNICEF in helping the underprivileged children of the Philippines. e-Commerce has helped cater to the needs of many underserved Filipinos and our UNICEF partnership allows us to extend this help to those who need it the most," Lazada Philippines chief executive officer Ray Alimurung said.
"With kids, a little help goes a long way because you're helping build the future, one child at a time. We believe that the Filipino future is bright because of the kids we help today through our platform," he added.
"Through innovative partnerships like this, everyone is given the opportunity to improve the lives of so many children. We appreciate this collaboration with Lazada," said Lotta Sylwander, UNICEF Philippines Country Representative.
Coffee is also for children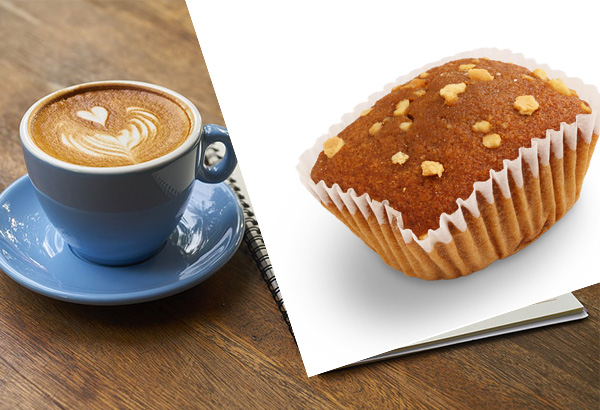 It comes in three flavors: Café Latte, Choco Lava, and Creamy White
Coffee, a favorite conversation drink, now comes in a handy and cream-filled package via Lemon Square's new variant, Coffee Break.
Available in supermarkets and groceries nationwide, Coffee Break comes in three flavors: Café Latte, Choco Lava, and Creamy White, ideal for perking up in the middle of a busy work day.
Ballet Manila's 'Cinderella' ushers early Christmas for kids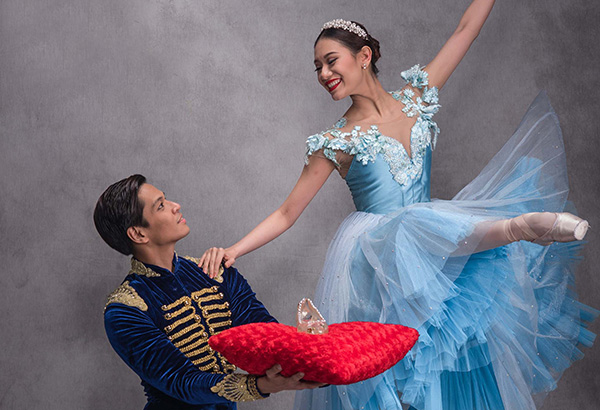 Ballet Manila's 'Cinderella'
In 2016, Ballet Manila surprised and delighted theater fans with Lisa Macuja-Elizalde's first full-length choreographic work.
"Cinderella" combined special effects, refreshing humor, and a heartwarming tale to become an instant family hit. The fantasy production cast a spell on its audience, which also happens to be the biggest in Ballet Manila's history.
Recently, Ballet Manila closed another season of "Cinderella" partly for the benefit of Project Ballet Futures (PBF), a dance scholarship program that provides free ballet education to public elementary and high school students.
Scholars undergo training in The School of Ballet Manila, the ballet group's educational arm and a respected learning center for classical ballet that aims to develop, nurture and produce highly skilled dance artists.
PBF is currently training 25 students from the Philippine Christian Foundation in Tondo and public elementary and high schools in Pasay City, Makati City and Manila. Under the leadership of Artistic Director and School Directress Lisa Macuja-Elizalde, PBF scholars are introduced to the rigorous Russian Vaganova method which develops the body and the mind. This type of dance education builds artist's confidence and nurtures emotional intelligence while mastering styles and techniques.
Although "Cinderella" has closed and will be succeeded by the next production, "Deux," based on the music of The Beatles, donors are welcome to donate to PBF through the ballet group's website.
Magic on ice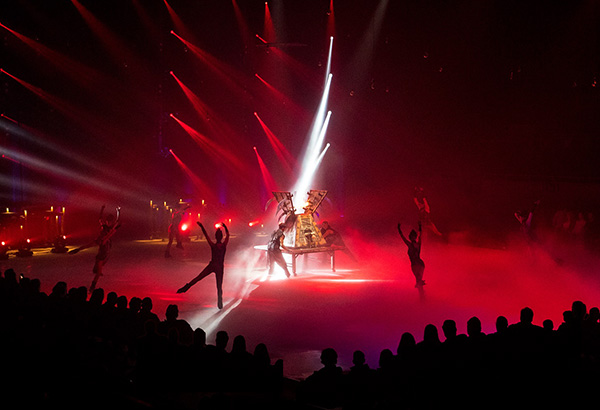 Magic On Ice
Christmas will be more magical this year as the world-renowned Magic On Ice will be landing in the Philippines on December 25, 2018 to January 1, 2019 at the Araneta Coliseum.
Combining the elegance of ice skating and the world of grand illusions, the show is a new genre of entertainment featuring production designs and death defying acts that will surely brings delight to Filipino audiences.
In a roundtable interview during the media launch at Gateway, show creator Steve Wheeler said Magic on Ice is an incredible show that families shouldn't miss this Christmas.
"The show combines the power and speed and the beauty and the grace of the Olympics sports, which is the ice skating, with big spectacular brand of illusions. We'll see people appearing, vanishing, transforming beautiful levitations, we have some fun audience participation, comedy effects and at one point even invite kids in audience down to the ice to participate in the show," he said.
Since the show is performed all over the world, Steve is excited to perform their one and a half show in the Philippines for the first time as his team is also behind the best shows in the world, including "Le Reve," Cirque du Soleil's "Mytere" and "O."
Steve also shared why the show was born as he combines all his passions into one to create the magic show.
"I began performing magic when I was very young. At the same time, I have a real love for sports and especially ice hockey. When I was a teenager, I began developing the magic and I'd study theater arts," he said.
"I also love big concerts and theatrical production. Then I got the idea on 'well, why don't I take the magic that I have and combine it with my love on the ice and big production and that's the start of Magic on Ice," he added.
A new 'Spider-man' rises into the spider-verse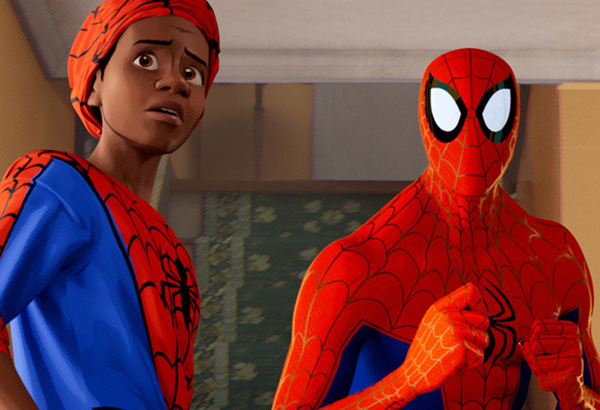 Scene from "Spider-Man: Into the Spider-Verse."
Young actor Shameik Moore (Netflix's "The Get Down") voices Miles Morales, a young teenager and a Brooklyn native who is thrust into a new school, in Columbia Pictures' new action-adventure "Spider-Man: Into the Spider-Verse."
But he is having an even harder time adjusting to his entirely new and unexpected life as a Spider-Man. After meeting some other versions of the superhero from parallel universes, Miles learns to unlock the hero inside himself.
"I am a big fan of the Spider-Man films," says Moore. "In fact, when I was a teenager, I wrote in my diary that one day I would play Spider-Man! But Spider-Verse goes beyond everything we've seen before with the multiple universes, multiple villains and multiple spider heroes. With Miles Morales you have a Spider-Man character that we've never seen before on the big screen. It's a completely new experience. It's also important to point out that Spider-Verse is the first movie about a biracial superhero, ever. His culture, background and upbringing really makes him a different type of superhero — something we have all been eager to see on the big screen for a very long time. That's why I'm very proud be a part of that."
"They have really sauced things up with this movie," Moore adds, "I think both the fans of the original old-school Peter Parker Spider-Man and the new Miles Morales character are going to love this movie. Miles is young, bright and confident, and he's very different from Peter. But they both have to deal with the responsibilities and rewards of being Spider-Man. They also have different powers. Audiences are also going to really love the story, and enjoy the beautiful animation."
Morales was introduced to the Spider-Man comics in 2011, created by comic book writer Brian Michael Bendis and artist Sara Pichelli. While on a Marvel retreat, Bendis and his colleagues discussed the Ultimate Spider-Man comics and what they could do differently to create a universal appeal – months later, on a long bike ride, the idea hit him that if Peter Parker died heroically enough, another character could continue the Spider-Man legacy. Miles was born and has since become a fan favorite – he is a thirteen-year-old son of an African American father and Puerto Rican mother, and is a thoughtful, exciting and contemporary take on the Spider-Man character.
In addition to the usual Spider-Man powers such as web shooting (from web shooters), sticking to objects, speed, strength, incredible hearing and Spidey sense, Miles has additional unique powers, such as venom Strike (an electrical sort of power that he can deliver with a touch) and camouflage (invisibility).

The spider who bit Miles has the same camouflage power as him, which is visually represented in the movie. At first, Miles only turns invisible when he is scared, so he has to learn how to perform the power on command – not just when he's frightened.
Check out "Spider-Man: Into the Spider-Verse" in Philippine cinemas starting December 12.
Wanlu and his puppets at the CCP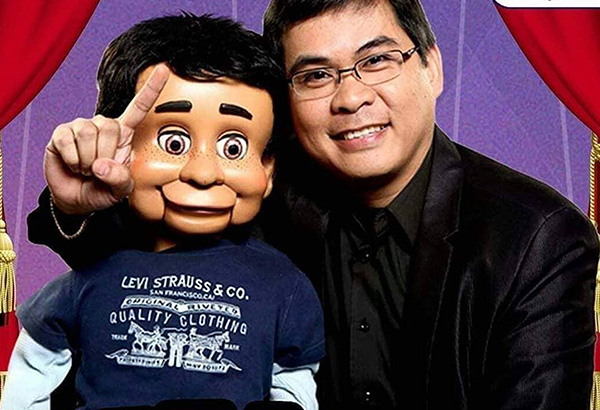 "Wanlu and His Puppets"
Journey into the world of magic and puppetry with "Wanlu and His Puppets" on December 7, Friday, 8 p.m., at the Tanghalang Huseng Batute (CCP Studio Theater).
The 90-minute family show will feature Juancho "Wanlu" Lunaria and his marionettes and ventriloquist puppets. The show aims to raise funds for travel expenses for Wanlu and his family as they represent the Philippines in the 5th International Marionettes Festival in Vietnam this October and the Phuket Harmony World Puppet Festival in Thailand in November.
Hailed as the Philippine Ambassador of Puppetry, Wanlu started his entertainment career as a magician. Mentored in magic by Nap Fernandez, Danny Luchavez, Lou Hilario and Burik, he brings joy and laughter to private parties for more than 20 years.
He later joined "Talentadong Pinoy," a talent competition, in 2009. It was during that time when he decided to venture into ventriloquism, as a way to expand his range of skill. He learned the art of ventriloquism from his mentor, Ony Carcamo.
His puppet friends include: Nicolo, a six-year-old wisecrack kid puppet, his sister Angelina, Manny Pexman, Rep. Dominador of Lakas Loob Party, Mang Caloy of Amoy Pawis Partylist, Plus Kap, Ozham the Mystic, Gort the Alien, among others.
There are also the lovable bunch of animal puppets — Andhokzz the Chicken, DD Gandang Ibon the Ostrich, Santiago the Parrot, and Gonzo, the high technology animatronic monkey puppet.
Winning and becoming Talentadong Pinoy Hall of Famer catapulted Wanlu into the spotlight. He hosted a twice-weekly segment on TV 5's Sapul, dishing out political commentary spiked with humor, and appeared on comedy show Wow Meganon.
He and his family have represented the Philippines in several international puppetry festivals such as the ASEAN Puppetry Festival in Malaysia, the Japan Ventriloquists Convention, the International Marionettes Festival in Vietnam, the World Puppetry Carnival in Thailand, among others. Tickets are available via TicketWorld and CCP.