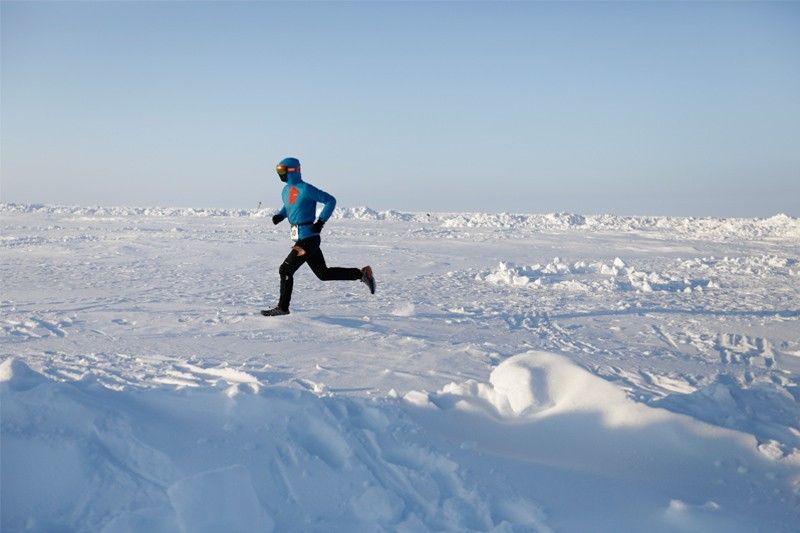 Sangalang's training did not just focus on the physical but also on the mental and emotional aspects.
Released
The journey is the destination: Sangalang more than ready for FWD North Pole Marathon
(philstar.com) - April 13, 2018 - 5:00pm
For a marathon, it's ideal to train for six months. But what if it's no ordinary marathon? One whose course is on snow and ice, under extreme sub-zero weather conditions?
One does not simply say, "I'm running the FWD North Pole Marathon!" and then train on-the-fly. You'd need to train harder, and double—if not triple—the effort.
The extensive physical preparations required to conquer and ace what is dubbed as "The World's Coolest Marathon" found Louie Sangalang, pan-Asian insurer FWD Life Insurance Philippines representative, training on Pagudpud Beach, running up the Cordilleras, completing a 30-km circuit inside a blast freezer, and doing many other tests of endurance, designed to build his ultra-distance and aerobic engine.
Sangalang's coach and trainer Miguel "Ige" Lopez is 100 percent certain and confident that the former three-time mixed martial arts champion and multi-sport athlete can complete the race in the best finishing time.
It does not matter if he had battled and overcame cancer over 20 years ago or that he had never run a marathon overseas. Sangalang is a shoo-in, not really because he's physically prepared for it but because he has the will to conquer this once-in-a-lifetime race.
While physical endurance is a must in any marathon, running a 42-km race on floating Arctic ice takes much more than strength and endurance. It requires wits, smarts, mental toughness, survival skills and most of all, determination.
Beyond physical training
Thus, Sangalang's training did not just focus on the physical but also on the mental and emotional aspects with the help of the FWD PH Squad.
Famed Filipino mountaineer Romi Garduce, who climbed all seven summits in the world, shared his experience in surviving the grueling terrain and weather conditions in Tibet, among many others. He gave Sangalang valuable advice and strategy, not just for his preparations but also for the actual race.
Triathlete and coach Ani De Leon-Brown collaborated with Coach Lopez for Sangalang's training program, especially in terms of endurance, physical fitness, sweat conditioning and hydration in -40° weather.
As a seasoned marathoner himself, Boys Night Out's resident "playboy" and comic man Sam YG's role was to keep the competitive juices flowing but, at the same time, keep it lighthearted and fun(ny) when he needed to.
No achiever has ever made it to the top without strong emotional and familial support. Marathoner Maricel Laxa-Pangilinan is an expert on that.
Her nurturing spirit and her personal experience with getting her son, Benjamin, to achieve his goals despite all odds was a valuable help to Sangalang as he prepares for the race. It didn't hurt, too, that Pangilinan has run in several international marathons.
Like Sangalang, Benjamin also had to overcome a disability, having had open heart surgery when he was young. But that did not stop him from joining marathons, playing sports and achieving all of his adventure bucket lists.
This shared experience of triumph and the power of will motivated Sangalang to achieve his own bucket list—finishing the FWD North Pole Marathon.
Experience unlike other
Sangalang and the rest of the FWD Team Asia — an elite group of runners who represent FWD Insurance's different markets across Asia (Hong Kong, Japan, Singapore, Indonesia, and Vietnam)—are now in Svalbard, Norway to prepare for the race. But most important, they are there to get to know each other and learn from each other.
Because more than being a bucket list destination and race for runners across the globe, preparing for the FWD North Pole Marathon, along with the stories, lessons, friendships and people that come with it, is an experience unlike any other.
The runner's high at the finish line—that feeling of literally being on top of the world—is just a huge, frosted cherry on top of an epic triumph not just for Sangalang but for the whole Philippines. In truth, the real achievement is the adventure of getting there.
Follow Louie Sangalang's journey as he represents the Philippines in the upcoming FWD North Pole Marathon this April. Visit http://npmarathon.fwd.com.ph/. Check out FWD Life Insurance's Facebook page: fwdlife.ph and Instagram/@fwdlife_ph.
READ MORE:
Philippines' Louie Sangalang won't try to conquer the FWD North Pole marathon alone