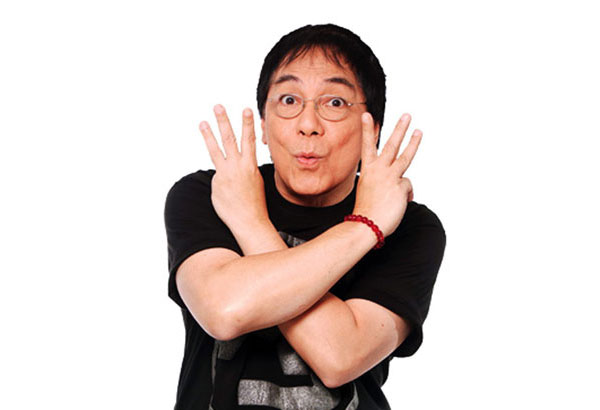 Eat Bulaga host Joey De Leon earned criticisms after saying depression is just all in the mind. File photo
Joey De Leon slammed for depression remark, Maine praised for taking stand
MANILA, Philippines — Another host of noontime show Eat Bulaga was placed in hot water after issuing a depression remark deemed by netizens and mental health advocates as "ignorant" and "insensitive."
In its "Juan for All, All for Juan segment," a contestant named Maria Cristina claimed that her mother is suffering from depression according to their doctor.
Asked what triggered the depression, Maria Cristina explained that they were not informed but the doctor mentioned her mother is also aging and becoming forgetful.
Eat Bulaga host Joey De Leon then butted in saying depression is just all in the mind.
Here are Joey De Leon's disgusting and dangerous comments about depression on Eat Bulaga today + Maine Mendoza taking a stand. pic.twitter.com/jo6STsIcvs

— DryedMangoez (@dryedmangoez) October 5, 2017
"'Yung depression gagawa lang ng mga tao yan. Gawa nila sa sarili nila, (Depression is just made up by people)" De Leon said.
Maine calls support for depressed people
Maine Mendoza on the other hand said depression should be taken seriously. She was seconded by love team and rumored boyfriend Alden Richards.
"Hindi biro yun ha, yung depression, (Depression is not a joke)" Mendoza said, as De Leon questioned her.
Mendoza explained several people experience depression.
"Kaya dapat kapag merong nakakaranas ng ganun bigyan natin ng suporta, (And so, if somebody undergoes depression let's give them support)" the actress-host added.
However, despite Mendoza standing up against treating depression as a joke, De Leon maintained depression is just made up.
"Huwag ninyong suportahan. Gawa gawa lang nila yun pabayaan niyo,(Don't support depressed people. They just made up the condition. Leave them alone." De Leon said.
"Nagpapasosyal lang. Pag mayaman depressed, pag mahirap wala wala ka ng pagasa sa buhay. Ganun 'yun e, (They're just social climbing. For the rich, depressed, for the poor you just lost hope, That's the way it is), the veteran host-comedian added.
Joey De Leon draws flak
These remarks of De Leon quickly went viral online and became the top trending on Twitter as of posting more than 13,000 tweets.
Netizens were disgusted and bothered by De Leon's statement while others praised Mendoza for taking a stand against De Leon's remark. Some said they were disappointed as De Leon is known as "Henyo Master" or genius master.
Mental health Facebook-based support group, Anxiety and Depression Support Philippines criticized De Leon and questioned whether the host should be believed or the psychiatrists and experts.
The group also schooled De Leon saying depression can happen to anyone whether they are rich or poor.
"Nagpapasosyal? Siguro merong taong ganyan pero hindi lahat. Nagpapasosyal? Maraming paraan magpasosyal kesa sa magkasakit, (Social climbing? There may be people like that but not all. There are a lot of ways to social climb than to claim sickness)," the group said on a Facebook post.

"We all have opinions, and that's okay, but when you are a public figure, you are an automatic public influencer, you can either do good or harm so please be careful most especially when talking about a serious matter," it added.
The support group also thanked Mendoza for her "obvious support."
Below appears the tweets pertaining to De Leon's "insentive" remark.
Dear Joey de Leon, your words have power. Please use it wisely. Use your power to educate. Depression is real, hindi gawa-gawa lang!

— Noreen Capili (@noringai) October 5, 2017
You should not trivialize the suffering of depressed people bec it makes them feel helpless & maybe even suicidal. Shame on you Joey de Leon

— Kip Oebanda (@kipoebanda) October 5, 2017
When a newbie like Maine Mendoza understands more what is depression compared to a veteran, Joey de Leon --Thank you Maine.
I am now a fan.

— NIÑA (@ninstweet) October 5, 2017
"Henyo Master," Joey De Leon should educate himself about depression. Love Maine for doing her best to speak up about it.

— Semaj Hokage (@I_Am_Hokage) October 5, 2017