Design Philippines brings bold, youthful energy to maison and objet
October 2, 2021 | 12:00am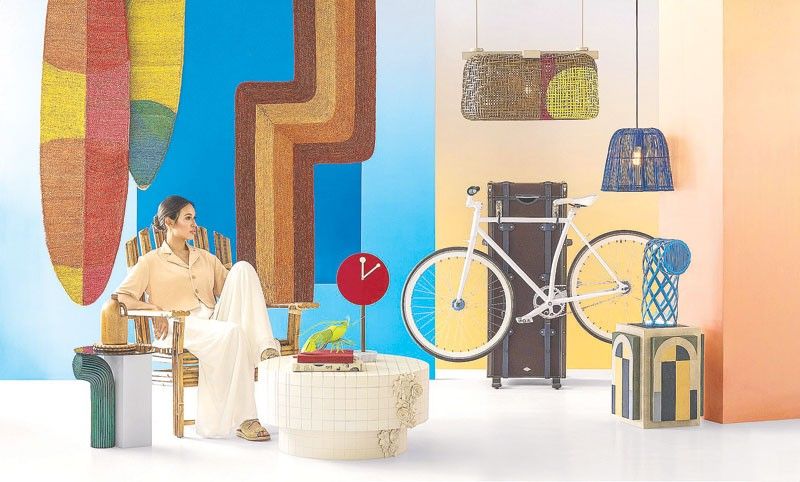 The last time we were at the Philippine booth at Maison & Objet Paris was in 2019, before the pandemic, when its streamlined look and distilled purity in product design stood out and grabbed the attention of buyers and the media.
Two years on, the world is a totally different place, but CITEM has steered Design Philippines to adapt marvelously, bringing a fresh, vibrant energy to MOM (Maison & Objet and More), the premier design and lifestyle show's digital platform.
The Philippines' first participation in the digital fair in 2020 was already a huge success, garnering significant attention from both professional buyers and design tastemakers. "It also caught the eye of color authority Pantone and the trend forecasting authority WGSN, where it landed on the cover, as well as in four out of eight featured trends," CITEM executive director Pauline Suaco-Juan shared.
While there was a 44 percent decrease in expenses for digital participation compared to a physical one, there was a 10 percent increase in sales, thanks to a 24/7 online availability that also made the products discoverable to new buyers and markets. Last year had sales of $3,183,647,92, while January to June 2021 earned a reported $1.26 million. Philippine showrooms were visited 22,000 times in less than four months in 2020 while this year, MOM buyers have already visited 21,000 times.
A good start to the September 2021 MOM is the singling out of two Philippine products — the Cheque Bench of Zarate and Fiori Lamp of Finali — as two of the Best of MOM.
Rita Nazareno and Gabby Lichauco of Nazareno/Lichauco, creative directors for Design Philippines (where they curate products from existing collections by a roster of exporters) and Kindred Design Collective (where they develop and design products with a select group of exporters) since the 2019 M&O and the 2020 MOM, have outdone themselves for the current MOM.
Taking off from the fair's theme of "Desirable Development," which focuses on the consumer's appetite for products with a "human touch," a sense of spirituality and sustainability, they further "highlight craft and techniques and local material used by our Philippine manufacturers to put a more contemporary, even witty, touch to their designs."
They came up with their own theme, "In Any Kind of Place," inspired by the poems of Gertrude Stein entitled "Tender Buttons," with sections entitled Objects/Food/Rooms. Stein's experimental use of language, dubbed verbal cubism, "gives the words an oddly new intimate flavor and at the same time makes familiar words seem almost like strangers," Sherwood Anderson wrote in a foreword.
Stein is particularly relevant now because she was a mentor and guide to the Lost Generation in the 1920s, a group of creators left meandering after the 1918 flu pandemic and World War I. It's ironic that this group, which included the likes of Alice B.Toklas, Picasso, Matisse and Ernest Hemingway, would be the ones to "help future generations find themselves," according to the change agency Impossible Company. "By inventing modern art and writing literature in a different way, they gave people new meaning. That notion is what we are trying to invoke," says Rita.
"By making the familiar seem like new, like strangers, we looked at various influences of the last century to create something like the past looking towards the future – translating through designs and craftsmanship that celebrated the notion of time and place, of experimental and contemporary pieces, embracing different perspectives, individuality and self-expression through objects," explains Gabby.
The roaring '20s and art deco are channeled in Mejore's Soledad Bar Cart with its fretwork design and La Galuche's mirror. The affluence of Italy in the '50s after WWII, graphic posters and midcentury modern, is reflected in Venzon's geometric lamps, Ora Cebuana's wicker furniture and lamps and Zarate's Saucer coffee table.
California dreaming in the liberated '70s figured in some pieces, which took cues from Palm Springs, Cher's hair and the desert, which was a whole collection inspired by Agnes Martin. Tables by Finali have abstracted cacti motifs in bamboo, wood and glass. Manila in the '70s was a rich source, from toyo bottles and tansan to food like multicolor sapin-sapin, which inspired the pattern on La Galuche's shagreen table. Haspe's strength in woodwork was harnessed to create the duo's homage to the jeepney with bent wood and vibrant-colored upholstery and solihiya.
With the pandemic making us realize the importance of nature and taking care of our bodies and minds, the designers turned to the outdoors and nostalgic sports: a rattan ping-pong table developed with E. Murio evokes leisurely days, while wicker duckpins with Zacarias brings back memories of bowling in Buendia. Nazareno's encounters with surfers inspired the woven surfboards from Weave Manila while Lichauco, an avid cyclist, produced a Commuter Collection for Prizmic & Brill.
Some projects came serendipitously like when the duo wanted to make paddles and discovered that Contemporaneo's technique was perfect for the job. This excited Arnulfo Milambiling, the proprietor, because his father used to make paddles when he was younger and they would go fishing in Masbate. It was such a personal passion project for him that it resulted in the most beautifully crafted decorative paddles in solid mahogany and recycled woodchips.
If these pieces pop out of the screen as you scroll through the MOM site, credit should also be given to Vince Uy and CoStudio, whose visuals, photographs and stories behind the products "have elevated the products to a whole other level," says Rita.
Pauline related how the team involving 50 creatives that included photographers, set designers, graphic artists, models and stylists, among others, had to do everything with all the restrictions and protocols imposed by the pandemic just to meet deadlines but pulled through with amazing, highly curated content. The Filipino spirit of bayanihan, after all, gets us through the worst of times and continues to be our saving grace to ride through this pandemic to achieve wondrous things.
* * *
CITEM will be staging FAME+Market Days, a digital sourcing festival on Oct. 20-22. Visit www.fameplus.com and follow @manilafame on Instagram. Follow the authors on IG @rickytchitov; Twitter @RickyToledo23; Fb - Ricky Toledo Chito Vijandre.