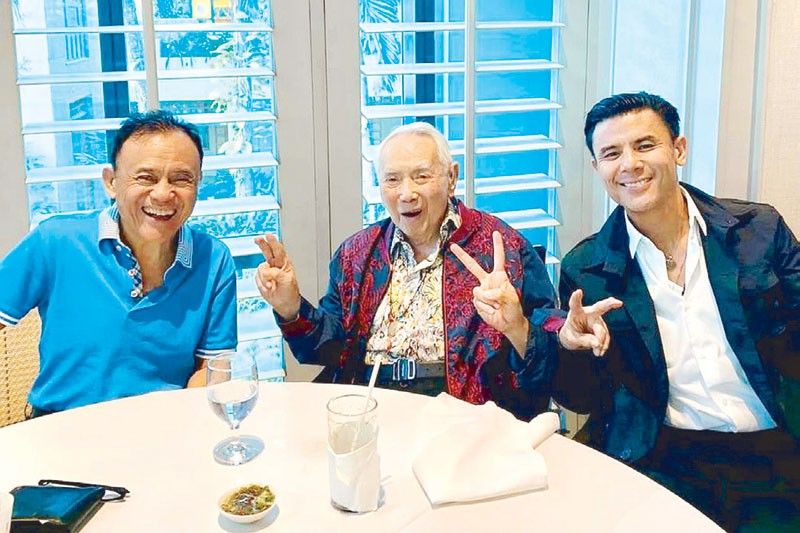 Turning 100 on April 7: Rustan's patriarch Bienvenido "Benny" Tantoco Sr. with eldest son Bienvenido "Rico" Tantoco Jr. (left) and eldest grandson Bienvenido "Donnie" Tantoco III (right).
STAR/ File
100 years of love, laughter & lessons from Benny Tantoco
The Queen of England writes a birthday card to any citizen who turns 100. In Ireland, centenarians get a cash gift of about 2,500 pounds to congratulate them for their longevity.
The Philippine government, likewise, gives a cash gift of P100,000 to Filipinos when they turn a century old. Last year, it was reported that 952 Filipino centenarians received this gift.
This year, I know of one distinguished person who is excited to receive this gift when he turns 100 on April 7. He is Bienvenido "Benny" Tantoco Sr., multi-awarded business leader, retail luminary and former Ambassador to the Vatican. He may not really need the hundred thousand pesos, but he looks forward to receiving the cash gift — for a reason.
His eldest daughter, Nedy Tantoco, explains: "Our dad plans to give this money to his 33-year-old grandson, Chris Tantoco, for his wedding."
I asked Chris about this and he says, "I think this started as a joke. I don't even have a girlfriend at the moment."
Is it Lolo Benny's way of telling Chris that he wants to see him get married soon?
"Perhaps, but no deadline, no pressure has been imposed by him on me," says the hardworking Chris.
With six children, 21 grandchildren, 40 great grandchildren and one great-great grandchild, Benny Tantoco has had many happy memories of weddings in his family. His mind is so sharp, in fact, that he holds many memories of the joyful triumphs that have marked his life as the pillar of the Rustan's Group, the country's leader in luxe retailing, which he and his wife Glecy founded in 1952.
But perhaps not many people know that these triumphs came with tears and sacrifices.
Benny Tantoco came from a courageous and entrepreneurial clan that was started by a Chinese trader named Tan Tok Che. Of the 20 maidens whom Jose Rizal addressed in his famous "Letter to the Women of Malolos," nine were Tantoco women. Many Tantoco men were proudly part of the KKK's Katipunan del Norte.
His father was Luis Buendia Tantoco, a farmer-fishing trader in Malolos, Bulacan, and his mother, Carmen Fabella Rufino, was a music teacher fondly called "Maestra Mameng" by the students who learned to play using the four pianos in the Tantoco home.
The second of eight children, Benny naturally developed business skills and an appreciation for music and culture. His eldest brother, Luis Jr., was a violinist with the Manila Symphony Orchestra. A sister, Felicidad "Nene" Gochoco, was a concert pianist.
Benny helped his father in their rice field and fishing pond, and he instilled in Benny basic lessons: "Work hard, be punctual, and be fair."
Benny also learned to be friends with both rich and poor. He used to hitch a ride on the bike of his best friend, Jose "Pepe" Lomotan.
Another best friend was Felipe F. Cruz, who came from humble means but became class valedictorian. FF's wife Angelita Almeda Cruz used to say that her husband, who rose to become one of the country's top builders and industrialists, "only had one pair of pants as a student."
Because his father's business had its ups and downs, Benny worked to support his siblings. At 16, he began working for his relatives' chain of theaters (State, Lyric, Capitol and Gaiety) in Manila. After work, he would attend his classes at Jose Rizal College, where his mother's cousin, Vicente Fabella, granted him a scholarship. He finished Commercial Business in 1941 with a thesis on "Modern Advertising in the Philippines."
Benny enjoyed bowling with friends in San Marcelino, where he met and fell in love with Glecy Rustia, daughter of Juan Rustia of Baliwag, and a product of St. Theresa's College and St. Scholastica. Glecy was a pianist who got lessons from the famous Agoncillo sisters whose mother made the first Philippine flag.
Benny and Glecy married in April 1944, and their first home was Room 744 of Avenue Hotel. Later, Benny built a two-story home for Glecy that was to become the first Rustan's in San Marcelino.
The store name Rustan's was suggested by Jessie Bello, head of publicity and advertising of the Luzon Theaters. Benny chose Rustan over the first suggested name, Tanrus.
"Without Daddy, Rustan's would not have grown as it did, because while Mom concentrated on buying and merchandising, Dad took care of business details like what the government needed, the payment of taxes, the declaration of sales and the legal aspects of the business," says Nedy.
One thing that Benny and Glecy shared was their religious piety. They had a spiritual devotion to the Sacred Heart of Jesus, the Divine Mercy and Our Lady of Guadalupe.
When Benny was named Philippine Ambassador to the Vatican in 1983, it was a task wholeheartedly embraced by Benny. Before assuming the post, he sought the guidance of former Vatican Ambassador Alberto Katigbak.
Mario Katigbak says, "My father's friendship with Tito Benny and Tita Glecy dates back to the 1940s when they all evacuated to Lipa towards the end of World War II."
The Tantocos value friendships with people who helped them from the time when their were still on the way to building the foundation of a successful business empire.
During Rustan's events, the first thing Ambassador Benny would ask me is this: "How is Sonny Belmonte? Please send him my regards. He was our lawyer from way back."
Former House Speaker Feliciano "Sonny" Belmonte Jr. vividly remembers the years of lawyering for Benny and Glecy when they had only one store. "I saw them grow. And I saw their children grow as well, and I like them all. Although I remember more of Nedy, who was still single then, and inherited her mom's business acumen. And Rico, whose son Donnie was a buddy of my son Kevin in the US when they were both studying."
Eventually, the professional relationship between lawyer and client developed into a lasting friendship, as Sonny Belmonte became a confidante of the Tantocos. "They would still consult me even when I became GSIS president, and we would meet up in their Forbes home."
Sonny says he has one thing to say should he and Benny meet again now: "Sana ibulong niya sa akin his secrets to long life."
* * *
There are no secrets to Ambassador Benny Tantoco's longevity.
He follows the usual advice given for long life: Exercise more, eat less.
Love more, hate less. Meditate more, scroll less.
Nedy Tantoco explains: "My father played golf when he was younger. That was his main exercise. He keeps away from sugar now. He favors Filipino food, though he also likes Italian dishes."
In the Tibetan mountains, octogenarians and nonagenarians still lead physically active lives. The Tantoco children say that all his life, their dad never stayed still. He always had to have some activity scheduled for the day. Even during the pandemic, Benny looks forward to some activity, even it means just driving around his neighborhood or the city.
"Today, we siblings — Maritess, Marilou and I — take turns having meals with him," says Nedy. "Dad goes to Sta. Elena daily for lunch, where he meets up with Donnie and Rico."
There is one "secret" prescribed for long life that Ambassador Benny consistently has enough of: Spending time with family. His children Rico, Nedy, Marilou, Menchu, Marilen and Maritess shower him with so much love and care. And so do his grandchildren and great grandchildren.
Here, they share their unforgettable moments with Benny Tantoco and the lessons they have learned from him:
Nedy Tantoco
Easily my most outstanding and happiest memory with my dad occurred on a sunny morning in Rome on July 7, 1983. That was the day my dad presented his credentials to Pope John Paul II as the Philippine Ambassador to the Holy See. Present on that memorable day in the Vatican City was his wife, his children with their spouses, three of his grandchildren and also his brother and sister.
Just the memory, even today, brings a proud and happy smile to my face. It was a morning of pomp and pageantry as my dad — resplendent in formal white tie and tails — was driven from the Grand Hotel in Rome by the official horse-drawn Carriage of the Vatican to be brought to the Vicar of Christ, to present his credentials.
We were informed that, after the formal ceremony in the historic and ornate setting of the Vatican, his family would be received by His Holiness, too!
How exciting and special that was! Sure enough, as all 15 of us gathered around in the Vatican Library, the Pope and my father joined us in the room, where we were introduced one by one and were told to curtsy and kiss the Pope's ring. And His Holiness blessed us one by one as we were introduced.
My mother and my father then presented to His Holiness their gifts from the Philippines, which the Pope admired. Then photos were taken, but the best part came when the family was asked to gather with His Holiness and pose for a "family" picture. That's my most memorable photo with my dad, as he stood proudly beside Pope John Paul II officially as the Ambassador of the Philippines to the Holy See with his wife standing beside him.
Even today, when I look at our expressions in the photo, I can still feel the great significance of that moment; that feeling not only of pride but more so of the importance of our Church, our religion, and the great Kingdom of God — which my dad was henceforth going to serve. I know he took his Ambassadorship extremely seriously and was determined to do a good job at it. He was proud of his position and he gave his best to this job.
These memories make me proud, make me smile, and bring tears of happiness to my eyes whenever I reminisce.
Rico Tantoco
Dad would pick me up in Ateneo Grade School and bring me to Wack Wack, where I did my homework while he played golf. I guess this was his way of making me develop a consciousness for the game.
His life is all about relationships, which take precedence over everything else. He is a perennial student who never tires of learning, a deeply spiritual man who never wavers in his faith. His reminder to me: "You should not make your employees work for you. Instead, you should work with them."
I have had the pleasure and the blessing of millions of precious moments with my father over a period of 76 years.
I am now with him every day, and he continues to engage and create new, present moments with me. What I cherish the most with my father is how ordinary and regular activities as simple as making "pasyal" become spontaneous occasions of laughter, imparting wisdom, and perhaps just being still with one another. These pasyal moments and other stories are ordinary, but somehow they are significant for me. They make me smile. They make me grateful. I am all the wiser from it and for it.
Not too long ago, my father would invite me to travel with him "one on one." I was very busy, but I somehow could not resist the opportunity to continue having "father and son" experiences even if he was in his 80s and I was in my 60s. On one particular trip we had to stop by Los Angeles for a couple of days before getting on a longer flight to another city. Right after checking into our beautiful hotel, my dad told me, "Rico, we have no meetings here. This is just a stopover. Let's explore the city starting right now." I replied, "Dad, okay, let's hire a car and driver." He interrupted me and said, "No! We are both men. We don't need a car and driver. YOU DRIVE! Rent a car!"
When we were about to rent a car and explore Los Angeles in a somewhat aimless way, the concierge of the hotel stopped us. He said a table for two had just opened up at a very elegant restaurant in Beverly Hills. He suggested we take it because it is very, very difficult to get a reservation there. My father thought about it and said, "Sure! Why not? Okay, please make a reservation for my son and me."
We had a nice time making pasyal around this iconic city. It was wonderful to just go around without any plan, or agenda; just let our car and our curiosity take us around. My dad looked very, very relaxed. He said something about "happiness coming from the simplest of experiences." At a certain time, I told my dad that we had to go back to the hotel so that we would not be late for our restaurant reservation that the concierge had so graciously made for us.
He looked at me and, before he gave me the order to head back, he saw a Burger King. He said, "Rico! I want you and I to have our dinner there. I want to go to Burger King! Let's go there!" I asked him, "Dad, are you serious? We went all the way to Beverly Hills to eat in Burger King?" He said, "Yes! What's wrong with that?" So amid some embarrassment, I called the concierge to cancel the reservation and we had this extraordinary father-and-son experience in Burger King. At the end of the evening, I told him, "Dad, we had a good time, and we even saved a lot of money." He simply replied before nodding, "It was a good day."
Marilou "Merl" Tantoco-Pineda
I always saw Dad and Mom working together. It was Dad who insisted on the family always being together. An old school rule which Dad upholds to this day: Always go out as a couple with your husband or partner.
My favorite memory of Daddy was in 2018 when I was hosting my close friends in his homes in Sotogrande and Morocco. My mommy and daddy personally knew the parents of three of these friends. Because of this special relationship, he so generously bore the expense of the whole group's visit.
This gift was above and beyond what I could have ever imagined and I was deeply touched — and even cried in happiness at the gesture.
To this day, that trip is remembered and blessed as the best bonding activity we ever had. We still think of it and of Daddy with awe at the love we felt and share with each other, directly made possible by his natural acts of unselfishness — with value.
Menchu Tantoco-Lopez
One of the funny moments with Daddy recently happened while he was having breakfast in my home. I was taking my daily vitamins and he laughed at the way I swallowed them because I have to tilt my head back. At his age, he takes more medicines and vitamins than any of my siblings and I, but he can take them all in one go!
Another thing about Daddy is that he still treats me like a little girl. Whenever I visit him and my husband, Jun, is not present, he worries and insists on dropping me at home personally as he doesn't want me to be alone in the car. When I tell him it's okay and he lets me leave on my own, he never fails to call my house to make sure I got home safely.
Marilen Tantoco
I have no specific favorite moment with Daddy, as any time spent with him is precious to me. I will be forever thankful and blessed to have him as my father and someone who became a father to my children. He treats my children — MJ, Chris and Annica — as his own sons and daughter.
Maritess "Tokie" Tantoco-Enriquez
My memories with Dad are numerous. I was Dad's traveling companion for many years (from 2005-2016). When we were in New York, every weekend we would watch a matinee show at either the Lincoln Center (either ballet, the Philharmonic Orchestra or an opera), or on Broadway.
We would first have lunch at a restaurant of my choosing — but, of course, I would select his most of the time. His favorite was Bottega del Vino, an Italian restaurant at the Sherry-Netherland Hotel.
Oh, he loved the opera so much we flew to San Francisco to watch a famous international soprano, Anna Netrebko; unfortunately, when we got there, she could not sing due to an unexplained reason. He was so sad.
During the weekdays, I had to research museums or nearby cities (as far as two hours away) that had a cultural aspect so we could visit for the day. We have been to the Vanderbilts' residences, Thomas Edison's home, George Washington's first home, and many more; we did wine tours in the Finger Lakes, and had many other adventures.
Dad never wanted to be idle; so every day we had an activity.
Donnie Tantoco
My Lolo loves to travel! He stopped traveling and went on his last long-haul trip only recently in his mid-90s. For him, living life to the fullest, no matter how imperfect the world is, means following your curiosity. It means discovering yourself, your potential, your mission, even your creativity by immersing yourself firsthand in what the world in all its diversity has to offer.
When he was younger, he would scout a new place before bringing us there to share a new and wonderful experience with him. If the place was as fascinating as expected, he would write me a postcard that would simply say, "Donnie, I am going to bring you here someday." Reading and receiving that postcard would fill me with as much excitement and anticipation in my 40s as in my teens. He really knows how to activate the childlike wonder and curiosity in any adult.
For my Lolo Benny, a good day has to have two qualities: He must have learned something new, and he must have had one really good meal. When we travel I am responsible for both. I need to make sure it's an enlightening and also a deliciously nourishing day. The worst thing for my Lolo is a day that is underwhelming. It's as if he is saying to me, "Donnie, I want you to astonish me."
On the learning side, he is easy to please. He is amazingly humble and has such hunger to learn. He looks at every person, no matter the background, as a person from whom he can learn something new. It does not have to be groundbreaking; it can be very simple. This is why my Lolo and I are always talking to strangers. We are open to having conversations. When we attend retail conferences, I'm often amazed at how my Lolo vigorously writes copious notes! When we go to museums together, he looks at every piece and we talk about not only what we see but also what we feel.
On the food side, he is REALLY DIFFICULT TO PLEASE. He says, "Donnie, all I want is one good meal a day. That's it. You better get it right or else..." I am really pressured in this area so before visiting a new place, I do a tremendous amount of research. Upon arrival, I visit the shortlist of restaurants on my own. I talk to the maître d'; I personally pick the spot that I wish to reserve. I really case the place before bringing my Lolo there. My track record so far is about 50/50. At the end of each meal I get a verdict. If it was awesome I get "Donnie, you are the most brilliant Bienvenido. Am so happy you are carrying my name."
Anton T. Huang
Lolo Benny taught us a work ethic that kept us working 24/7.
I have many wonderful memories with Lolo Benny, and the fact that he is turning 100 at the same time I am turning 50 is testament to just how much we've shared over the course of our lives. I truly have so many special memories with Lolo from my childhood up to this day.
However, one does stand out: in 2014, we publicly listed SSI Group Inc., one of the companies in the Rustan Group. It was, indeed, very special that our founder, Lolo Benny, was there to witness it with the rest of the family: the second, third, and even some of the fourth generation. It was at that moment that I realized just how far we have come, both as a family and as a family business, under the love and guidance of Lolo Benny. From him, I learned the importance of stewardship, professionalism and legacy. The sense of pride in his eyes is something I'll remember forever: Lolo Benny and Lola Glecy started Rustan's in their living room more than 65 years ago.
That being said, even this pandemic has created many special memories with Lolo. Before the pandemic hit, I always found myself out of the country for work. Sunday family dinners at Lolo's house were few and far between for me, but now that has changed. I've been home in Manila with my family for the longest, uninterrupted period in many years, and one of the greatest outcomes of this is being able to spend a lot more time with Lolo. I see him now several times a week for dinner, and over great food we do everything from sing, reminisce about the past, to share jokes that are — as he sometimes says — "censored!" Being with him, one sees just how much Lolo loves life, cherishes his family, and values his relationships. This outlook is one I hope to carry with me throughout the course of my life as we realize now just how precious and fleeting everything truly is.
Michael T. Huang
He taught us this rule: "Always be a gentleman. Respect women."
Catherine Huang-Endriga
Lolo Benny is witty, sharp, charming — he's a people person. He tells us: Treat people well, whether employee or friend. From him, I learned to be family-oriented.
Dino T. Pineda
Lolo Benny had a calming effect on me. While I was studying in the US, he would work in his room while classical music played in the background.
Jaime T. Pineda
He knew that I was taking singing and guitar lessons. So on a road trip from New York to Pennsylvania, Lolo Benny would tell me stories related to music and his sister, who played the piano.
Marie Pineda-Adashek
While I took film and TV production at NYU, I can't forget how Lolo Benny exposed me to symphonies and we watched the New York Philharmonic Orchestra, aside from Broadway plays. His favorite singer is Anna Netrebko, a Russian performer whom I also loved.
Junjun T. Lopez
When I was a student in the US, I remember how Lolo Benny and I would walk from our hotel to the church in New York. I can't forget how he brought me to Madison Square Garden to watch wrestling.
The advice he gives to all the men in our family: "Follow your wife."
Noey T. Lopez
Lolo Benny is first a family man, second a man of integrity and third, a cool friend. He taught us never to compromise our integrity.
Mj Tantoco
In Morocco where we lived for years with Lolo Benny and Ninang Glecy, my mom Marilen was strict, and it was Lolo Benny who would say things like: "Lalake 'yan," he's a man. He brought us to cabarets like Lido, Moulin Rouge, Crazy Horse.
I learned so much from him during our meals. The dining table was my classroom.
In New York, he taught us how to take the bus. And even when I had a car already, I was on a budget and he taught me to stick to it. I had to save up for gasoline.
Chris Tantoco
My brother MJ and I spent years in Morocco, where we grew up. He would bring us to school and accompany us in the hospital when we were sick. So I thought Morocco was the Philippines. Later on he would bring us to Europe and the US. A big sacrifice he made was when he rode the scary ride Tower of Terror in Florida.
Mornings, he would wake us up to classical music. He was my roommate, my best friend, my father, my lolo, my everything.
Lolo Benny would teach us how to be gentlemen ("Never wear a T-shirt, always a collared shirt to dinner), how to treat women with respect, how to care for others, how to think about employees.
He tells me: "You can't be whole for others if you are not whole for yourself."
Christian Tantoco
It will always be that Lolo Benny is a part of me. All decisions I make are based on what he taught me.
He taught me table manners. He was all class. He wanted all the Tantoco men to be gentlemen. You cannot travel with him with a knapsack. He had many stories, and his voice would become soft when he speaks about Lola Glecy, who died in New Jersey in 1994.
Traveling with him has been one of the most eye-opening experiences of my life. He would know where to go, what to do, and he never got tired.
* * *
Reference: A Biography of Bienvenido R. Tantoco Sr. written by Rodolfo Silvestre Jr. and edited by Jose Dalisay Jr.
* * *
Follow the author on Instagram and Facebook @milletmartinezmananquil. Email her at mmmananquil@philstarmedia.com and milletman88@gmail.com.