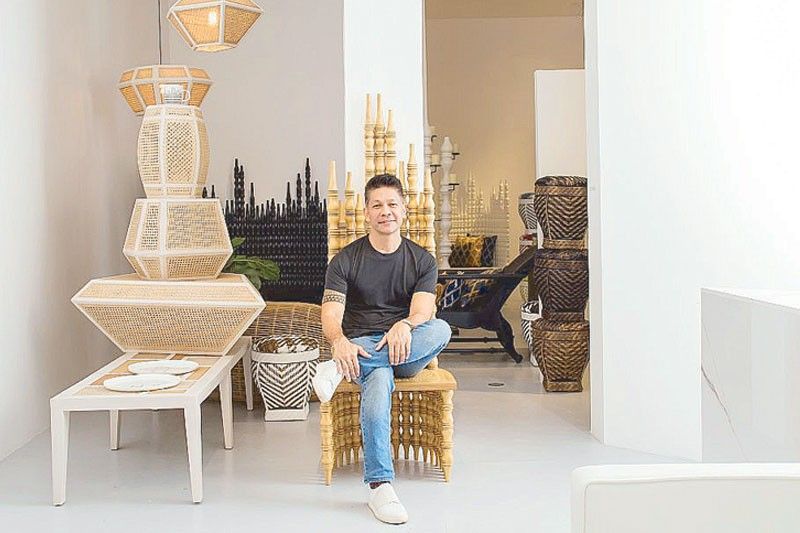 Storytelling through design: Designer Ito Kish is mounting Ito Kish Retail Season One, opening March 19, featuring his own designs and handpicked pieces from around the world
After a two-year sabbatical, a rush of creativity for Ito Kish
Sometime in September last year, award-winning furniture designer Ito Kish visited the Venice Art Biennale and found himself strolling into the Iraq Pavilion. There, he saw the solo exhibition "Fatherland" by Serwan Baran, a Kurdish-Iraqi artist commissioned to represent his country.
Baran painted "Last Meal" as an exploration of the relationship between soldiers and their homeland. Painted from an aerial perspective, his large work depicts soldiers who are killed having a meal. Elements of the collage included objects from the Iraqi military uniforms given to the artist by the families of soldiers killed in the Iran-Iraq War, the Second Gulf War and the war with ISIS.
Ito Kish stood in front of the painting and began to cry. "I was so inspired by his painting," he says. "I posted a pic on Instagram and tagged the artist and he replied, and now we follow each other and trade messages. Amazing, right?"
This is one of many instances of inspiration in his two and a half years of sabbatical after Kish closed his eponymous retail store on June 4, 2017 and began traveling in August. Before he began the last sale of the store, he told me that he found retail too exhausting, that there was no time to do anything else especially the thing he loved most, which was designing furniture and spaces.
Previous to that, he said he wanted to travel extensively. Free from managing a store — semi-retired but still doing consultancy work for Robinsons Department Store's home section — he finally had the time to do just that. He went to 10 countries in two years, some of them he had never been to before, and some cities he visited several times.
"My travel to Venice for the Art Biennale was magical. I walked and walked alone and never got lost. I discovered how to navigate the small canals, the little cafes and learned to kill time with wine."
Kish's first "significant" travel after he closed his store was a solo trip to South America. "I planned all and just enjoyed my first visit to that part of the world. I went to Quito, Ecuador where I stayed in the historical part of the city that is a UNESCO World Heritage Site. Then I went to Peru, ate a lot of good food, flew to Cusco, another UNESCO World Heritage Site, then I headed to see Machu Pichu."
After that it was on to Argentina in Buenos Aires visiting cultural institutions, and then to Brazil's Sau Paolo and Rio de Janeiro.
"I was warned about Rio de Janeiro, but it turned out my fave city to date — beautiful architecture, samba music, everyone in their swimwear and tanned. The food was great, and the people were charming and sexy. They were too lovely that it felt I had never partied in my life till I got Rio. What kind of party? Secret!"
Another memorable trip was to Muscat, where he "almost drowned not once but twice trying to save someone. That was a terrifying moment in my life. I survived by reminding myself to relax."
An eight-day road trip through Spain's Andalusia region with a good friend as also a storied one, but this time on a personal level. "We are like brothers and have been friends for 12 years now. We get to see each other only every four years, and things have changed — he got married and now has two kids. The last time I saw him was in Milan six years ago when he joined me to celebrate my first international design recognition in Como, Italy."
Late last year, he went to the Holy Land for a pilgrimage, visiting Egypt, Israel and Jordan. And, finally, he went to Denmark for 12 days to start buying for his new seasonal store called Ito Kish Retail Season One.
"I believe that designing is an act of storytelling," Kish says. "Except that instead of using words, my language is found in color palettes, in the objects that I use to furnish a room, and in the manner in which I position the pieces that fill a space. I love initiating conversations with my clients because it is in these exchanges that I discover what tale needs telling. I consider that my work as a designer is done well when I manage to narrate the story of how a life is being lived."
The retail space, he says, will be filled with "curated articles for the modern home with a global spirit. You will find a veritable treasure trove from all over. There are Scandinavian originals and Mid-Century Modern. There are pieces that are colonial Asian as well as original ethnic designs. To bring you these, we have partnered with manufacturers, suppliers, designers' estates, and collectors with an eye for special objects."
A section of it is called From the Neighborhood — a dynamic collection of limited pieces that he personally handpicked. "We delve deep into a nation's souks and markets, and come out laden with pieces that speak of their origin. The first that we will feature is from the Neighborhood of Luang Prabang, Laos."
With all the travels he's done during his sabbatical, expect a lot more great stories from Ito Kish.
* * *
Ito Kish Retail Season One will be held at 1120 JP Rizal St., Makati City on March 19 to 22, 26 to 29, April 2 to 5, 16 to 19, 23 to 26. The store is open from Thursday to Sunday, from 11 a.m. to 7 p.m. Follow his Instagam account at @itokish.
Visit the author's travel blog at www.findingmyway.net. Follow her on Twitter and Instagram @iamtanyalara.