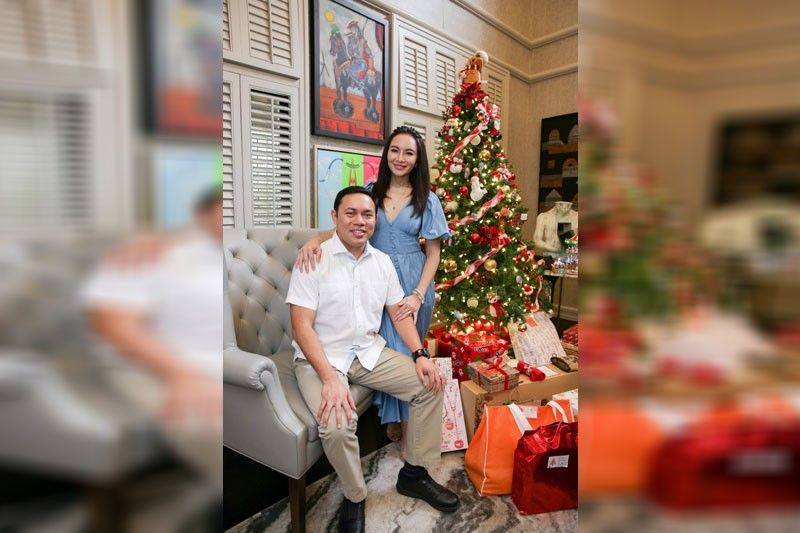 DPWH Secretary and art patron Mark Villar and wife DOJ Undersecretary Em Villar: "After I bought my first painting, I got addicted to collecting," Mark says. Art is such an integral part of the couple's life, their four-year-old daughter also appreciates it.
GEREMY PINTOLO
Mark and Em Villar's affair of the art
The couple first met as colleagues in the House of Representatives in 2010. Mark Villar was a congressman of Las Piñas and lawyer Emmeline "Em" Aglipay was a party representative for the labor group DIWA (Democratic and Independent Workers Association).
It was easy from the beginning to see that this was an ideal match and they had many similarities. Both are highly educated: Mark went to the University of Pennsylvania for his Economics degree and the University of Chicago for his MBA; Em earned her law degree from UP Diliman, and later, her master of laws from the London School of Economics. Both their families are in public service — the Villars in Las Piñas and in the Senate, while the Aglipays have a long tradition in uniformed services with Em's father, Gen. Edgar Aglipay, the former PNP chief.
During their year-long courtship, Mark gifted Em with a huge painting by Pedro Garcia — a man holding a wine glass and the woman a rose, in a ball scene, floating. It now hangs in Em's office covering an entire wall in the Department of Justice where she serves as Undersecretary.
On their wedding anniversary this year (they got married in 2014), Em gifted her husband a sculpture by Daniel dela Cruz. It depicts a couple standing on top of a ladder whose steps are made of suitcases, phonographs, musical instruments and a bouquet of flowers on the top step.
That sculpture now stands in the newly completed annex wing beside their main house in Las Piñas.
Em says, "The reason we built the annex is because, last Christmas, I had my friends over, we were about 20, and it was a bit cramped in the main house and it was also raining so we got wet in the courtyard. Mark said, 'Don't worry if you plan to host again, I'll make sure you have space.'"
Mark worked on it for the entire year. There was a wall (and a garden) between the two structures and so Em didn't really mind the construction. But it also meant that she didn't really see how it was shaping up except for Mark's updates, like when the roof was completed or the tiles installed.
"I was in Bangkok three weeks ago, and usually he picks me up from the airport, but this time he said he was 'finishing something at home.' When I left, I knew the annex was finished but there were no furniture pieces or paintings inside. When I got home, all the parols in the garden were lit, he prepared dinner and it was just the two of us there."
The annex is a two-story structure with the ground floor serving as entertainment space that Mark fixed with the help of his designer friends Butch Lirio and Francis Reyes.
If Mark Villar is known for his love of contemporary art, his choice of furniture goes in the opposite timeline. He filled up this space with wooden antique pieces, some of them bearing plantation touches, others with bone painstakingly inlaid into wood.
"Antiques are a natural progression of collecting art," he says. "We built this with that in mind. We wanted antique furniture made of balayong, narra, kamagong, etc."
Here, they combined Machuca tile flooring and 18th- and 19th-century pieces from around the Philippines. The entire look is a throwback to when the times were gentler and the wood just starting to take on a patina that would eventually tell of the time passed.
"Machuca tiles just look very classic and get more beautiful as they age. They provide a great background to the antiques."
The second floor is a gallery for his astonishing collection of contemporary art. Finally, a solution to his perennial problem of running out of walls!
On that night Em arrived home from Bangkok, Mark took his wife through the gallery and she saw for the first time how he had arranged everything.
Em says, "He took me to the second floor and we went through the paintings together. It was a romantic evening."
At the entrance of the gallery is George, a sculpture of a painting gorilla that their four-year-old daughter Emma spotted at a gallery and liked, and so Mark bought it for her.
Inside are paintings by Emmanuel Garibay, Winner Jumalon, Bernard Pacquing, Liv Vinluan, Neil Pasilan, Mark Andy Garcia, Louie Cordero, Alfredo Esquillo, Farley del Rosario, Jaypee Samson, Marcel Antonio, Jason Montinola, Mark Lester, Andres Barrioquinto, Yeo Kaa, and sculptures by Caedo, Daniel dela Cruz, Lynyrd Paras, and Cos Zicarelli, among others.
"I like Garibay's social realism, the social commentary. The subjects are interesting and his painting style is very powerful. Manuel Ocampo has very interesting and strong subjects. Marcel Antonio's paintings have very expressive facial expressions, he has a really unique style," Mark says, walking me through the gallery.
When pressed how many artworks he's collected since he began in his 20s, Mark reluctantly says over a hundred. Some of them are in the couple's first home in Valle Verde, where they lived for two years while their Las Piñas house was being constructed.
Some of the artists and artworks have a special place in their lives, like Pacquing because "he did some of our giveaways — sketches we gave to our ninongs, ninangs and entourage when we got married."
Mark says, "Art brings out different feelings in me. Sometimes the subject matter's a little scary, sometimes it's harsh reality. It's like watching a movie, there are times you're in the mood for a scary film, other times a happy film. Different paintings have different effects but it's all good in a way. When you see art, it always inspires you. We all have a little bit of artist in ourselves, I think, and not necessarily painting. It comes through with what you do. There's so many good things that come out of art, and it also helps build character."
Em adds, "Art affects your emotions. It makes you happy. I have pieces in my office and, sometimes when I'm tired, I look at them and I'm comforted in a way. Artworks remind you of a feeling, a person or an event in your life. In a way it allows you to escape, but other times it also brings you into reality like when you experience pieces by Garibay or Esquillo.
"This very moment that you're looking at them is different from when you looked at them last week. Maybe you're looking at a piece with a different mood and so it evokes a different emotion. You get older and you have a different perspective, you don't look at it the same way five years ago."
"After I bought my first painting, I got addicted to collecting," Mark says. Art is such an integral part of his life that when he was courting Em, he gave her the Garcia painting because he felt that for her to know his love of art was to know him.
In 2015, their daughter Emma was born in September, and when February rolled along, they took her to her first Art Fair Philippines and have been taking her there every year since.
"Yan ang gimmick namin." Em says of going to galleries and art fairs.
Mark adds, "The pieces Emma likes are the ones that are also appreciated by art enthusiasts. Sometimes it surprises me that she likes art with strong subjects — like the Esquillo there with the words 'Ako ba'y nagkasala. Ito ba'y parusa or pagsubok lamang?'
Em read her the words and Emma said, "Why is he asking that?"
"She appreciates art, she got it from Mark," Em says.
They've become friends with the artists whose works they collect and Em says Jigger is their closest friend, whom they met through common friends.
She points to a massive work and says, "He paints with thick oil on canvas. Usually there's another painting under it, like a landscape or portrait and then he paints over it. A Jigger painting makes things brighter and lightens up the mood in any space."
The three-bedroom main house is designed along the lines of the Mediterranean-theme subdivision where it is located, built by Vista Land, the real estate company founded by Mark's father, Manny Villar.
Atelier Almario did the interiors of the main house. Ivy Almario, who worked on it with sister Cynthia, says, "Mark and Em are dream clients, they know what they want and with that clarity, transfer the wish, desire and aspiration to us to flesh out. Their total trust in the professionals they hire makes it a seamless relationship toward a combined goal."
How did they choose the artworks? "His collection is outstanding," Ivy says. "It's a nod to his eye for good art that anything we installed stood cheek to jowl with other great works of art, and each held its own."
In the main house, there is a Sanso from the 1960s that's quite unique and unlike the style he would later be known for. It was owned by Em's former law professor who was raising funds through an auction to build a home for people with autism.
"I said I liked it and Mark said, 'Don't worry, I'll get it for you.'"
Several more sculptures by Dela Cruz are here, including one that's part of his series on mental illness, which is a woman holding a cell phone and when you plug it, it flashes words like "anxiety."
"We won it in a raffle that Daniel himself held. I think it was during (his wife) Monica's birthday," Em says.
In the dining room are paintings by Ang Kiukok, Arturo Luz and Pacquing, and a very important piece of furniture is beside the dining table — a small table for Emma printed with colored pencils and drawings.
"My daughter's really a dream come true. She's everything I ever hoped and prayed for," says Em. "She has such a good disposition. She's very jolly, she's sociable but it takes her a while to warm up. She's very sweet. She always says I love you. When she's in my office she doesn't really bother me. She sits on the floor beside me and she kisses my feet. When Mark falls asleep, she'll kiss him and say, 'I love you so much, Daddy.' And Emma and I both dote on Mark."
"Being in government, our schedules are hectic and stressful. When we have free time we really like just being at home, spending family time. That's our favorite thing," Mark says.
* * *
Visit the author's travel blog at www.findingmyway.net. Follow her on Twitter and Instagram @iamtanyalara.