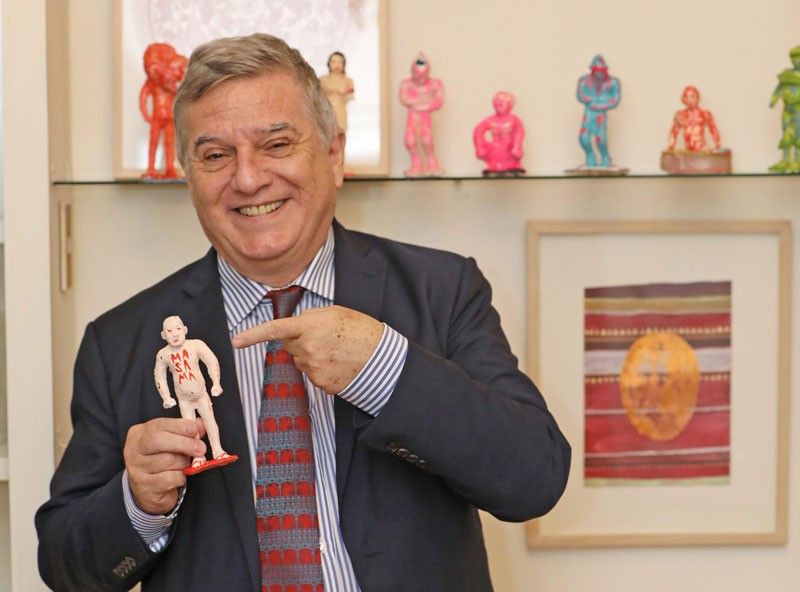 Italian Ambassador Giorgio Guglielmino likes Doktor Karayom's artworks, proudly displaying them on his shelves.
Walter Bollozos
Italian Ambassador Giorgio Guglielmino has an eye and a heart for art
MANILA, Philippines — A visit to the residence of Italian Ambassador Giorgio Guglielmino will tell you first that he is an art lover, judging from the artworks on his walls and shelves.
Then as you converse with him, your perception of him changes he is more fittingly an art connoisseur, art critic, art provocateur and, with his sincere desire to help promote Philippine art and artists, he is, in fact, an art patron.
A charming gentleman with his sparks of humor, Ambassador Guglielmino is the man you wish could be your guide and mentor as you tour an art gallery.
We first saw him at the Ateneo Art Awards where the Philippine STAR is the newspaper partner. Then recently, we had a chance to see him up close when he bestowed the Cavaliere dell'Ordine della Stella d' Italia award from the Italian government to retail mogul Ben Chan at the Ambassador's residence.
A few days after, he welcomed us to his home where he showed us what's in his art — and heart.
PHILIPPINE STAR: You have written four books on art, two of them translated into English. Tell us about these books.
AMBASSADOR GIORGIO GUGLIELMINO: The first one is more of an essay on works of art that were stolen, and the idea of allowing or not allowing these to circulate. Its title, translated into English, is Stolen Art.
Which stolen artworks are these?
For instance, there are a lot of tribal art stolen from Africa circulating all over the world. They must go back to their own country.
Looking around your house, it seems you favor contemporary art.
Yes, so I wrote two books —How to Look at Contemporary Art , and Ladies and Gentlemen (200 People That Count in the Art World) where I pointed out that contemporary art should not be as difficult as it seems. In This Is Now, I picked out 50 such works to prove my point.
Another book — Beatrice and the Transavanguardia — is actually a children's book.It is a conversation between me and a very young girl — the daughter of a friend of mine. She tells me what she sees and I tell her about the artwork. She's very smart, with amazingly deep views on art. She's grown up now.
I hear you have a new book coming up?
Yes, my latest book will be published by Anvil in January 2020, and will be launched at the Art Fair Philippines in February. The title is The Originals. Here, I chose 30 artists that make a difference in the art world.
I hope there is a Filipino among them?
Yes, one. But let's make it a surprise, okay?
What do you think of the current Philippine art scene?
When I arrived in August 2017, I was very surprised—positively surprised—by the many beautiful art galleries here. And I was also pleasantly surprised that many galleries were selling a lot of art. There is a young generation of artists coming up, and that's very positive,but...
But what?
Lately I found out that there is a setback to the positive momentum. And there will be two art fairs, 10 days apart. First, the breakaway art fair. Then after 10 days, Art Fair Philippines.
How do you feel about this?
Maybe there are differences in opinion, and at the end of the day, the more damaged ones are the artists. It's a pity. The 10-day gap will mean that the breakaway art fair will only have local exposure. Foreign art buyers are always in a rush.
The Philippine Art Fair has attracted foreign art buyers as well as foreign participation. I am happy to announce that for the first time, an Italian art gallery from Naples is joining Art Fair Philippines. The Italian Embassy is sponsoring it.
Wow, that's great! You are quite a force in the local art scene. I know you are also part of the Ateneo Art Awards .
Yes, for the past two years, the Italian Embassy has been giving an Ateneo Art Award via an acquisition. We choose an artwork to purchase.
In 2018, we chose an artwork by Gel Suarez. Last year, our awardee was Doktor Karayom.
Good choices! What do you plan to do with the artworks?
The idea is to start a collection of Philippine artworks and exhibit them permanently in the Italian Embassy. The Embassy has just moved to One Campus Place in McKinley Hill, by the way. I am organizing a big exhibition, "Arte Povera-the Italian Landscape" — which will open at the Metropolitan Museum on Feb.8, 2020. I have given my small contribution by inviting from Italy every six months a personality — a curator, an art critic or the director of an art gallery. My intention is also to show to those who deal with contemporary art the many forms in the Philippine art scene. I sincerely believe in the possibility that contemporary Philippine art has a growing place in such a competitive landscape as that of today's art.
Exciting! Who are the other Philippine artists in your radar?
Before coming to the Philippines, I knew of Manuel Ocampo because he is very famous in Europe. I like Maria Taniguchi and other Silverlens artists. And of course, Doktor Karayom. I also like Cos Zicarelli.
You are so into art. Would you have been an artist if not a diplomat?
My interest in art started when my mother brought me to galleries, theaters and museums. But I studied politics in my Genova hometown, which is the classic course for someone wanting to be in foreign service.
What enjoyment and fulfilment do your derive in foreign service?
What I like about my job is that it is never boring. For the past 30 years, life has changed completely from one country to the next. My first assignment was London, then Kenya in Africa where I spent special times in my life because it was there where my two children, Federico, now 28, and Alessandra, now 27, were born. That's why I am very fond of Kenya.
Next was Rome, then Calcutta in India which was really interesting, I became really fond of it. Then I went to a totally different part of the world , Argentina; then Bangladesh. Then Rome, where I asked to be posted in an Asian country, so here I am in Manila.
And what do you like about Manila?
Manila is an easy, smooth place to land in. I like exploring beyond Manila, Makati and BGC. I like Quezon City! And I like Cubao !
What do you like about Cubao?
Cubao is very real, it's not fake. I like going to Cubao Expo where there is this good Italian resto, Bellini's, owned by Roberto Bellini who has been here for 20 years. He is really a character, he has become my very good friend. He was a very famous paparazzo in Italy. He once had a fight with the bodyguards of Madonna. Some of his shots really became viral.
What Philippine out-of-town spots have you visited?
I like Tagaytay very much, I always go to Antonio's. I have been to El Nido twice, my kids love it! My son who is based in London, and my daughter who's in Germany are so happy that I am in a beautiful country. My daughter is planning a trip to Siargao because her boyfriend who is a professional surfer, has never been to the Philippines but knows of Siargao.
Are there other Italian restos you like aside from Bellini's?
Ah, Finestra in Solaire has a very good chef. Of course, you have Margarita Fores and her Lusso which is a very pleasant place. Margarita offers really good Italian food. she's doing a lot to promote Italian food here.
Which are Italy's best exports to the Philippines?
We export machinery and quality products such as cars like Ferrarri, Lamborghini and Masserati. I was so happy to find out that in the Philippines, one Masserati car is sold every five days! Then we have Italian furniture in Dimensione like Cappelinni, Toscarini and Magis, all top-quality brands!
We also export Italian fashion labels, which are popular here, like Armani,Versace, Bulgari, Dolce & Gabbana. The best handmade shoes are Italian — Tod's .
And what is the Philippines' major export to Italy?
Filipinos! We have the largest number of Filipinos in Italy — now 200,000 – who all feel at home in Italy. They share the same values as Italians, like caring for family.
Beyond foreign service, what's on your wish list ?
After retirement, I would like to stay in the Philippines for four more years...
Actually, the center of the world is moving to Asia. It is where the world is going. This is where the future is.
Any dream project you want to see?
I really would like to see Philippine Airlines fly directly to Italy. I have reminded PAL that we issue 30,000 visas to Italy every year. The top destination of Filipinos on Europe is the Vatican. I even brought the Rome airport people here and they offered PAL a very good time slot — flying from Manila at 11 p.m. and arriving in Rome at 6:30 a.m. I hope that when my term here ends in two years, I can tell you that I am flying to Europe—directly to Rome — via PAL!
* * *
Follow the author on Instagram and Facebook @milletmartinezmananquil. Email her at mmmananquil@philstarmedia.com.