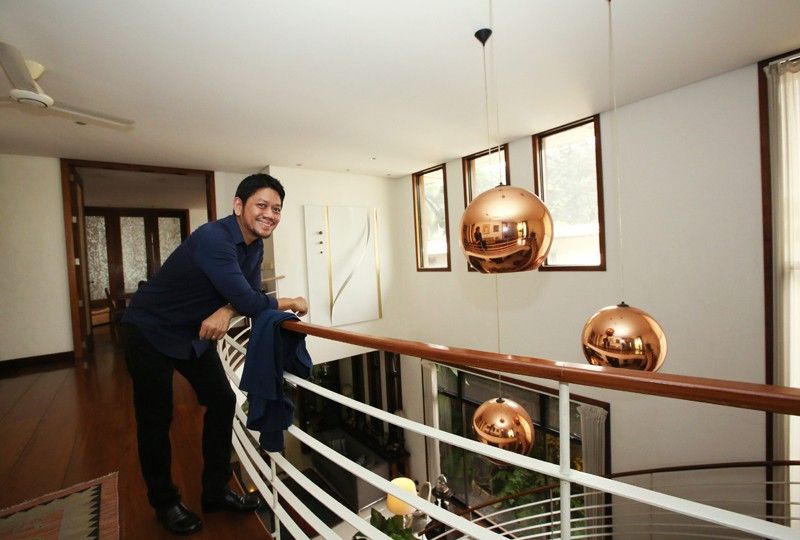 Ocampo's Fine Jewellery and Silverworks managing director Louie Gutierrez: "I told my brother Reimon (the architect) I want it really airy, really flowing."
Therese Jamora-Garceau and Erie Penaredondo
Inside Louie Gutierrez's jewel of a home
Nothing reflects someone's personality like his home. Though it's not apparent, the books on Bulgari, Tiffany candleholders and predominance of silver in Louie Gutierrez's house might clue you in to the fact that he's a jeweler — a scion of the Ocampo's Fine Jewellery clan from Pampanga and the cofounder of Silverworks.
But there's really only one jewelry-inspired feature in his house: the doors.
"This is mother-of-pearl," he says, gesturing to a tall wooden door panel inlaid with translucent white squares. "The mother-of-pearl was cut in precision to follow a pattern," he says. "I'm a jeweler so I said, let's have a really gem item in the house."
The Makati residence where Louie lives with his wife, Maye Araneta-Gutierrez, and four kids — Stephanie, Sofia, Seth and Sienna — was designed by his brother, architect Reimon Gutierrez.
"I told Reimon I want it really airy, really flowing," Louie says. "And I wanted my garden to be a forest."
"I wanted a grand staircase," adds Maye, a former flight attendant at Cathay Pacific who took an MBA at Ateneo and now runs the family's KKK (Kainan sa Kalye Kanluran) Filipino restaurant business. "Wood, glass, and a view of the garden, because we used to live in a condo and had no garden, so when we moved here, I wanted my kids growing up with a view of the greens."
The resulting house is the ultimate realization of those requests: a white, high-ceilinged space that's so well ventilated the Gutierrezes lived without aircon for five years, until "guests would leave parties early because they were sweating," Louie laughs.
The staircase is imposing without looking old-fashioned: the brothers figured out a way to construct a modern hanging wooden spiral staircase with only a steel spine running down it for support.
"We're kind of proud of the way it was done," Louie says. "And the house is a steel structure, not concrete. The idea is if we decide in the future to tear it down, you can still reuse the steel and the wood and it's sustainable. There are cracks in the wall because it moves during an earthquake, but it won't fall."
The stairs ascend to meet the second floor in an organic upward curve that's so sexy it's hard to take your eyes off it. An Impy Pilapil artwork catches the light streaming into the windows. Maye says that her favorite spot is a banquette on the upper level overlooking a view of the entire house, while Louie's is from the ground-level sofa looking up. "I love the curves and geometry of this house," he says.
Such a light, airy space might float skyward like the house in Up, were it not for the solid wooden furniture pieces that keep it firmly anchored to the ground. All of the Gutierrez tables are heavyweight slabs of old wood, like the 14-seat dining room table by Milo Naval. "The family tries to eat together as much as possible, so that's what's nice about this home is that we really spend time," Maye says. "Meals are shared, and even if we don't eat, we're there to monitor the kids."
Flanking a Russian Art Deco clock are mirrors by Claude Tayag: "They were from our Ocampo's Fine Jewellery store in Galleria that renovated," notes Louie. "Of course we had to keep the Claude Tayag. And our bedroom, all the furniture is done by Claude. I think it matches the aura of the house with the wood. Sometimes you don't need to buy so many things. You just have to recycle."
In the music room the table is actually made out of a Coronado bowling lane — a segment so hefty that Maye says, "It took 12 hunks to carry."
Another huge piece is a carved wooden door from Afghanistan that Louie bought from a New York gallery owner. "The really nice thing about it is all the different carvings and geometric patterns," he says. "You see a lot of Balinese reproductions of doors, but definitely this kind of engraving is very different."
Upstairs in the family room where the kids study is a wooden table with a harp-like base that Louie bought from a flea market. "It had marble on the outside and I wanted to have it cleaned, so I removed it. My brother Reimon said, 'The wood is so beautiful but they covered it with marble.' So I took out the marble, left the narra, and made a marble table for breakfast in the garden. So, two tables for the price of one."
FILIPINO IMPRESSIONISTS
Hanging on the walls are old maps and botanical prints Louie collected when he was a student. "Ambeth Ocampo is my cousin, and when we were young we went to Ateneo together and he actually influenced me to collect, so I have santos and stuff, but those were during my younger days."
These days he favors Filipino impressionist painters, and a row of their canvases adorn his living-room walls. One of two works by Romulo Galicano is a painting of San Sebastian Church: "That's where we got married, so it's a perfect fit," Louie says. "I bought it when I was single, but got married there."
Taking center stage is a Baldemor given to him by a wedding ninang.
Dotting the house are numerous paintings by Emilio Aguilar "Abe" Cruz, a family friend who taught Louie and his cousins how to appreciate art and invest money. "When I was a kid I used to tag along with my cousins Ricco, Marni and Reimon," he says. "They were the older group who were hanging out with Abe, studying painting with him. And it rubbed off on me."
Abe would try to trade paintings he owned for jewelry gifts from Louie. "He was a funny old guy," Louie says. "He told me he wanted a thick gold bracelet because he was going to the casino. I was starting to work in our jewelry store, so I looked for a thick gold bracelet, and he was very happy. In exchange he sold me a Galicano. That was in the 1980s. He was a mentor in a way that he liked good food — Kapampangan kasi, eh. He liked good food, art and culture. So, I guess, growing up with those kinds of people made me appreciate a lot of things that maybe my generation did not."
Another painter Louie admires is Macario Vitalis, "a Filipino who went to France during the 1920s," he says. "He went to Paris when he was just a boy and did not have too much recollection about the Philippines, but he painted a bahay kubo… (points to his painting with conical-roof structures). That was how he was envisioning a bahay kubo while painting it in France."
Louie's most prized painting is a Vitalis that hangs alone in the foyer: "This is very memorable for me because these are three sisters," he says. "I have three girls, so it just fit."
Louie actually met Vitalis as a young man traveling with his cousin Ambeth. They would visit their friend, artist/printmaker Ofelia Gelvezon-Tequi in Paris. "We used to stay in her house in Paris during summers," he remembers. "We slept on her sofa."
One summer one of her guests happened to be Vitalis, who would also sleep on the sofa. "We met him there, but he was already old during the '80s," Louie recalls. "When he passed away, they had an exhibit at the Alliance Française and I got a piece. More memorable is that I met the artist."
ALL IN THE FAMILY
Louie's grandfather Santiago Un Ocampo started the family jewelry business in Pampanga in 1926, going door to door selling fine jewelry pieces, but Louie credits his entrepreneurial yet creative streak to his parents: dad Victor Gutierrez, who is an architect, and mom Amada Ocampo-Gutierrez, who is a businesswoman.
"We will always make fun of the fact that we're eight in the family and half of us are creative and half are business people," he explains, "but at a certain point we cross over those lines. Of course I'm more a businessman than an artist, but I think we as a family have that edge where we're able to get both from our genes."
He says he had a "Chinese upbringing" where he was made to experience working in the family business at a young age. "I saw plenty of jewelry and other stuff, and then decided that maybe this is the thing for me. So it's a good thing that you're given opportunities and choices. But at the end of the day, this is what I chose."
He studied at the Gemological Institute of America and later got an MBA at the Asian Institute of Management. Together with sisters Loo and Dulzzi he founded Silverworks, which now has 75 stores, is managing director of Ocampo's Fine Jewellery, and keeps a close proximity to his family members.
"We all actually live on the same street: my dad and my sister Loo. So we do carpool. We go to the same office building in Ortigas, Robinsons Equitable Tower."
Not surprisingly, Louie loves silver and collects silverware from all over the world. His favorite piece is a Turkish teapot with elaborately detailed claw feet and a spout that resembles a bird's neck.
When they started Silverworks 19 years ago, Pinoys regarded silver as a notch below gold, which was literally the gold standard in jewelry. But now "everyone wears silver," Louie says, and brand, which boasts a young, trendy aesthetic, accessible prices and clever, edgy ad campaigns, caters to the Gen Z market, while Ocampo's Fine Jewellery tries to appeal to millennials.
He says the trend in jewelry now is personalization, so they try to offer everything in that regard, including engraving, bespoke jewelry, charms, even a separate brand called Body to meet the demand for body piercings.
In December he's planning to launch the ultimate customer experience for bling lovers: The Jewelry Workshop, which will merge Ocampo's Fine Jewellery with Silverworks and where customers can take jewelry-making classes with the aim of creating their own dream pieces of jewelry.
"I'm still passionate about jewelry," Louie says. "There's so many new opportunities that you have to make sure that you'll always be relevant."
* * *
Follow the author @theresejamoragarceau on Facebook and Instagram.