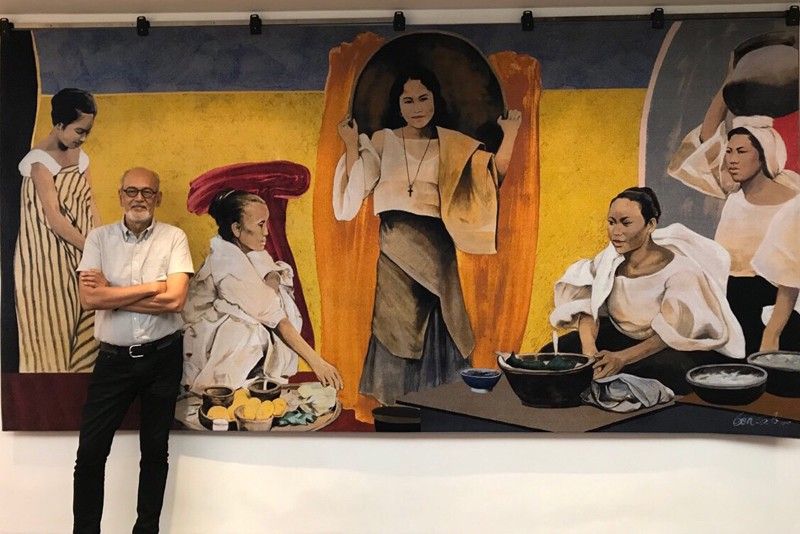 BenCab with his Moooi Carpets tapestry of "Images of the Past"
BenCab + Moooi Carpets Series 7: Paintings in carpet form
Igan D'Bayan
(The Philippine Star) - September 21, 2019 - 12:00am
MANILA, Philippines — This lady is well-travelled — from rags to riches to musicals to the plushest pieces of rug you can find. We are talking about one of the most iconic subjects in Philippine art. Everyone has heard of her and yet she remains mysterious in all her ragged glory.
"Sabel was a bag lady or taong grasa," said BenCab in one artist session. "She was just going around our area on Yakal Street (in Sta. Cruz, when the Cabrera family lived there in the Sixties), and I'd see her from my window. Parang abstract eh — 'yung mga balot-balot niya na plastic. I did drawings; then I started photographing her. I saw a lot of things in her — not only the human side, but also the abstract side."
Half-woman/half-metaphor, Sabel would scavenge around garbage dumps everything she needed to stay alive, to defy hunger, the rains and cruel, cruel circumstance. There's something sad yet strangely heroic about her plight. The young BenCab, the old BenCab — both of them are still enthralled by her.
"Sabel became one of my subjects aside from refugees and scavengers in my first exhibition," he explained. She became a constant image in BenCab's ever-shifting stylistic approach — something that grounds him, call it a point of departure if you will. In an interview with the New York Times, BenCab explained: "Every time I make a transition into something new, I work on her. I like the form, the movement. Now it's almost become an abstract form, just an interpretation, a vague memory. This bag lady is almost a brand. I don't think people realize who the figure is. They look at the movement, the color, the form and lines."
It's quite ironic that a homeless woman would find a home of sorts on BenCab's canvas, transcending whoever she was in the first place, turning into an emblem. How the muse of dislocation has become entrenched in the psyche of Filipino art lovers. A fixture even, as BenCab reinvents and rediscovers Sabel yet again.
Now, Sabel — as well as BenCab's other beloved subjects such as the milk carrier, shoe vendor and mother-and-child — are featured in Abitare Internazionale's BenCab + Moooi Carpets Series 7, a new collection of carpets bearing the images of BenCab masterful works, with a limited edition of seven pieces each.
A couple of years back, when Jeanne Lim Wee and Filaine Tan of Abitare Internazionale (the exclusive distributor of Moooi in the Philippines) saw signature rugs by Finnish graphic designer Klaus Haapaniemi, Marcel Wanders (the Lady Gaga of design), and Maison Christian Lacroix at a Moooi exhibition in Milan, all they could think of was how the concept would work using artworks by a Filipino master.
"BenCab!" was the key word in their eureka moment.
Jeanne said, "And why BenCab? Because he has a style that is distinctly Filipino but with an approach that is contemporary at the same time." Figurative with a seamless intervention of abstract elements.
To convince BenCab about the beauty of the project, Jeanne and Filaine superimposed BenCab's paintings on the pictures of the salon setting by Moooi. The National Artist for Visual Arts was convinced about how these Moooi "paintings in carpet form" would work. Jeanne added, "BenCab saw the vividness of the prints — kahit malalim andun pa rin 'yung colors."
"Mooi" means beautiful in Dutch. Dutch design trailblazer Marcel Wanders created in 2001 its namesake design company, Moooi, adding the third "O" in the brand name for that "extra value in beauty and uniqueness," as explained by Moooi Carpets CEO Martien Valentijn.
Breaking design ceilings and earning global acclaim for its innovative, ingenious and whimsical pieces, the Moooi brand has given rise to a worldwide following of art enthusiasts and design devotees in cult proportions. In 2015, after coming across the latest groundbreaking technology in digital printing on carpets, Wanders knew it was not only the perfect complement to his furniture and lighting collections but a thrust toward the Moooi vision of a creating a full lifestyle collection. Hence, the birth of Moooi Carpets, a sister company devoted to the design and production of exquisite art carpets entirely manufactured in the Netherlands.
The cutting-edge digital carpet printing technology that was irresistible to Wanders is the Chromojet Printer, able to print designs directly onto carpet at a higher definition than has ever been possible. This printer measures 100 meters long, allowing the printing of designs up to four meters wide, in 3D material such as polyamide low, high pile, and wool. Designs are rendered in an infinite palette of colors that lend incredible depth to the patterns, resulting in deceivingly multidimensional flat lays.
"Moooi Carpets as a canvas offers a world of opportunities from area rugs, tapestry art, and wall-to-wall flooring. It is the reinvention of the carpet," added Valentijn. He explained the stages of the printing process, which starts with the production of the carpet itself and the washing of the yarn to ensure a pristine canvas. Then comes the fixation of colors, a process achieved by steaming, which takes up 25 meters out of the hundred meters in the printer. This is followed by the drying of the carpet. Lastly and most importantly, comes the stretching method in order to achieve specified dimensions. Such is the intricacy and precision that go into the creation of a Moooi carpet, each one a sum total of artistry, craftsmanship, and technology woven together into a harmonious masterpiece.
And, because of the successful exhibit of the first BenCab + Moooi Carpets collaboration in 2017, now comes BenCab + Moooi Carpets Series 7, featuring the iconic Sabel and the "Larawan" series.
"BenCab makes our product a work of art," Valentijn said. "We were amazed at the impact his work has on our product. We call it Moooi Carpets tapestry art."
BenCab, who turned 77 last April, concluded, "As an artist, you should not limit yourself. Now, more people get a chance to hang a BenCab."
* * *
Abitare Internazionale presents the "BenCab + Moooi Carpets Series 7" exhibition from Sept. 26 to Oct. 13 at The Peninsula Manila, at the corner of Ayala and Makati Avenues, Makati City.