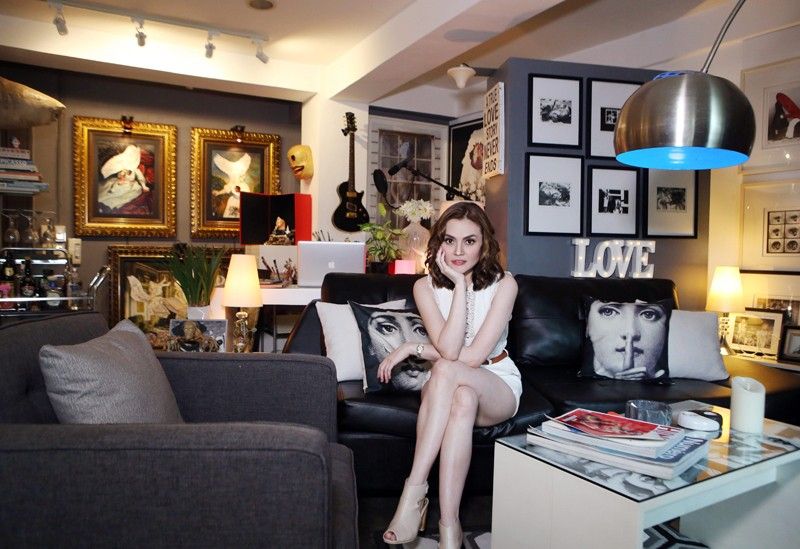 Artist, poet, musician and model Maxine Syjuco in her studio: "It began as an entirely white space with very minimal décor," she says. "Since then it has transformed into a 'chameleon' based on what I'm currently working on, as well as my mood at the time."
Photos by Ernie Penaredondo
Into the inner sanctum of Maxine Syjuco
She is the kind of girl men write songs about, artists paint portraits of, and poets immortalize in verses filled with yearning. In fact, her father named her after a song — Maxine — written by Donald Fagen of Steely Dan.
And yet, here's the twist: it is she who writes the poetry, she who paints the canvases, and she who lyricizes the songs.
"Some women are delicate things/ Some women are delicious and wondrous," wrote the poet Charles Bukowski. Artist, poet, musician and model Maxine Syjuco manages to be all that and more.
Maxine is the fourth of five children and the youngest daughter of the Syjucos, a preternaturally talented and attractive family of multi-hyphenates who call Alabang home. Her dad, visual artist and poet Cesare AX Syjuco, and mom, visual and performance artist Jean Marie Syjuco, established Art Lab in 2013 — a gallery to house and exhibit the family's considerable creative output. Eldest daughter Michelline is a jewelry designer and visual artist. Older brother AG is a composer and musician. Sister Beatrix is an abstract painter and performance artist. Youngest brother Julian is an athlete and musician.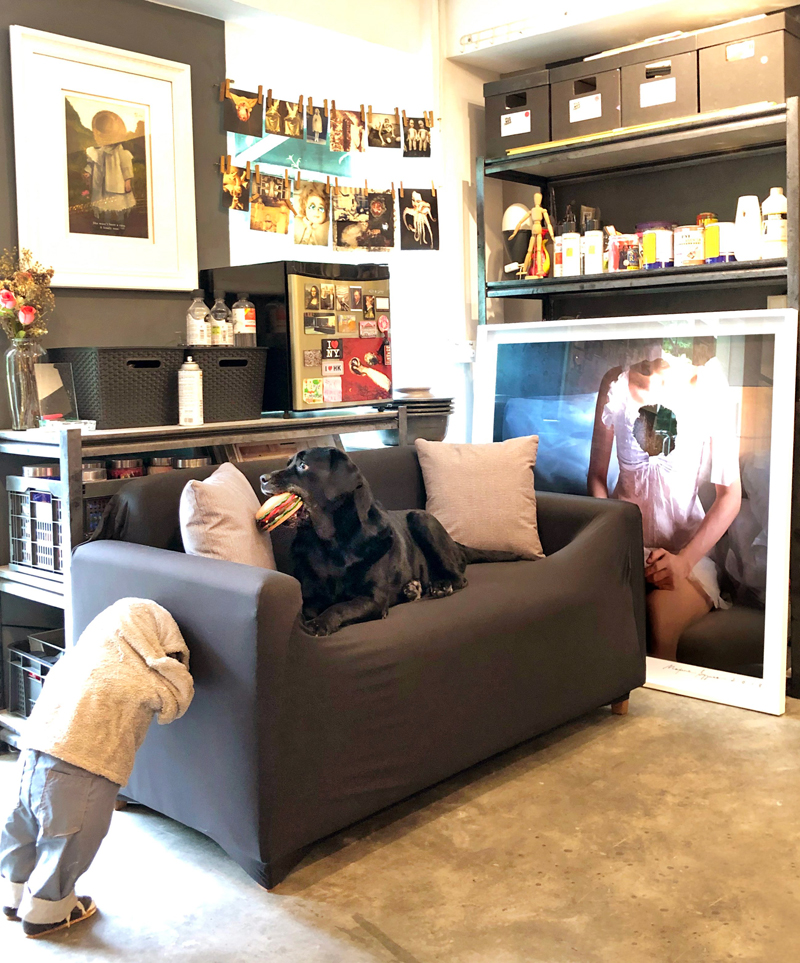 Doll and dog: A doll named Georges was a gift from her boyfriend's aunt. On the couch is her dog Billie Holiday: "I named her after one of my favorite jazz singers because she was rescued, and I immediately fell in love with her gentle, sad and soulful eyes."
Maxine's personal studio is in the family compound behind Art Lab. To get there, you have to wend your way around a number of cats ("We have 38!" declares Maxine), make a left at the pool, and go past an Igan D'Bayan skulled spider sculpture before you enter the ultimate cool-girl space.
"It's usually dim here because this is my den/studio," says Maxine. "I prefer it dim."
As described, the studio is dark and comforting as a womb, if a womb were ever decked out with art, photography, books, records, and modern furniture. On the walls are the gilt-framed paintings for Maxine's current show "My Inner Sanctum," which opened Aug. 12 and will run till Sept. 15.
"So this is my gimmick thing, taking art out of the usual gallery space and then making it more intimate, more personal," she says. "Having it in your actual studio, and then the guests get to meet the artist and discuss the art. We rushed hanging them yesterday because I knew you were coming."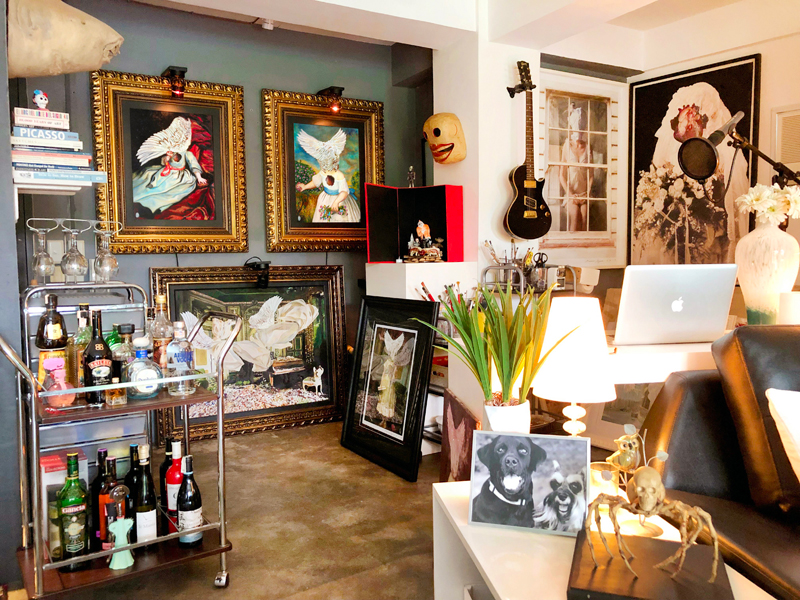 Gallery meets bar: In the back of the studio are more paintings from Syjuco's "The Hollow (P.S. I Love You)" series, a spiritual mask from the Tibetan mountains, "Book of Dreams" red box by Igan D'Bayan and a Gibson Nighthawk, Maxine's first guitar gifted to her by her father when she turned 13. In foreground is another sculpture from Igan D'Bayan's "Filipiniana Diabolica" series and a photo of Maxine's dogs Billie Holiday and the recently deceased Zelda Fitzgerald.
Maxine has divided the space into a living room-cum-library, a dining area with a well-stocked bar, and a workspace in the back of the house where her art materials and paint-flecked aprons are. Artworks and awards from various shows and times in her life stand out against the studio's chiaroscuro of dark-gray walls and lamp-fueled mood lighting. Portishead issues from the speakers near a Musitrend turntable, playing on a loop along with Massive Attack and St. Germain. You could be in a loft in Manhattan or an atelier in Paris (incidentally two of her favorite cities), depending on your perspective.
"It began as an entirely white space with very minimal décor," Maxine says. "Since then it has transformed into a 'chameleon' based on what I'm currently working on, as well as my mood at the time. In the summer, it becomes a workshop for children to whom I teach art. In the evenings, it becomes a very dimly lit bar/gallery where I entertain friends, gallerists and collectors. When I'm working on a show, it's a gigantic mess strewn with canvas rolls, found objects and art materials."
When she's teaching kids, sometimes she has to take her art down because they find it disturbing. "They're like, 'Why are your artworks so creepy?'" Maxine laughs.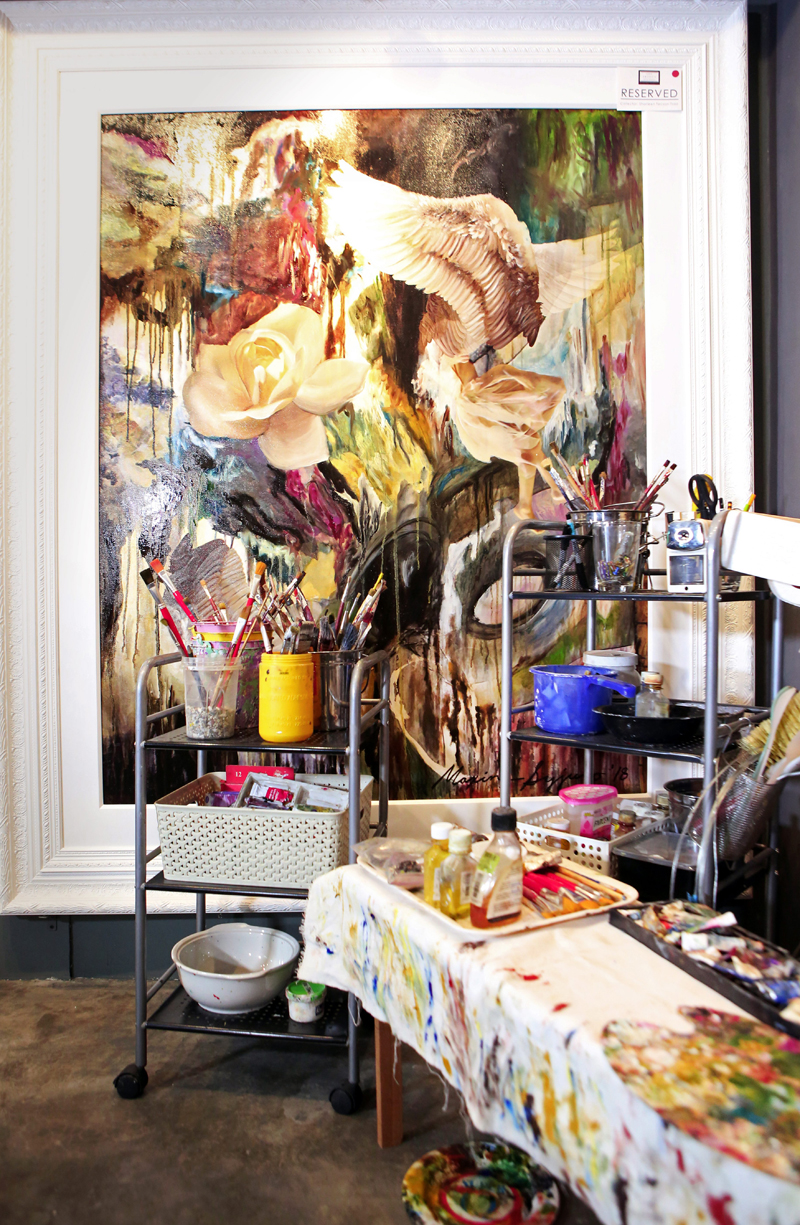 When she paints her masterpiece: "Adagio Dreams," oil-on-canvas painting by Maxine Syjuco, 5 x 4 feet, with the tools of her trade
Which leads me to ask where the darkness comes from when, indeed, she seems to be such a brightly dispositioned young lady. "That's what I keep locked up inside," she admits, then laughs. "I think a lot of artists, what you see on the outside is totally different from what's going on inside."
A feline beauty with catlike eyes who moves languidly and curls her legs up underneath her in repose, Maxine is the perfect mistress for 38 cats. "The problem with the cats is they poop everywhere, so my mom's trying to convince me to lessen them," she says. "But they're so sweet, and when I'm painting, all the cats are here and I love it. If I weren't an artist I'd probably be someone who works with animals, like a vet or a zookeeper."
She's comfortable in front of the camera because she's been modeling since she was a teenager and still does it occasionally, "But I prefer art. It's so much more fulfilling. At a certain point when you're a teenager, the modeling's fun because it's like a vanity thing, then when you get older you realize, hay, it's not that important."
In the art world, if you look a certain way, she says, people judge. "If they think you're pretty, 'Oh, you can't be a good artist.' Which for me completely contradicts, because being an artist is about being who you are, so if you like dressing up, if you like looking nice and at the same time you like making art, why should those two things not go together? So my siblings and I feel like we have to redefine the definition of an artist. Just because you look this way doesn't mean you can't be an artist."
The blood of a poet, the ink in the well
Maxine started writing poetry precociously early, at around age four or five. "I walked up to my mom and dad and said, 'I want you to call me Magoo,' because in my mind I had written an entire poem that rhymed with Magoo. So the family calls me Magoo."
The poem was titled "Boom! Bullet Passing Through," which is pretty dark for a five-year-old, but then again, art and artists surrounded Maxine and her siblings ever since they were born. Her titos were her dad's close friends and neighbors, like legendary filmmaker Peque Gallaga and iconic actors Joel Torre and Ronnie Lazaro. "They were jumping up and down on the bed at home and drinking and smoking," Maxine recalls. "You see and hear all these weird things, there's music all the time and films, so I was a very unconventional child. My classmates found me pretty odd." (Maxine later studied literature at University of Asia and the Pacific.)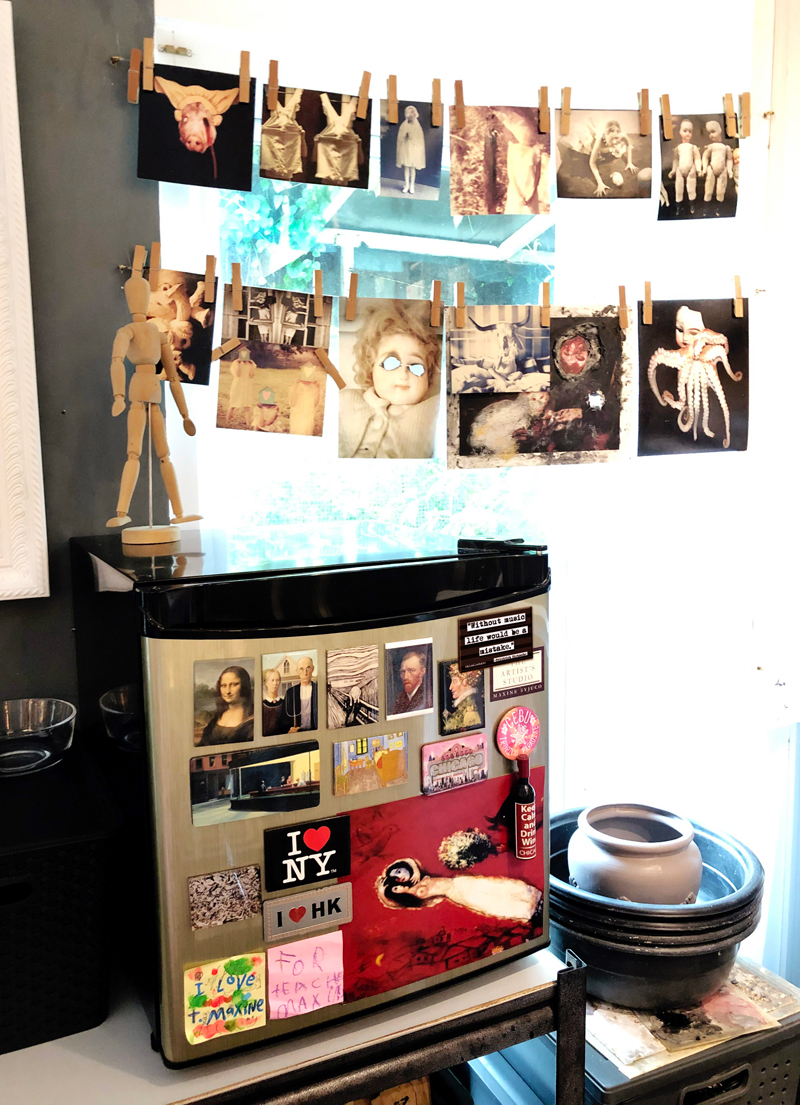 Vision quest: Maxine's "soundboard" for ideas and experiments. "The works pinned on the wires are for both inspiration and experimentation," she says. Interior photos by Maxine Syjuco
Growing up in House Syjuco was a free-for-all where nothing was censored, but the scene definitely had a PG rating attached to it. "If we had any questions we could ask them about it," Maxine says. "I remember because my mom worked as a performance artist, I was horrified, terrified of her and couldn't sleep beside her at night anymore. Because I'm the baby, the youngest girl, I'd sleep between my mom and dad, and after she'd have a performance I couldn't go near her, because I felt like I knew her as my mommy, and then I'd see her transform into this whole other entity, not even a person! That was pretty scary."
However, Maxine feels she inherited many of her best traits from her mom: "Most people say, 'It's like you're a contradiction: you're so sweet and girly on the outside, then when we see your work, it's dark and heavy and very contemplative. So I got the sunnier, old-fashioned, more conventional side from my mom, and the darker, more brooding, introspective, philosophical, deep-in-thought side from my dad. But from both of them I got a lot of passion, because they're both very passionate, and they don't stop. Like, they always told me, 'Do what you want to do and keep doing it.' My mom's advice was always, 'Pretend you're a horse with blinders; don't look left and right, just look at your path ahead and keep going forward."
A secret life
Maxine started taking poetry seriously in her teens, and published her first book of poems, A Secret Life, in 2008. "My poetry was really born of a broken heart," she says. "Heartache really fuels my writing."
Her first foray into visual art came a year later with her show "A Post-Traumatic Stress Disorder," in which she tried to transform the (now-defunct) Mag:net Gallery into a gigantic version of her book. That's the ultimate goal of all of Maxine's art, in fact: "visual art, literature, music all fusing together as one."
She says the subconscious mind and dreams inspire and inform her art, and keeps a dream journal next to her bed. "It's kind of an obsession right now," she reveals. Other inspirations: "love, romance, desire, passion — those things inspire me to no end."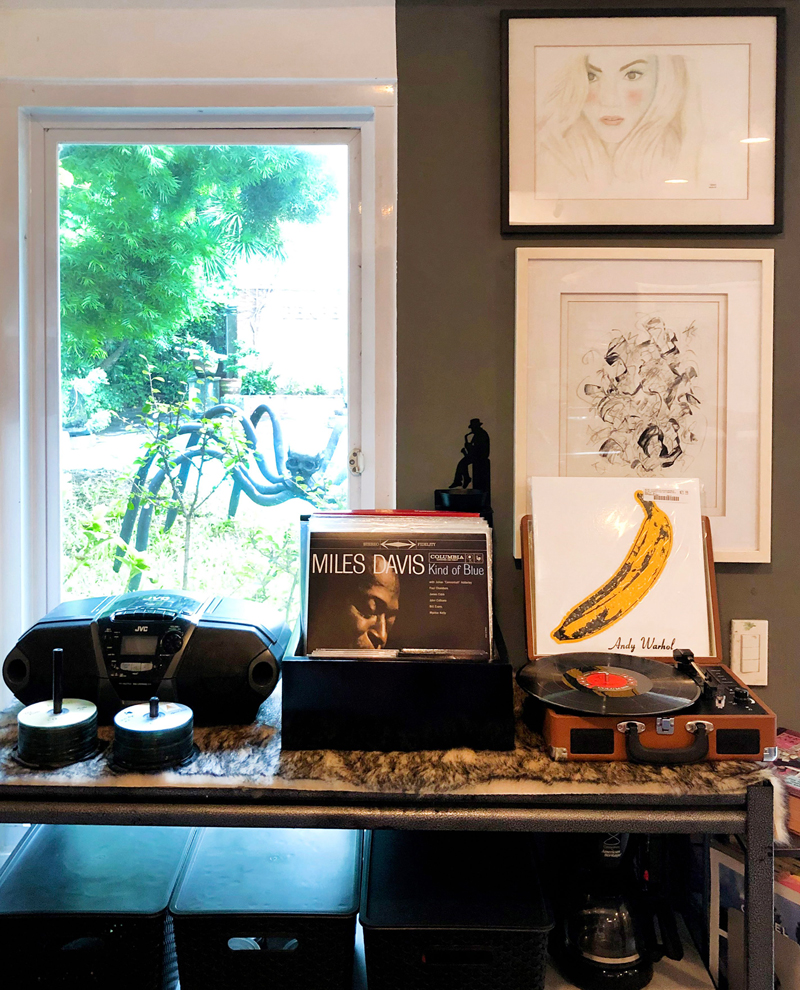 Blue in green: The corner of the studio devoted to music and favorite artists like Miles Davis and The Velvet Underground overlooks the garden outside with an Igan D'Bayan sculpture from his "Filipiniana Diabolica" series.

At the back of the studio is a more music-oriented corner, where a Gibson Nighthawk guitar hangs next to a microphone. "That was my first guitar gifted to me by my dad when I turned 13," notes Maxine. She uses the mic to record the spoken-word poetry she writes for Jack of None, the Independent Music Award-winning avant-rock band she's in with her older brother AG and younger brother Julian. "The problem is we don't perform live; we're a recording band," Maxine says. "Because AG, who is the head musical composer, lives in Chicago, and I live here. So it's only when I'm in Chicago or he's in Manila that we get to record."
When she's painting Maxine needs to have music playing, and the louder, the better. "I love Radiohead, Massive Attack, Prodigy — I crank up the volume and that's what gets me going. If it's too quiet my paintings look so clean and so neat, I don't like it. It doesn't reflect the chaos in here."
Whereas before she worked with mixed media, taking photographs that she would digitally collage and then paint on top of, these days she's enjoying working entirely with oil. "I love how you can manipulate it; you can let days pass and then go back in there and change it up based on how you feel."
Inhabitor of the gray areas
You meet beautiful girls, and — because the world is usually handed to them by silver-tongued flatterers — they're happy to swim in the shallows. Not so Maxine. The one who does deep dives into the human psyche, who inhabits the gray areas and presides over the cool, dim spaces, says what frightens her the most are routine and predictability. "I feel most myself when I have no idea what's going to happen, and like living on the edge," she admits. "When it's raining and I'm in the car, I stick my hand out the window just to feel the rain. I used to walk to the grocery outside — everywhere — completely barefoot. If it were up to me, we wouldn't wear clothes. We'd just have designer handbags and we'd be naked. Because I feel clothes are so constricting, so binding."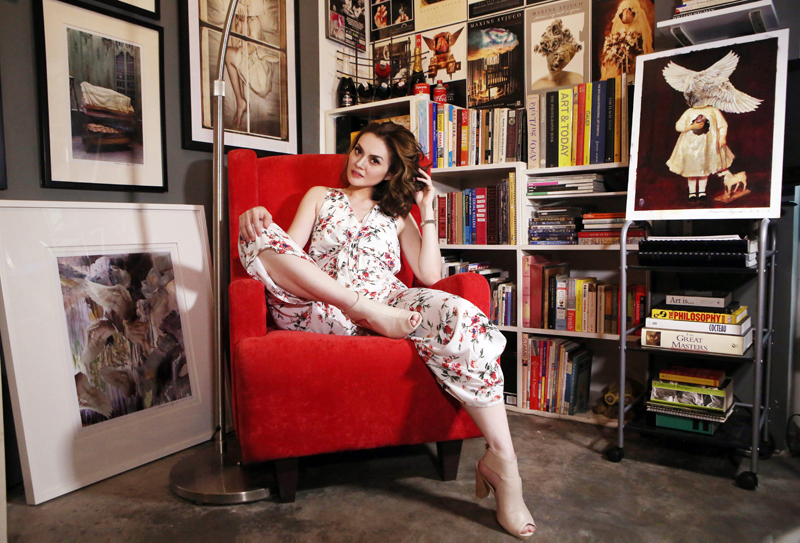 Lady in red chair: Maxine in the library nook of her studio with random mixed-media works (and works in progress) from her personal private collection
What clothes she does wear tend to be white, because she likes seeing herself as a blank canvas. "I also like the purity of white."
By the end of our interview night has fallen, and about a dozen cats have gathered outside the studio's glass doors, probably purring for their mistress to let them in.
"I never actually planned my studio," Maxine says. "Like me, it's an ever-evolving project that changes from dark to light — and vice versa — based on how I'm feeling at the moment. Perhaps, next month, all of the furniture will be hanging upside down, or drowning in an ocean of wine and roses."
She leads me through the labyrinthine family compound and into the dark Alabang night.
* * *
"My Inner Sanctum" is on view until Sept. 15 at Art Lab, 327 Country Club Drive, Ayala Alabang Village, Muntinlupa. Contact (0915) 115-2211 or Syjucoart@gmail.com for an appointment. Follow @maxine.syjuco on Instagram.
Follow the author @theresejamoragarceau on Instagram and Facebook.