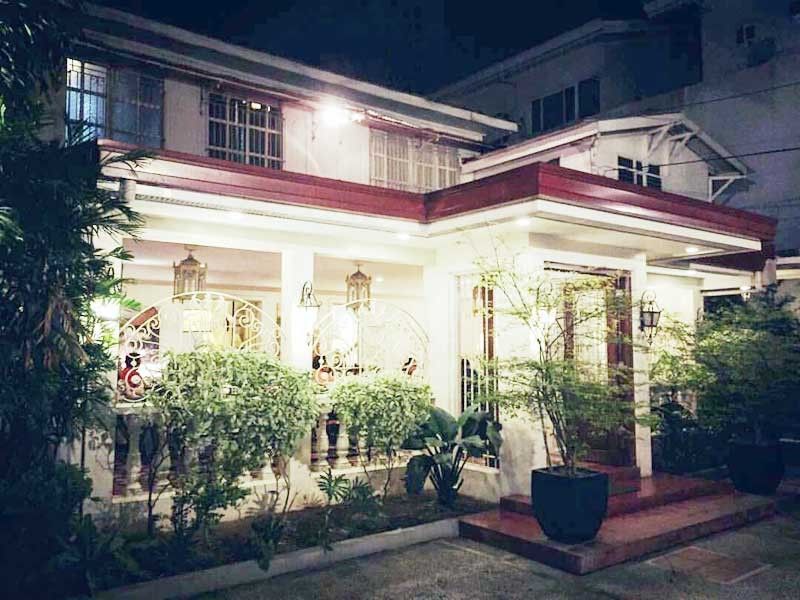 The facade of the house that waltzed from Marinduque to San Juan: Andrew describes it as "an art deco bahay na bato."
The House that Waltzed to Manila
There's something straight out of a Gabriel Garcia-Marquez novel about the Laurel ancestral house in old San Juan.
When the suffragette Valentina Sosa fell in love and married the enterprising Daniel Laurel, their marriage was rooted in the ancient Tagalog province of Marinduque. He was a "contador public" (our modern-day equivalent would be a CPA), who was in the employ of the American colonial government in the 1900s. (His father had crossed from his hometown in Batangas in the 19th century, which on a clear day you could see from the Marinduque coast.) Valentina, for her part, was one of the first Filipina nurses to receive her license.
Valentina's brother Esteban would give her a house in Sitio Caigangan in the town of Buenavista. It stood on a hill that overlooked the limpid blue waters of the bay where the Bellaroca resort now is.
When it was time to send the children to study in Manila, however, Valentina decided that she would take apart that house and send it plank by plank by a slow batel (boat) to Manila. The house, or pieces of it, first waltzed past Tayabas, then danced on the narrow channel between Batangas and Mindoro, finally swinging past Cavite until its final destination in the harbor of the Philippine capital.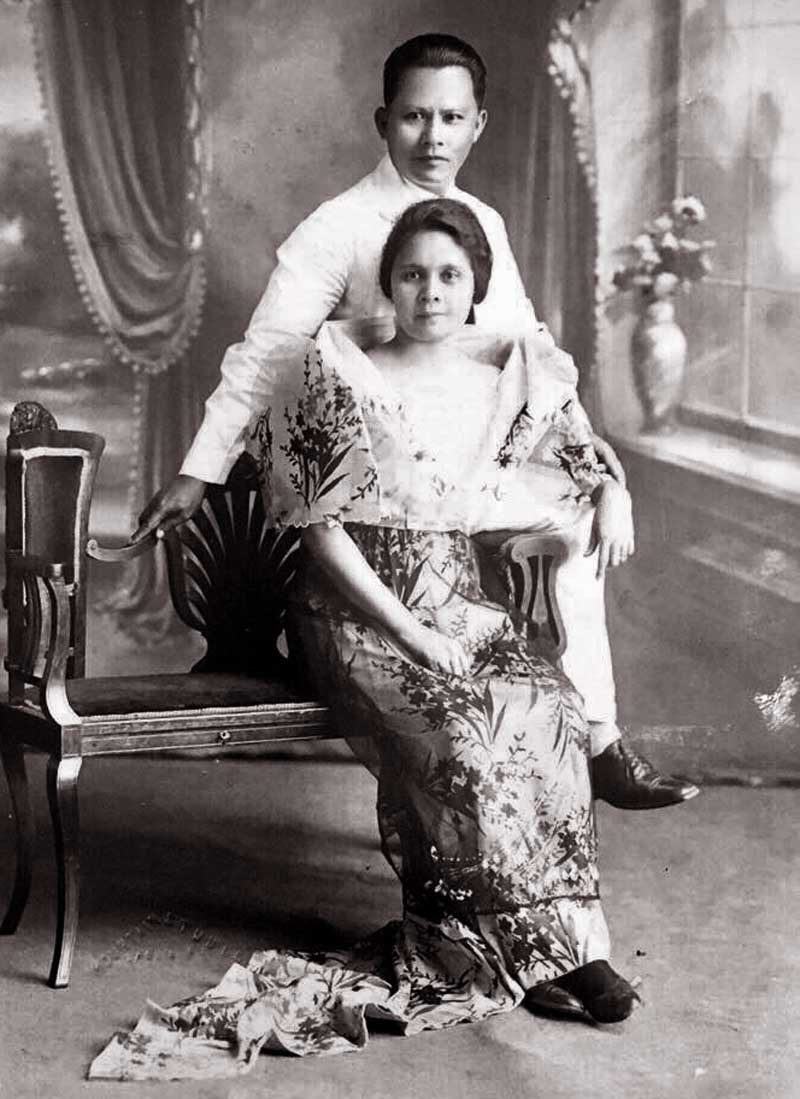 The original owners of the house: Doña Valentina Sosa Laurel and her husband Don Daniel Laurel of Marinduque.
Of course, a suitable property had to be found where it could be rebuilt. And for that reason, Valentina selected another hilltop location, this time in the highest point of Manila, in San Juan. It didn't have a view of the water but a sweeping vista of the city — and was on terrain formerly owned by Doña Magdalena Hemady who founded New Manila.
The piece of land measured half a hectare because it was Valentina's intent to build houses for all of her four children: Dulce (later married to Florante Bocobo), Manuel (married Lilia Hidalgo), Rafael Sr., and Luz (later married to Ben Gadi.)
Following the Laurel tradition of giving the family home to the youngest son, the house first went to Rafael Sr., and then to the youngest sons in the next generation, Andrew and Rafael Jr. aka "Gigi" Laurel.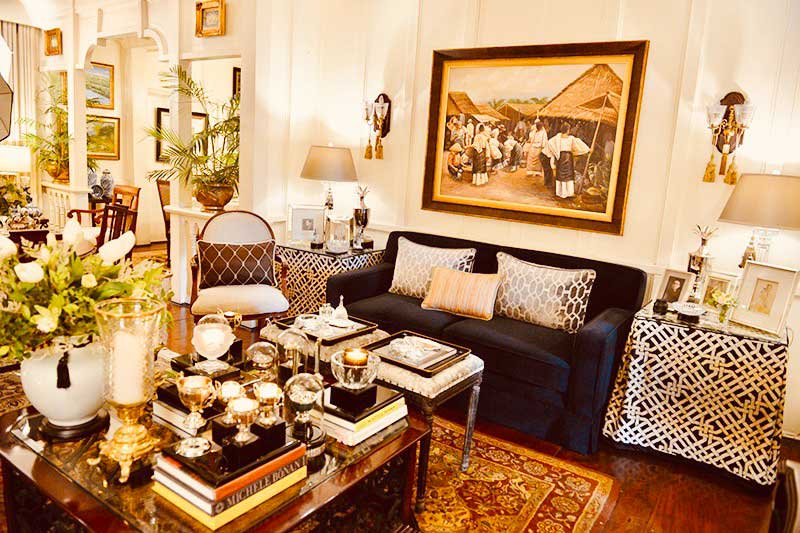 One of the main salas feature sofas covered in Belgian navy velvet, a coffee table with re-purposed Belgian iron grills and side tables covered in Chippendale-pattern cloth and crystal accessories. An art deco round table rescued from Andrew's grandparents' home in Marinduque is to one side.
The brothers are an interesting counterpoint to each other: Gigi is the former president of Hong Kong & Shanghai Savings Bank, a gruff gentleman of the old school. Andrew, on the other hand, is the artistic one in the family. He is, in fact, one of Manila's best-kept secrets in interior design whose low-key but elegant style has made him a favorite of the city's cognoscenti.
It would take Valentina a few years to recreate the house, says Gigi, working only with a trusted master carpenter. She would finally finish the task in 1923 — an astonishing 96 years ago.
The house has also held fast amid the urban onslaught of high-rises and anonymous townhouses where once stood the homes of old families such as the Ferias, Paternos and Benitezes, the Pendatuns, the Erañas, the Valdez, the Abellos in what was considered the McKinley Road of pre-war San Juan.
Hemmed in now by buildings, the house's entrance has shifted from M. Paterno to the side street.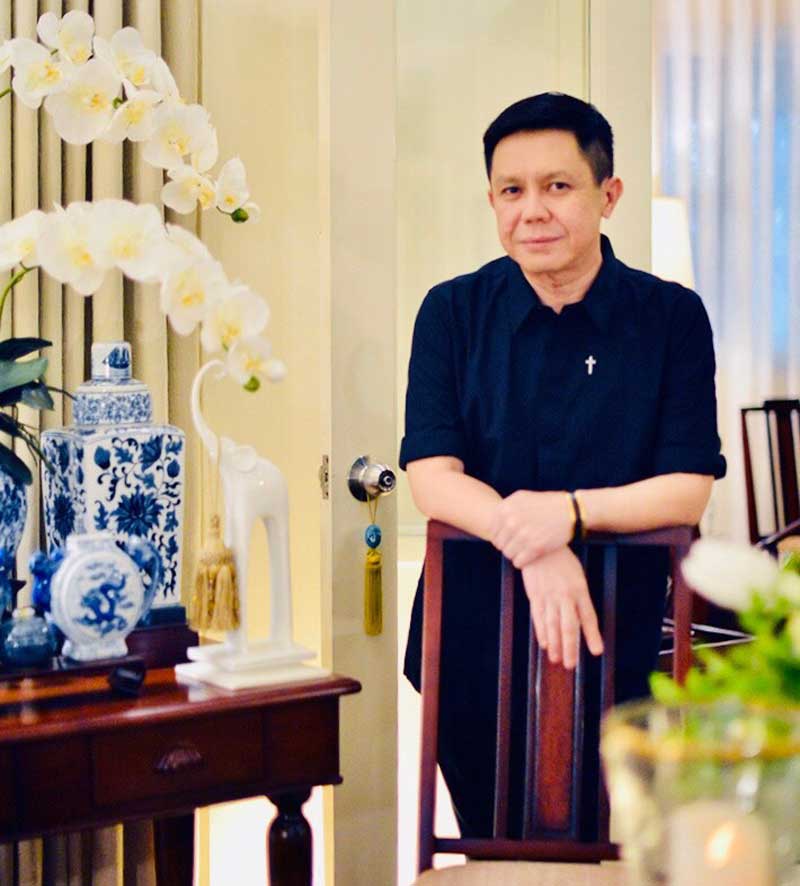 Andrew Laurel stands behind a mid-century modern accent chair. (He wears a monastic embroidered shirt by Givenchy.)
Paved bricks and pebble wash now lead to the lanai with a Machuka-tile floor. ("I ordered the exact same red and black baldozas my grandmother had in Marinduque," says Andrew.)
He continues, "My mother, Antonia 'Peggy' Mercader Reyes, was the daughter of the governor of Marinduque in the 1920s and '30s, Dr. Damian Reyes. She married Rafael Laurel, my father, in the Fifties. Rafael Sr. was a businessman, a farmer and was even a provincial board member in the Marcos era," notes Gigi.
"To tell the truth, when I was faced with the sudden death of my mother in 2001, and with my father being seriously ill, I had to step up. I had no idea about the running of the house. My mother would take care of everything. So unexpectedly, I had to take on not just the day-to-day, fixing breakfasts and lunches, but also the annual Laurel reunions and Christmas gatherings. I think I now enjoy organizing the parties because they bring back such happy memories of my childhood and my family when we were all growing up together here."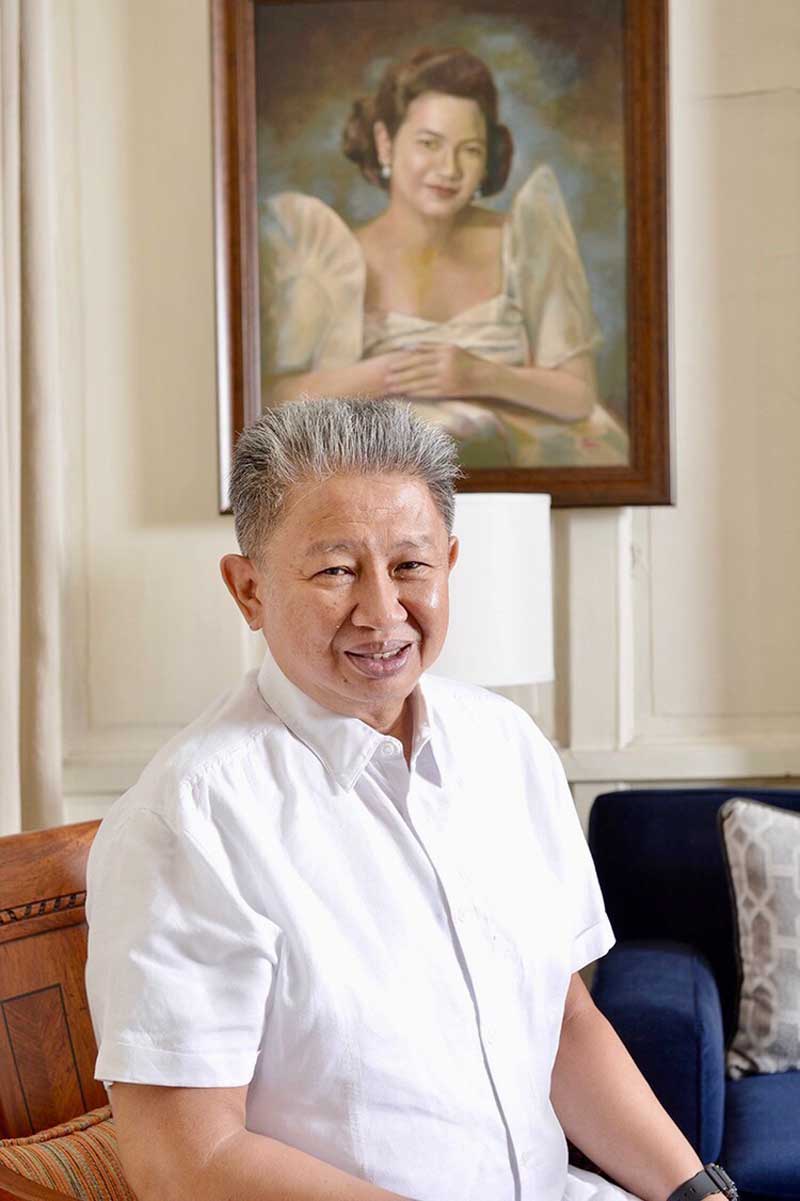 Older brother Gigi Laurel sits in front of the portrait of his mother, Antonia "Peggy" Reyes Laurel.
"This is a house that welcomes everyone," declares Gigi.
"Both sides of the family love to entertain," explains Andrew. "The Laurels are more a 'meat-and-potatoes" kind of family. The Reyes, on the other hand, have a certain flair. Both love good food. I like to think that I combine all of that with good ambiance. You know, not just centered on the meals — although that is, of course, very important — but also on the before and after.
"So I wanted to create areas where you could 'lounge' and have drinks before dinner and then other areas where you could settle down for coffee and dessert. I really love great conversations so I wanted the feel of a 'drawing room' where guests can connect with each other. I didn't want a place that was overwhelming, or God forbid in anyway, pretentious. I just wanted a home-y atmosphere where people could come and be comfortable." Andrew's dinners usually combine a mix of lawyers and entrepreneurs, people from fashion and the arts, even the occasional local politician.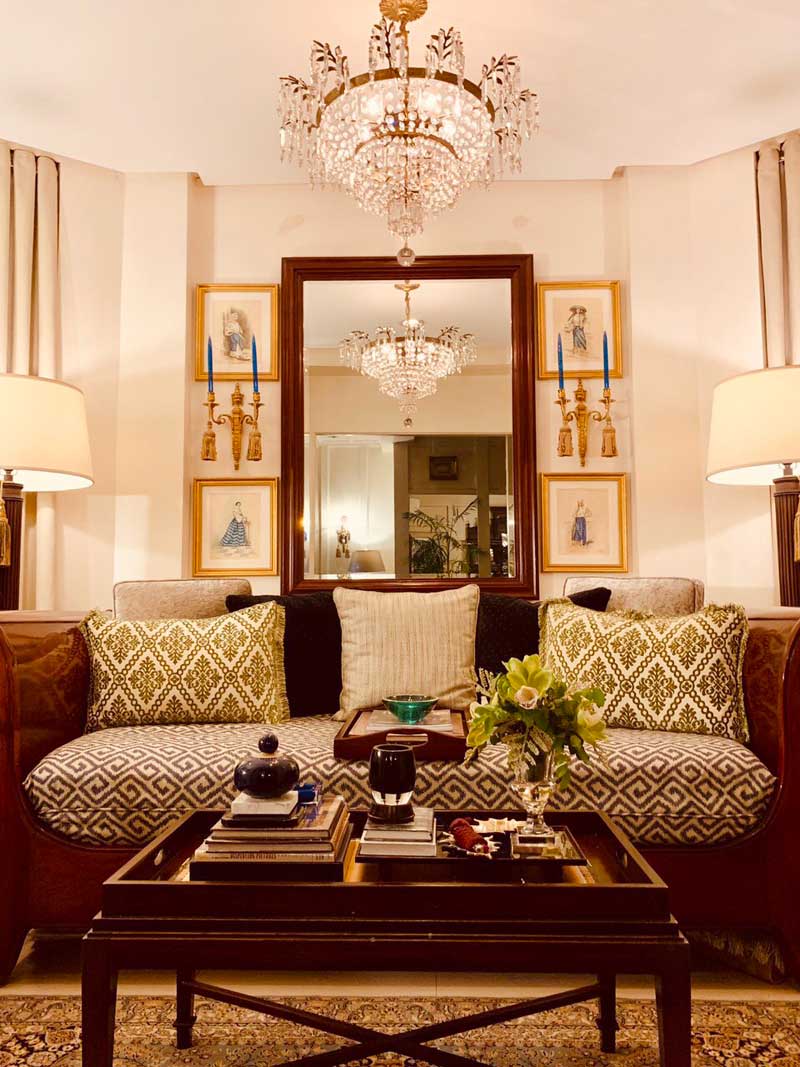 The smoking room features Andrew's childhood sleigh bed in solid narra, flanked by two columnar floor lamps and Oriental chairs. A modern butler's tray-table is in front. Above the sofa bed hangs a big mirror flanked by Filipiniana watercolors and wall candelabras.
"My rule for doing the house," says Andrew with a grin, "is that there are no rules. I just went with the flow of what we had and threw in what my parents and I had accumulated in the mix. This came from so many different places, from flea markets to the more well-known design emporiums abroad. I mixed the contemporary with the vintage, to create what I hope is a cohesive design that united different eras and genres."
The main sitting areas feature sofas in dark blue Belgian velvet. The coffee tables have been re-purposed from the wrought-iron grills his grandmother had first installed.
The dining room is behind an arched portal. A huge 3-layer 'platera' (china cabinet) is one of the few remaining pieces of furniture from the 1920s. ("The house's furnishings were divided among the siblings," says Andrew. "I do remember my grandmother saying she bought the 'platera' for the sum of P500 at the time which was a small fortune then. You could buy an automobile for that amount!")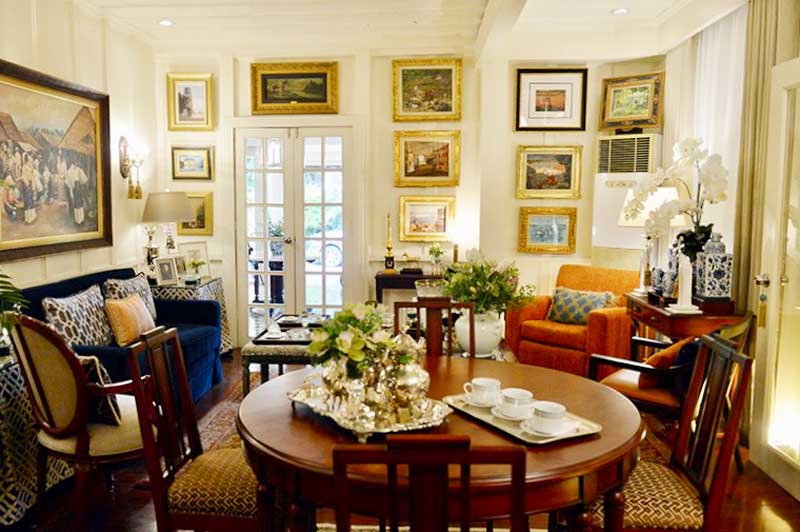 A panoramic view of the second sala, the dining room through an archway and an art deco table suite covered in vintage velour fabric.
Andrew says he creates his own tablescapes from flowers and palm-leaves from the garden. "In the first place, it's more economical. And second, it's a more natural, homespun feel. The dinner service shown in the photographs are a wedding gift from Doña Carmen de la Paz Ongsiako in a Noritake autumn leaves pattern from the mid-century, with Waterford goblets and silver by Roger, all set on a bordado lace tablecloth embroidered with nautilus shells from his grandmother's collection
"I've done my best to be respectful of the original architecture and my grandmother's design. After all, I feel like I am just the custodian of a house that gave shelter to five generations of my family, says Andrew. "The house has brought luck to all of us," says Gigi. "We all did well in our careers. We have a brother (Roberto) who is a civic leader in the family tradition, another brother (Edgardo) who is kidney doctor with a practice in Arizona, a sister (Ma. Victoria) who is a California bank executive, and another (Ma. Asuncion) who was in business. And having said that, we are all lucky to have Andrew who takes such an interest in the house. We all look forward to the house's 100th anniversary in 2023."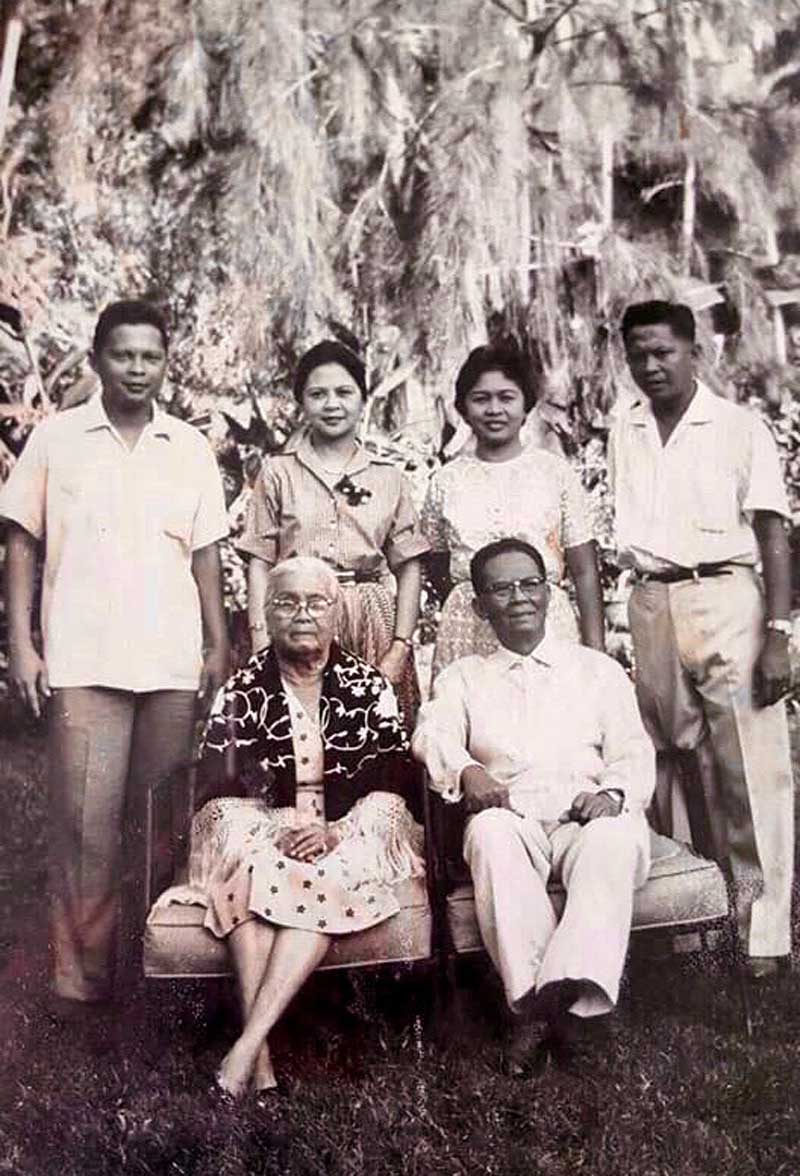 (Seated) Doña Valentina Sosa Laurel with Don Daniel Laurel; (standing) their four children Manuel Laurel, Dulce Bocobo, Luz Gadi and Rafael Laurel.
Says Andrew, "I think what will take the house — and the family — into the next millennium is a sense of proportion. It's always been a guiding principle of mine in design and I guess I could say, keeping the past in proportion to the future is very important. It's all about remembrance and gratefulness."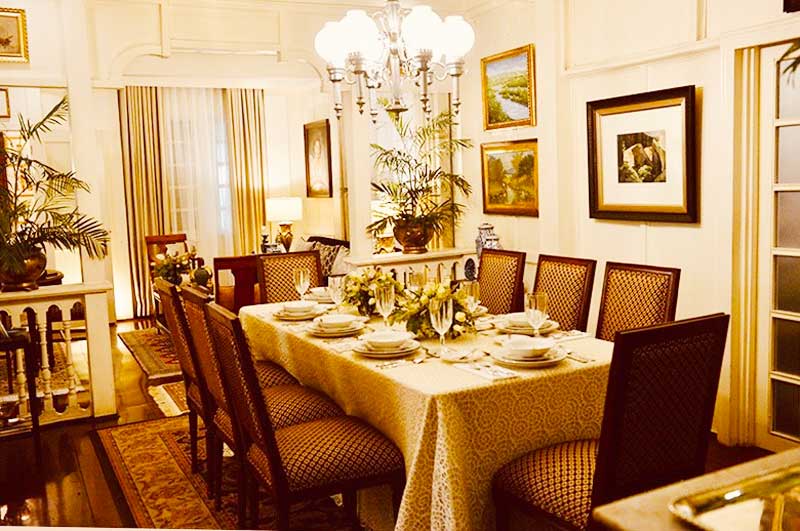 The table setting for ladies who lunch. The dinner service is a wedding gift to Andrew's parents from Doña Carmen de la Paz Ongsiako. It is in a Noritake autumn pattern, silver by Rogers, water goblets by Waterford. "This was all part of my mother's collection. In her lifetime, she would refuse to use them and I still feel a twinge when I do."