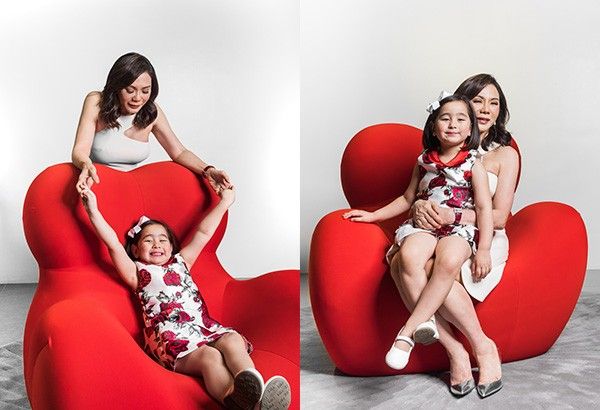 Vicki Belo and Scarlet Snow Belo
Photo release
Italian brand names Vicki Belo, Scarlet Snow as new inspirations for iconic chair
(Philstar.com) - May 16, 2019 - 12:30pm
MANILA, Philippines — The relationship between a mother and her daughter is one of the most powerful bonds that impacts the latter's health, self-esteem and how she will eventually bring up her own children.
Such is the case between celebrity doctor Vicki Belo and her daughter, Scarlet Snow, one of the country's most iconic mother-and-daughter tandems.
Belo is a big believer of the importance of spending time with her kids and doing things together daily. This was apparent at the recent shoot for B & B Italia's iconic Serie Up Armchair, fondly known as Mama Chair.
Created by avant-garde Italian Architect Gaetano Pesce, the Mama Chair was the designer's abstract depiction of a mother and child and a critique of women's oppression when it was first introduced in Italy in 1969.
Fifty years later, it has become a work of art and a symbol of women empowerment. Of course, things have changed significantly since his time and a lot of progress has been achieved defining women as equal to men.
Belo shares her thoughts about the chair's history: "What intrigued me about it was that the designer was also a feminist and he wanted women to be free. For me it's all love and warmth and caresses. It's all happiness."
She believes that all women are empowered differently. "The trick is, you find what it is that you're really good at. Always search why God put you here. Find something that will contribute to people's lives and that will enrich and empower you as a woman in the process."
"Motherhood is fulfilling," Dr. Belo said.
She had Quark at 23 when she was too young to be a mom and two years later, she gave birth to Cristalle while she was busy in Medicine School. "With Scarlet, I'm already settled, my career is okay. I have more time."
Over the years, Belo's parenting style has evolved, through constant prayer that she will be a good mother who can balance discipline with a lot of love.
"Scarlet is a combination of an adult and a child. Her thinking process is so advanced. She picks up on things quickly and is very observant. In fact, upon seeing the iconic Mama Chair at the B&B Italia BGC showroom, Scarlet immediately exclaimed that her Tita Virgie (Ramos of Swatch) has the same chair," Belo said.
"Incidentally, I think she got her looks from her dad and her behavior from me. She's also very prayerful."
She shared that despite being a social media influencer, Scarlet has no idea that she is a star. "She always asks me: Mommy, why does everybody know my name?"
For Vicki and her husband, Hayden, character formation is more important than anything else.
"This is why we're sending her to a Christian school, even if logic would dictate to send her to an international school. If she comes out the most intelligent person, a summa cum laude and her character is not kind, loving, and God-fearing, it would be again not worth it. I already know that Scarlet's so smart," she mused. "I hang out more with Scarlet in her playroom because it's always a happy place," she shared.
"The most fun part of being a mom is being hugged and kissed and told 'I love you'," she enthused.
"For instance, she just stops what she's doing and she'll run to me and tell me she loves me. I feel like I'm in heaven!"