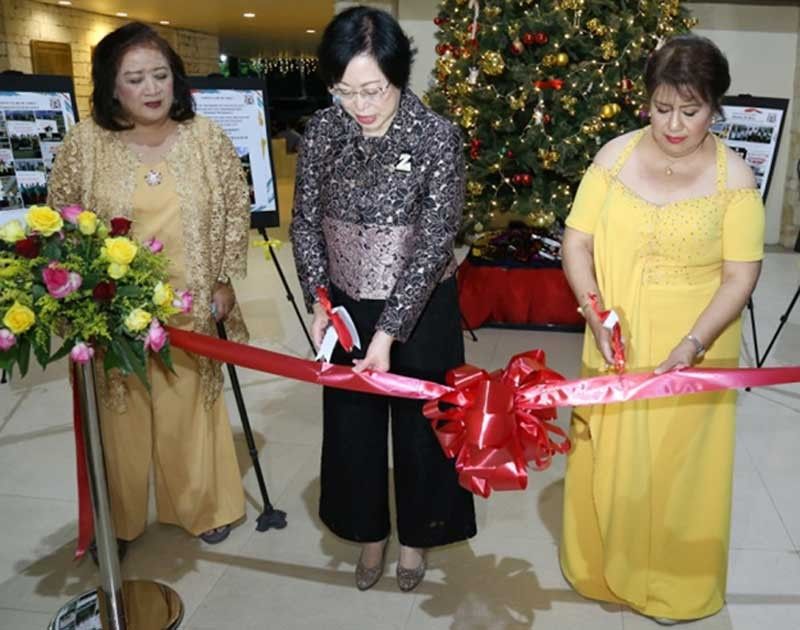 Ceremonial ribbon-cutting by District 17 governor Teresa Lin, Area 3 director Stella Bernabe, Zonta 1 president Minnie Yuvienco
Zonta Cebu 1 celebrates golden anniversary
The Zonta Club of Cebu 1, the second oldest Zonta Club in the Philippines, celebrated its 50 years of advocacy and service with a joint celebration of the centennial year of Zonta International. All the events were led by Zonta 1 president Minnie Yuvienco and Area 3 District 17 director Stella Bernabe.
The festivities centered on this year's theme, "No To Child Marriage." The opening salvo was held at the Ayala Mall where close to 800 students from different schools eagerly listened to the discussion on the awareness of the causes and prevention of child marriage. There was also a symposium on child marriage at the University of San Jose Recoletos. The thrust has addressed the protection of women against violence specifically of early child marriage.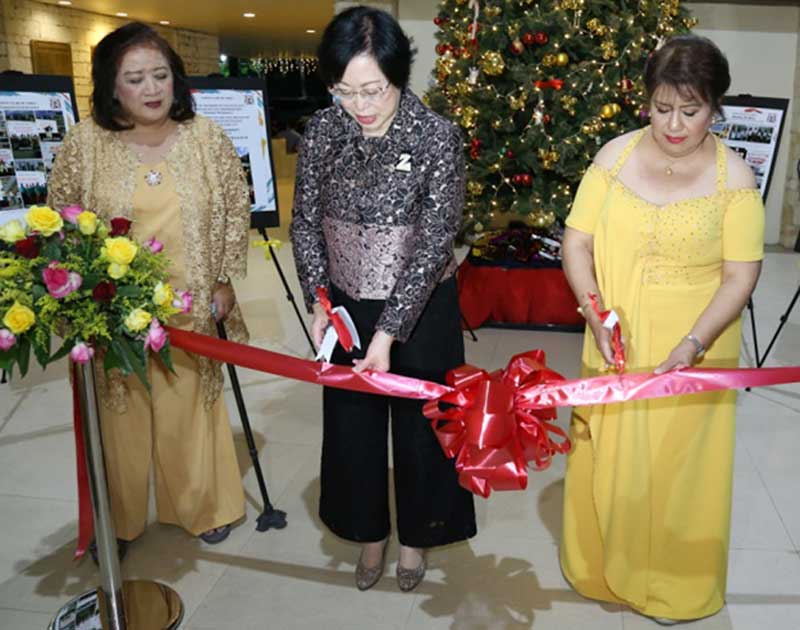 The Hall of Fame of past presidents of Zonta Club of Cebu 1 — 1968 to 2018: (Seated) Merle Cunanan and Minnie Yuvienco; (standing) Lucille Bonilla, Stella Bernabe, Rufina Tanchan, Matthea Baguia, Flor Streegan, Fe Necesario, Nellie Chiu, Tess Chan, Mila C. Espina and Isabel Garcia.
The highlight of the numerous events was the golden dinner held at Cebu Country Club. It featured poster exhibits of past presidents from 1968 to 2018. Founding president was the late Dr. Zuga Sotto Yuvienco. A recognition award was conferred on vice governor and vice chair of the Provincial Women Commission, Agnes Magpale. Guests of honor and speakers were District 17 governor Teresa Lin of Hong Kong and Area 3 Advocacy chair Daisy Arce.
District governor Teresa Lin expressed her appreciation of the initiatives of Zonta Club of Cebu 1 in sustaining their projects, sourcing out linkages and intensifying information networking to make known to the community the vision of Zonta International.
From 2019 to 2020, the Zonta Club of Cebu 1 will implement its partnership with the Cebu City Commission on Street Children.