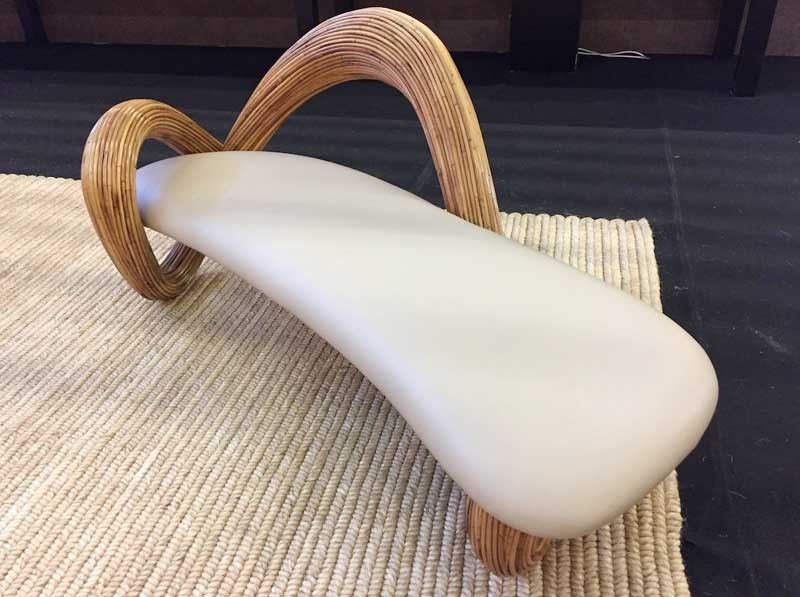 Recamier in rattan by Finali; abaca carpet by WeaveManila
The Philippines Shows Paris Our Designs As We Live It
The Philippine collection reflected the rich culture of the country with its mix of tribal, Asian and European influences interpreted in traditional and modern ways.
There was a fresh, new energy at the recent Maison & Objet in Paris. The premier international show for interior design and decoration rebooted its format this season, with revamped halls and many new exhibitors giving it a renewed vibrance and vitality. And right up there was the Design Philippines pavilion riding the crest of this new wave, attracting a steady stream of distributors, retailers, interior decorators and design and media professionals who marveled at its design and artisanal prowess in finely crafted products that the high end European market just absolutely adore. We found the Philippine space, in fact, in the "Unique and Eclectic" section, distinct from the more generic home and fashion accessories halls.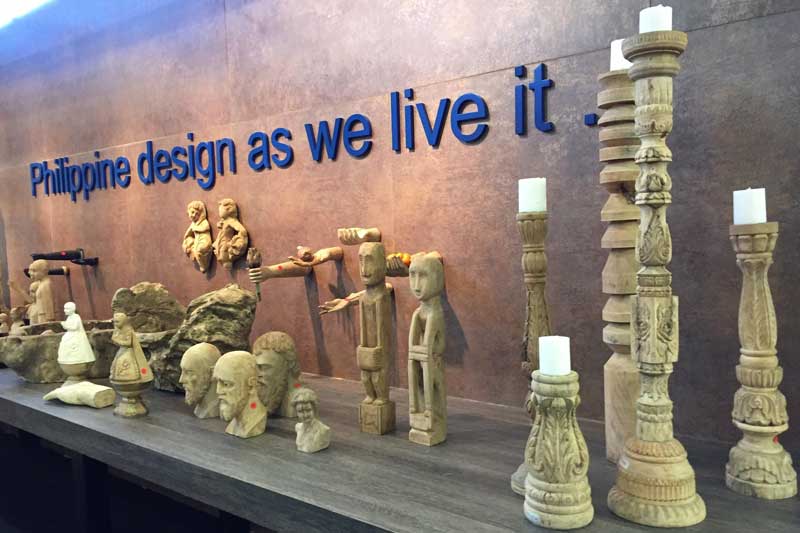 Free-form stone bowls from L'Auras y Levi and carved wooden bulols, santos and candlesticks from Chanalli showcase our rich Philippine arts and culture.
Spearheaded by the Center for International Trade Expositions and Missions (CITEM), the export promotions arm of the Philippine Department of Trade and Industry (DTI), the pavilion consists of eight Philippine lifestyle companies that showcase the stories that local artisans have to tell with each handcrafted piece.
To help articulate these stories for a global audience, award-winning designer Tess Pasola was asked to curate the pavilion under the theme "Philippine Design As We Live It," putting together exquisite pieces "with uniqueness and marketability in mind." A rigorous selection process ensured that only the best pieces reflecting craftsmanship "at its utmost potential" made the final cut.
The collection also reflected the rich culture of the country with its mix of tribal, Asian and European influences interpreted in traditional and modern ways. The carved wooden bulol rice gods of the Mountain Province were made by Chanalli into stunning candlesticks with a primal vibe that buyers found exotic yet adaptable, fitting both classic and contemporary interiors. Their Baroque santos and candelabra were also made accessible thanks to their European and Christian origins.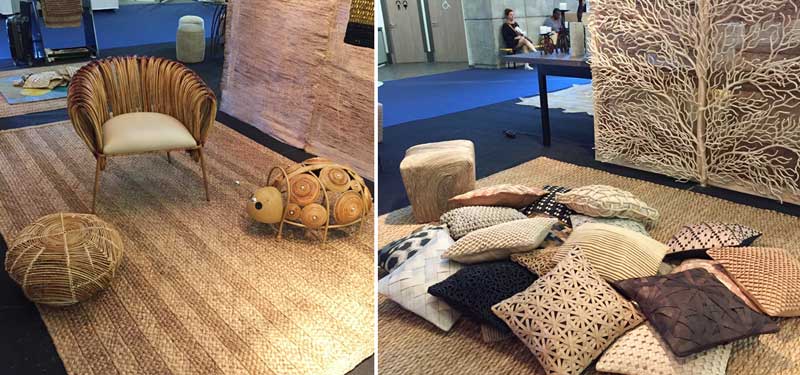 (Left) Armchair and ladybug decor in rattan and metal by Finali, ottoman in rattan by Basket & Weaves, abaca carpet by WeaveManila. (Right) Tree of Life wall panel and cushions in natural fibers by Tadeco Home.
With the vogue for the natural, raw and handmade, TADECO Home's accent pieces and lighting fixtures were easily a hit. Using banana, pineapple and abaca fibers from their Davao plantations, Maricris Brias' atelier produced novel items like a tree of life wall panel, decorative cushions and lamps with lace-like weaves that combined delicate Victoriana with the contemporary shapes of today.
CDO Handmade Paper from Cagayan de Oro sources natural fibers from indigenous southern tribes, maximizing the sustainability and abundance of raw materials to create decorative yet functional pieces. Eco-friendly, tree-less, handmade paper is leatherized to make sturdy, lighting fixtures. For the show, Tess Pasola designed a collection of sleek but witty pendant lamps to evoke underwater creatures like anemones and sea urchins.
Equally quirky are the lounge chairs of Finali, which are crafted in Cebu City, the acclaimed furniture capital of the Philippines. Using rattan and bamboo, they are inspired by organic forms which twist into back rests, arms and legs to produce statement furniture that will liven up any interior.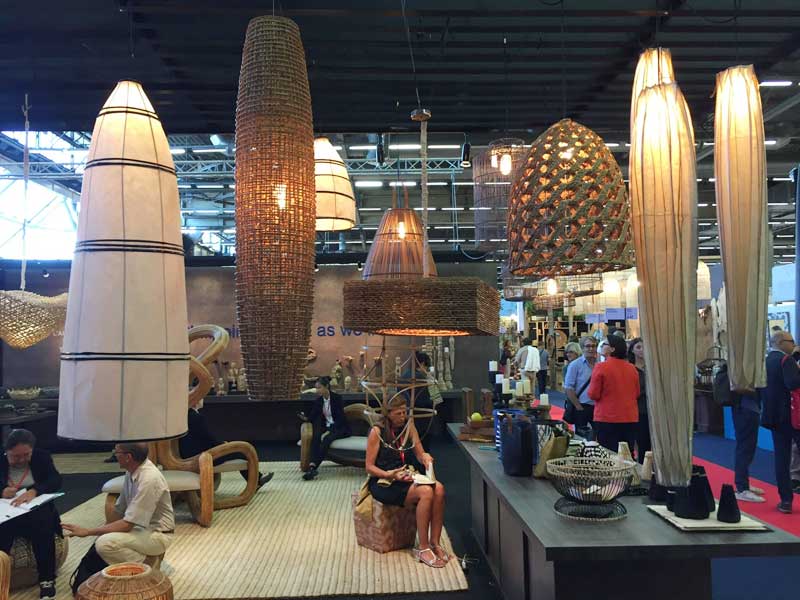 Paper lamps by CDO Handmade Paper and woven fiber lamps by Basket and Weaves.
Basket and Weaves, on the other hand, is a little more grounded, using a wide range of materials from wood and metal to recycled glass, paper and natural, native weaves. Their handcrafted home décor has a "found look" with antique and vintage finishing as seen in their tabletop bowls and trays, lamps and side tables.
Adding luxury and comfort to the pavilion were WeaveManila's hand woven abaca mats and carpets which employ centuries-old techniques combined with indigenous designs that have been passed down from one generation of artisans to another. The stringent process that the fibers undergo before weaving results in a soft, luxurious texture while the traditional geometric patterns give them a timeless quality.
The same timelessness can be gleaned from the biomorphic bowls and nito hand-woven baskets of L'Auras y Levi. Using stone powder, they produce composite stone in wondrous, free-form shapes. Nito, a climbing fern found in remote areas, is given the artisanal treatment with ethnic-patterned household items and accent pieces that have a modern feel.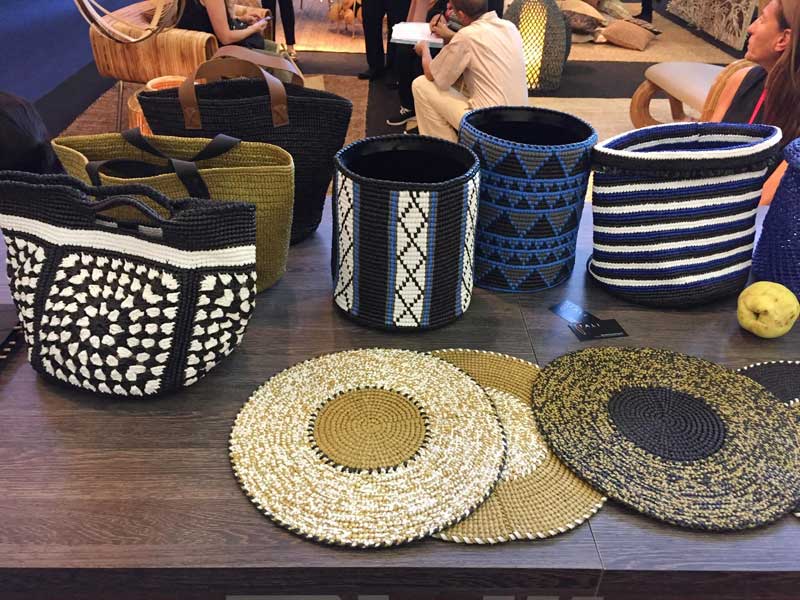 Woven bags by Tali Handmade.
In this era of fast fashion, Tali Handmade stands apart with their bags woven from straw. Unexpected details, delightful splashes of color and whimsical patterns bring joy and surprise to fashion aficionados who value the work of the hand in the pieces they choose for their wardrobe.
It is this evidence of the artisan's hand and his soulful creation that buyers at Maison & Objet grew to appreciate while considering the pieces on show at the Design Philippines pavilion. From the stories of the exhibitors, this worked in their favor since they were happy with the many new distributors and retailers that contracted them at the fair, not just from France and Europe but from the Americas as well.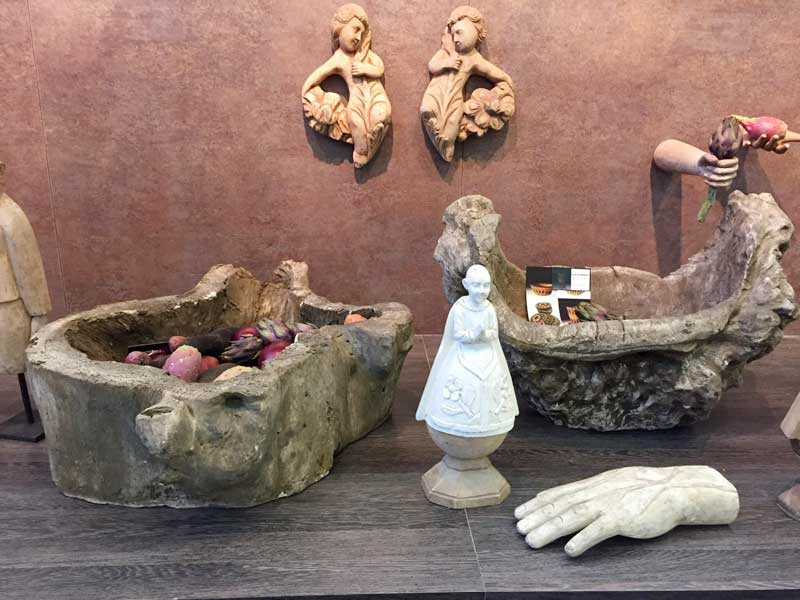 Biomorphic stone bowls from L'Auras y Levi and carved santos from Chanalli.
* * *
The next Manila FAME show of CITEM featuring Philippine design products will be on Oct. 19 to 21 at the World Trade Center. Log on to manilafame.com or citem.gov.ph for details. Follow the authors on Instagram @rickytchitov ; Twitter @RickyToledo23; and Facebook at Ricky Toledo Chito Vijandre.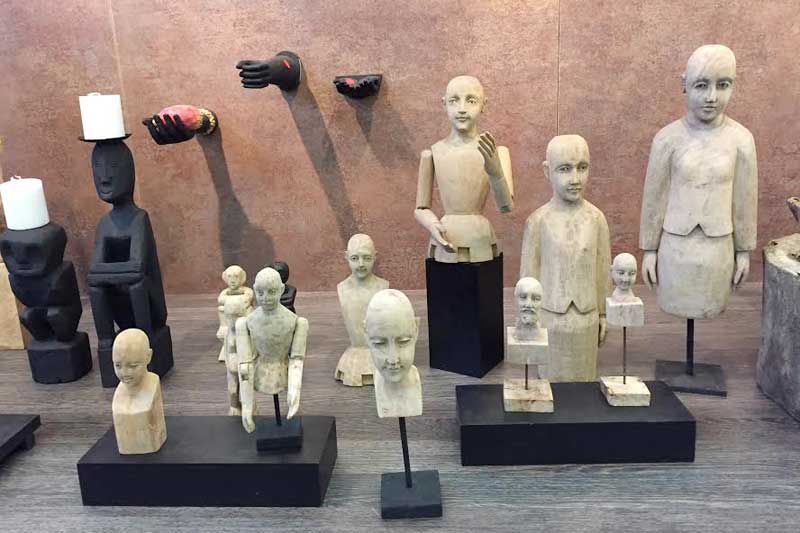 Carved wooden bulol candlesticks and santos from Chanalli.