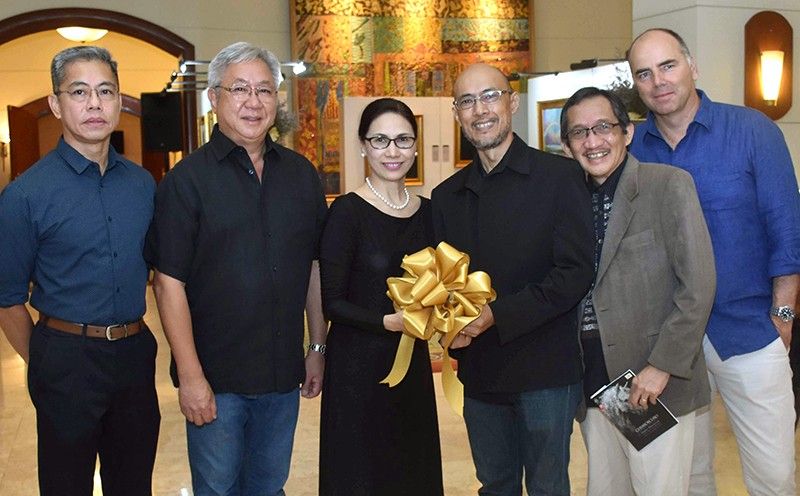 Benjie Lizada, Halifax Davao Hotel Inc. president Francis Ledesma, Marco Polo Davao general manager Dottie Würgler-Cronin, ''Chiaroscuro: Journey to the Light'' artist Daryl Descallar, Fr. Philip Tarroja and Paul Smits
Marco Polo Davao staged ''Chiaroscuro: Journey to the Light'' art exhibit at the hotel lobby as part of its 20th anniversary series of activities. Led by general manager Dottie Würgler-Cronin and director of sales and marketing Pearl Peralta-Maclang, the exhibit featured the works of artist Daryl Descallar, who created a series of paintings inspired by passages from the Bible, effectively adding a mental image to the verse.
Senator Loren Legarda and National Museum of Prague director general Michal Lukeš in front of a tapestry using the Art Protis technique in Prague
Senator Loren Legarda eyes stronger cultural ties with Berlin, Prague and Lisbon
The Hibla Travelling Exhibition, the Dr. Jose Rizal Textile Collection, and the Federico Aguilar Alcuaz Art Protis Exhibition are just some of the collaborative projects with art and culture institutions abroad to look forward to, thanks to senator Loren Legarda's tireless efforts to bring about stronger cultural ties with historic cities such as Berlin, Prague, and Lisbon. "There is so much to look forward to in terms of fostering cultural diplomacy with other nations," the hardworking senator said. "It is exciting to discover what we have in common with foreign countries just by going to their museums. This is where we will find our commonality amid our diversity." Senator Legarda led the opening of the second Hibla ng Lahing Filipino Travelling Exhibition at the Philippine Embassy in Lisbon, Portugal, following its first successful run at the Philippine Embassy in London, England last year.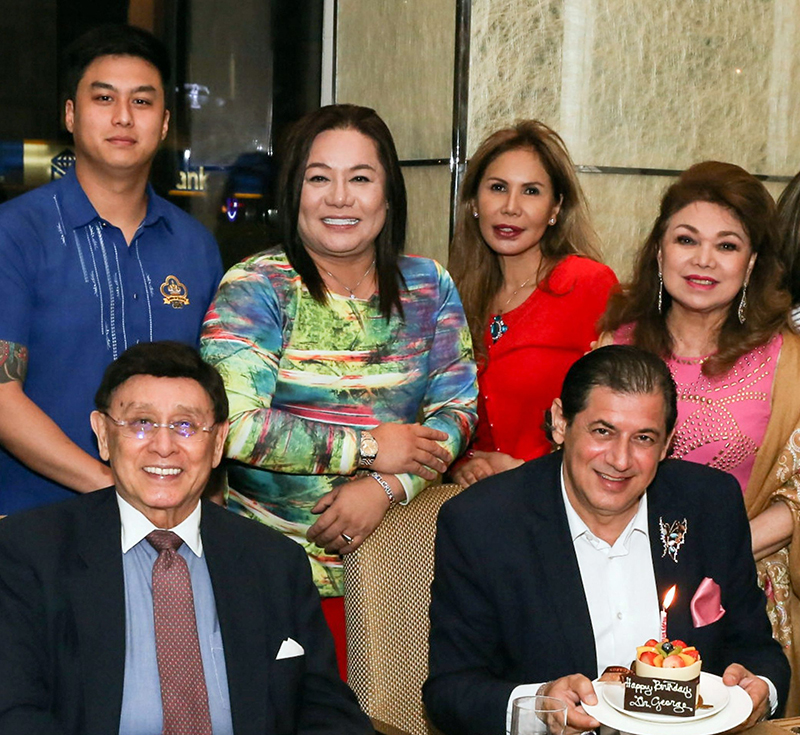 Author Johnny Litton and Dr. George Sarakinis with (standing) Jiro Shirakawa, Joel Cruz, Manette Agbayani and Becky Garcia
The tycoon and the doctor
The always big-hearted Aficionado Perfumes and Personal Care president and CEO Joel Cruz recently hosted an intimate birthday celebration in honor of his friend Dr. George Sarakinis. The two men have been friends and run in the same social circles for many years. Attended by the celebrator's loving wife, Becky Garcia, and their close friends, the evening was an unforgettable celebration of friendship.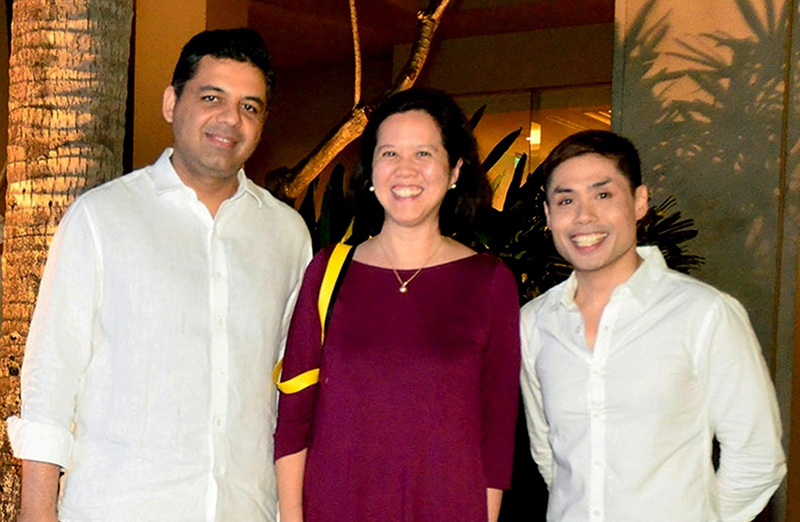 Edsa Shangri-La, Manila general manager Amit Oberoi, Yvette Fernandez and Edsa Shangri-La, Manila events manager Fonzy Mendoza
Edsa Shangri-La Celebrates Women
Edsa Shangri-La, Manila celebrated women everywhere with an intimate event called Come Away with CHI, where ladies enjoyed a day of wellness, relaxation, learning and female bonding at CHI, The Spa at Shangri-La and the poolside grounds of the majestic hotel. The festivities began with a warm welcome from Edsa Shangri-La, Manila general manager Amit Oberoi followed by CHI Talks, where guests listened in on insights, ideas, and tips for holistic well-being from beautiful and successful professionals from different industries. It was a wonderful day of pampering and celebrating all that makes a woman the best that she can be.