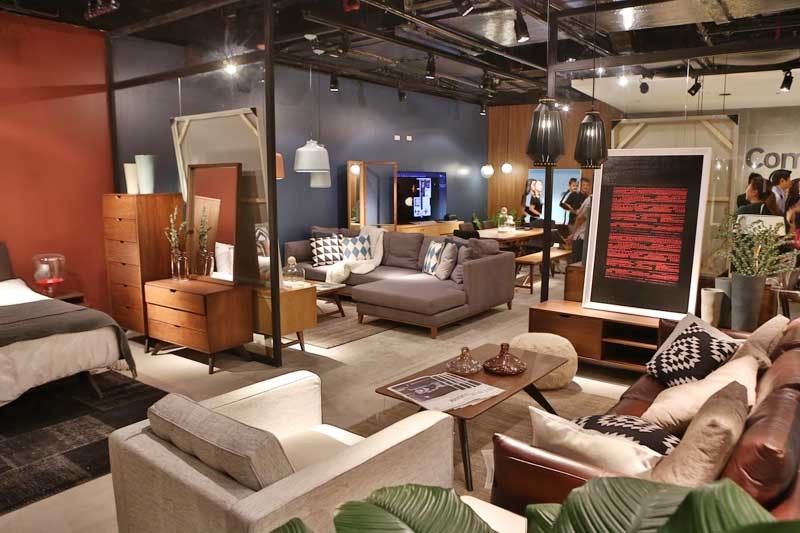 Commune, which was established in Singapore in 2011, carries artisanal wooden furniture in the latest design styles as well as accessories for the home. The brand boasts modern pieces that combine form and function with timeless appeal.
Photos by Walter Bollozos
Communing with wooden wonders
As the Commune philosophy goes: it's not just a functional bed, a table or a chair; the style of furniture is something that says a lot about you.
One look at the Tusk Sideboard at the Commune catalogue, a premium furniture brand from Singapore which recently opened its flagship store at the Shangri-La Plaza East Wing, and I knew right away how to use this wine-crate-inspired industrial storage made of solid American oak: as the centerpiece in a music room enhanced with absorbers and quadratic diffusers.
On top of it would sit a vintage Thorens TD 124 turntable with a rosewood plinth powered by a Marantz 2325 receiver with a black faceplate. The Tusk would be flanked by a pair of restored JBL Century speakers with bright orange waffle pattern grille. It would be one of the first things you would notice upon entering the room, right before you get bludgeoned by the sound of Led Zeppelin or Greta Van Fleet on vinyl — an area where vintage gear and contemporary furniture co-exist in one awesome domicile. Toss in a Tusk Leather Bench into the crib as well and get ready to drop the stylus.
Whether the house is 30 square meters or 300, it is a castle. This is according to Commune Philippines' Audrey Ngui. "Filipinos are becoming more and more conscious of design. Here in Commune, we have pieces that are very homey, earthy, contemporary, young — they are a reflection of who we are."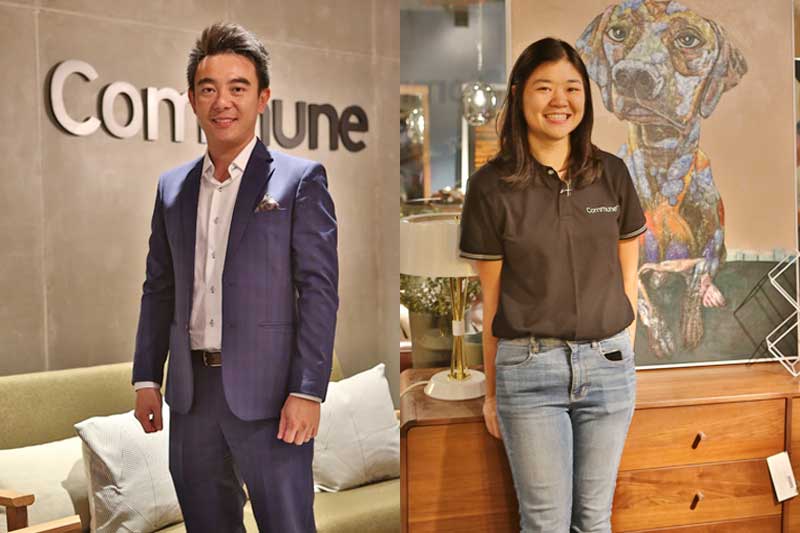 (Left)"We believe our furniture represents the changing tastes of younger generations and wish to introduce a home-making lifestyle that is ethical, sustainable, yet trendy and chic," says Gan Shee Wen, sales and marketing director of Commune. (Right)"The premium wood furniture has a modern and trendy aesthetic that's perfect for the Filipino urban apartment sizes," says Audrey Ngui of Commune Philippines.
Commune — which was established in 2011 in the Lion City and which now has stores in China, Malaysia, Brunei, Australia and the Philippines — carries artisanal wooden furniture in the latest design styles as well as accessories for the home. (Currently, the company is preparing to set up operations in Taiwan, Thailand and Vietnam.)
Commune's compact furniture pieces are ideal for modern apartment homes. The stores carry pieces — created using mostly using sustainably and ethically sourced American wood — for the living room, dining room, bedroom and study. The designs are inspired by global trends and ideas such as mid-century modern, modern Scandinavian, modern retro, industrial, and modern minimalism, among others.
"Commune is known for its eclectic mix of styling — unlike other brands which are fixated with one design philosophy," explains Gan Shee Wen, sales and marketing director of Commune. "Our most iconic pieces are from the Bruno range — with the herringbone design with metal brass finish. They are a mix of vintage and contemporary."
How Commune designers make use of various materials in a single piece is apparent.
"We like designs in multiple mediums — wood, leather, fabric," shares Gan. "We want to be unique and forward-thinking. So that it would be unlikely that the consumer will find similar pieces in other stores."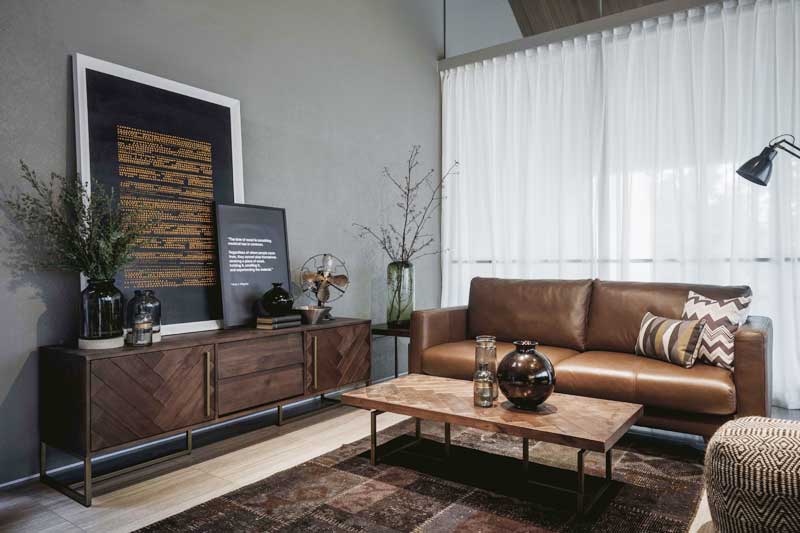 Bruno Coffee-Table and TV Unit paired with Geormani Sofa
That is the strategy even for relatively simple pieces. A coffee-table from the Dualtone line, for example, boasts two types of timber: bright oak (solid American oak top) and dark walnut (solid American walnut legs). What an ingenious combo. And then brass stained-metal stretchers complete the piece.
"Not a lot of manufacturers are capable of doing that," he stresses, adding how Commune timber are sourced from sustainable forests in North America. Rubberwood and Vietnamese acacia are also used.
Gan says, "Both are plantation species, so they are sustainable as well. We also focus on minimizing lead and formaldehyde content in our production for environmental-safety purposes — so there should be no worries even if a child (accidentally) licks or chews on the furniture (laughs)."
What is the origin of the Commune name?
"Commune is a place where we can communicate, to collaborate, to come together and create, to do something," concludes Gan, "The word can be applicable to our brand values as well. Commune is not just a furniture retailer; it is a platform. We have a lot of partners in Singapore — (companies that supply) curtains, paints, scents and lamination. We provide a platform for these small businesses, and then —when they are ready — we introduce them overseas." He hopes to do the same for Filipino suppliers as well.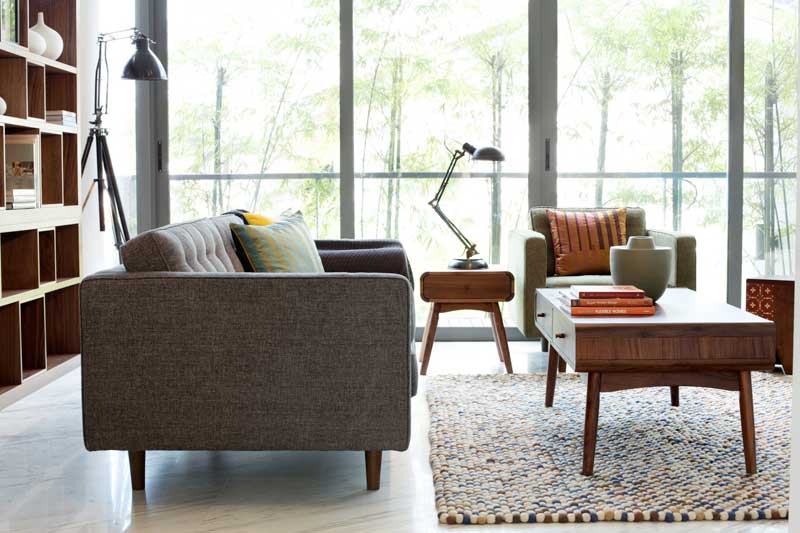 Pieces from the Bowen Living Room collection
By the way, Commune also offers an in-store 3D interior planning and visualization service for homeowners on a renovation journey, so they can see their houses or apartments dotted with Commune furniture pieces.
Well, even without a virtual reality trip, I have already envisioned how, say, a guitar-pick-shaped Crimson Coffee-Table would look with a bottle of beer on it. And an original pressing of a "Physical Graffiti" LP. And the latest MOJO magazine with the Arctic Monkeys on the cover. And a lava lamp. And some chips and dip. And…
* * *
In the Philippines, Commune is located at Level 6, East Wing, Shangri-La Plaza Mall. For information, visit @communehomeph on Facebook and @communehome_official on Instagram. The official website is http://www.thecommunelife.com.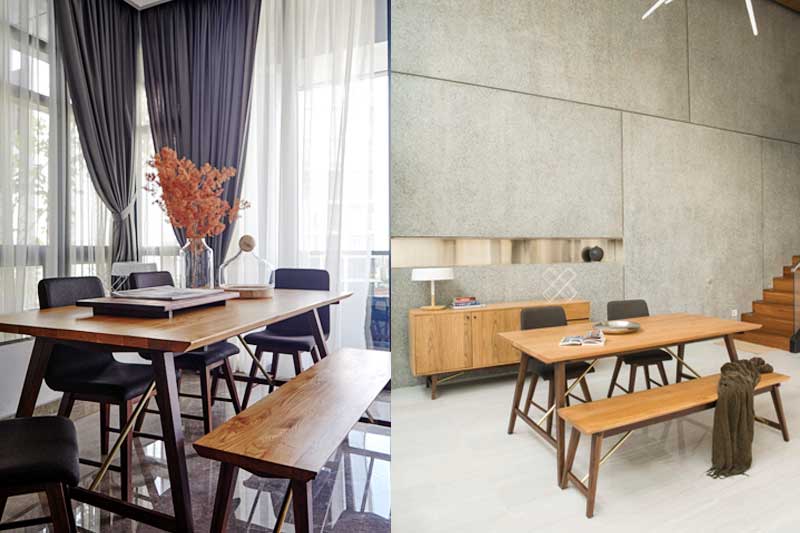 (Left)Modern Scandinavian Dualtone Dining Table in solid American white oak with solid walnut legs and chairs. (Right)Dualtone Dining Set with sideboard, table, bench and chairs