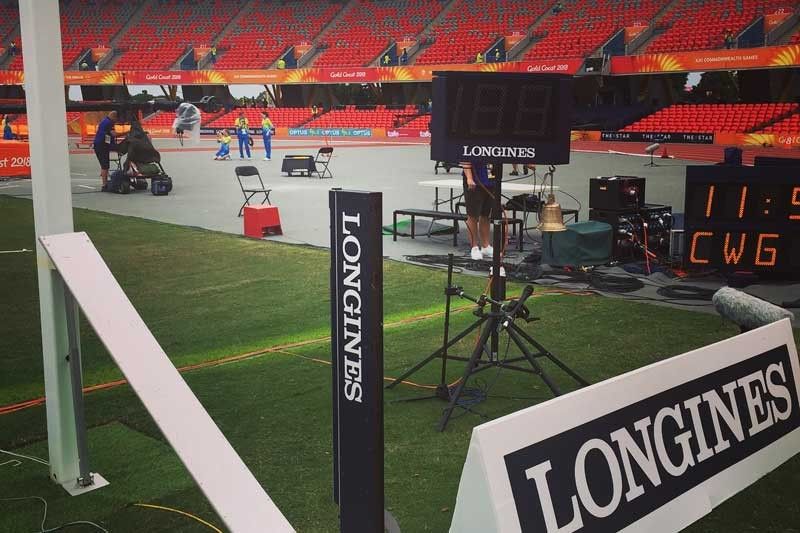 The Longines Conquest V.H.P. Gold Coast 2018 Commonwealth Games is a tribute to performance. The brand is the Commonwealth Games' Official Partner for timing, scoring and results.
How timekeeping is as complex as being a mentalist
Actor and Longines Ambassador of Elegance Simon "The Mentalist" Baker reminisces about his days when he lived in Australia's Gold Coast in the late '80s and early '90s, working at the Hyatt Regency, helping "Japanese tourists find their lost wedding rings on the beach," and how much of a fan he is of the Commonwealth Games.
"I definitely watch swimming and gymnastics competitions," he says. Baker marvels at the role the watch brand plays in all this. "You think of how these athletes have given a lifetime to get into their position. I remember growing up as a kid and watching the Commonwealth Games. Those moments were truly inspiring. Oh, the dedication involved — just think of how swimmers have looked at tiles at the bottom of the pool since they were, what, 12?"
It doesn't take a mentalist to deduce how special the space is, or the gathering itself: we are in a white villa beside a lovely stretch of Broadbeach (a surfers' paradise, indeed) in Queensland; dishes prepared by a top chef (who has manned the kitchen for the likes of the Queen, Margaret Thatcher and Kate Moss) tease from their immaculate plates; meanwhile, a famous Ozzie track standout talks about the fastest man on earth.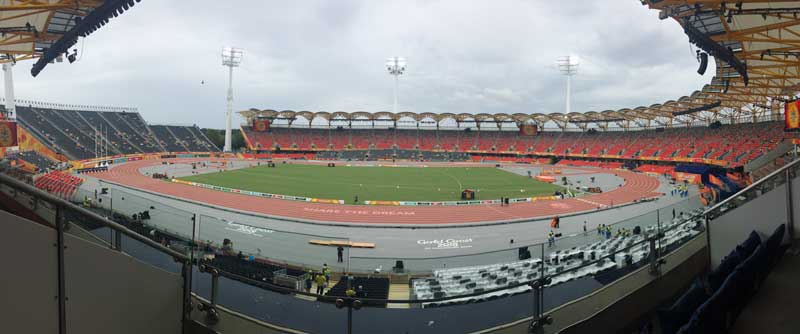 Carrara Stadium in Gold Coast, Queensland, Australia gears up for an afternoon of athletics.
"How fast would you think Usain Bolt could cover (from this point to that point)? How many seconds?" — to paraphrase athlete and TV presenter Matt Shirvington. Matt gets a volunteer, makes him stand a couple of meters away, and gives us the answer: "One, ladies and gentlemen. One second."
Everyone is awestruck.
Shirvington gives a few more examples. "Australia has an unbelievable swimming team (for this year's Commonwealth Games)," he says, adding other accomplishments of the host country. "Brandon Starc won the high jump in 2.32 meters. Imagine, he had to jump head first, upside down, and clear 2.32 meters to win the gold. Henry Frayne broke the Commonwealth Games records during the qualifying round with an 8.34-meter long jump." Matt demonstrates how far (or long) 8.34 meters actually is. (Very, we should say. It's like one curb to another if you happened to be trapped during a flash flood in Metro Manila.)
"All of the 6,000-plus athletes who have come here to compete in these Commonwealth Games have shown you what they can do. What they trained for. All those hours and hours and hours."
For such ultimate tests of speed, endurance, grit and spirit… every second counts, indeed. That's how Swiss watch brand Longines comes into the picture.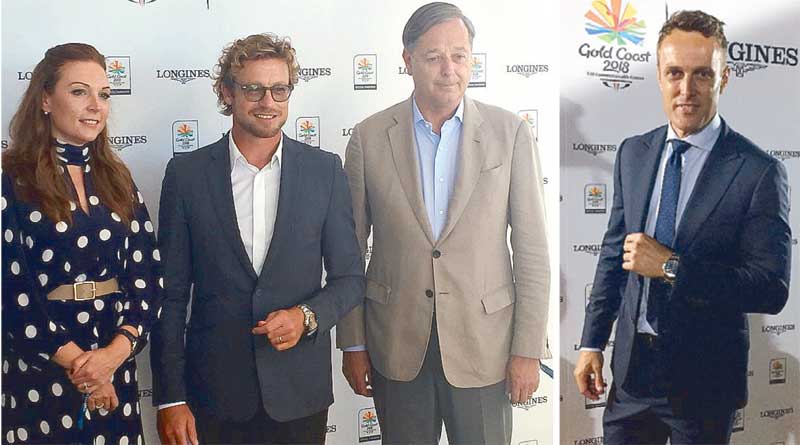 Longines Australia general manager Amelia Michael, actor and Longines Ambassador of Elegance Simon Baker, Longines vice president and head of international sales Charles Villoz, and athlete-TV presenter Matt Shirvington
Longines is the Gold Coast 2018 Commonwealth Games (GC2018) Official Partner for timing, scoring and results; the brand is the games' Official Timekeeper. As the brand credo goes, its precision can only be rivaled by its elegance. These timepieces are such beautiful, unfaltering machines.
The brand's long-lasting involvement in sports started in 1878 with the first chronograph manufactured by Longines: the legendary 20H movement. Longines gradually built a special relationship with the world of sport (from equestrian to tennis to Alpine skiing to the record-breaking events in the Commonwealth Games). It can rely on many years of experience as a timekeeper for world championships or as a partner of international sports federations. Today, the brand is present in various sports, and must always live up to its criteria of elegance.
The Lucerne Group, which exclusively distributes Longines in the Philippines, recently invited The STAR to the Gold Coast, Queensland, Australia not only to learn firsthand how essential Longines' role is during the slate of competitions, but also to get a feel of the games themselves: everything from athletics at Carrara Stadium, to rugby sevens at Robina Stadium. All those moments which deserve fist bumps and a swig of chilled XXXX Beer or 10. Plus, the friendly table tennis matches among journalists and brand representatives at the Longines Records Club in Broadbeach (with beer or wine in hand, mind you) make us ask the significance of a ping-pong table at the club. Because, it is the first time that Australia has won a gold since the sport was added to the Games in 2002.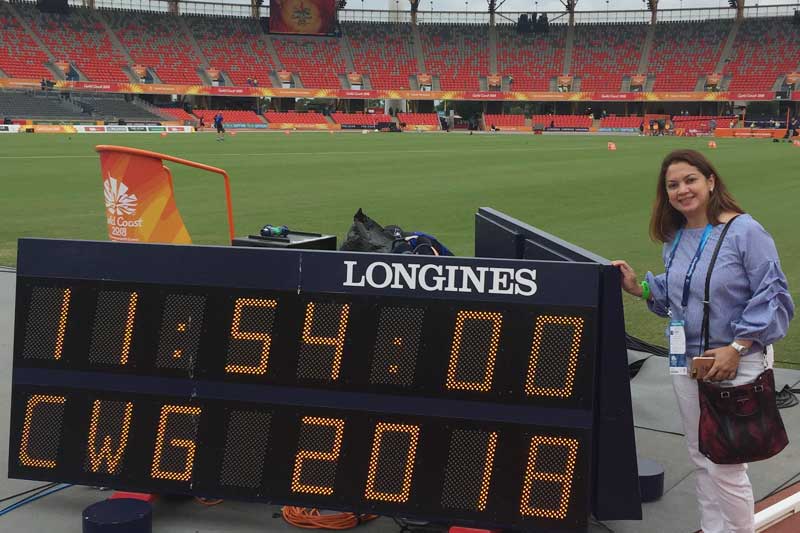 Longines Philippines brand manager Mitch Del Rosario
And every time a world record or Commonwealth Games record is broken, the brand invites the athlete to Longines Records Club for a special records ceremony. Each record-breaker is presented with a Longines Conquest V.H.P. Gold Coast 2018 Commonwealth Games watch, a personal certificate of achievement, and a donation in the athlete's name to UNICEF. The special-edition timepiece is meant as a tribute to this multi-sport event where athletes from 70 Commonwealth nations and territories gather. Based on its many years of experience with quartz, Longines is revisiting a success story from the '80s. With the Conquest V.H.P. (Very High Precision), it is marking a return to a technology in which it was a pioneer and expert, particularly through its timekeeping activities.
The Longines Boutique, which is situated at Longines Records Club, also gives the public the chance to view one of the most important timekeeping devices created by Longines in 1954, the Chronocinégines, as well as Longines' various collections.
At the closing ceremony pre-party, Charles Villoz, Longines vice president and head of international sales, explains, "As the Official Timekeeper of the Commonwealth Games, we are not only sponsors, but we also have technicians and engineers. (Swiss Timing CEO) Alain Zobrist and the Timing team have done an amazing job. Longines drew a very positive conclusion from the 21st edition of the Commonwealth Games. We have captured nine record-breaking performances during the 11 days of intense competitions among 71 countries. And we are looking forward to the next Commonwealth Games in 2022 in Birmingham, England."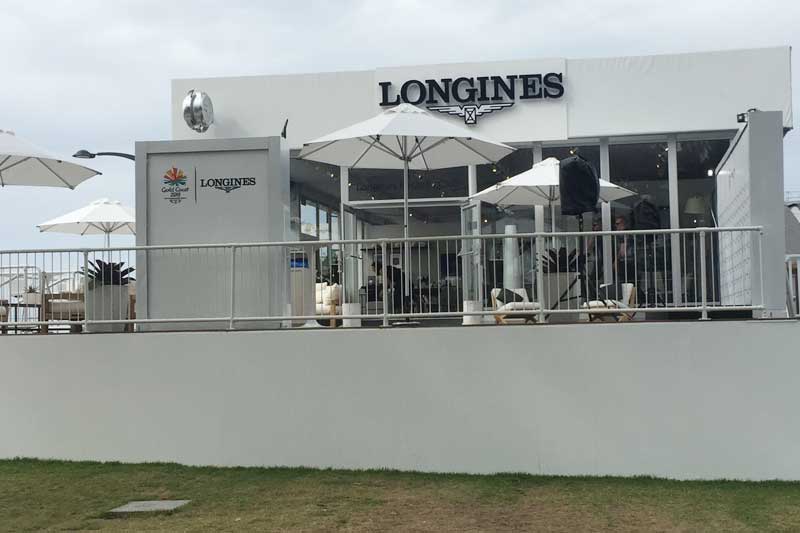 The Longines Records Club is where record-breaking Ozzie athletes are honored, and where the 1954 (inset) Chronocinégines is exhibited.
Longines is proud to be a part of sports timing history, adds Villoz. "Because we are the ones which have done milestones in timekeeping. We are not just a sponsor — we don't just put our logo somewhere and then we pay our millions. No, no. To see our (timekeeping) technicians working is fascinating. If you're dealing with record-breaking time, you cannot screw up. You better make sure you do it the right way. It's technology but, at the same time, it's people."
Swiss timekeeping precision and Commonwealth athletes singing their bodies electric — these are inextricably linked. Long may they run.
* * *
Longines is exclusively distributed by The Lucerne Group, and is available at Longines SM Mega Fashion Hall and at Lucerne stores.