Bringing queer art out of the closet
December 8, 2017 | 4:00pm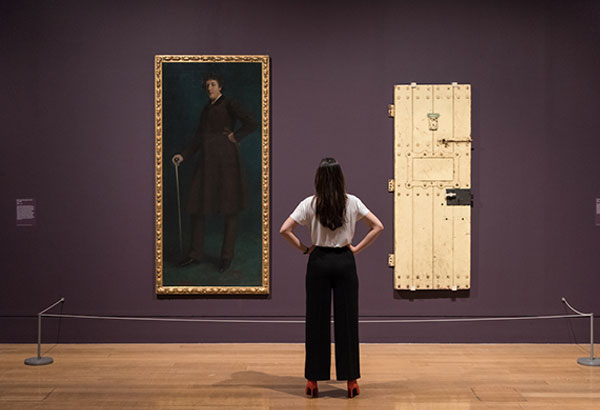 MANILA, Philippines — Lesbian. Gay. Bi. Trans. These are terms we bandy around casually these days referring to one's gender identity and/or sexual orientation, not even counting those in the 67 other gender options proffered on FB. There was a time, however, when none of these terms existed and even the insinuation of such a predilection was referred to as "unspeakable." It is in light of this history and progress that the Tate Britain decided to mount the exhibit "Queer British Art: 1861-1967." The period chosen is not an arbitrary one: 1861 marks the year when the death penalty for sodomy was abolished and 1967 is remembered for the partial decriminalization of sex between men.
The exhibit hopes to explore connections between art and a range of sexualities and gender identities during a period of dynamic change. Aside from the fact that the artists of the past were unfamiliar with the gender terms we use today, their approaches to the particular circumstances of their time are also unique and sometimes do not fall easily into current categories. To avoid imposing more specific identity labels, the broader term "queer" was used. Although the word can be used in the pejorative sense, a quote from British filmmaker Derek Jarman was what prompted the organizers to use it: "To use 'queer' is a liberation. It was a word that frightened me, but no longer."
It was a lot different during the Victorian era when artists had to resort to "Coded Desires," as the collection in Room 1 is titled. Although the death penalty for sodomy was abolished, it was still punishable with imprisonment. Sex between women, however, was not illegal and such relationships were sometimes tolerated in society. For most people, however, these "deviant" sexual practices and forms of gender expression did not really reflect a "core aspect of the self." This somehow opened "a world of fluid possibilities," according to the curator Clare Barlow. Such ambiguities allowed artists to produce work that was open to homoerotic interpretation, resulting in the development of queer subcultures. New scholarship on same-sex desire in Renaissance Italy and ancient Greece encouraged them to use these civilizations as reference points for their creations. Pre-Raphaelite painter Simeon Solomon, for example, portrays an attractive youth as Bacchus, the god of wine. Wilhem von Gloeden created photographs of Sicilian boys in settings of Greek and Roman antiquity, attracting many collectors.
"As long as there was no public suggestion that artists had acted on their desires, there was much that could be explored and expressed," says Barlow. Well, maybe to a certain extent. Solomon had many works that expressed "transgressive desire," but was often criticized for "unwholesomeness" and "effeminacy," reflecting an intolerance for alternative forms of masculinity as well as same-sex attraction. In his case, he could not repress his true self publicly and was eventually arrested in London in 1873 "for attempting to commit sodomy," a scandal that cut short his flourishing career.
Other scandals by artists in Victorian society stirred up the debate over sexuality and gender identity. The esteemed writer Oscar Wilde is probably the most celebrated one. He was having a relationship with Lord Alfred Douglas, the son of the Marquess of Queensberry. The Marquess wanted to end the liaison so he tried to get the attention of Wilde at the Albemarle club where the writer dined, by leaving his calling card with the inscription "To Oscar Wilde, posing as a sodomite." Wilde thereupon sued the father of his lover in 1895 for libel, resulting in a court case that unwittingly unearthed evidence regarding his past relations with other men, causing Wilde to drop his charges. This, however, led to his arrest and trial for gross indecency with men. He was found guilty and sent to prison with the maximum penalty of two years. Another writer that put a spotlight on homosexuality was Radclyffe Hall, whose lesbian novel, "The Well of Loneliness," was banned for obscenity. To think that the only sexual reference in the book consists of the words "and that night, they were not divided." A British judge declared it obscene for defending "unnatural practices between women." Hall's novel portrays "inversion" or same-sex attraction as a natural, God-given state and makes a plea to allow lesbians the right to exist as such.
The project of classifying sexual practices and forms of gender presentation into distinct identities, begun by German psychiatrists such as Richard von Krafft-Ebbing, had actually reached Britain through the book "Sexual Inversion 1896," authored by Havelock Ellis and John Addington Symonds. But, as seen in the Hall case, change was still slow, with many people ignorant of new terminologies and approaches to the self as offered by this current science.
By the early 20th century, sexual deviance became de rigueur with the Bloomsbury Set, the group of artists and writers "who lived in squares but loved in triangles."
The painter and decorative artist Donna Carrington had relationships with men and women but loved and was loved by the writer Lytton Strachey, who was attracted to men. Duncan Grant, whose 1911 homoerotic painting of seven muscular male nudes in "Bathing" is in the show, lived with Vanessa Bell in Charleston Farmhouse and had a child together, but this did not stop his male lovers from visiting. Bell, however, forbade one of his paramours (Paul Roche, a subject of another of Grant's works in the exhibit) from visiting as he did not meet her approval. Bell's husband, Clive, lived separately but they remained happily married all this time. According to Barlow, while sexual intimacy was valued by the group, it was not the most important bond that kept them together: "Their network was a profoundly queer experiment in modern living founded on radical honesty and mutual support."
Aside from the Bloomsbury Group, there were others representing a generation of artists and sitters exploring, confronting and coming to terms with their same-sex desires, from Ethel Sands with her cozy "Tea With Sickert" to Gluck and her defiant self-portrait with cropped hair. Born Hannah Gluckstein, as a painter she insisted on only being known as "Gluck," no prefix, no suffix, or quotes. When an art society of which she was vice president identified her as "Miss Gluck" on its letterhead, she resigned. One of her famous paintings is "Medallion," a dual portrait with her lover, Nesta Obermer, inspired by an evening when they watched a Fritz Busch production of Mozart's "Don Giovanni" in 1936. In a biography of Gluck, Diana Souhami describes the evening when the two lovers sat together and "felt the intensity of the music fuse them both into one person and matched their love."
Gender norms were challenged by artists like Laura Knight who, in a self-portrait, lays claim to traditionally masculine sources of artistic authority by depicting herself painting nude female models. Vita Sackville-West, portrayed in a stunning 1918 portrait by William Strang, had open marriages and same-sex relationships, declaring her sexuality as being at the core of her personality and should be recognized since "many more people of my type do exist under the present-day system of hypocrisy more than is commonly admitted."
By the 1950s and 1960s, London was a magnet for queer artists, with Soho as the epicenter of queer culture. Leading artist Francis Bacon described the district as "the sexual gymnasium of the city." Many of the artists featured were friends who shared studios and were encouraged by the patron and collector Peter Watson, founder of the influential literary magazine Horizon and co-founder of the Institute of Contemporary Arts. Inspired by travel, their works depicted favorite haunts from the Mediterranean and coasts of Brittany to seedy American bars like those in the works of Edward Burra. There were neo-romantics like John Minton, Keith Vaughan and John Craxton, who preferred to be called "Arcadian" because of his utopian vision of a harmonious paradise in the wild. But Barlow qualifies that all is not always well in Arcadia, "with references to death and its peace that can be disrupted by undercurrents of desire."
There were actually a lot of contradictions in queer life at this time before the decriminalization of sex between men in 1967, with same-sex couples cautious about the boundaries between the public and the private. Joe Orton and Kenneth Halliwell kept separate beds in their tiny flat to pretend that they were not a couple. The paranoia was justified because of high-profile arrests like that of Lord Montagu of Beaulieu, Peter Wildblood and Michael-Pitt Rivers, who were sent to jail for a case that became a rallying point to demand changes in the law.
As calls for changes became more pronounced, depictions of male same-sex desire also became more fearless, particularly in the works of Francis Bacon and David Hockney. Bacon was candid about how as a teenager his parents kicked him out of the house when they discovered him trying on his mother's underwear. In London, he began his now famous visceral explorations of the human figure.
David Hockney studied at the Royal College of Art when he arrived in London in 1959. His first encounter with Bacon's art was a 1960 exhibition at Marlborough Gallery, leaving a deep impression on him. He developed his own style, however, which was more playful. Both of them riffed on the visual culture around them, from Eadweard Muybridge's innovative photographs of wrestlers to cheap beefcake and bodybuilding magazines. Although other painters like Christopher Wood had already exploited the homoerotic angle of wrestlers to hint at queer intimacy, Bacon and Hockney went beyond the subtle to make unequivocal statements stripped of ambiguities.
Naturally, their work drew controversy. A Bacon exhibition at the Institute of Contemporary Art in 1955 was investigated by the police for obscenity. Hockney unabashedly declared his paintings as "homosexual propaganda." By constantly pushing the boundaries on what could be depicted in art, they were instrumental in the militant drive that led to the final decriminalization of same-sex relations. Artists like them brought queer art out of the closet, inspiring others to do the same in art as well as in other fields of endeavor.
* * *
Log on to www.tate.org.uk/visit/tate-britain for details. Follow the authors on Instagram @ rickytchitov ; Twitter @RickyToledo23 Facebook - Ricky Toledo Chito Vijandre.