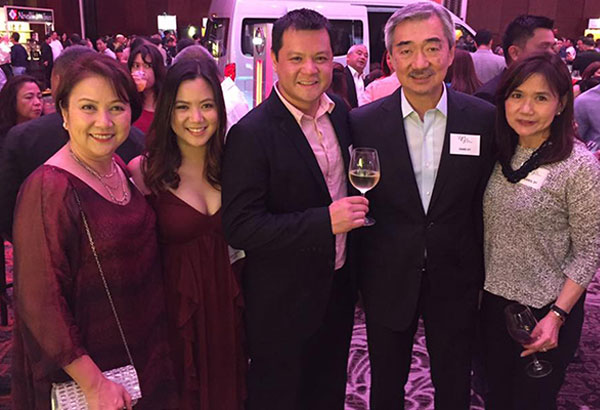 Ida Joseph, Riza and Luke Yuhico, Hans and Carol Sy
A grand wine experience in Cebu
Good wine is one of life's greatest pleasures and enjoying a glass of wine whether you are a novice or a connoisseur can be an uplifting experience.
The choice of wine on offer has never been so good, with the shelves in the supermarkets and wine shops getting bigger every year. And what's really nice is that there is plenty of decent wine to drink even at low prices.
Seventeen years ago, the Joseph brothers, Bobby, Ralph, Raymond and Ronnie of the Philippine Wine Merchants, one of the biggest distributors of wines and spirits in the country, founded the Grand Wine Experience (GWE), to increase local awareness and knowledge about wines and spirits. Since then the annual affair has grown to thegrandest wine event in Southeast Asia.
Dubbed as Degustation, the 17th GWE held at the Grand Ballroom of the Marriott Hotel brought together winemakers, wine connoisseurs, eonophiles, celebrities , dignitaries and wine enthusiasts. With a selection of over 500 outstanding wines and spirits complimented by a fantastic buffet, guests enjoyed the finest wines from Chile's First Ultra Premium Winery — Montes, to the world-renowned Torre vineyard and winery; Australia's oldest family owned vineyard, Yalumba and New Zealand's Monkey Bay to name a few.
Consistently mindful of their social responsibilities, The Philippine Wine Merchants yearly share the proceeds from the Grand Wine Experience to ABS-CBN Lingkod Kapamilya Foundtion Inc. Project Pink and to T.E.A.M. (Tourism Educators and Movers) were Bobby, a well-known tourism advocate, promotes the tourism industry with the help of the Department of Tourism.