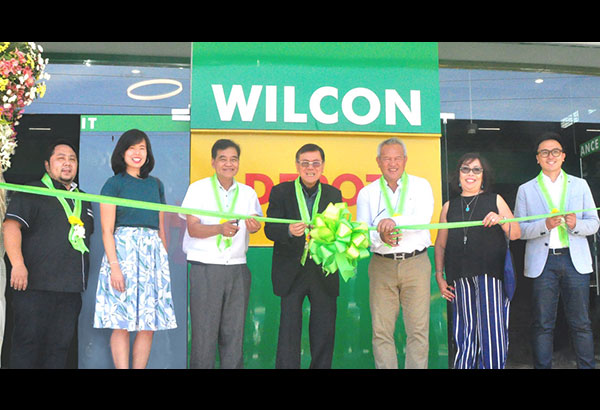 Kohler country manager Jonathan Kwong, Wilcon EVP-chief product officer Careen Belo, Cagayan De Oro 2nd District Representative Maximo Rodriguez Jr., Wilcon founder and chairman emeritus William Belo, Cagayan De Oro Mayor Oscar Moreno, Wilcon SEVP-COO Rosemarie Ong and LIXIL Water Technology country manager Alen Alban lead the ribbon cutting to signal the opening of Wilcon Depot's 39th operating store in the Philippines, Wilcon Cagayan De Oro.
Cagayan de Oro builds big ideas
Proving its standing as the nation's leading home improvement and construction supply retailer, Wilcon Depot recently opened a branch in Cagayan De Oro, Misamis Oriental — its 39th operating store in the Philippines. Led by the company's esteemed executives Wilcon founder and chairman emeritus William Belo, SEVP-COO Rosemarie Ong and EVP-chief product officer Careen Belo, the grand opening was attended by the brand's longtime partners and Cagayan De Oro's highest officials and construction enthusiasts.
So the World May Hear
In keeping with their alma mater's espousal of social responsibility, members of the Assumption College Class of 1966/1970 volunteered their time and services in the recently held William F. Austin (WFA) Community-Based Hearing Health Care Mission of the Starkey Hearing Foundation held at the Diwa Center in Tarlac City. Organized by South Asia Field Epidemiology and Technology Network (SAFETYNET) executive director Dr. Consorcia "Conky" Quizon and civic worker Maria Lourdes "Baby" Antonio, the event oversaw the assisting of 1,385 hearing-impaired Tarlaqueños, 876 of which were qualified to receive hearing aids that will be generously provided for by the Starkey Hearing Foundation during their phase 2 mission before the end of the year.
The Arton by Rockwell breaks ground in Katipunan
Rockwell Land Corporation held its ceremonial groundbreaking of The Arton by Rockwell in Katipunan, recently. The groundbreaking and lowering of the time capsule indicated a milestone for Rockwell, being the first project in Quezon City.
"We are very excited to see this come together. We have meticulously planned the project to curate the lifestyle of The Arton's future community," said Vienn Tionglico-Guzman, project director of The Arton. "This groundbreaking milestone brings us closer to turning our vision into reality"
Strategically located in the heart of Katipunan, The Arton by Rockwell is a 1.9-hectare high-rise residential property with 80 percent open space will feature three towers at 24, 28, and 34 storeys respectively. The West Tower is already available for pre-selling, which is the closest tower to the retail and service establishments in the ground floor. Residents from The West Tower will also be the first to experience the Rockwell Lifestyle in Katipunan as it rises in 2021. The North Tower, containing the most amenities, is set to launch next year.
The Arton by Rockwell is Rockwell Land's joint venture project with Japan's largest real estate company, Mitsui Fudosan Co., Ltd. The joint venture, Mitsui's first in the Philippines, was formally signed last July 2017.