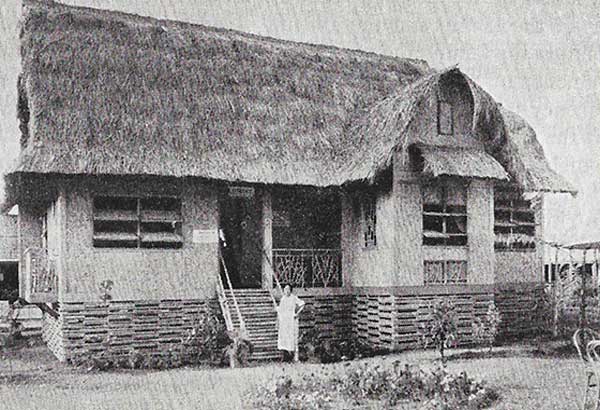 The Modern House of 1935 was a bamboo and thatch version of a chalet.
The modern Filipino house in 1935
Our homes have evolved in the last century from the nipa hut to the condo unit.
Today we have the advantage of hiring architects to help us, but 80 years ago, there were less than a handful of architects and only the wealthy could afford their services.
In those pre-war years, Filipinos were encouraged to make improvements over the simple bahay kubo dwelling. Authorities were concerned then with aspects of privacy, safety and "taste."
I found guidelines for designing and constructing a "modern Filipino house" in a book on civics from 1935. The Bureau of Science set these guidelines. The bureau's mandate apparently included how to improve the lives of Filipinos, via functional and aesthetic dwellings.
The bureau advised people to shift to homes of "strong materials." This meant the use of stone, concrete, and tin roofs, rather than wood or bamboo with nipa or thatch roofs. Many towns, and the few cities in the Philippines then, were passing ordinances to allow only stone of concrete for structures in their central districts. Damage from fire, typhoons and earthquakes was a prime concern.
However, few Filipinos lived in big urban areas then, so the vast majority lived in small towns or in rural settings. Filipinos therefore were encouraged to build homes with more western materials and with spatial patterns that partitioned spaces.
Traditional "tenant" homes had one large space that turned from living areas to dining rooms, then to places for the whole family to sleep. The Bureau of Science advised that better design for persons of "moderate means" involved separate rooms, at least for sleeping and eating.
The book stated that "Houses built of strong materials are becoming simpler in their architecture; there is a movement toward simplicity. Compact planning and up-to-date convenience are now preferred to more space in house-building."
Furthermore, "In planning a new house or in remodeling an old one we must give consideration both to the physical and to the social needs of the individual and the family. Among these needs are (1) safety from the destructive elements of nature and from persons who may intend to harm us; (2) adequate division of the house for sleep, for amusement, and for the preparation of food; (3) the proper disposal of waste; (4) a water supply; (5) enough sunshine and shade; (6) good ventilation; (7) yard space and opportunity to make the house and its surroundings attractive."
Authorities were also concerned with health and the spread of disease, stating, "The custom of having many people sleeping in one room is dangerous not only to morals but also to health, especially in regard to infectious diseases such as tuberculosis. It is a poor plan to have a house consist almost entirely of one large room in which friends are received and entertained and which at night is used as a common, or family, sleeping room. Such a plan gives too much space to one room. It does not provide a place for the sick in the time of illness."
Privacy was also a goal of modern homes, "Well-planned houses should give first consideration to the bedrooms. Houses, which are built as one big room, with a small one adjoining it for dressing and for keeping clothing and bedding, can be remodeled. Another method of securing privacy is to use screens to divide the larger room into smaller sleeping spaces. It is better to have ample, well-ventilated bedrooms in a house and no sala than to have a house that is all sala and no bedroom."
Then there was the matter of taste. The book stated, "We (all) enjoy living in houses that are attractive… a source of pride not only to ourselves but also to the community. Even the most modest home can be beautified. The smallest nipa houses can be made attractive…"
The book offered some "rules" on the matter of taste:
1. Everything should be in its proper place. A lavatory with running water is out of place in the living room or dining room, just as a bed or an "aparador" does not fit into the sala.
2. Avoid over furnishing and over decoration. Over furnishing means having too many pieces of furniture in a room. They make the house look like a furniture store, and interfere with freedom of movement.
3. Plenty of free space on the floor and on the walls is in good taste. This can be attained by removing extra furniture and things, which do not have much use. These should be kept in a cabinet or in any suitable storage place.
4. Decoration should not interfere with the use of the object decorated. For example, a cushion decorated with flowers …or with beads that hurt your back is in bad taste for the same reason.
5. Furniture should be comfortable, of simple lines, and in pleasing shapes.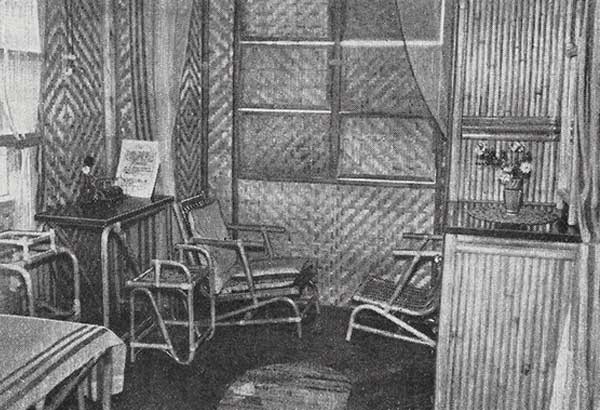 Rattan furniture then was well designed and made.
6. Good Taste should be (also) observed also in the yard, which should receive as much care as the house. It should be kept clean, orderly, and cheerful. Rusty tin cans, garbage mounds, and mud holes where pigs wallow are ugly sights and in bad taste. Trees and vines make the yard cheerful and a well-kept garden is always a delight to the eye.
The most interesting in the book were pictures of a model home, along with images of ideal rooms — bedrooms and kitchens. The model home was built in the compound of the Bureau of Science in Manila and it was made of bamboo, sawali, wood and thatch but it was bigger than the average bahay kubo. Inside were simple but well designed rattan furniture and the inclusion of some modern fixtures like lavatories, stoves, and an icebox.
Fast forward to today, the materials have changed and appliances fill our homes. Our homes of "moderate means," however, are now smaller in size, or even smaller condo units. Privacy is back to a minimum as we live more packed together that any pre-war Filipino could imagine.
Finally, the furniture today cannot compare to the hand-made hardwood or rattan pieces of old. We've run out of rattan in the country and most of the furniture now on offer for the everyman is of the shoddy mass-produced kind.
There is hope and today's Department of Science and Technology would do well to pick up from where they left off, and develop better building materials and technology to take us into the next century.
* * *
Feedback is welcome. Please email the author at paulo.alcazaren@gmail.com.