Small Wonder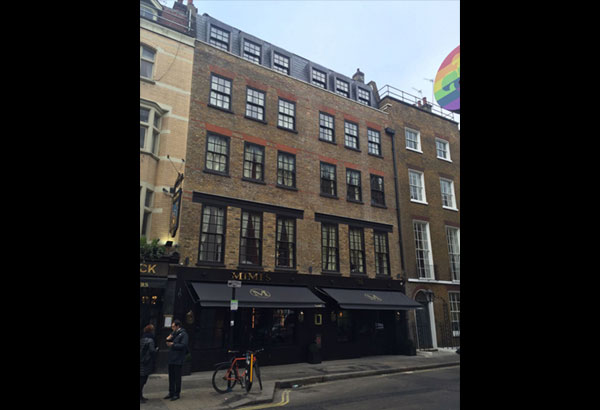 There are a few things I learned on my first trip to London: One, I can survive on vendo machine-bought egg and watercress sandwiches for a week and two, the hotel rooms are small.
Being accustomed to more generous real estate in the hotels I've stayed at in Asia, you can only imagine my reaction when I turned the knob of my British digs, walked in the room that had zilch aesthetic appeal, and wondered where the rest of it was. But having a full itinerary, which had me traipsing from Buckingham to Windsor, I figured having a small (and depressing) room didn't matter since I'd only use it to shower and sleep in.
It was only up until two years ago when I went on vacation to Europe with art consultant Miguel Rosales that I understood how properly designed hotel rooms, no matter the size, really make a big difference. For our Venice leg, I was fine to stay at one of those Tripadvisor tourist picks but instead we booked at The Bauer, which turned out to be the best idea ever (it was obviously his). It was in a beautiful palazzo right on the Grand Canal with a wonderful view of Santa Maria della Salute. The room had elements of the richness of Venice — from the lush drapes, walnut wood wall panels, and beddings to the fine black Italian marble in the bathroom. The room was so beautiful that I looked forward to sleeping and waking up in it throughout our stay.
When you travel, one of the toughest decisions to make aside from what to pack is where to stay. The New York Times reported many modern travelers find they don't need a lot of space that bigger hotel chains offer. This doesn't mean rooms are stripped off its creature comforts. A new London gem recently opened up which not only offers a fantastic location but is perfect for those with champagne tastes with craft beer budgets.
Welcome to Mimi's
Lutz Strangemann is the first to admit that the 58 rooms at his new boutique hotel in Frith Street in the heart of Soho aren't small. They're tiny. The CEO of Land Union, one of Europe's largest real estate firms with a wide international portfolio and various boutique hotels in Berlin, is quick to say though that despite its pocket size from the Tiny Single at seven sqm. to Mimi's Lux at 21 sqm. rooms at Mimi's share the same high-quality finish, design and ambience with materials and technical specifications matching any super luxury hotel. "Compact rooms are not new to the London hotel market but Mimi's is the first in a prime location with uncompromising luxury materials, design and finish," he says. "The logic of today's traveler is they go for less space in return for better room rate but at no compromise to luxury and feel-good factor. Mimi's responds to that."
There's a lot to love about the rooms at Mimi's. For starters, all have ambient lighting you can easily adjust, really comfortable mattresses covered in Frette Italian linen you wouldn't want to get out of, natural materials from Calacatta Viola marble to solid oak wood and Molton Brown shower gels you'll probably end up taking home, after hiding your daily ration in your suitcase and asking for more from Housekeeping. The rooms also feature heated bedroom and bathroom floors and complimentary 200 movies on demand plus various music channels. While the Tiny Single rooms, which are a-ok for double occupancy come with the basic essentials, the Mimi's Lux boasts double glazed sash windows and a deep sunken tubs that fits two.
With all that packed in your own spot in London, you'll seriously never want to leave it. Except maybe if you want to have a drink or two at the hotel bar called Henson's Bar & Social, an intimate space where the ambiance evolves from a cosy meeting spot in the day to a vibrant cocktail bar at night. The menu ranges from handcrafted cocktails to ubiquitous classics and newer interpretations specially curated by Adrien, Mimi's resident liquid architect and the rest of his award-winning bar team. Artwork by Andy Warhol, Matisse, Picasso and other famous artists from Strangemann's personal collection hang on the walls giving it an elegant and sophisticated vibe.
Location, Location, Location
Enticing media creatives, budding fashionistas and city hoppers, Mimi's caters to the seasoned modern traveller who requires high quality hardware and a strong design ethos with a moderate price-tag in the middle of the center of London.
It is housed on six floors in three gorgeous historic buildings which, apart from the Victorian façade, have been rebuilt to accommodate the needs of the hotel. "KDesign London, which worked on our other hotel properties like the Monbijou Hotel in Berlin, did the interiors and they only used the best materials," Strangemann says. "Mimi's feels a lot like a 1960's Soho club — slightly opulent and boudoir. Very much what you want in a city with rich heritage."
And you don't have to go too far to experience all that. London's exciting sights are just outside Mimi's front door. "If you try and be a great hotel in a bad location you face a challenge. Our advantage is that it is probably the best you could wish for."
Mimi's is right in the middle of Theatreland where all the major musicals are performed. It's also a stone's throw away from Picadilly Circus, close to the major shopping streets of Oxford and Regent Sts., the British Museum, Buckingham Palace, St. James Park, Westminster Abbey, and Big Ben while the House of Parliament is a mere 10-minute walk.
You check-in to check out
Fashion designer Diane von Fursternberg once said, "When you come to a hotel room, you want it to be grand, functional and beautiful. You don't want things that are not useful."
I'd like to think that hotel rooms are designed to make you feel like you're on an indulgent break even if you're on business. They might also serve as a sweet reminder that yes, you do need to lay in sheets that are so soft you'd want to wear them and yes, you do need to spend more than 15 minutes in the shower lathering yourself with your own luxury shower gel and yes, you should most definitely stay at a hotel that's clazz because you very much deserve it.
"As a boutique hotel you want to be different," Strangemann explains. "What sets Mimi's apart is the soul and ambience which you won't find in a larger chain. If you feel at home once you arrive, then we did a good job."
* * *
Mimi's Hotel is located at 56-57 Frith Street, Soho, London W1D 3JG. For more information, visit www.mimishotelsoho.com, call +44 20 8017 9100, or email [email protected]