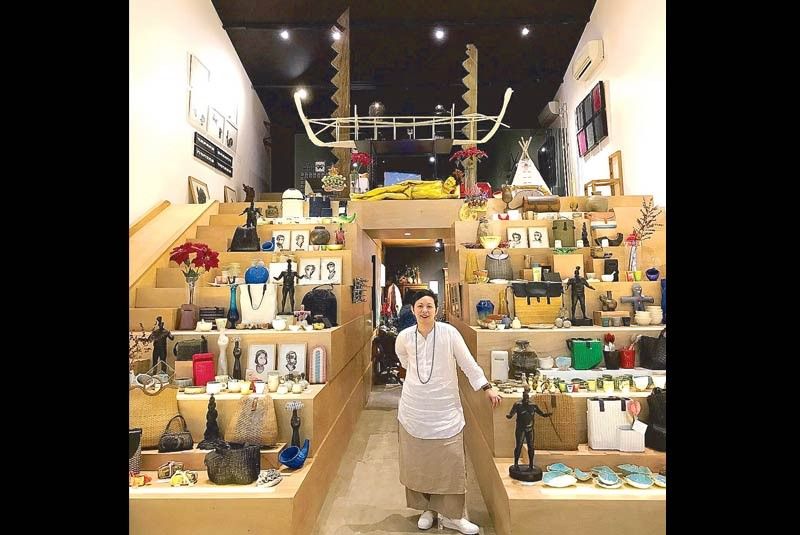 Cancer survivor, TV producer and creative director Rita Nazareno at the lifestyle store Aphro in Makati
We are having lunch and award-winning TV producer Rita Nazareno is pitching her story to movie producers, lawyer Rissa Oreta and Michelle Tomacruz, about her future movie. "There are people who live their life in their own terms and they also die in their own terms. It's more than just the right to life but the right to die. Some people have short lives, some people have long lives. For me we should celebrate this. It has to be fun. It has to be funny or at least witty."
Rita is a breast cancer survivor and she told us that she is not afraid to die. Yet after lunch she gives us multivitamins and probiotics to be healthy. Apparently her family also owns Vizcarra Pharmaceuticals.
Rita's family's main business has been bags since 1925. S.C. Vizcarra was started by her grandmother and they are known to make intricately hand-woven luxury bags and home accessories. And while she was a successful TV producer in Fox 11 in Los Angeles, she was asked by her family to come back home and help in the business since her mother, Vicky, was the only one who was active.
The good daughter that she is, she came back and worked as creative director for the company. She shuttles back and forth between Manila and Paris. While S.C. Vizcarra designs are more traditional and classic, Rita started her own line under the brand Zacarias. Referencing contemporary art, architecture, cinema and design. Each piece is so beautifully handcrafted — it's a work of art. You are not just using a bag but you are carrying an object of design made by our very own artisans. It's the bag that you won't see all over because it's limited in production.
It's available in 29 stores all over the world in cities including London, Paris, New York, Italy and Tokyo. The good news is it is now available in the Philippines at Aphro. Aphro is an art, design and lifestyle store at The Alley.
* * *
Aphro at The Alley at Karrivin is located at 2316 Chino Roces Ext., Makati. It i open from Tuesday to Saturday. For information, visit www.zacarias1925.com.