The Sapphire Bloc represents the Philippines as 'Best Condo Development'
(The Philippine Star) - January 29, 2016 - 9:00am
MANILA, Philippines – Robinsons Land Corp. (RLC) ended 2015 by receiving another accolade for its four-tower residential complex called The Sapphire Bloc developed by Robinsons Residences, a trusted residential development brand under RLC.
The Sapphire Bloc represented the Philippines as "Best Condo Development" in the prestigious South East Asia Property Awards 2015. This real estate award-giving body is known as the largest and most recognized industry awards event in the region.
RLC joined the roster of top honorees from a pool of about 400 top and emerging names in the South East Asian real estate industry. The awarding ceremonies were held recently at the Shangri-La Hotel Singapore.
Earlier in the year, The Sapphire Bloc bagged the "Best Condo Development" (Philippines) and "Best MidRange Condo Development" (Metro Manila) awards at the prestigious 2015 Philippine Property Awards which has been rewarding high-caliber work in construction, architecture and interior design of property developments in Asia. Moreover, RLC was named "Outstanding Developer" by FIABCI, a Paris-based real estate federation for its other residential project called The Trion Towers.
"To be highly commended in the South East Asia Property Awards further drives us to continuously innovate on what comfortable and modern condo living means, as akin to the changing needs and preferences of people over time," remarked Trina Cipriano, VP for business development at RLC.
Located at the Ortigas Center in Pasig, The Sapphire Bloc is RLC's latest foray in modern vertical development that has since become a member of an elite league of other property projects now being recognized throughout the region.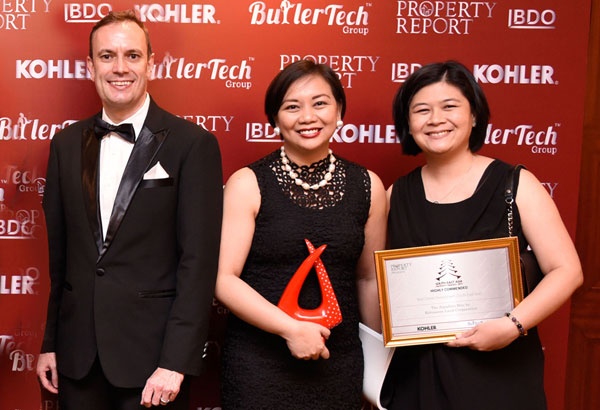 Robinsons Land Corporation represented by May Precilla, VP for sales and marketing (second from left), and Trina Cipriano, VP for business development, receives the citation from the South East Asia Property Awards 2015. With them is Terry Blackburn, CEO of Ensign Media.
Its Art Deco architecture amid contemporary buildings gives the Pasig City skyline a unique charm. Its enviable location provides an added measure of value since it is connected to three major cities, and has nearby shopping malls, offices, skyscrapers, building complexes, nightlife bars and restaurants.
Moreover, the master-planned development offers retail space measuring up to 8,000 square meters that is currently redefining destination dining in the metro. The entire stretch of the ground floor has been dedicated to serving up new and one-of-a-kind retail shops which can satisfy every craving.
"Again, The Sapphire Bloc has proven our company's commitment to our 'City Living Done Right' mantra, that aims to offer a level of distinction on comfortable and stylish living in the metro," enthused Trina Cipriano, vice president for business development at RLC. "Representing the country in the South East Asia Property Awards further inspires us to continue embedding the highest industry standards in all our developments."
The South East Asia Property Awards is the grand finale of the Asia Property Awards. Started in Thailand in 2005, the Asia Property Awards has since expanded to reward developments, consultants, architects and designers in Singapore, Malaysia, the Philippines, China, Myanmar, Indonesia, Cambodia and Vietnam. With a professionally run and fully transparent judging system, which is audited by BDO — one of the world's largest accountancy networks — the awards have for a decade helped celebrate the region's real estate industry on the world stage.