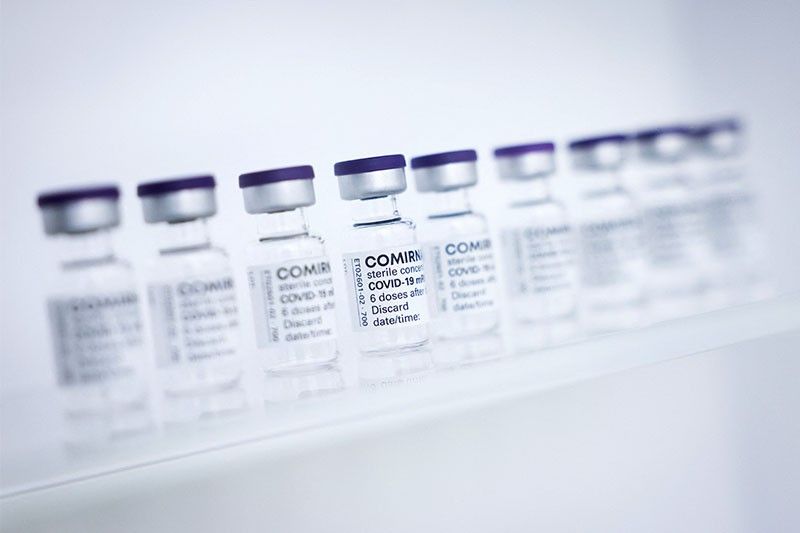 (FILES) This file photo taken on April 30, 2021, shows vials of the Comirnaty vaccine by Biontech Pfizer at the Allergopharma production facilities in Reinbek, near Hamburg, northern Germany, as the company started production of the vaccine, amid the coronavirus (Covid-19) pandemic. The EU has concluded a deal with BioNTech/Pfizer for up to 1.8 billion extra doses of its Covid-19 vaccine, European Commission chief Ursula von der Leyen said on May 8, 2021.
Christian Charisius / POOL / AFP
COVID-19 jab maker BioNTech to build Southeast Asia manufacturing site
(Agence France-Presse) - May 10, 2021 - 8:47pm
BERLIN, Germany — German firm BioNTech said Monday that the Covid-19 vaccine it developed with Pfizer does not require any modifications at the moment to protect against variants of the virus.
"To date, there is no evidence that an adaptation of BioNTech's current Covid-19 vaccine against key identified emerging variants is necessary," the company said in a statement.
Nevertheless, in preparations for a need at some point to make tweaks to its current vaccine, the company said it began tests in March on a "modified, variant-specific version" of its jabs.
"The aim of this study is to explore the regulatory pathway that BioNTech and Pfizer would pursue if SARS-CoV-2 were to change enough to require an updated vaccine," it said.
An assessment is also ongoing on the impact of a possible third dose in prolonging immunity and in protecting against variants.
BioNTech chief executive Ugur Sahin had said in April that the vaccine works against the Indian variant.
The BioNTech/Pfizer vaccine was the first to win authorisation in the West, and has since been deployed in dozens of countries worldwide.
It is now supplying more than 90 countries worldwide, and is expecting to ramp up its production to up to three billion doses by the end of the year from 2.5 billion doses expected previously.
As It Happens
LATEST UPDATE: June 15, 2021 - 8:47pm
Pharma giants Sanofi and GSK said on July 29, 2020, that they have agreed to supply Britain with up to 60 million doses of a potential COVID-19 vaccine. The agreement covers a vaccine candidate developed by France's Sanofi in partnership with the UK's GSK and is subject to a "final contract."
This thread collects some of the major developments in the search for a vaccine to ease the new coronavirus pandemic. (Main photo by AFP/Joel Saget)
June 15, 2021 - 8:47pm
Covid vaccine-maker AstraZeneca reveals it had hit a setback in trials of a treatment for the coronavirus.
The drug, made from a combination of two antibodies, failed its main goal to treat COVID-19 symptoms in exposed patients, AstraZeneca says in a statement.
The treatment has been undergoing phase 3 or final clinical trials to assess its safety and efficacy. — AFP
June 12, 2021 - 1:42pm
The US Food and Drug Administration says it had told Johnson & Johnson that millions of doses of COVID-19 vaccine produced at a troubled plant can't be used because of possible contamination issues.
In a statement, the FDA says "several" batches of vaccine manufactured at the Emergent BioSolutions facility in the city of Baltimore are not suitable for use. Each batch is known to correspond to several million doses.
Neither the agency nor J&J revealed the precise number of doses, but The New York Times placed the number at 60 million, quoting people familiar with the matter. — AFP
June 11, 2021 - 5:50pm
G7 leaders meet for their first in-person talks in nearly two years, with an expected pledge to donate one billion COVID-19 vaccine doses to the world's poorest countries, as part of a show of Western democratic unity against the planet's most pressing issues.
The club of leading economies -- Canada, France, Germany, Italy, Japan, the UK and United States -- say a joint approach is the world's best chance for recovering from the global health crisis, and tackling climate change.
President Joe Biden set the tone on Wednesday, ditching Donald Trump's isolationist stance on global affairs to ram home a message of resolve by the G7 and NATO against both Beijing and Moscow as he heads on to his first sit-down with Russian President Vladimir Putin next week in Geneva. — AFP
June 11, 2021 - 10:42am
G7 leaders open a three-day summit aimed at helping to end the COVID-19 pandemic and forge a climate-centric economic recovery, after pledging to donate one billion vaccine doses for the world's poorest countries.
US President Joe Biden and his colleagues from Britain, Canada, France, Germany, Italy and Japan will sit down for their first face-to-face gathering in nearly two years, after the pandemic wiped out last year's summit.
Meeting under the protection of a smothering security operation in the Cornish resort of Carbis Bay, southwest England, the leaders are also expected to address warnings to Russia and China. — AFP
June 10, 2021 - 10:17am
Lebanon's cash-strapped leaders are bribing their base with free COVID-19 jabs ahead of next year's elections, in what observers say is the latest variant on an old corruption trick.
The "vaccine for vote" system builds on decades-old patronage practices that have seen leaders buy their way into office by offering voters money or public sector employment.
But with state resources stretched to their limit by a severe economic crisis and international aid dwindling due to a failure to deliver promised reforms, politicians are turning to COVID jabs to stock up on political capital.
"Political forces are trying to directly or indirectly make themselves a part of the equation with regards to the vaccine campaign, primarily because it is a profitable investment," said a member of the state-run National Vaccination Committee who spoke on condition of anonymity. ?— AFP