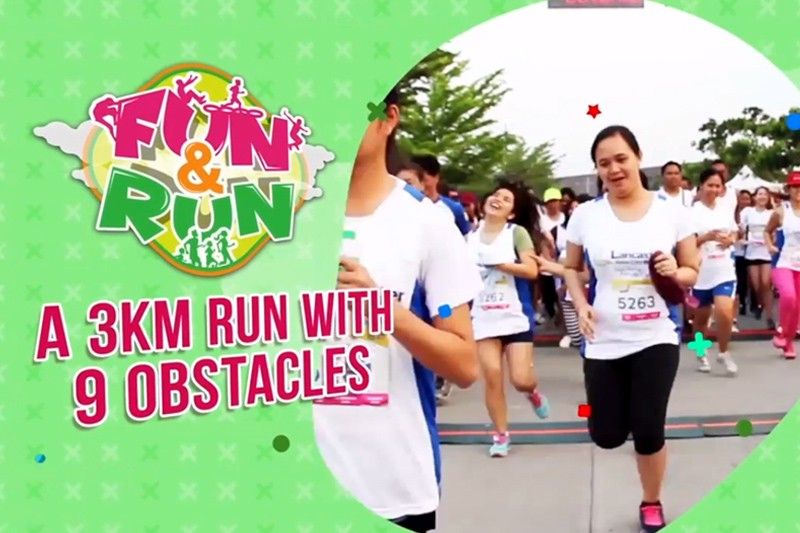 Families will test their skills and strength, move together as one team, and definitely, have a fun and unforgettable time.
Released
WATCH: Can your family survive this obstacle course race in Cavite?
MANILA, Philippines — Through the good times and the bad, the family will always support each other and face together whatever challenges that come their way— including the country's first-ever obstacle course race.
Bring the whole family to FUN & RUN, a 3-kilometer race featuring nine gigantic obstacle courses. It will happen on May 27 at the third edition of Grand Family Weekend in Lancaster New City Cavite.
Throughout the exciting race, families will test their skills and strength, move together as one team, and definitely, have a fun and unforgettable time.
Are they ready for the following?
1. Huddling past 300 tires
This opening obstacle called Tire Fun will be laid out with 300 colored tires. It will surely test the agility of even the littlest ones in the family.
2. An elastic entangle
Can everyone pass through Web of Fun filled with elastic rubber strings? Don't get tangled!
3. Dodging game
At Dodge Fun, evade big balls of fun that will swing across your path. Is everyone in the family alert enough?
4. Something extreme
This 100-meter high inflatable slide is going to be extreme! Give everyone a boost of courage and jump the Slide Fun!
5. A maze-ing!
Don't get lost and find your way on the other side of the Maze of Fun.
6. Crossing bridges
Bridges of Fun may look easy but careful! Anyone who falls get a muddy landing!
7. Enter the tunnel
Foam Fun will give everyone a bath! Enter this tunnel of foam and come out light and bubbly.
8. A zombie attack
Something action packed will ensue at Fun Attack where families will have to fight your way across a league of zombies and mascots.
9. The final test
Looming at the end of the race is Mt. Fun! Climb and jump on this inflatable mountain for the ultimate #FamilyGoals!
Survive through all this and come out stronger and closer as a family!
Grand Family Weekend 2018
Now on its third year, Grand Family Weekend continues its tradition of bringing Filipino families together in a day filled with fun under the sun.
For the first time ever, Lancaster New City and neighboring Cavite towns will witness the colorful and challenging FUN & RUN at the Grand Family Weekend.
All joiners will get a race kit that contains a race shirt, race bib, hand towel and finisher's medal.
And to make the event even more meaningful, proceeds will help school children from Lambunao, Iloilo to get new pairs of school shoes!
Lancaster New City is master-planned community that offers quality family life through affordable homes and a complete community where you can live, learn, work, play and pray. Visit now for a one-of-a-kind family adventure this summer.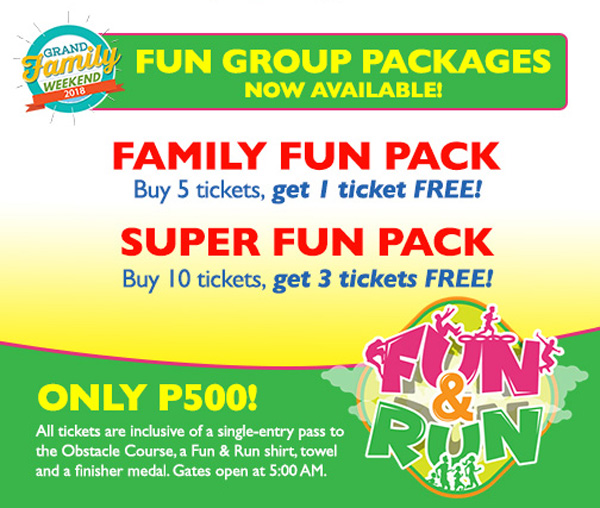 To join FUN & RUN, register online at https://www.eventbrite.hk/e/fun-run-obstacle-course-tickets-44892668179. For more information, log on to Lancaster New City Official Facebook Page https://www.facebook.com/LancasterNewCityOfficial/ or call 0917-5373934.