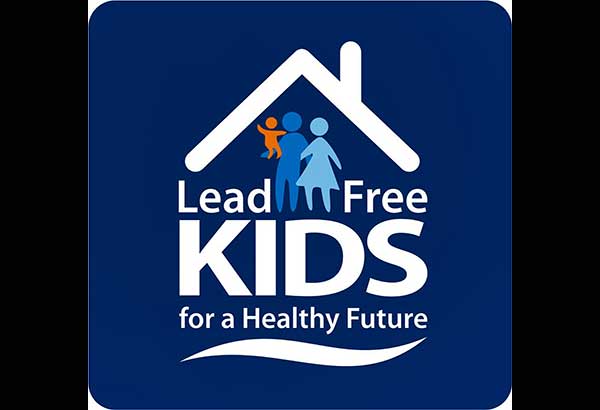 Keep children away from toxic lead
Lead is a much-dreaded word. And why not? A highly toxic substance, lead is all around us — it's used in paint to give it a brighter color (so, the brighter the color, the higher the lead concentration) and to make it less susceptible to cracking. The danger comes when the paint dries and begins to wear, and we inhale the dust from the paint flakes and it collects in our system.
It could invade our kitchen through our cookware — excessive amounts of lead can leach out of the metal used for cooking when it is heated up.
It could even be on our lips, literally — some women may not know it but the lipstick they swipe on their lips every day may contain dangerous lead (a good friend who was formerly a chemist at a leading cosmetic company in Canada told me that the longer-wearing a lipstick is, the more lead it contains).
Undoubtedly, lead will always be a hot leading topic. And did you know that October 22 to 28 has been designated as the International Lead Poisoning Prevention Week of Action? Now in its fifth year, the weeklong campaign seeks to raise awareness and promote actions to address the threats of lead exposure to human health, especially for children. Spearheaded by the World Health Organization (WHO), UN Environment, US Environmental Protection Agency, IPEN (a global NGO network promoting safe chemicals policies and practices), and other partners, the Week of Action will highlight the efforts of countries to eliminate a leading source of childhood toxic exposure: lead in paint.
A long-term threat
Dr. Maria Neira of the World Health Organization points out, "Lead paint is a serious threat to the long-term health of our children. Yet lead paint is still on sale in many countries and is used to decorate homes and schools. WHO calls on all countries to phase out lead paint by 2020 to protect the health of this and future generations."
While many countries have long banned lead paint, the disturbing fact is it's still used in homes and schools, and possibly in day-care centers, playgrounds, and other child-oriented facilities in more than one third of the world's countries, according to WHO.
In the Philippines, thanks to the groundbreaking Chemical Control Order (CCO)1 issued by the Department of Environment and Natural Resources in 2013, lead-containing paints used for architectural, decorative, and household applications are now banned following the three-year phase-out period for such paints that ended on Dec. 31, 2016. Companies producing lead-added paints for industrial applications have until Dec. 31, 2019 to reformulate. By January 1, 2020, our country would have already phased out leaded paint in line with the global target.
The newly released report, titled "Lead in Solvent-Based Paints for Home Use in the Philippines" and published by the EcoWaste Coalition and IPEN, shows that the lead concentrations of such paints sold in the country have significantly declined. The study covers 104 paint samples representing 54 brands. Comparing the three studies undertaken by the groups in 2013, 2015, and 2017, there are now more paints with lead content below 90 parts per million (ppm), which is the maximum allowable limit: from 39 percent in 2013, 31 percent in 2015 to 76 percent in 2017. The latest study also shows a significant decrease in the percentage of paints with dangerously high lead levels above 10,000 ppm — from 39 percent in 2013, 45 percent in 2015 to 12 percent in 2017.
Among the brands of mostly Quick Drying Enamel (QDE) paints that were found to have at least one paint that is compliant with the government's 90 ppm limit for lead in paint are (take note): Admix, A-Plus, Boysen, Brebwise, Canadian, Challenger, Coat Saver, ColorQuick, Dallas, Davies, Destiny, Domino 2000, Durax, Dutch Boy, Elegancia, Euro, E-Z, Globe, Hudson, Kansas, Lotus, Macnell, Manor, Marine, Master, Meyer, Minnesota, Nation, Nippon, Olympic, Platinum, Popular, Prime-Coat, Princeton, Pure-Coat, Rosco, Sea Bird, Seasons, Sinclair, Sphero, Super Savers, Texas, Tri Safe, Triton, Universal, Weiser and Venkot.
So you don't end up buying lead-containing paints, consumers should look for duly-certified lead-safe paints, pick the latest available paint products manufactured in 2017, and avoid buying old stocks as these may still contain lead, the EcoWaste Coalition advises.
The increase in the number of compliant paints indicates that the technology to make paints without lead already exists in the Philippines, and that most paint manufacturers, including small and medium-sized enterprises, are taking concrete steps to conform with the phase-out requirements of the CCO.
While pleased with the notable decline in lead-containing paints, the environment groups stress that the task of removing lead paints in the market has yet to be completed. As per the 2017 study, 24 out of 104 paints (23 percent of paints) still had lead exceeding 90 ppm and that 12 of these 24 paints contained dangerously high lead concentrations above 10,000 ppm. This points to the need to ensure sustained compliance monitoring.
The groups declare, "The study results further provide a strong justification to actively monitor the lead content of paints sold on the market to track and document progress, and to ensure full compliance to the country's lead paint regulatory controls."
Lead-safe paint
They also underscored how important it is for companies to obtain independent, third-party certification to increase consumers' ability to choose paints with no lead added. Pacific Paint (Boysen) Philippines, Inc. has successfully obtained Lead Safe Paint certification for 430 products under the Boysen, Nation, Titan and Virtuoso Silk brands, while Davies Philippines, Inc. has secured the same certification for 379 products bearing the Davies brand. These certified paint brands are authorized to use the distinct Lead Safe Paint mark after passing strict verification procedures by SCS Global Services, the certification body.
We all agree that it is every child's right to live, learn, and play in an environment that is safe from all preventable sources of lead exposure such as lead paint.
"Children — especially those under six years of age — ingest or inhale lead through exposure to dust or soil contaminated with lead-based paint and normal hand-to-mouth behavior or when they chew on toys, household furniture or other articles painted with lead paint," states Dr. Sara Brosché, IPEN's global lead paint elimination campaign manager.
According to WHO, "there is no known level of lead exposure that is considered safe."
Health experts do agree that children are most susceptible to lead poisoning. Lead exposure early in life can have many and untreatable consequences, including reduced intelligence, shortened attention span, and behavioral issues such as anti-social and violent behavior.
While lead exposure is extremely bad for children's health and development, lead exposure in adults can also cause a variety of health problems, including decline in mental functioning, hypertension, increased risk of cardiovascular diseases, kidney complications, joint and muscle pain, etc. Even limited contact can cause irreversible health consequences. For men, lead exposure can result in abnormal sperm or reduced sperm count. For women, it may cause premature births, miscarriages, and stillbirths.
Safety tips
Thus, to protect our precious children (and keep their environment as dust-free and clean as possibly), our family, and ourselves from lead, the EcoWaste Coalition and IPEN came out with the following tips:
1. Keep the areas where your children play as dust-free and clean as possible.
2. Wash pacifiers and bottles after they fall on the floor. Keep extras handy.
3. Clean floors, window frames, window sills, and other surfaces weekly.
4. Use a mop, sponge or paper towel with warm water and a general all-purpose cleaner.
5. Thoroughly rinse sponges and mop heads after cleaning dirty and dusty areas.
6. Wash toys and stuffed animals regularly.
7. Make sure your child does not chew on anything covered with lead paint, such as painted window sills, cribs or playpens.
8. Don't burn painted surfaces (wood, metal, etc.) as these may contain lead and thus release dangerous amounts of lead into the air.
9. Don't utilize dry sanding of surfaces since it will create and disburse large amounts of lead dust if the surface contains lead paint.
10. For children and pregnant women: Keep away from housing undergoing substantial renovation, or participate in activities that disturb old paint such as prior to repainting, or clean up paint debris after work is completed.
11. Isolate areas when wet sanding or scraping or other activities disturbing painted surfaces from living and play areas. Close and lock doors to keep children away from dusty areas or where paint is chipping or peeling. Cover holes in walls or seal off openings so children are not exposed to lead dust.
12. For people working in construction, demolition or painting or who work with batteries, or in a radiator repair shop or lead factory: If possible, wear protective outer clothing and foot covers, or change your clothes and shower before going home. If that is not possible, keep work clothes separate from other household items and away from children.
13. Try to keep children from eating dirt and make sure they wash their hands when they come inside to eat.