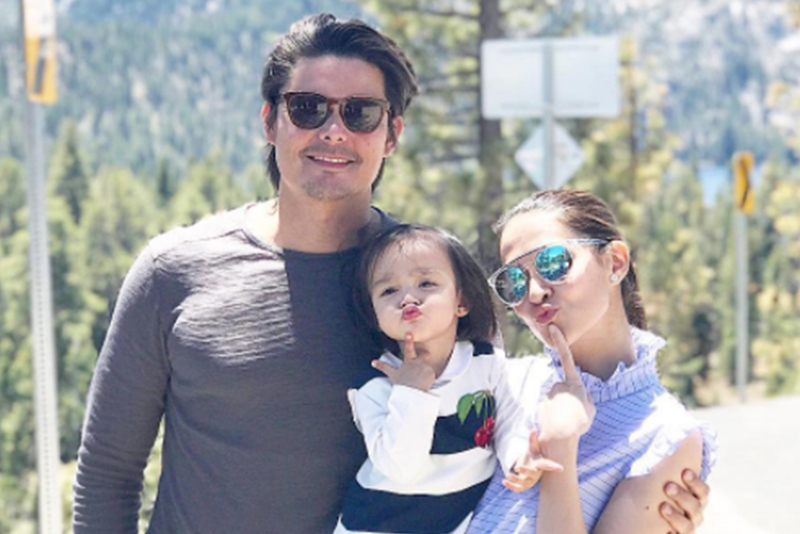 Dingdong Dantes, Marian Rivera-Dantes and daughter Zia in a recent trip to America. Instagram/Marian Rivera
Rainy days? Marian Rivera, Dingdong Dantes on benefits of 'playcation'
MANILA, Philippines — Celebrity couple Dingdong Dantes and Marian Rivera just came home from a recent trip to the United States with their toddler, Zia.
When not traveling, Dingdong said they do "playcation," wherein they just stay at home to play with Zia, and not just play, but rough and tumble play.
Why is rough and tumble play important?
Researches on rough and tumble play show that it plays important role in child development.
"Many local and international studies highly encourage rough play because it plays a vital role in a child's physical, social and cognitive development," said Prof. Perlita De Leon, an expert in Developmental Psychology from University of the Philippines Diliman.
According to her, brain development peaks during the first 1,000 days or a child's first three years, so to maximize the experience among children through active learning activities, this is best done through rough or tumble play.
De Leon said exposure to new environments and the opportunity for play not only aids in the formation of friendships, it also boosts self-confidence. Games such as crawl racing and kiddie wrestling strengthen the muscles and aid in the development of fine and gross motor skills. Through the use of tools that encourage a bit of problem solving, cognitive functions are nurtured.
The United Nations' Children's Fund (Unicef) added that rough and tumble play develops a child's gross motor control and large muscles responsible for muscle coordination, speed enhancement and psychological development, which are necessary for sports later in life.
Such kind of play, according to Unicef, also improves small motor control, which is important for developing grace and skills in writing, drawing, and arts and crafts.
Rough and tumble play also lead to emotional and social development as it establishes bonding between parent and child, and positive bonding moments between mom and baby, researches say, help in recovering from post-partum disorder.
Likewise, through such play, children learn to empathize and be adaptable to different situations and roles. They also learn to regulate behaviors, especially aggression, and discover how to take turns and strategize.
De Leon said rough and tumble play also enable kids to make quick decisions and make them persistent, critical thinkers who are experimental, less shy and more expressive or open to ideas.
How to engage kids in rough and tumble play
Before one year old: According to child psychologists, start with crawling, then gentle wrestling or roll over.
If mom is suffering from post-partum syndrome, dad can intervene through water play during baths and playing peek-a-boo while dressing up.
By one year old: You can ask your child to "fly like a butterfly" with you when walking. Likewise, you can engage in gentle pillow fights, as well as obstacle courses and chasing.
Since Zia is now over a year old, her energy is so high, said Dingdong. Zia is fearless, very sociable and active like Marian, he told Philstar.com.
"Nandun s'ya sa stage na 'di mo talaga pwedeng pigilan," he enthused.
How Dingdong, Marian spend 'playcation' with Zia
Zia loves books. "Actually, s'ya pa 'yung nag-hahand ng books na gusto n'ya," said Dingdong. Zia loves books about animals, letters and fruits.
Zia loves vegetables and rice. DongYan's little one is not a picky eater.
"Ako, mas importante 'yung proper nutrition and I'm very grateful na si Marian prepares Zia's food. One hundred percent s'ya talaga 'yung gumagawa nun mula noon hanggang ngayon. 'Pag may gusto ako, nagpapaluto din ako sa kanya. Even if may work ako sa labas, binabaon ko 'yung gawa n'ya," Dingdong shared.
Animal sounds and body parts: Zia mimics animal sounds and points at body parts when asked to, said Marian.
"In fairness kay Zia, 'pag tinuruan mo s'ya ng mga bagay, madali n'yang natutunan talaga," Marian noted.
Dingdong and Marian give Zia their full support. Dingdong said they do not restrict Zia from doing anything, for as long as he and Marian make sure their daughter has proper support for her activities and they are always conscious of her every move.
"Si Marian taga-awat, ako 'yung taga-engage," Dingdong said. "Talagang dapat, nandun kami para alalayan at suportahan s'ya."
Dr. Loverna Arcilla Suratos emphasized that it is important for toddlers like Zia to have strong and healthy skin.
"The skin is your first layer of defense against environmental irritants. Young skin – even up to age seven – is still developing. In fact, a child's skin is 30 percent thinner than an adult's and therefore, still weak and prone to irritation, scrapes and scratches. By keeping your little one's skin nourished, you can help it become stronger, more elastic and more resilient to scrapes and scratches," Dr. Suratos shared.
She recommended to resist the temptation to switch to family bar soaps that can further weaken skin and to continue use of mild liquid washes and lotions that contain powerful nourishing ingredients. Oats, for example, contain avenamethrides, a naturally-occurring compound that has properties that protect against skin irritation. Products that contain milk and rice are often fortified with vitamins that help keep skin not just soft and smooth, but, more importantly, strong and healthy.
According to Ria Gatmaitan, Senior Brand Manager of Johnson's, the company's milk range contains milk proteins sourced from European cows. It is also said to be fortified with 200 percent more skin vitamins and locks in moisture for up to 24 hours so that skin feels strong and healthy after just one use.
Even when it comes to entering showbiz, Dingdong and Marian will be fully supportive of their daughter.
"Later on, magiging choice n'ya 'yun. Ang mahalaga, we're here to support her kung anuman ang gusto n'yang mangyari sa buhay n'ya and guide her. Kasi hindi pa namin alam kung anong magiging hilig n'ya eh. Pero ang mahalaga also is to introduce all options to her para maging free s'ya pumili and basta nandun kami para sa kanya in every step of the way," Dingdong assured.
According to Marian, "Gusto kong maging role model sa anak ko kasi. Sa bawat gagawin ko, gusto kong maging ehemplo n'ya kaming parents n'ya, kung pa'no kami magmahal sa isa't isa, kung pa'no kami sa ibang tao, gusto namin ganun si Zia lumaki talaga."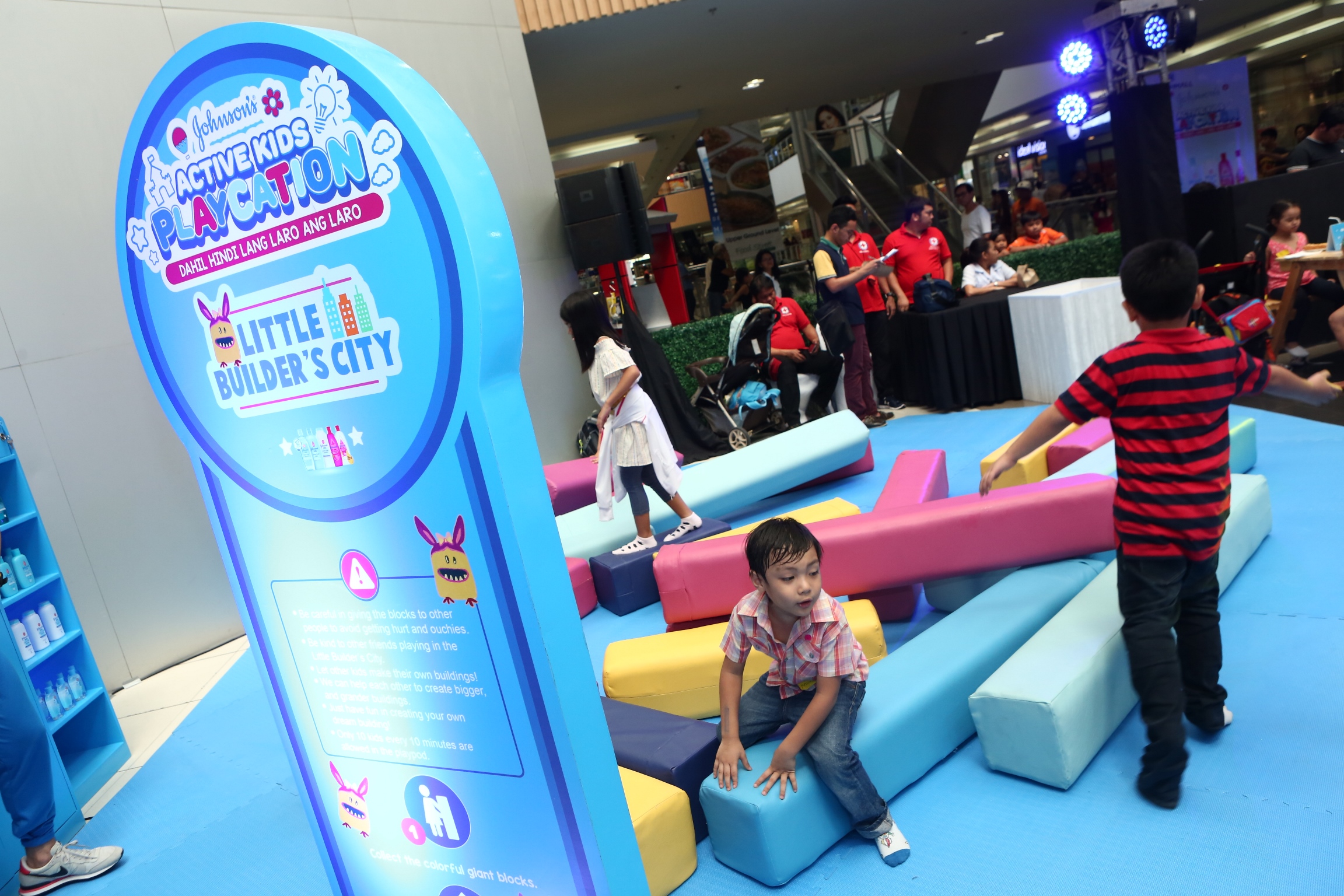 Rough and tumble play enable children learn to empathize and be adaptable to different situations and roles. Released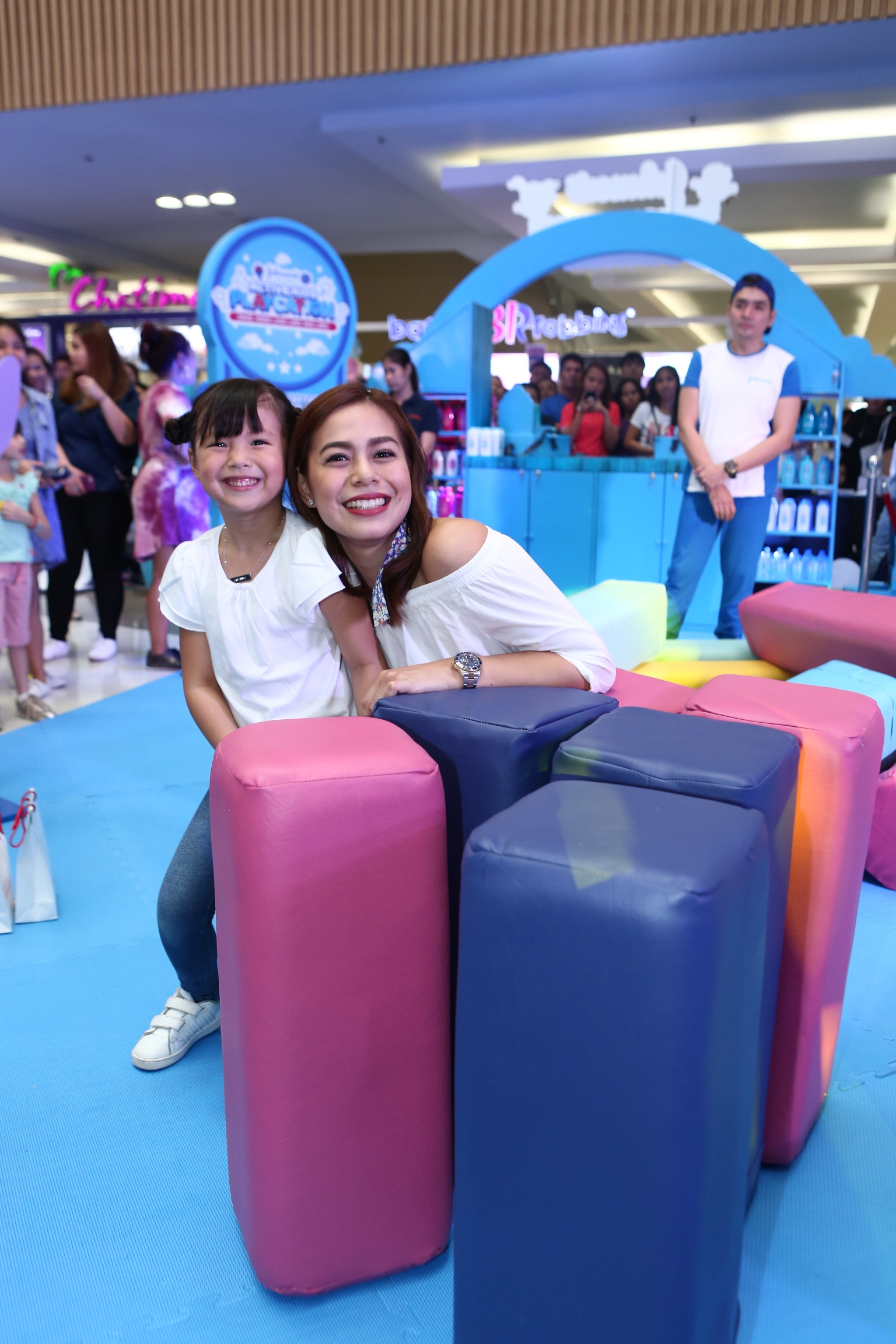 TV host Bettina Carlos and daughter Gummy also bond through rough and tumble play. Released