3 things you can do to improve your family's finances
(philstar.com) - July 27, 2016 - 7:00pm
Most, if not all, couples know that when it comes to building a family, you need to consider many things – one of which is your family's financial situation. Actually, most financial experts would say that you should know how to handle your finances even before you get married!
Sadly, many Filipino families are not as financially literate as they should be. I must admit that our own family was like that before – my husband and I were totally clueless as to how to manage our money effectively!
Thankfully, we both committed to learning and investing in our family's spiritual, emotional and financial health some years ago, and we are now in a better financial situation (but there is always room for improvement, of course).
Now, while I am certainly no financial planner or finance expert, I'd like to share a few suggestions for helping improve your family's finances, based on books and articles I've read and financial literacy seminars I've attended. I hope you'll find them helpful somehow!
1. Make a commitment to improve your family's finances.
If your family's financial situation is in a dire state now, do not fret. It's never too late to change, but you must decide to do so as soon as you can. Don't wait for tomorrow – commit to improving your finances this very moment.
Remember this wise saying by Chinese philosopher and writer Lao Tzu: "The journey of a thousand miles begins with one step." Take that one step to your family's financial success today.
2. Get a "financial check-up."
One of the best things you can do to improve your family's finances is to get a "financial check-up," i.e. to assess your current financial situation. There are numerous ways to do this; one of which is to seek the advice and wisdom of a financial educator or financial planner. He or she can help you look at your income, savings, assets, liabilities, etc. and give you tips on managing and growing your finances.

(In case you're looking for someone to help give you a financial check-up, you can contact Mon Santiago, a Wealth Academy Financial Educator and Personal Financial Management Strategies Coach via e-mail rfsanti.fantastic.life@gmail.com.)
3. Attend financial learning events.
One of the "turning points" in our family's financial life came about when my husband and I attended a free financial literacy seminar around six years ago. Admittedly, we still have a long way to go, and there is still a lot to learn. This is why we hope to attend the "Family and Finance" Conference organized by CCF (Christ Commissioned Fellowship) Family Ministry this July 30, 2016.
"Family and Finance" is a whole day conference (from 8:00 a.m. to 5:30 p.m.) aimed at equipping parents and individuals with the knowledge they need to properly manage their finances. Below are some of the topics that will be discussed:
- How to set financial goals as a family
- What and how to discuss finances as a couple
- What to teach kids about money
- The biblical perspective of money
The keynote speakers at the conference include financial education advocate Randell Tiongson, wealth and life coach Chinkee Tan and his wife Nove, "edu-preneur" Edric Mendoza and director of Crown Financial Ministries Pastor Joby Soriano.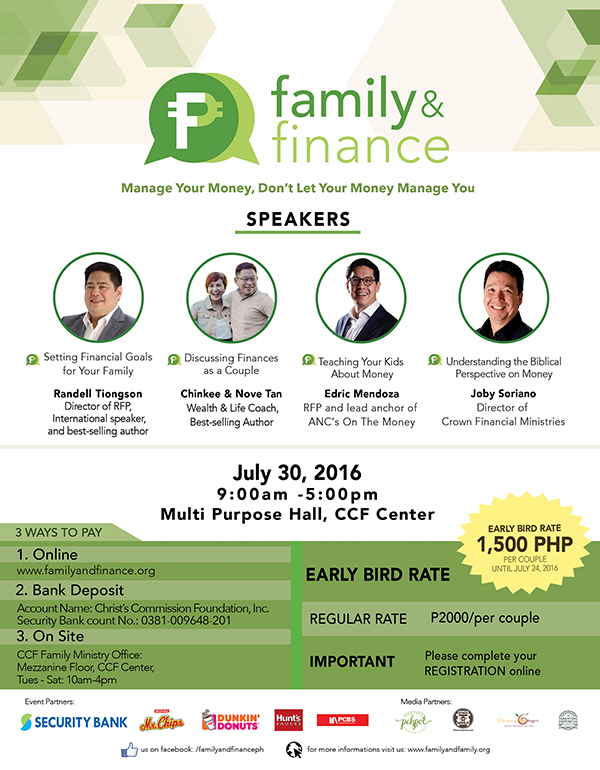 Set to take place at the CCF Center in Pasig City, I'm sure the Family and Faith conference will be an informative and inspiring event. (If you want more information about the conference, you may visit www.familyandfinance.ph.)
How is your family's current financial situation? Do you think you need help in improving it? Feel free to share your thoughts in the comments.