Lisa Macuja: Good as gold at 50
September 30, 2014 | 12:00am
Prima ballerina Lisa Macuja is 50? I asked myself in sheer disbelief with matching creased eyebrows when I heard that she's doing a show aptly billed as Gold: Lisa Macuja A Truly Classical Concert on October 4, a day after she celebrates her 50th birthday.
Indeed, time flies so fast or, in Lisa's case, time spins so fast! The ballerina who dazzled the world with her flawless pirouettes and impeccable grace is now a golden girl and it's been 30 years since she started as a professional dancer.
"I wanted to become an English teacher or Social Studies teacher at first," Lisa confesses. "Then, at 14 years old, I wanted to become a ballerina."
Lisa, daughter of Cesar and Susan Macuja, started dancing at eight. She had her first ballet class with Felicitas Layag-Radaic as her mentor. At 18, she was dancing with the Russian Ballet.
She was the first Filipino prima ballerina and the first foreign soloist to join the renowned Kirov Ballet. She's danced around the world Lithuania, Latvia, Ukraine, Armenia, US, Cuba, Mexico, New Zealand, Japan, South Korea, Malaysia, Singapore, etc.
Asked what she considers as her greatest performance so far, Lisa points out, "For a ballet performance, most probably Lisa @ 25 in 2010. I danced excerpts from my classical, neoclassical, and Filipino repertoire for almost two-and-a-half hours nonstop."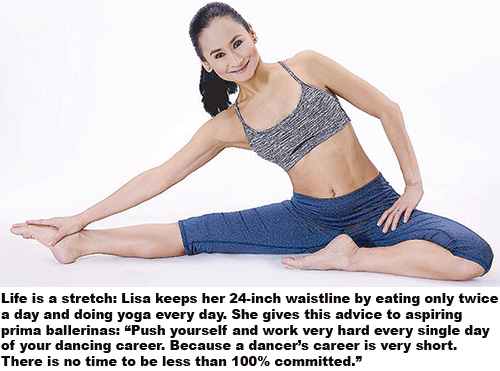 But she adds in a heartbeat, "But I guess my performance as a wife and mother is my continuous greatest performance."
Outside the world of ballet, Lisa is loving wife to Fred Elizalde (a very supportive husband, says Lisa, who allows her to pursue her passions) and doting mom to teenage children Missy, 16, and Manuel, 14.
For love of ballet, Lisa has had to endure a lot of pain. Some of the worst were the surgical procedures she had on her ankles and plantar fascia first at the end of 2010 and then in 2011.
Her ankle injury put her in a cast for six weeks. This she considers as one of the turning points (a painful one) in her life.
But if there's one thing Lisa learned from ballet, it is that "you reap the rewards of your hard work and sacrifice."
So, until what age does Lisa see herself as dancing?
She replies, "I used to answer this question with 40, then it became 42, 45, 48, 49 now at 50, I will not answer this question anymore. Because it's really impossible to say… I feel very lucky that I can still dance ballet at my age."
She's quick to admit though that age can take a toll on one's body. She probably can't jump as high or turn as fast anymore. And it takes longer to recover from sore muscles and other aches and pains after a performance. The lowdown is that the downtime takes longer.
The truth is, Lisa's looks and to-diet-for figure belie her golden years. To this day, she has maintained her whistlebait 24-inch waistline.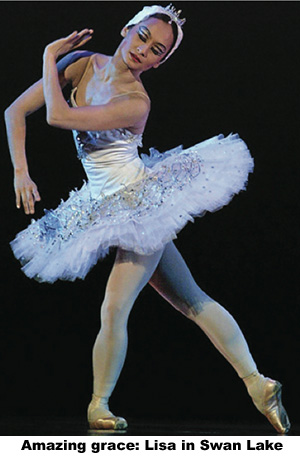 A petite 5'2", Lisa still weighs 100-104 lbs., not an ounce more (98 is her lowest). But she says she's fit (she'll tell you more a wee bit later), not skinny. She can still fit into her honeymoon clothes.
The lean and mean Lisa reveals her diet secrets: "I eat only twice a day. I have a power breakfast oatmeal, a banana, milk (regular), and a host of supplements (antioxidants, vitamins C, B, E). I take a superfood shake. I also take a cup of tea with Manuka honey, and more milk (calcium for her hardworking bones). I eat an early dinner 5 or 6 p.m. and I go all out with salad, gingerale, rice, meat. I eat a variety of meats, like chicken that's broiled, sometimes fried. I like my food to taste good, food is my reward after a punishing day. I eat the meat with the fat. I love creamy stuff. I don't eat sweets, but I sometimes eat ice cream."
Lisa loves Japanese food. Her favorites are salmon sashimi and gindara teriyaki. When it comes to food, she will not deprive herself.
She fasts for four hours before a performance.
Lisa may be a prima ballerina but inside her home, she's plain mom who wakes up at 6 a.m. to bring her kids to school. She's home by 7:30 a.m. and that's when she does her yoga for 45 minutes to one hour every day. She does yoga at home, no need to go to a yoga studio.
Her physical regimen also includes swimming. And then there's walking that is, whenever she and husband Fred travel (which is about five times a year). Her favorite city is London, which is where her sister Gia Macuja-Atchison, an actress and musical artist married to musician Robert Atchison, lives. The couple's travels not only broaden their horizons they also help narrow Fred's waistline, what with all the walking they have to do.
"We're such couch potatoes, we love watching movies, watching TV we're on Season 4 of The West Wing," Lisa admits.
While running a household, Lisa also runs her very own Ballet Manila, a ballet company for the dancers, by the dancers, and of the dancers who are trained in the highly rigorous Russian (Vaganova) method of classical ballet under the watchful eyes of Lisa and ballet master Osias Barroso.
In 2008, Ballet Manila launched Project Ballet Futures, a scholarship program to give free ballet education to elementary and high school students from public schools, mostly kids from marginalized communities. Plucked out of a life of grime and poverty, these young scholars (Ballet Manila now has 29 under its wing) are given free ballet shoes, milk, vitamins, and nutritious meals to help them keep up with the rigors of training. They may have less in life, but these young kids now have a whole future ahead of them as they're given the chance to dance ballet on stage and maybe to reach for their dream to be a prima ballerina like Lisa someday.
"Push yourself and work very hard every single day of your dancing career," is the best lesson Lisa can give her scholars. "Because a dancer's career is very short. There is no time to be less than 100% committed."
For those who want to be a ballet dancer, Lisa gives these top tips: "Start and commit early while you are in your teens at least. Work very, very hard with the best teachers you can train under. Keep at it regularly four to six times a week and warm up at least 15 minutes before class starts. Always give yourself 10 minutes after class to stretch."
Sounds tough, doesn't it? But despite all the hard work, by no stretch of the imagination is Lisa hanging up her pointe shoes and tutus anytime soon.
Bravo, Lisa!
* * *
Jointly presented by Ballet Manila and the Manila Broadcasting Company, tickets to Gold: Lisa Macuja A Truly Classical Concert are available at Ticketworld, tel. no. 891-9999 or www.ticketworld.com.ph.