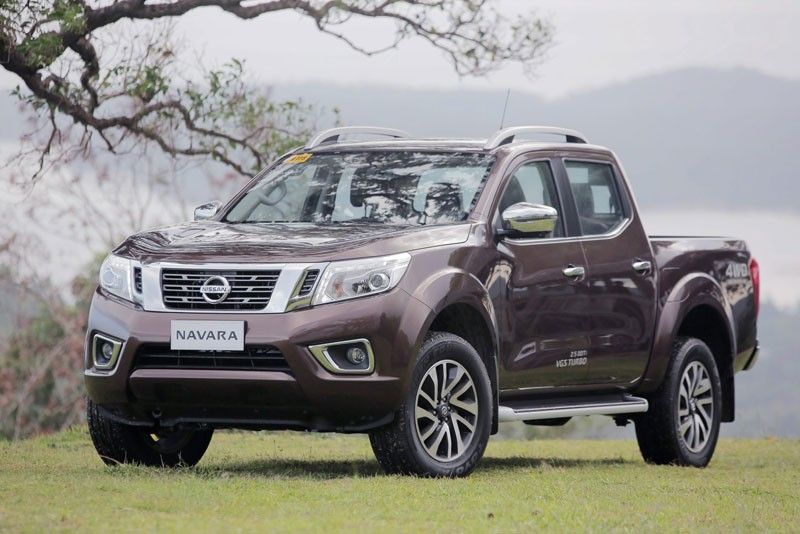 Wrapped in strength: The Nissan Navara
Intelligent and comfy pickup: Nissan Navara
Kathy Moran
(The Philippine Star) - March 19, 2019 - 12:00am
MANILA, Philippines — This is not the first time that I have found myself behind the wheel of the Nissan Navara. But let me share with you that each time there is something different about the Nissan Navara— yet it is the pickup that I have felt truly safe behind its wheel.
Let's see, the Nissan Navara is now equipped with Nissan Intelligent Mobility (NIM) features.
There is that uber powerful 2.5-liter 4-cylinder engine with VGS Turbo. The Navara is the first and only pick-up with seven-speed AT. Its high power and fuel efficiency ensures optimum output while reducing soot and particulates in exhaust and minimizing deposits in the engine. Low-friction components prolong engine life, reducing oil change frequency and other maintenance costs.
There is always something that has to be said about a pickup that makes driving easy and is economical — it is a keeper.
I must add that the dual cab chassis that can cater to a maximum of five passengers is lovely on a long drive with friends. As I got first hand experience when I loaded the pickup with four friends and to early out of town trip. I took a needed break with a few friends and we loaded comfortably into the Navara. It was leisurely drive to Tagaytay this weekend and Breakfast at Antonio's was the place we had set out drive on.
As I sat and dreamed of what I would have for breakfast it did not escape my notice how much room the Navara has. Of course there is the aerodynamic exteriors in 4x4 variant reduce wind drag on the pick-up, which made this hefty pickup nimble as it drove by the slower moving vehicles on the NLEX.
The Multi-Information Display: a color monitor sitting right in front of the gauge cluster, which shows key information about the car's performance, condition, and other relevant details about your vehicle kept me well informed about how the Navara was doing as I drove along.
I took the quiet time to give the cockpit a good once over. I was charmed by the
Nissan Intelligent Key with Push Button Start: allows users to unlock the front doors, start the engine, and drive without inserting actual keys through communication with the car via signals and antennae.
What bumps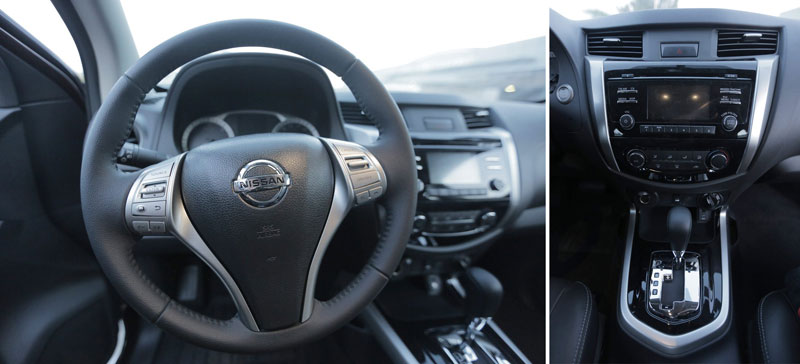 A view from the cockpit: The center console and the lovely steering wheel
When on is in the cockpit of a pick it is not too easy to feel how the rest of the pickup is doing behind but with the Multi-link Rear Suspension System: first and only in the Philippine pick-up segment; its lightweight, coil-spring, five-link suspension it provided improved ride and handling comfort, and off-road capabilities. Let's just say it simply the ride was definitely smooth sailing all the way.
As I made my way through the roads of Sta. Rosa and up to the entrance of Tagaytay I could feel the grumble in my stomach, as it somehow knew that Antonio's was just a few minutes away.
I liked the other feature of the Navara like Vehicle Dynamic Control (VDC), Traction Control System (TCS), Hill Start Assist (HSA), Hill Descent Control (HDC) work together to achieve optimum control of the vehicle for safety and more confidence while driving on any terrain.
And a big plus going for this Navara is the intelligent Around View Monitor (AVM) camera system (4x4 and 4x2). It allowed the Navara to use four cameras, providing a virtual, composite 360° view of the vehicle from above. This feature allows drivers to avoid obstacles and park with ease.
It was when I was about to park the Navara in the spacious parking area — it seemed that we were early for breakfast — that I noticed the more luxury feel for a pick-up truck and additional convenience when adjusting the driver seat.
As I hopped off the driver's seat and as my friends pushed each other out of the back cabin I gave the pickup another once over.
It was then that I realized the Nissan Navara is really not just a looker — but it is one of those rides that one loves because of how sturdy it is making for a comfy ride in a muscled body.
Breakfast was calling — answer I did.
I love early mornings like these — and a cool drive is truly a bonus.