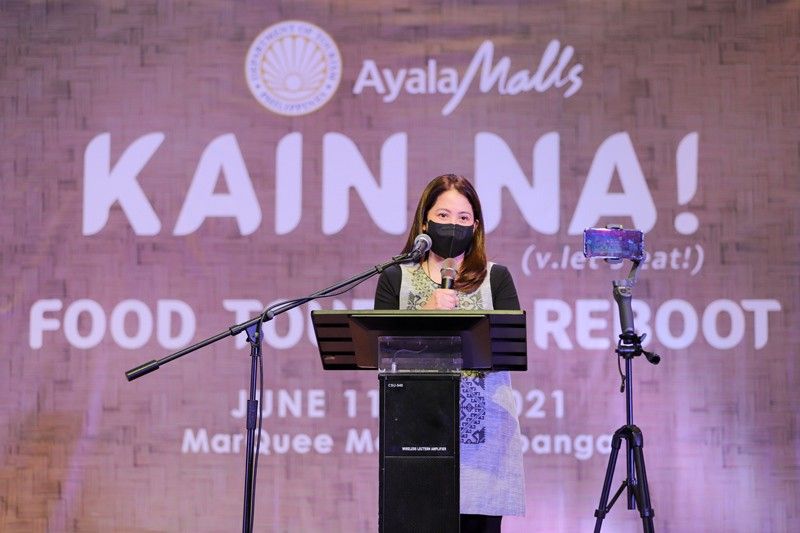 Tourism Secretary Berna Puyat at the opening of Kain Na! in MarQuee Mall, Pampanga
What drives me? Good Food in Pampanga
On Independence Day this year I was in the mood to escape the isolation of this pandemic and drive out to open roads and greener views.
So, I opted to go to the Kain Na! Food fair at MarQuee Mall in Angeles, Pampanga.
Let the drive begin
My ride was the ever-fun-to-drive, newly refreshed Honda CRV. It has been updated with sophisticated and modern styling features combined with a powerful and efficient turbo diesel engine and seven-seater capacity.
I liked how the 1.6 SX Diesel 9AT AWD new Hands-Free Access Power Tailgate — through the use of sensors under the rear bumper — enables the rear tail gate to open through a kicking motion when both hands are occupied — shopping and loading made easy.
The ultra-smooth ride down NLEX in the 1.6-liter DOHC i-DTEC Turbo Diesel engine-mated to a 9-Speed Automatic Transmission was nothing short of exhilarating and heavenly.
The Honda Eco Assist System, which consists of the ECON mode and Eco-Coaching Ambient Light helped in enabling fuel-efficient driving.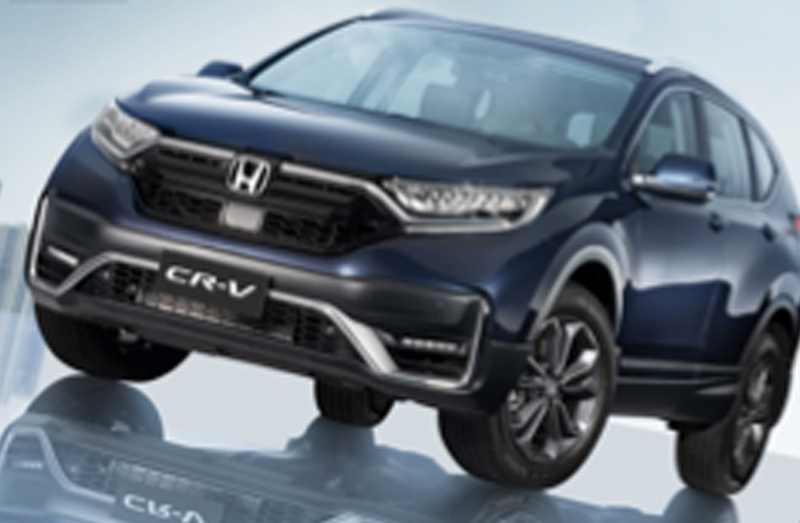 With such a safe ride, my thoughts wandered to the day ahead as the road seemed to blur.
I thought about what was waiting for me at the MarQuee Mall.
You see, Kain Na! had for its theme "Food Tourism Reboot," a continuing effort by the Department of Tourism to help restart the tourism industry, which has been one of the most badly affected industries of this pandemic.
Food trip and more
I arrived at the MarQuee Mall feeling refreshed — the drive cleared my mind and made me hungry.
I was told that the best delicacies from the Cordillera Administrative Region, Ilocos, Central Luzon, MIMAROPA, CALABARZON and Soccsksargen were waiting for me.
"Each year, the Kain Na! Food and Travel Festival continues to evolve in response to the needs of our valued tourism stakeholders," said DOT Secretary Berna Romulo-Puyat during the opening ceremony.
At the Food fair, DOT was represented by Verna Covar Buensuceso, Assistant Secretary for product and market development and her team, who were all in high spirits as they continued to heat up tourism efforts to stir up the local food tourism scene with the 2021 Kain Na!
"With the help of the PHILTOA Food Tourism Consortium, let's see what real places, stories, food and people we can find as they offer slow-food travel experiences," added Puyat in her remarks.
I entered the mall, which, sadly, was still relatively empty even it was already noon on a Saturday. Although the usual mall crowds were absent, this did not dampen the high spirits of the people behind the 20 physical booths that were put up for the festival. I was told that even with the limited foot traffic, the exhibitors were happy that visitors were actively shopping and were quality buyers. This was good to hear, as it meant that Kain Na! was fulfilling its objective of providing a venue to help food tourism stakeholders.
It was fun to listen to the regional sellers as they promoted their unique products and talked animatedly about exciting food experiences to be discovered at their destinations. It made me want to do road trips to experience these foodie adventures firsthand.
At the hall, the main screen showed TED talk-inspired Food Tourism 101 discussions on new food tourism trends like cloud kitchens and platforms like Viber's Food Bot. And to whet foodie viewers' appetite for travel, Food Tourism Exchange "webisodes" streamed live on Facebook uncovered new foodie experiences in Luzon, Visayas and Mindanao. It was interesting to see how the pandemic has caused the birth of hybrid events such as this that maximize both digital and on-ground spaces.
Puyat added that this leg of Kain Na! was special with the unveiling of culinary tour packages and food trips developed by the Philippine Tour Operators Association Inc. (PHILTOA). Earlier this year, the DOT led food tourism validation caravans to uncover new culinary activities and tourist attractions to recalibrate tour product offerings.
As a result, a food tourism consortium has been formed to roll out these slow-food travel experiences through the picturesque mountains of Benguet Mountain Province, the culture and history-laden lowlands of Ilocos, La Union, Pampanga, Bulacan, and the artsy and quaint heritage stops of CALABARZON. More food tourism packages will be developed with the opening of more provinces in the country.
It is great that the Ayala Malls continue to support the culinary scene through Kain Na! I was told that Kain Na! will also run for multiple months this year at various Ayala Malls around the country.
"Kain Na! at Ayala Malls helps bridge many of the country's best culinary talents to a wider market, thus providing our patrons access to local specialties that they won't easily find in the city," said Charmaine Bauzon, Ayala Malls area head, North, and head of Ancillary Business. "The opportunity to sample these delicacies feels more notable as we rediscover what it means to travel during the new normal."
I was full of hope as I left the MarQuee Mall that day… a hope that came from people in the tourism industry, who are full of optimism that we will soon reach the end of this pandemic and that there will be much to celebrate and eat as we revisit our wonderful country again.
That time is close at hand.
* * *
Visit www.kainnastore.com to discover hundreds of food products and local delicacies from Luzon, Visayas, and Mindanao and help support our food and farm tourism stakeholders.
For more information on ongoing promos, mall events, and safety measures, visit Ayala Malls at https://www.facebook.com/AyalaMalls360/ or through IG @iloveayalamalls.