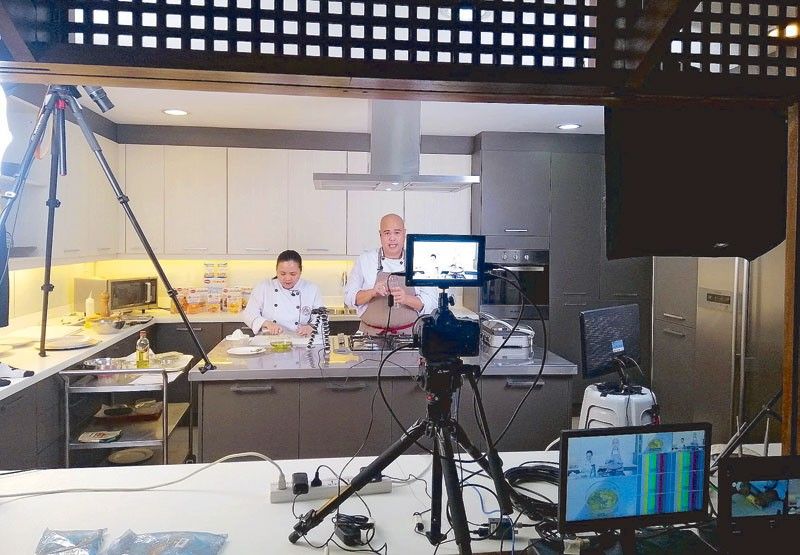 Culinary experts: The Maya Kitchen chefs Dan Libunao and Charina Cano teach the online Mediterranean cooking class.
Travelling to the mediterranean via a cooking class
Every year The Maya Kitchen holds a Mediterranean cooking class, teaching dishes from European countries like Spain and Italy, all the way to North African countries like Egypt and Morocco.
Why Mediterranean? It's been touted as one of the healthiest and most delicious cuisines in the world. Heavy on fresh produce and olive oil, and light on processed foods and saturated fats, it's been shown to lower chronic disease and increase life expectancy. It might even help you lose weight healthily, with its emphasis on vegetables and whole foods.
This year's class was virtual, of course, taught by Maya Kitchen chefs Dan Libunao and Charina Cano, who demonstrated how to cook Turkish beef kebabs and Lebanese tabbouleh salad.
These dishes and the wonderfully fragrant herbs and spices they used reminded me of the Grand Bazaar in Istanbul, where they sell spices in rows of open sacks so colorful they resemble a rainbow.
On the family vacation we took in 1999 to Turkey, Egypt and the Holy Land, not only did we visit amazing sites like the Trojan horse, the pyramids of Giza and the Sea of Galilee, the incredible food made the trip unforgettable.
Our hotel by the Nile served not just one but two buffet spreads — one western and one Egyptian — and instead of choosing one cuisine a day, most days I ended up eating two breakfasts, preferring the Egyptian spiced porridge loaded with dates and nuts to plain old oatmeal.
We discovered a restaurant in Cairo called Felfela, which introduced us to kebabs, falafel and shakshouka.
Cooking along with chefs Dan and Charina, I learned that these Mediterranean dishes are so flavorful because they're packed with herbs and spices. A salad like tabbouleh is an ideal dish for summer because it contains cooling vegetables like cucumbers and tomatoes.
I also picked up a lot of useful tips, like how to bring out the maximum flavor and aroma of the spice mix by pan-roasting it first, and how to cut onions so that you'll "cry" less. The secret is not to remove the root at the end while slicing so that the onion sap, which is what brings tears to your eyes, can't escape.
On its website The Maya Kitchen is offering a series of online classes that might even help you start your own home food business, like their "Gourmet in a Bottle" class that will teach you how to make liver paté and gourmet tuyo, or satisfy food cravings like the upcoming "Tonkatsu and Katsudon" class on May 8, or "Takoyaki and Okonomiyaki" class on May 19.
Whichever class you take, The Maya Kitchen's 57-year history guarantees you'll have expert chefs as guides and end up with dishes so delicious you can sell them.
* * *
For more recipes and the schedule of classes, visit https://themayakitchen.com/ .
Follow the author on Instagram @theresejamoragarceau and Facebook (Therese Jamora-Garceau).
Quinoa tabbouleh salad
Ingredients:
1 cup cooked quinoa or Risoni pasta
1/3 cup scallions or spring onions
2 medium-sized red or white onions, finely chopped
1 cup chopped fresh tomatoes
2 medium-sized cucumbers, seeded and diced
1 cup flat parsley
1/2 cup fresh mint (optional)
Put the raw quinoa in a fine-mesh strainer and wash it once as you would rice. Cook in 2 cups of water and bring it to a boil over medium-high heat, stirring occasionally so quinoa won't stick together. Boil for 10-12 minutes until cooked. Fluff it up with a fork.
Pro tips: Chop most of the stems off the parsley but leave a little on for flavor. Roll the leaves into a ball to make chopping easier. Also when cutting vegetables, use a very sharp knife because dull knives bruise vegetables and fruits.
In a big salad bowl, put all the chopped vegetables and herbs and toss them together.
For vinaigrette:
2 to 3 tablespoons freshly squeezed lemon juice
1/3 to 1/2 cup extra-virgin olive oil or sunflower oil
1 clove garlic, minced
Salt and pepper
Rosemary, sage, basil and mint
Put all ingredients into a small jar, cover and shake before serving on the side or tossed with the salad.
Hot grilled beef kebab skewers
Ingredients:
500 grams ground beef or ground chicken
1/4 cup Maya All-Purpose flour
1 whole egg
1 teaspoon each of garam masala (or substitute with a pinch of cinnamon, fennel seed and cardamom), cumin powder, coriander and allspice
1/4 cup wansoy, chopped
Salt and pepper
Wooden skewers (BBQ sticks or popsicle sticks)
Procedure:
Roast all the spices (garam masala, cumin, coriander and allspice) in a pan until it starts smoking and becomes fragrant.
Add the whole egg, flour, roasted spices, wansoy, salt and pepper to the ground beef and mix by hand until it feels tacky. (You can also add chopped onion, flat parsley and chilies to add more flavor and heat if desired.) Let the beef mixture rest a few minutes in the fridge while you prepare the tabbouleh salad.
Once the beef has firmed up a bit, form the kebab around the stick shaped like a corn dog. If you prefer, you can just form the mixture into meatballs. Grill or pan-roast the kebab/meatballs, making sure to get a good sear on one side before turning it so that the juices are kept inside. Grill on all four sides until cooked to desired doneness. Don't keep turning the kebabs so they won't dry out.
Serve with sauce, quinoa tabbouleh salad and toasted pita bread, if desired.
For the sauce:
1/2 cup plain yogurt
1/2 cup sour cream
3 – 4 cloves garlic
1 small white onion, grilled
1/2 medium-sized cucumber, seeded and coarsely chopped and squeezed
1 teaspoon cumin
Salt and pepper
Put all ingredients in a blender or food processor and pulse until vegetables are finely chopped and the sauce is smooth.