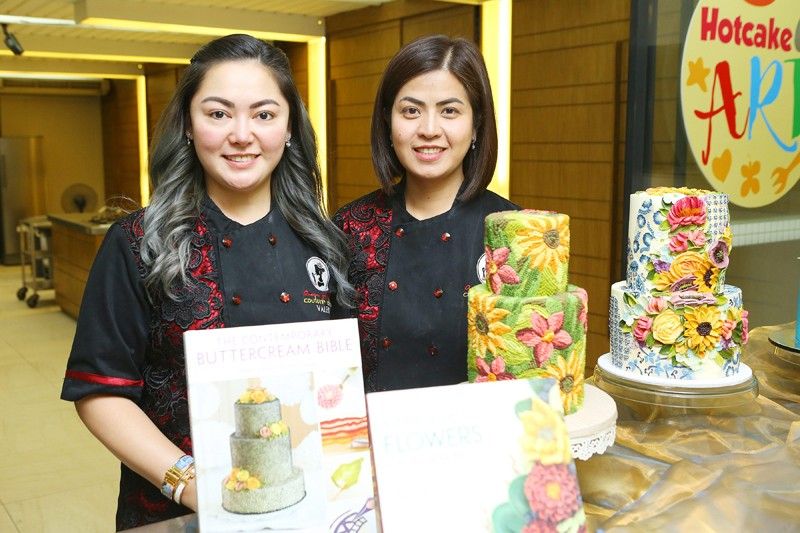 The Queens of Buttercream Valeri Valeriano and Christina Ong, owners of the London-based Queen of Hearts Couture Cakes shop, hold a special cupcake-decorating workshop at The Maya Kitchen.
Bake with your kids at home in this time of Covid-19
OOH LA LAI
-
Lai S. Reyes
(The Philippine Star) - March 19, 2020 - 12:00am
As children are displaced from their schools to reduce the possible spread of the Covid-19 virus, most parents — who would be shifting to working from home, too — are suddenly faced with the challenge of keeping their kids happy, busy and learning at home.
It's one thing to entertain them all day on weekends. It's another when you have seven days a week to fill for an indefinite period of time.
Thank goodness, most schools remain actively connected to their students. Every day, my nieces would attend "classes" online via Google Classroom and FB messenger. Teachers would send them worksheets and even tests online. While their academics are pretty much covered, the challenge is how to keep them busy and stay productive as soon as they log out from class.
Ready, Set, Bake!
One fun activity kids will surely love is baking. Baking introduces life skills to children early on. It not only builds their math skills and boosts reading skills, but also helps build self-esteem by giving them the skills they need to feed and look after themselves as they grow.
"Baking helped us survive during our trying times in London," relate good friends Valeri Valeriano and Christina Ong, who tried her luck in London in 2008.
Valeri is a licensed nurse, while Christina finished economics.
"The first month was easy because we still had our savings," shares Christina. "But after a month of being tourists, reality kicked in. We had to work to live and survive in a foreign land."
It didn't matter that Valeri was a licensed nurse in the Philippines. She still had to process her documents and undergo a six-month training period to find work.
Ong, on the other hand, had to take short courses to be in the medial field. And so, just to be able to survive, they took on odd jobs.
"We worked as waitresses, baristas, nannies," admits Christina. "We even cleaned houses for extra income."
When they finally got to practice their profession in 2009, a recession hit the UK.
"We lost our jobs," notes Valeri. "So we applied as agency nurses. Meaning, we worked as nurses but not in a hospital setting. We got assigned to families to attend to their kids' home rehab."
That was when the duo met two amazing British families who accidentally led them on a different career path.
"We were looking after their kids and we got so close to them," shares Valeri. "In the UK, Mother's Day is celebrated in March. So, to mark the occasion, we decided to bake cupcakes for these amazing British moms."
But there was one problem: Valeri and Christina didn't know how to bake.
"Well, Google is a friend," says Christina with a hearty laugh. "We found this cupcake recipe online. But how do we make them pretty?"
Just log on to YouTube "university."
"We watched tutorials on buttercream cake design," Valeri adds. "And so, come Mother's Day, we managed to bake this sunflower cupcake, which the recipients found 'beautiful."'
The accidental bakers outdid themselves the following year by making cupcake bouquets for their bosses.
"Oh, the moms loved it," Christina enthuses. "They encouraged us to make a business out of it."
Valeri and Christina heeded the advice. "We started sending emails to pre-schools and offices near our place to promote our cupcakes," shares Valeri. "But no one seemed to be interested. So we decided to forget about it and just go back to nursing."
After three months, Valeri and Christina got a call from a lady who works in a pre-school.
"She told us that they were holding their summer school fair in two days. But the mom who was supposed to be selling cupcakes couldn't make it," shares Valeri. "And asked us if we were interested. Of course, we were!"
Valeri and Christina lived in a cramped, studio-type flat in London.
"It's a shoebox. It could only fit a bed, a tiny bathroom and a kitchen that had space for only one person at a time," Valeri says.
They also had a five-liter tabletop that could only fit six cupcakes at a time.
"All the cupcakes were resting on the bed. So we didn't sleep for two days," says Christina.
Since it was a school fair, they sold their cupcakes at a cheaper price. But the universe conspired. At that same fair, Valeri and Christina met a lady who was the head organizer of all the fairs in London.
"Summertime in the UK is a much-awaited event. They hold a lot of activities outdoors," relates Valeri. "The lady told us that if we would commit to her that we would join all her fairs, she would not accept anyone else who would sell cupcakes."
And yes, the lady and their small oven, amazingly, made them who — and brought them to — where they are now: the "Queens of Buttercream."
The sweet life
Valeri and Christina pioneered contemporary buttercream art and developed the most intensive and extensive techniques in buttercream decorations. They are the founders and owners of the London-based Queen of Hearts Couture Cakes shop and are two of the most sought-after speakers on buttercream decorating and have held hands-on workshops in Europe, the US, Asia, the Middle East and Australia.
"Buttercream wasn't big in the UK then," says Valerie. "Everyone was into fondant and royal icing. We said that if we wanted to make a name for ourselves, we needed to do something that was not out there yet."
Every single technique showcases multi-faceted art that distinguishes their style from the rest. They offer unique, intricate, hand-piped and floral designs.
We got the chance to learn how to make these beautiful buttercream floral designs from the queens themselves during the special "Dessert Dreams with the Queens of Buttercream" workshop organized by The Maya Kitchen.
Despite their busy calendar, Valeri and Christina still make time to travel to Manila at least once a year. Their passion for baking and sharing their knowledge has also led them to organize the first "Cake Fiesta Manila" in 2019, the first ultimate cake show in the Philippines.
Supported by Maya, the event is considered the biggest baking and cake-decorating expo in the country, with a second run slated on Nov. 13 and 15 at the SMX Convention Center, Pasay City.
Don't let the Covid-19 virus dampen your spirits. Roll up your sleeves and have a great bonding time with your kids by making cupcakes that are too pretty to eat.
* * *
Like and follow The Maya Kitchen on Facebook and Instagram @TheMayaKitchen1 and follow @TheMayaKitchen on Twitter.