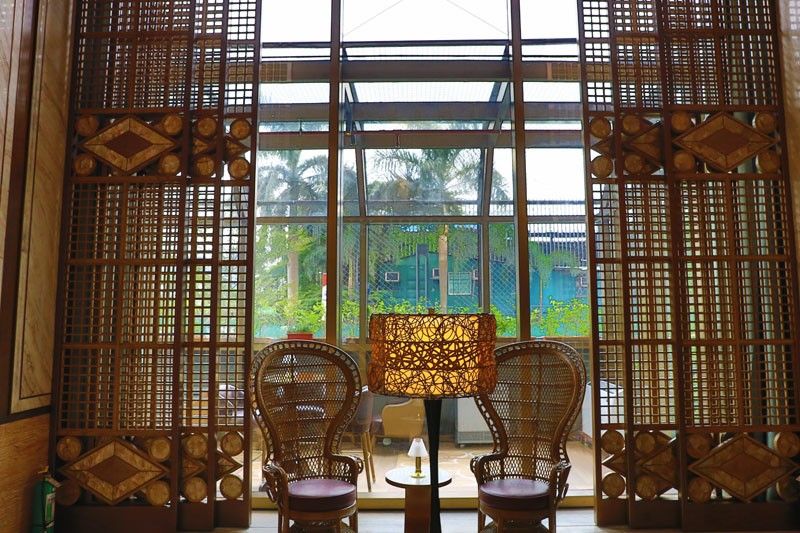 The comedor boasts traditional Bahay na Bato-inspired interiors that exude a warm, homey, and relaxing vibe, one that resonates with a classic Filipino ancestral home.
Walter Bollozos
Casa Buenas: Pinoy classics with old-world Spanish charm
Kathy Moran
(The Philippine Star) - February 13, 2020 - 12:00am
A year and six months ago I was asked what I wanted to do with this restaurant," said executive chef Godfrey Laforteza of Casa Buenas, the newest restaurant of Resorts World Manila. "When I was young, my lola would always invite me to their house. They would bring out the best kubiertos and they would prepare Filipino food with a Spanish twist. I want to bring that back because I think people have forgotten about classic, home-cooked meals — everything moves so fast."
It was with these words that chef Laforteza introduced Resorts World Manila's (RWM) newest signature dining outlet, Casa Buenas, which officially opened its doors to diners this February. The Filipino-Spanish restaurant is a tribute to all things Filipino — from yummy cuisine, lovely architecture, and great Filipino hospitality and service.
As soon as I entered Casa Buenas in Hotel Okura, I was smitten. It is a restaurant that transported me back to a time that I have often read about in Philippine history, where life was simple and a shared family meal on huge tables was the norm.
The 135-seat restaurant boasts traditional bahay na bato-inspired interiors that exude a warm, homey, and relaxing vibe, one that resonates with a classic Filipino ancestral home. I was immediately in awe of the high ceiling and the very unique Spanish-Filipino architecture that must have prevailed during the time of our national heroes like Jose Rizal.
The timeless aesthetic highlights quaint mixes of sophisticated designs from all over the country, including baked capiz, intricate wood marquetry and wood inlays, handcrafted lattice work, and hand-carved hardwood floors — simply beautiful with a feel of airiness and lots of space because of the high ceiling.
The gracious Filipino hospitality and service of the staff also spell out a world-class experience.
Filipino touch
"The food I prepare here, which has gone through a lot of preparation, has a unique Filipino touch," added Laforteza. "Although I have served you Kurobuta pork chops and US Angus beef, I made sure to add a Filipino touch to the meal. Because these are heavily influenced by mixed Filipino culture and heritage."
The specially concocted dishes for the lunch included zestful appetizers such as Kumot, a Vietnamese-inspired dish with vermicelli noodles and seafood "blanketed in love," to off-the-grill specialties served with in-house sauces like Iberico pork spareribs, paellas and tapas.
For Kumot, chef Laforteza said that although the dish was inspired by Vietnamese spring rolls, the idea of wrapping the ingredients in a blanket (kumot) of love is very Filipino.
Other must-try dishes include Tuna Tartare Kilawin with coconut cream pinakurat, premium Grilled Kurobuta Pork Chop, Cebu lechon-inspired Sinulog Roasted Lechon Manok, high-quality Grilled US Angus Rib Eye Steak, and brandy-infused Emperador Strudel.
The chef prepared a vegetarian version of the dishes for me, which he said was easy to do because all the garnishes and sauces are vegetarian. Yummy. And if I were to judge the savory-ness of each dish, I would have to say that they were all delicious based on the oohs and ahs I heard from my seatmates as they took a bite from each seafood and meat dish that came out.
"I like that the flavor of the chicken in the Sinulog dish was just right, with a taste of grilled yumminess," said my young seatmate. "Of course, it was made even better with lechon stuffing that is soo popular in Cebu, on the side."
"I liked the way the Kurobuta pork chop was grilled," chimed in another. "The flavor of the grilling was not overpowering and the pork was soft to the bite."
Listening to them made me smile because their comments affirmed the yumminess I was tasting in the vegetables that came my way. But I really liked the vegetables tartare. The vinaigrette was not too salty or sour — just the way I like it. And that it was served with equally delicious toasted bread — just perfect.
But, dessert-lover that I am, I have to name the Tablea Chocolate Fondant as a fave. When I sliced into the cake, the chocolate oozed from within. Each bite is made more flavorful with a dollop of vanilla ice cream. Perfect.
"The tablea is from Davao," said Mae Bernardo, corporate communications RWM. "There is really something Filipino in all the dishes."
As we were finishing up our lunch, chef Laforteza shared with us his dreams and vision for the restaurant.
"Casa Buenas is a restaurant where, when one enters, he or she begins to feel at home. All the stress of the day is left outside," he said. "I envision this restaurant as a place where, as a person comes in, he or she already feels the experience of home and love. Like you are submerged into a different world of cuisine. We have five senses: sight, smell, taste — stomach has to feel good — and heart. And I know that if the experience touches your heart and reaches your stomach, for sure you will come back."
So, in this month of hearts, Casa Buenas is orchestrating a three-day Valentine dinner, La Serenata, featuring a special six-course menu crafted like a traditional kundiman. The romantic dinner will start with Tuna Tartare Kilawin and Kumot for amuse bouche, Gambas and Grilled Octopus for hot appetizer, Salmon Yazu Dashi for soup, Grilled Beef Tenderloin and Iberico Pork Jowl for mains, homemade pralines for Mignardise, and finally, Emperador Strudel for dessert.
Guests may opt for an intimate couple date for P6,000 net or exclusive date at La Cupula for P10,000. The restaurant also offers a group date at La Cupula, the special private dining area, and Pamilya, the communal table.
"We bring to you the classic here, old school," he added. "I remember the good food with family that Lola prepared and all the expensive kubiertos that she used. That's what Casa Buenas is all about — good food prepared the classic way and conversation with family that touches the heart."
* * *
Casa Buenas is open daily from 11 a.m. to 1 a.m. It is located at the ground floor, Grand Wing, Resorts World Manila.
For information, call 0917-878-8312 or 7908-8988, email casa.buenas@rwmanila.com, visit www.rwmanila.com or download the RWM Mobile App.