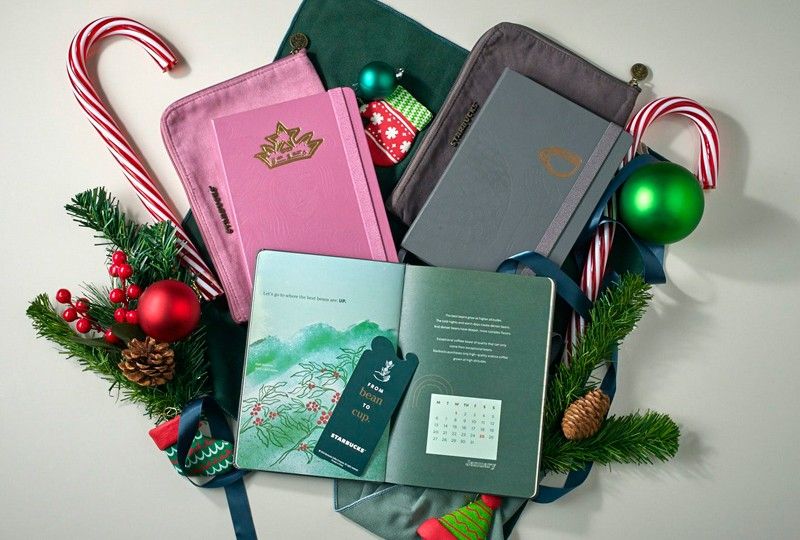 The 2020 Starbucks Planners & Travel Organizers come in 'Gram-worthy colors with luxe suede pouches and leather covers, respectively.
Why is the starbucks planner such an object of desire?
This the season to get sticker-happy once again as Starbucks rolled out its much-anticipated planners and travel organizers for 2020.
We had a first look at the covetable items in a media preview presented by Starbucks Philippines marketing head for categories and quality assurance Keith Cole and marketing manager Jo-Ann Ramos at Clock-In co-working space at Ayala North Exchange in Makati City, prior to its grand launch last Sunday at the Activity Center of Glorietta 2. As expected, the new collectibles drew oohs and ahs from the crowd.
"Every year, we at Starbucks Philippines always think of ways on how to make our planners more covetable, collectible, unique and exclusive," shared Cole. "So right after launching the 2019 planners and travel organizers last year, we put our game face on right away in planning for the 2020 collection. A lot of work and passion went to making these annual holiday treats."
How do we love the 2020 Starbucks Planners and Travel Organizers? Let us count the ways.
• 'Gram-worthy colors. Literally #nofilters needed. With two color options to choose from, the daily planners come in Berry Pink and Frost Gray, while the travel organizers are available in Neo Mint and Coffee.
• The Siren logo. The planner features a hardbound leather cover brimming with meticulously embossed details of the iconic Starbucks siren. On the Berry Pink, you'll see the Siren's face and crown, while the Frost Gray bears the Siren's tail.
"We know that our customers enjoy having the Siren logo in any of our merchandise; we've included the Siren logo in the design," noted Ramos. "The Siren is also found in the notebooks inside the travel organizers."
• Luxe suede pouch and leather covers. The daily planners come with a fashionable pouch made from premium soft suede material again, with a Siren logo zipper pull. The travel organizers, on the other hand, boast leather covers (from Valencia, Spain) made of pre-consumer recycled cowhide fibers.
"When we launched the travel organizers last year, customers said it would be perfect if there were more slots to store their essentials," recalled Ramos. "Again, we listened. There are now more slots for your cards, phones, even your passports." It also comes with a pen pocket and mini notebook.
• More add-ons. Both the exclusive planners and travel organizers come with Starbucks stickers, a bookmark and tear-off beverage vouchers that customers can use throughout the year.
• They're sustainably produced. With the brand's promise to stay true in supporting sustainable movements, the pages of the planners and travel organizers are produced with eco-friendly paper. "It's done in a facility certified by the Forest Stewardship Council (FSC)," explained Cole. "FSC is an independent, non-government and non-profit organization sealed to promote the responsible management of the world's forests."
#Merry Coffee At Starbucks
As we all know, we can't just go to any Starbucks outlet and purchase the daily planner and travel organizers. These can be redeemed upon completion of at least 18 stickers. And so, from Nov. 2, customers can collect one sticker for every purchase of any Tall, Grande or Venti Starbucks handcrafted beverage.
This year, Starbucks added a new holiday beverage — the Starbucks Wishing Star Dark Mocha — to make collecting stickers more exciting and enjoyable. The chocolaty drink is topped with a swirl of green tea whipped cream and wishing star-shaped crisps to ensure that every sip is merry and bright. Available in hot, iced and blended.
You can also enjoy comforting sips of the returning favorites Toffee Nut Crunch Latte and Peppermint Mocha.
For over 30 years, Starbucks has celebrated the holidays with their Christmas Blend, a spicy and sweet cup of coffee with hints of comfort and joy.
Enjoy these drinks with Starbucks' new lineup of holiday treats such as the Blue Velvet Lamington, a blue-colored, moist and dense sponge cake coated with white chocolate buttercream and desiccated coconut; the Raisin Pistachio Chocolate Bar; and Cookies and Cream Chocolate Bar.
"Guys, you know the drill: Get 18 stickers by buying any Tall, Grande or Venti drink and fill out a promo card to redeem a planner or organizer," said Jamie Silva, Starbucks Philippines category manager. "E-stickers on the Starbucks Philippines app are also honored."
Redemption is until Jan. 7, 2020.