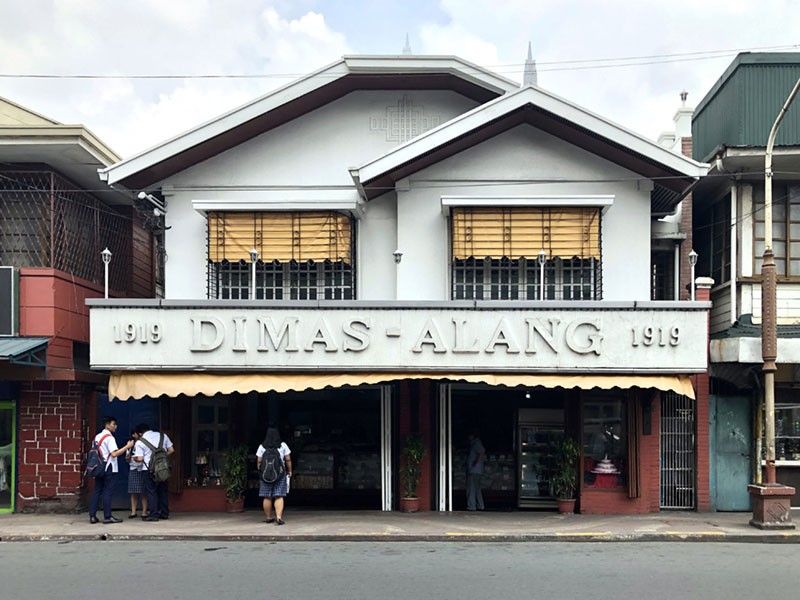 After 100 years of pan de sal, Panaderia Dimas-Alang stands strong
Amy Uy
(The Philippine Star) - October 17, 2019 - 12:00am
MANILA, Philippines — Panaderia Dimas-Alang becomes a hundred-year-old bakery this year and its pugon (wood-fired oven), perhaps the last of its kind in Manila, still churns out well-loved Filipino breads 24 hours a day, seven days a week. But it is business as usual at the Panaderia, which has endeared itself to Pasigueños since 1919.
Manolo Lozada, a third-generation owner of the bakery and a painter by training, has been running the round-the-clock operations of the bakery since the 1980s. Business is brisk and the line of customers doesn't seem to let up. Loyal patrons elbow each other in front of its time-worn escaparate (display cabinet), pointing to their breads of choice or calling out their orders to the salesladies who have worked there for years.
Life simply goes on in this beloved panaderia as it has for a century. But its stately façade, a familiar white structure in the heart of Pasig City, belies how it survived a World War and a fire that razed it to the ground.
The bakery actually began in the 1900s, with its predecessor, Panaderia Dos Hermanos, owned by a well-known baker, Alejandro Gonzales. When his wife Lucila died, Alejando passed on the bakery to his sister-in-law Teresa Raymundo Santos, who named it Dimas-Alang in 1919.
After the bakery was destroyed in the war, Teresa's daughter, Felisa Santos and husband, Lucio Lozada (Manolo's parents) had to rebuild it. It has since stood there, a quiet fixture dedicated to serving the local neighborhood its daily ration of breads.
In return, the people of Pasig love its bakery back, with good reason. While times and tastes change and the costs of bakery ingredients and labor go up, Dimas-Alang does not compromise on quality and service. The panaderos (bakers) continue to do the breads by hand, clinging to the recipes they inherited from the generations of bakers who came before them. By their refusal to let go of their old ways, we can still taste pan de sal (salty bread) that is true to its original flavor and form.
You can even say that this humble panaderia continues to live up to its name Dimas-Alang (the pen name of our hero Jose Rizal in La Solidaridad), Filipino for "untouchable," by the way it keeps traditions almost untouched and revered. The bakery was featured together with other traditional and modern bakeries in the country in the book Panaderia: Philippine Bread, Biscuit, and Bakery Traditions, published by Anvil in 2015.
Dimas-Alang's pan de sal, oval in shape and with a requisite singkit or almond-like mark on top, was once hailed as Manila's best in a blind tasting conducted by a food magazine. Its crust bears the smoky breath of a wood-fired oven. It is crisp to the bite before it yields into the cottony crumb within, a blank slate for either a salty spread or sweet jam. Unlike packaged grocery breads, Dimas-Alang's freshly baked pan de sal is not round, soft or sweet. It is as it should be, and was, back in the day.
Aside from pan de sal, Dimas-Alang also offers the heftier bonete or bonnet-shaped bread twice a day. But its bestseller is the crunchy square biscuits akin to the Visayan ugoy-ugoy but is oddly named Di Ko Akalain. Then there are local bakery staples like pan de coco, monay and ensaymada of various sizes, biscocho, hopia baboy, empanada, Spanish bread, pan Amerikano, the ubiquitious egg pie, and more.
To keep up with modern bakeries, Dimas-Alang now offers all-occasion cakes, cupcakes and a huge brazo de mercedes that can feed a small barangay. Manolo reveals that they also tried baking croissants and more recently, French bread, but customers still preferred local breads. Their newest offerings include a kind of turon or rolled bread filled with flavors of tamarind, mango, strawberry, banana langka, blueberry, caramel and chocolate.
Manolo says there are no secrets to Dimas-Alang's staying power. For now it sticks to traditional baking and selling methods and sees no need for a presence in social media. Asked what keeps the bakery going, Manolo says it is simply the purpose of keeping his workers employed and the desire to serve his community by making the breads they have always loved.