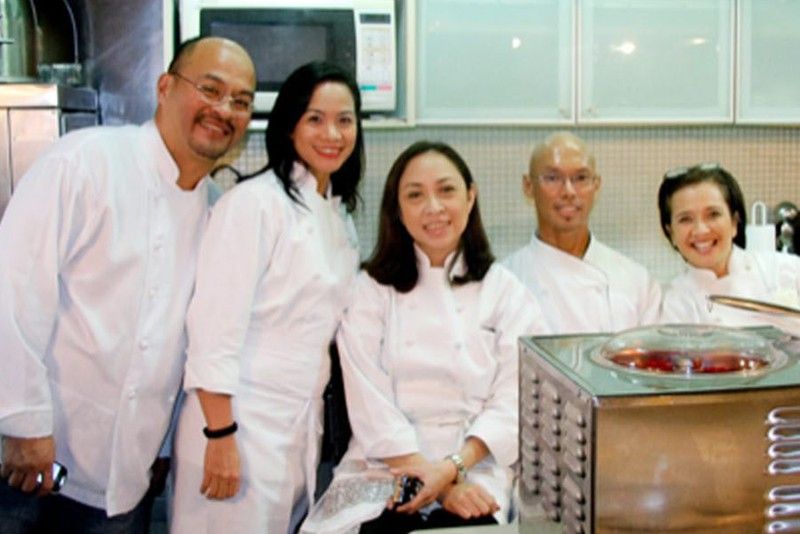 The author Heny Sison with chef Vivian Basco-Syyap (second from left) at her cooking school: With us are chefs Glenn Remorca, Juan Carlo Estagle and Patty Loanzon
Cooking up a storm in heaven
She came at the right time, and fit just like a glove. No one could ever imagine what a wonderful surprise Vivian Basco Syyap was to me, the way she came into my life at a time when I was on the lookout for someone to complement my team at my culinary school.
It was a careful decision I had to make, as I would need to mentor that person to become a vital part of the school that I love and built. It was challenging, to say the least, to even find someone who met my standards. However, just when I was about to give up, a good friend told me that she knew of someone I might want to consider. This chef was their family friend, so she knew her well.
Vivian, the perfect candidate, came along highly skilled and educated at the Culinary Institute of America. Eventually, we invited her onboard for a trial. Vivian was the first person my husband ever put to a trade test — something we regularly practice now when looking for new instructors — which she passed with flying colors. Vivian did everything just as she always did: always with a hint of perfection.
Since Vivian and I both studied at the Culinary School of America, I tapped her in 2009 to develop the curriculum for our Essentials of Cooking Series, which we still use in our cooking school today. Vivian was meticulous, reliable, and had an unquestionable work ethic — traits that you rarely find in this day and age. Her loyalty was also truly remarkable. We were on the same wavelength and agreed on so many things, culinary and otherwise. Her lectures were always attention-grabbing and I trusted her wholly, to say the least.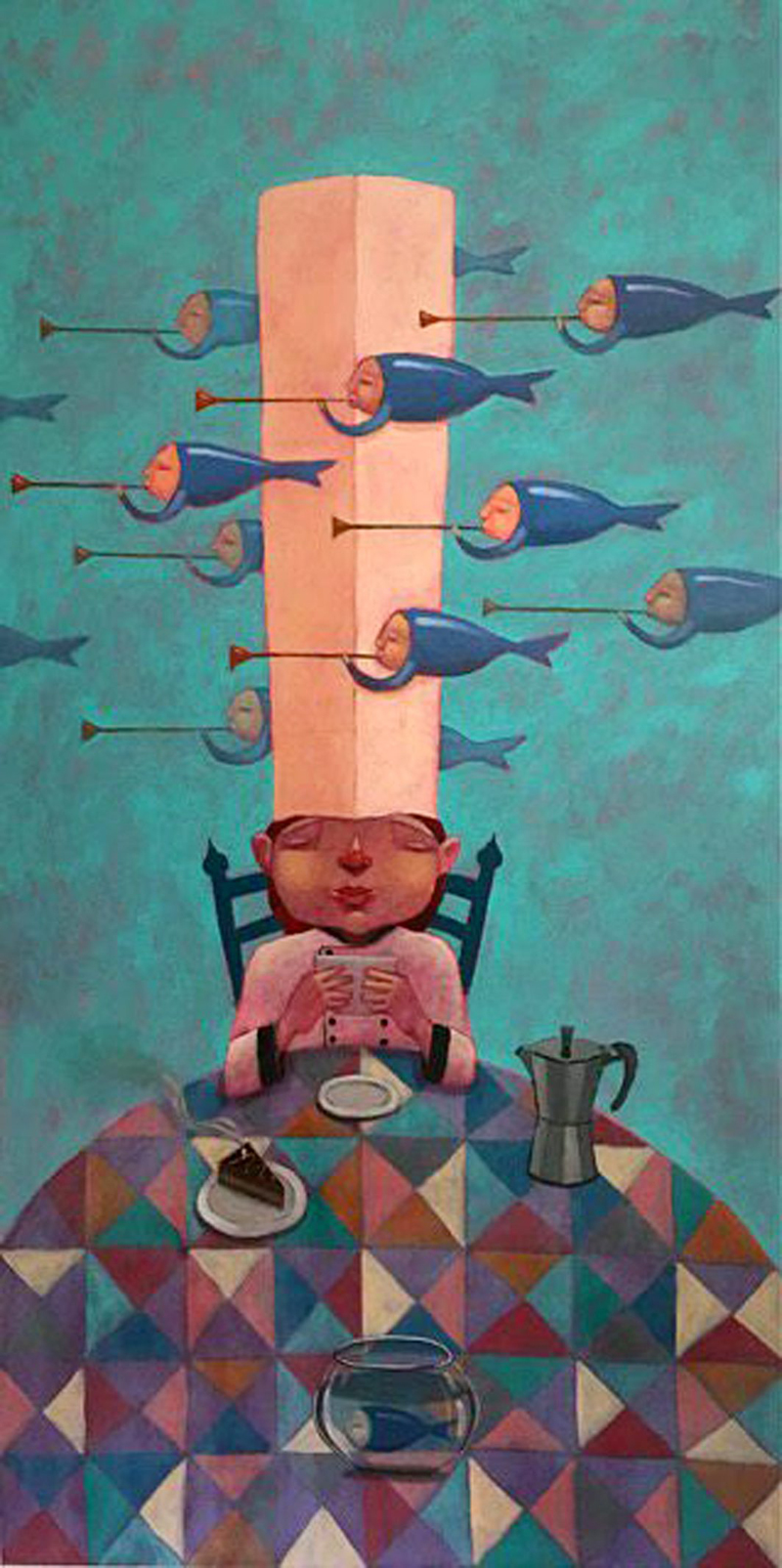 The paintings of RV Basco
One thing that struck a chord with me was the way she carried herself. Her grace and inspired passion radiates to both her peers and students. Even now, students tell me how they were touched by her mentorship. She had her simple and thoughtful ways, such as asking about their careers even after her lessons were done, helping them professionally through referring them to her consultancy clients, and giving them honest and sincere feedback when they needed her second opinion. She fueled and ignited such passion within her students that her absence is felt across the industry.
Vivian's brother, RV Basco, a visual artist in his own right, felt her loss more deeply than any of us. He recently showcased some of his original work at the Secret Fresh Gallery in Greenhills. His surrealist yet whimsical collection featured paintings attributed to Vivian. RV told me that he began to question life and his own art style when the time came that palliative care was the only option for Vivian.
"I wanted something more poetic, subtle and sophisticated," he said. "When I was trying to piece these ideas together, I suddenly saw death in the most agonizing way. The experience was so haunting that I needed an outlet to forget."
This particular series came to him in dreams right after Vivian passed away. He had difficulty sleeping, and these images were the result of those restless evenings. RV resigned himself to his grief and intuition and colored his canvas with his heart. His paintings revealed and synopsized the surreal truth of how it feels to let go of someone as magnificent as Vivian.
I had the privilege of delivering the eulogy at her funeral. The ceremony itself was very emotional, solemn, and tears were royally shed. As an emotional tribute, we raised our chef's toques high up in the air.
I do not think I will ever come across anyone like Vivian again, but then all great things usually come along only once in our short time here on earth. To a friend and colleague who will always be remembered and never forgotten, thank you, Vivian, for being an angel who gave us a glimpse of heaven while you were with us.